Veg Upma Recipe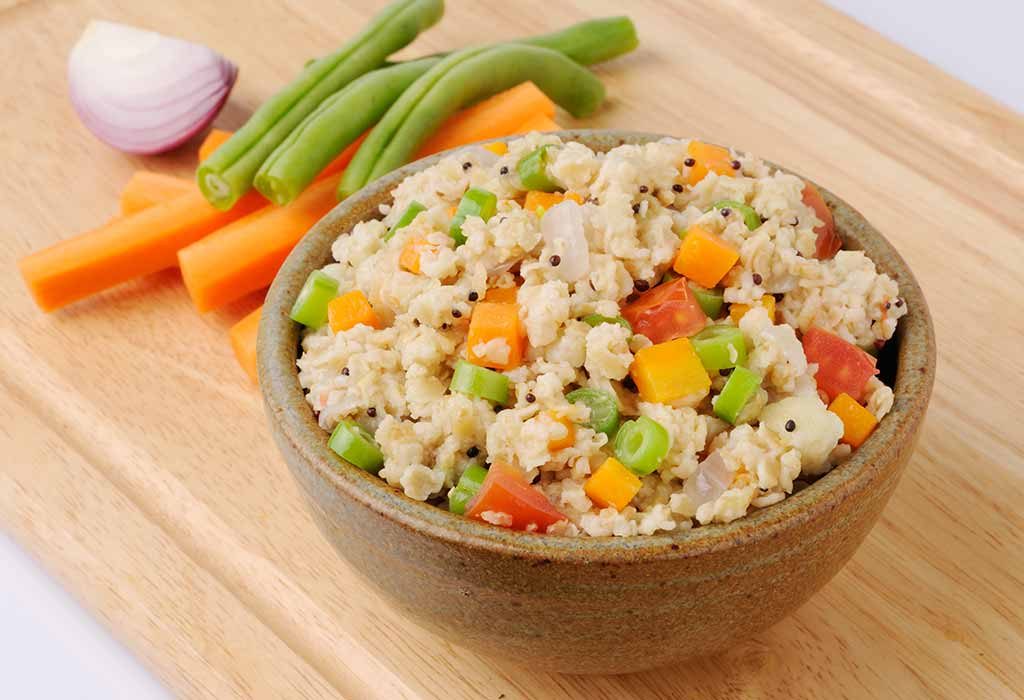 In this Article
Veg Upma for toddlers is another variation and deviation to the normal soup and rice-based dishes in their diet. Easy to make and with its ideal consistency, the dish is delicious when made with ghee and will appease your baby's taste. A popular South Indian breakfast, it can be introduced in your child's weaning diet to get the benefits of rava and vegetables.
Cooking Time
| | |
| --- | --- |
| Type | Time (hh:mm:ss) |
| Preparation Time | 00:10:00 |
| Cook Time | 00:15:00 |
| Total Time | 00:25:00 |
Cooking Method
Gas S, Pressure Cooker
Type of Meal
Vegetarian
Suitable For
Babies above 10 months of age
Meal Schedule
Lunch or Dinner
Recipe Type
Main Dish
Ingredients
| | |
| --- | --- |
| Type | Quantity |
| Fine Sooji/Rava | 2-3 tbsp |
| Hot Water | 1 cup |
| Turmeric Powder | 1/8 tsp |
| Ghee | 2 tbsp |
| Asafoetida or Hing | A pinch |
| Salt | As per taste |
| Mustard Seeds | 1/8 tsp |
| Cumin Seeds | 1/8 tsp (Optional) |
| Mixed Vegetables ( carrots, potatoes, peas) | 1-2 tbsp |
Instructions
Follow this step-by-step guide to learn how to make Veg Upma for babies:
Dry roast the rava on a medium flame for a couple of minutes. Keep stirring and roast until you get a nice aroma.
Boil the vegetables in a small vessel with water and salt.
Heat ghee in a wide pan and add the mustard seed and cumin seeds. Let them splutter.
Now add the cooked vegetables and turmeric powder and mix well.
Now add the hot water and let it come to a rolling boil.
Add the rava little by little continuously stirring in between. Make sure there are no lumps. Add the turmeric powder, hing, and salt at this stage.
Mix continuously until all the water is absorbed by the rava.
Close the pan and cook for a few minutes on a low to medium flame.
Check after a few minutes to see if the upma has left the sides of the pan. Add a spoonful of ghee and cover the pan. Turn off the gas.
Recipe Tips
Follow these additional tips to perfect the homemade Veg Upma baby food recipe:
Roast the rava if you are using unroasted rava. If you are using roasted rava you can skip the step.
Chop the carrots and potatoes into tiny pieces so that your baby can chew easily.
You can add onions if you wish to Fry them along with the mustard and cumin seeds.
Nutrition Information (Per 100 Grams)
| | |
| --- | --- |
| Type | Value |
| Calories | 192 kCal |
| Carbohydrates | 30.7 gm |
| Protein | 4 gm |
| Fiber | 0.3 gm |
| Fat | 5.8 gm |
| Cholesterol | 0 |
| Sodium | 8.2 mg |
Health Benefits
Read on to find out the health benefits of this easy Veg Upma recipe for babies:
Carrots are rich in fibre and Vitamin A. They ensure a good eyesight and help prevent night blindness.
Potatoes are rich in starch and carbohydrates. They also help in digestion and help to keep the tummy full for longer. Potatoes help to provide the right amount of energy for your growing baby.
Peas are rich in Vitamin C and also a rich source of antioxidants. Peas are a good source of fibre and help in bowel movement.
Rava is gluten-free and is rich in iron and potassium. It helps to improve the hemoglobin levels of the body.
The presence of Vitamin B, Vitamin E and carbohydrates makes rava a nutrient-rich food.
Rava also eases constipation problems in the baby.
Buying Guide
Make sure you follow these pieces of advice when sourcing ingredients for Veg Upma:
Buy rava in sealed form and check the expiry date before buying. Try to buy organic rava as it is free from pesticides and chemicals.
Buy organic carrots and potatoes as they are free from chemicals and pesticides.
Use homemade ghee if possible. But if you do not have any then buy store-bought one and make sure you buy branded ones available in supermarkets. Check the expiry date on the label.
You can dry roast the rava and store it in an airtight container as this will make the rava last longer.
Sooji, semolina or rava is a great choice to introduce solid foods for your baby. The fine texture and the flavour will appeal to your baby and will also get digested quickly. Sooji can be used to make desserts and pancakes too. A great snack to improve immunity levels, rava or sooji is a sure winner in your baby's diet plan.
?>