Unique and Useful Baby Sprinkle Gift Ideas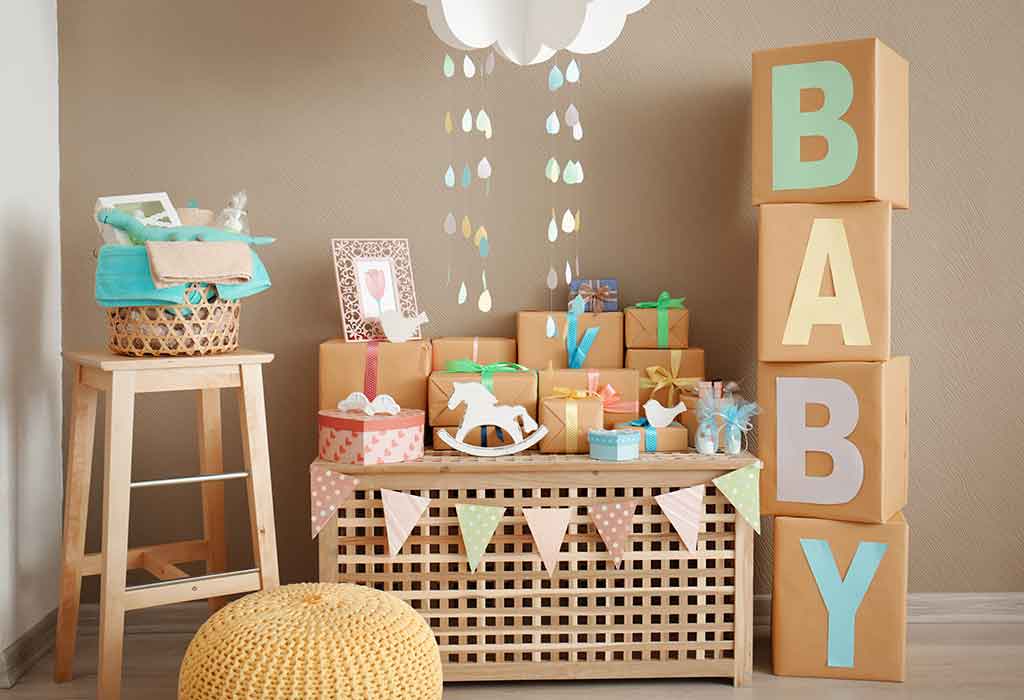 Does the term 'baby sprinkle' sound new to you? Not sure what it means? That's understandable because it's a relatively new concept and is still not widespread globally. Despite it being a newer concept, it is an incredibly fun occasion to celebrate an expecting mother. Want to know how you can throw a baby sprinkle for an expecting mother around you? Keep reading!
What Is a Baby Sprinkle?
A baby sprinkle is simply a type of baby shower. When a couple has their first baby, a baby shower is thrown where friends and family gather to show their love and support, and of course, shower the expecting mother with gifts for her and the oncoming baby. On the other hand, a baby sprinkle is usually thrown for parents expecting their second or third child. It is often a more low-key event than a baby shower.
What Kind of Gift to Bring for a Baby Sprinkle?
As discussed above, baby showers are more elaborate when compared to baby sprinkles in terms of grandeur and the kind of gifts given. These gifts are usually big-ticket items that will be useful to parents who have not had a child before and will need them when the child arrives. In the case of a baby sprinkle, friends and family still want to come together and show their love and excitement and 'sprinkle' the baby with a few gifts.
However, the kind of gifts might vary from those gifted during a baby shower. They are usually more small and practical items that will be of help to the parents. Common items gifted during a baby sprinkle include clothes, toys, bibs and burp cloths, toiletries for the baby, diaper bags, baby log diaries, etc. If you want your gift to stand out, or put a special smile on the parents' face, continue reading this article for some interesting gift ideas for a baby sprinkle.
Uncommon Baby Sprinkle Gifts
If having one child makes you feel like you have your hands full when an infant joins the family, the fun begins. Here are some not-so-common ideas for sprinkle shower gifts.
1. Book Boxes or Activity Subscriptions for the Older Siblings
While taking gifts for the new baby is common, it is wise to realize that the older siblings are going through their range of emotions while welcoming the infant into the family. This means that the parents will highly appreciate assistance in handling them alongside the infant. Boxes of age-appropriate books or activity subscriptions for the older child can be a lifesaver for the parents when they need the older sibling to be occupied as they care for the whining infant.
2. Mother Care Hamper
As useful as little practical gifts for the baby are, more often than not, the mother would enjoy being spoiled a little too. Boxes or hampers of good wine, cheese, or boxes of chocolates will make great baby sprinkle gifts for mom to enjoy during the short windows of time she gets for herself.
3. Double Stroller
Yes, a baby sprinkle might be a more toned-down event as compared to a baby shower. But that does not mean you cannot give extravagant or supersized gifts. A double stroller suitable for the ages of both children that also has space to store a few essentials would make a great gift for parents. They could use it to get out for a walk and get some fresh air or during a quick run to the local supermarket.
4. Night Light and Sound Machine Combo
There are machines in the market that use a combination of calming sounds and light colors to encourage the baby to fall asleep and sleep restfully. These machines are known to promote healthy circadian rhythms and melatonin production. If you are a parent yourself, you'll know what a wonderful gift it would be to the parents of a newborn if it helps them with their infant's sleep cycle.
5. Diaper Caddy Organizer
Life with a newborn or baby is hectic and chaotic. Anytime parents have to leave home with the baby, they have a whole bunch of little things that they have to pack – things that they are going to need, or might need, for the baby while they are out. This means that a trendy and practical caddy that is comfortable to carry will make for an extremely useful gift to take for a baby sprinkle.
6. Stroller Phone Mount
There are phone mounts that attach strongly onto the frame of a baby stroller, and these are quite handy for parents while they are out on a walk with their baby. It allows them to keep an eye on their child while using the phone. In case they have to use their hands with the baby quickly, they don't have to worry about putting the phone away somewhere before they reach out to the baby as the phone is already securely mounted, thus saving them valuable time.
7. Swaddles
While clothing, bibs, and burp cloths are quite common, not many people gift swaddles, which are one of the most useful and effective tools to comfort a newborn baby to sleep. A pack of really comfortable cotton swaddles makes a nice but low-cost gift.
8. Sonogram Photo Frame
The sonogram is an image that fills parents with wonderful emotions the first time they see it. And every time they look at it in the future, these emotions are rekindled, and they evoke a smile, making a photo frame specially to hold a sonogram image a unique and special little gift.
9. Baby Carrier
The chances are that the baby carrier that the parents used with their older child is quite worn out or maybe even given away. So a new and comfortable baby carrier will always be a welcome gift.
10. Baby Monitor
The parents will likely make their older children and the newborn sleep in different rooms to ensure they do not disturb each other's sleep when they wake. In that case, having a second baby monitor would surely come in handy.
DIY Baby Sprinkle Gifts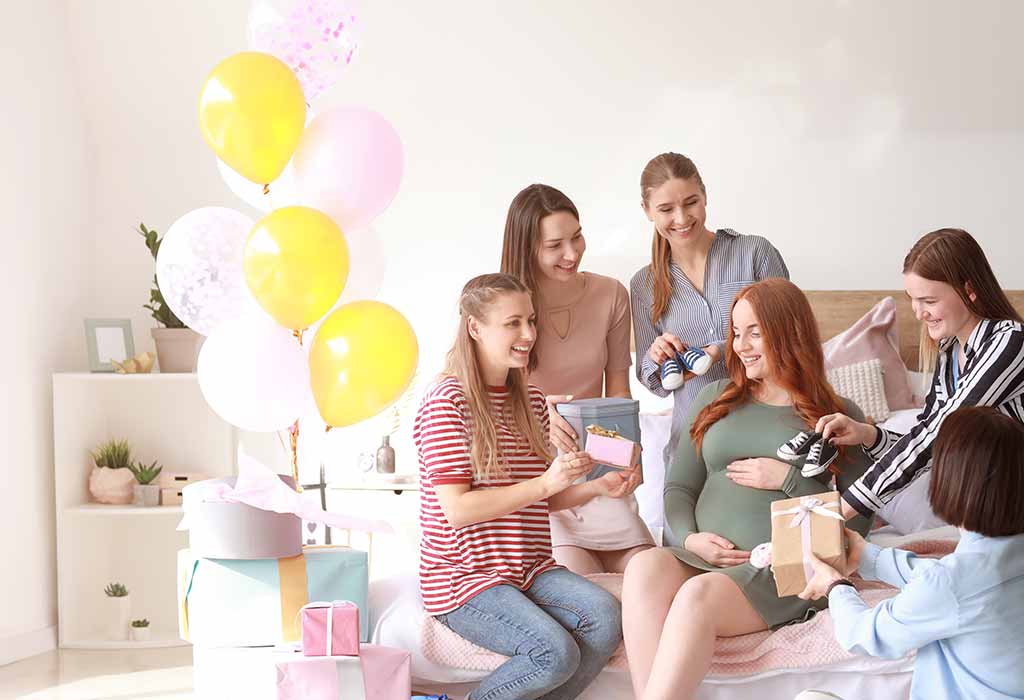 Something very personal and touching about receiving a DIY gift is the same as during baby sprinkles. Sometimes the best gifts for a baby sprinkle might not be readily available in a store, and you might have to make them yourself. Here are a few examples.
1. Quiet Door Closure
Even when the child is seemingly in a deep sleep, even when they seem to be sleeping through the dog barking or the TV blaring in the other room, there's something about the click of a doorknob or the creaking of a door that seems to wake them up instantly. The parent then has to go through putting the child to sleep and settling them into bed all over again. If you can stitch and make quiet door closures that can be fixed onto the door, with loops that go around each doorknob, they would make a gift that the parents will be thankful for.
2. Hand and Footprint Frame
With a simple wooden tray, some clay, a stencil kit, a photo frame, and some wall brackets, you can make one of these and help the parents create memories of the newborn's tiny hands and feet that they will cherish for years to come.
3. Funny Onesies
Create personalized funny onesies by buying a pack of plain ones and getting customized text or images printed on them.
4. Handmade Nursing Cover
If you are skilled at tailoring, try your hand at making trendy nursing covers that might look good draped over different styles of clothes the mother might wear.
5. Diaper Bouquet or Cake
Diapers are common gifts during a baby sprinkle, but no parent ever thought they had too many diapers. By creating a bouquet or a cake with the diapers, you can still bring a smile to the parents' faces.
6. Baby Sleeping Sign
It is relatively easy to create cute door hangings that stop people from ringing the bell or barging into a room while the baby is asleep.
7. Changing Pad
If you can sew your changing pad, you can do so with trendy designs that the parents will not find in a store or online.
8. Handmade Toys
Babies don't care about price tags or where a toy was made. Handmade toys, therefore, make very thoughtful and one-of-a-kind gifts.
9. Homemade Toiletries
Homemade, organic toiletries such as moisturizers and soaps for the baby will make great gifts, especially for environmentally conscious parents.
10. Sketch or Cartoon
If you are a reasonably talented artist, give it a go and create a personalized drawing or a cartoon strip of the new family that will make the parents laugh or smile every time they see it.
Baby sprinkles might be smaller events than baby showers but are equally special occasions. And special occasions call for special gifts. With the plethora of ideas listed above, it's easy to make a gift that will stand out among the rest. Look for one of the uncommon gift items mentioned in this article the next time you're invited to a baby sprinkle, or go ahead and create your thoughtful gift.
Also Read:
Baby Shower Thank You Card
Gift Ideas for Baby Shower Hostess
Baby Shower Prize Ideas for Guests