4 Best Burp Clothes and Wash Clothes for Newborn Babies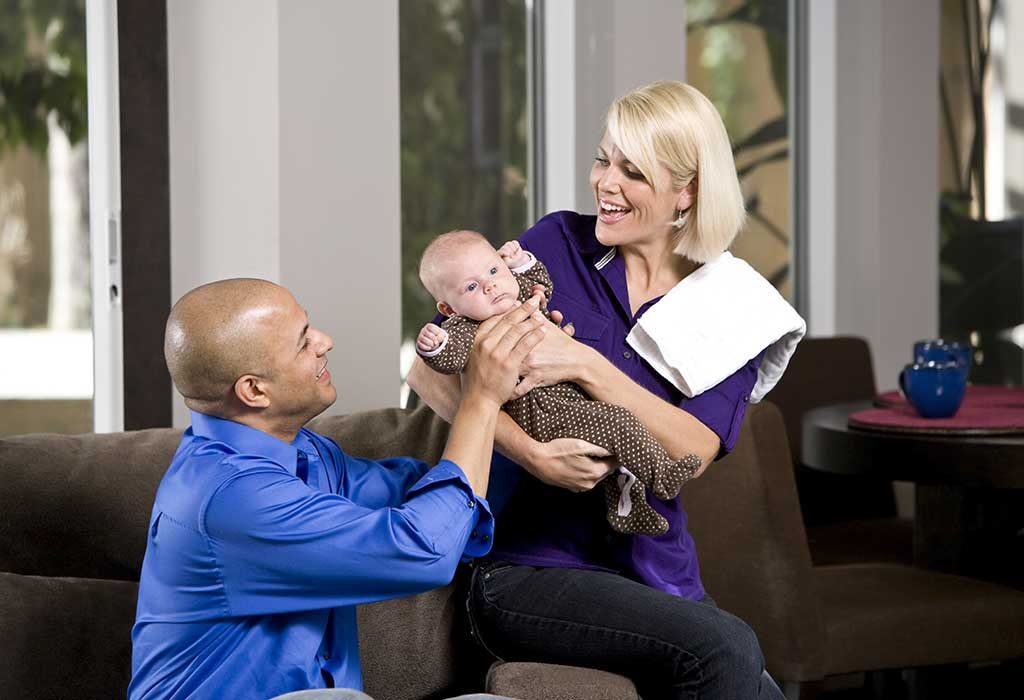 Babies and burping are synonymous. Whether it's after feeding, or due to motion, your baby will burp and spit up over your shoulder. You'll need to have a burp cloth on your shoulder at all times, so your clothes aren't covered in drool and spit-up, and you don't spend a majority of your day changing clothes. Until your little one is able to sit up and burp on his own, having a burp cloth on hand 24/7 is practical, so you can gently wipe away any drool, spit, milk dribble from your baby's face and mouth. Here are the best burp cloths and washcloths that are soft and will absorb any liquids coming their way!
Best Washcloths and Burp Cloths for Babies
Burp cloths are very practical and prevent any messes from when your baby spits up or drools. If you still haven't gotten around to buying any yet, this list will help you choose the best burp cloths for babies.
1. Mee Mee Baby Printed Mini Napkins, Pack of 6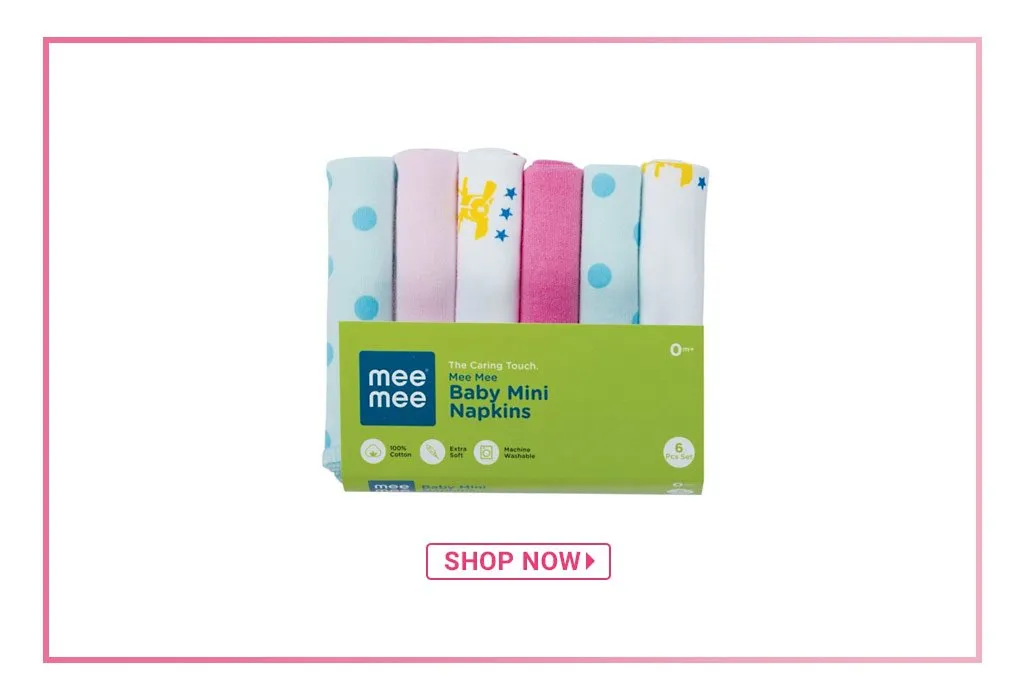 These super-soft napkins are perfect for the delicate skin of babies, making sure they don't cause any rashes or abrasions when cleaning around the mouth.
Product Highlights:
Your baby will love getting squeaky-clean with these brightly coloured face napkins from Mee Mee, which are the perfect size and come in handy for feeding time and other cleaning situations. These are very soft and gentle on a baby's sensitive skin. They are also highly absorbent and can be conveniently washed. These napkins can be easily folded to store in your baby's diaper bag as well, so you can use them anytime, anywhere. One of the softest baby washcloths available!
2. Babyhug 100% Cotton Washcloth, Pack of 6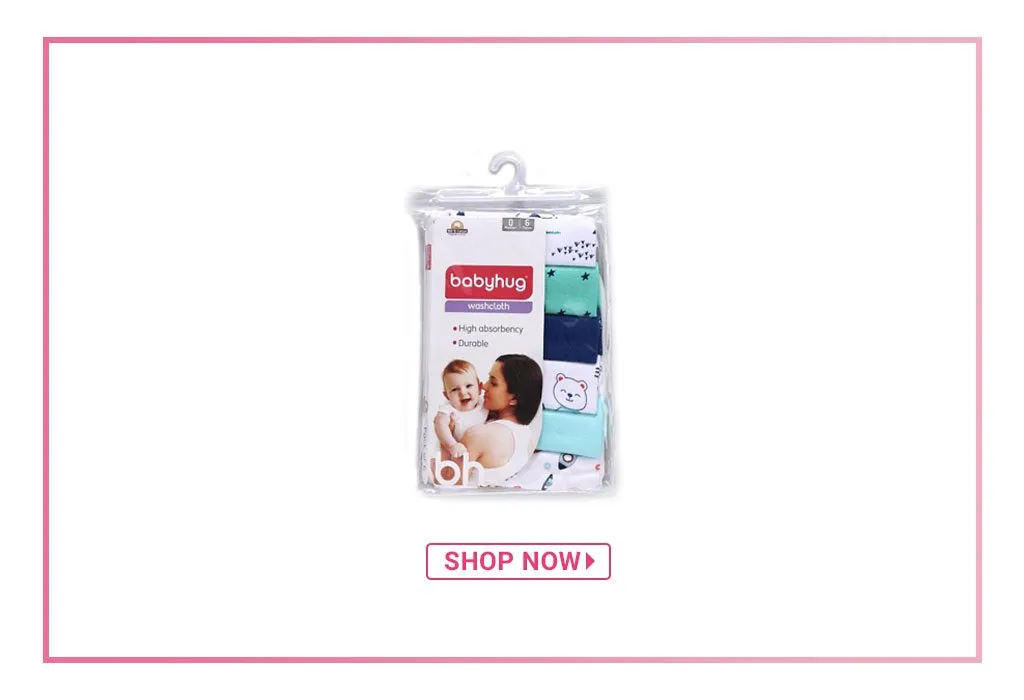 These absorbent and soft washcloths come in trendy designs. They are one of the best burp cloths for babies, and get softer with every wash!
Product Highlights:
This set of napkins is an indispensable item for every parent looking for a soft fabric to wipe their baby's face with. These washcloths are soft and gentle – perfect for your baby's delicate skin! The highly absorbent 100% cotton fabric ensures that you can safely leave the house knowing that you won't need to change your top due to unforeseen drool or spit-up episodes. This set of baby washcloths is great for feeding as well as any cleaning situations that may arise, making them one of the best newborn washcloths you can get!
3. Mee Mee Baby Mini Napkins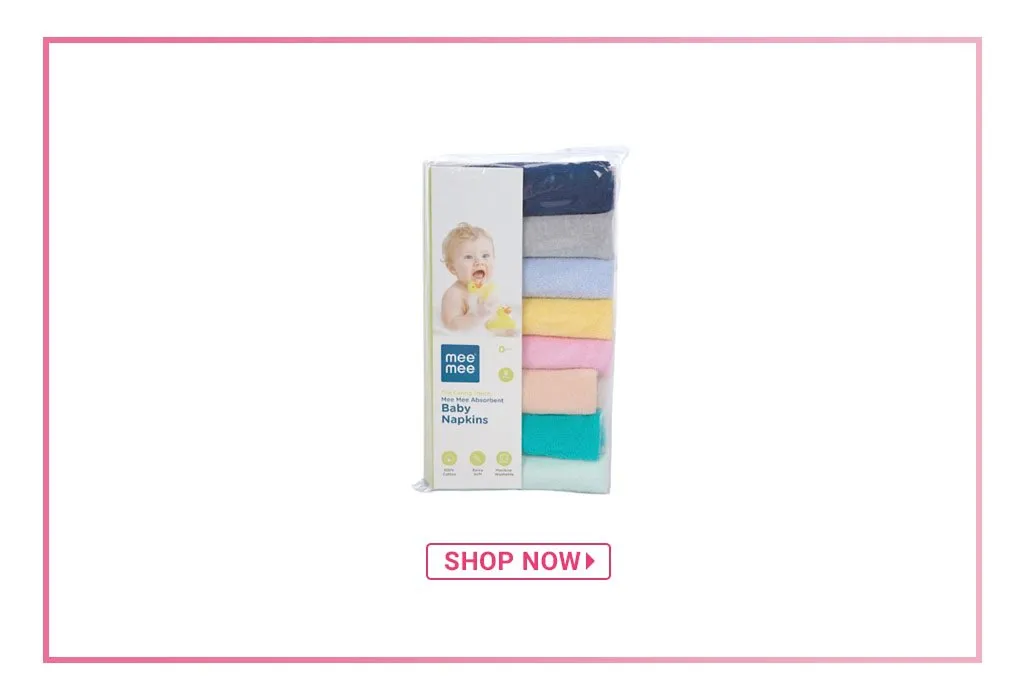 These napkins are the perfect size for newborns, and are specially suited for their sensitive skin!
Product Highlights:
These unique mini napkins are small in size and great for newborns. They are crafted with the softest 100% cotton fabric that is gentle on your little one's skin. This set of napkins from Mee Mee is easy to wash and convenient to use, and comes in handy during and after feeding, as well as cleaning drool or spit from your baby's skin. With attractive, solid colours, you can carry these in your baby's diaper bag indoors and outdoors!
4. My Milestones Burpy Set, Pack of 4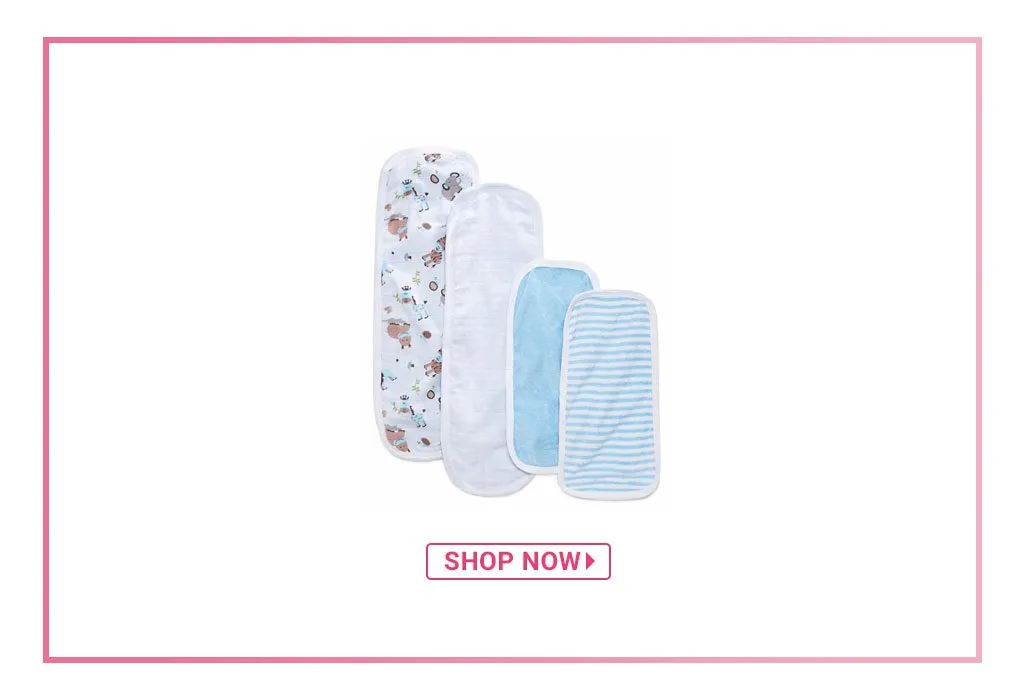 Use this set of cloths on your shoulder as a burp cloth or a bib, and make feeding and cleaning time super easy!
Product Highlights:
This My Milestones Burpy Set is made of two 100% cotton muslin burp cloths, and two 100% cotton terry drool wipes, which are handy, everyday essentials that stand up to daily use. The soft cloths are two-layered and wipe away baby drools, dribbles and spills, keeping you and your baby mess-free at all times. The burp cloths are easy to use and are gentle on your baby's skin. Use the burp cloths on your shoulder or as a bib for mealtimes, and the drool wipe to wipe up baby drool or spills. These are convenient, and can be used anytime!
FAQs on Baby Burp Cloth
1. Which Is the Best Fabric for a Baby Washcloth?
Baby burp cloths made of cotton muslin, or other soft materials like terry cloth, are most recommended, as they are breathable and gentle on your baby's skin. These last long, and are great if your baby has a skin condition or allergies, as they are less likely to cause a rash or redness. The cloth should also be absorbent, so that the drool or liquid collected absorbs quickly into it, without rolling down your shoulders or causing a mess. Typically, choose a fabric that is machine washable, so you can easily wash, clean, and dry the washcloths for their next use.
2. How Many Burp Cloths Does a Newborn Need?
Ideally, the number of burp cloths you need a day will depend on how much your baby tends to spit up or feed, as you may not be able to reuse the same cloth without washing it. Hence, for the number of cloths you will use in a day, count the number of feeds, and multiply it by 2. This way, you can have 2 sets: one that is ready to use, while one is cleaned and drying, per day. Ideally, you may need anywhere between 18 to 24 washcloths in total, but the number is largely subjective.
Though it may not initially seem like such an essential, a burp cloth will make your life easier, and help clean up any messiness from burping or drooling. Simply put it over your shoulder before you pat your baby's back, and you'll be surprised at how many shirts you save from unexpected drool and dribble, while your little one remains his happy, gurgly self!
You May Also Like:
Best Baby Wipes
Best Baby Laundry Detergents
Best Baby Feeding Spoons and Cutlery Sets
Best Nursing Pillows for Breastfeeding Moms
Also Read: