Top 15 Poems on Cat for Kids
Short poems and stories both have proved to be very beneficial for kids. Poems are very interesting and increase the curiosity in a child's mind. Along with this, the poems are considered a good medium of knowledge. The children are often asked to recite and memorize the poem to pass the tests and indulge in fun activities. This way, the memorizing capacity of children also increases. Due to such wonderful reasons, every parent must teach their child different short poems. Once you do this, poetry will seem amusing, rhyming, and funny. Your children will laugh and get more interested in poetry. There are usually different poems, i.e., funny, serious, rhyming, special occasions poems, etc.
Short Cat Poems for Kids
Cat poems are taught to the kids because the cat is an adorable animal, and everyone likes to pet and hear about cats. Moreover, if you know anyone who loves cats, you can send them various cat poems. This will create a good impression in front of them, as they think cats are intelligent animals and beautiful pets to keep in the home. If you are looking for various cat poems, like a cat in a hat, then here are the below-listed easy cat poems.
1. 'As The Cat' By 'William Carlos Williams'
As the cat climbed over the top of
the jamcloset— first the right forefoot
carefully then the hind stepped down
into the round of the empty flowerpot.
2. 'Our Kittens' By 'Evaleen Stein'
Our kittens have the softest fur,
And the sweetest little purr,
And such little velvet paws
With such cunning little claws,
And blue eyes, just like the sky!
(Must they turn green, by and by?)
Two are striped like tigers, three
Are as black as black can be,
And they run so fast and play
With their tails, and are so gay,
Is it not a pity that
Each must grow into a cat?
3. 'To Mrs. Reynold's Cat' By 'John Keats'
Cat! who hast past thy grand climacteric,
How many mice and rats hast in thy days
Destroy'd?—how many tit bits stolen? Gaze
With those bright languid segments green and prick
Those velvet ears—but pr'ythee do not stick
Thy latent talons in me—and upraise
Thy gentle mew—and tell me all thy frays
Of fish and mice, and rats and tender chick.
Nay, look not down, nor lick thy dainty wrists—
For all the wheezy asthma,—and for all
Thy tail's tip is nicked off—and though the fists
Of many a maid have given thee many a maul,
Still is that fur as soft as when the lists
In youth thou enter'dst on glass-bottled wall.
4. 'She Sights A Bird, She Chuckles' By 'Emily Dickinson'
She sights a Bird—she chuckles—
She flattens—then she crawls—
She runs without the look of feet—
Her eyes increase to Balls—
Her Jaws stir—twitching—hungry—
Her Teeth can hardly stand—
She leaps, but Robin leaped the first—
Ah, Pussy, of the Sand,
The Hopes so juicy ripening—
You almost bathed your Tongue—
When Bliss disclosed a hundred Toes—
And fled with every one—
5. 'Fog' By 'Carl Sandburg'
The fog comes
on little cat feet.
It sits looking
over harbor and city
on silent haunches
and then moves on.
Funny Cat Poems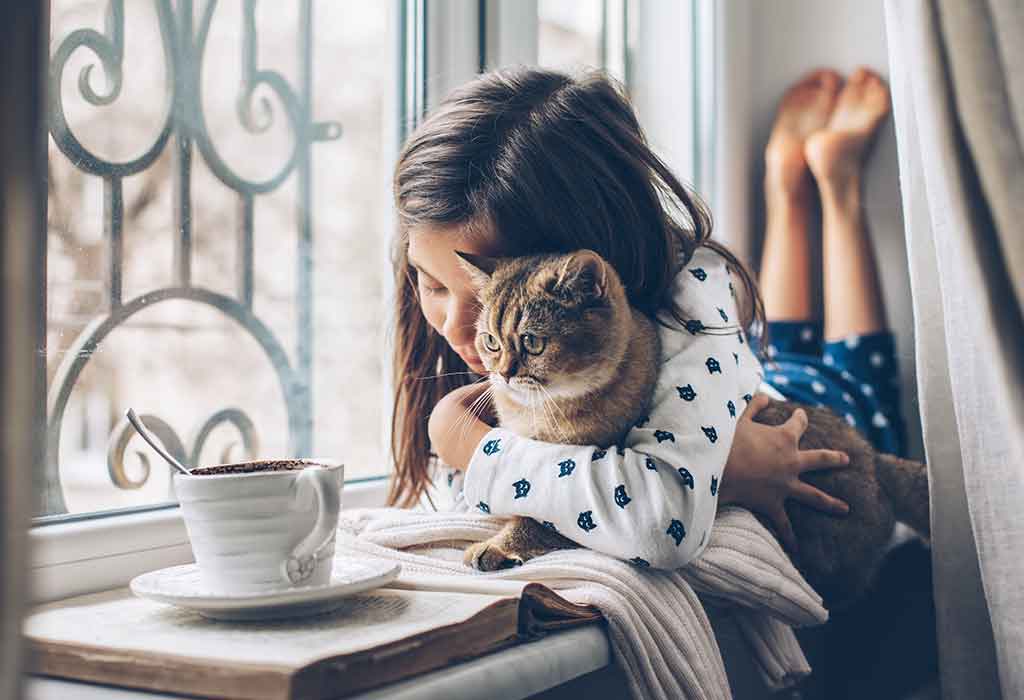 Funny poems allow kids to predict what is going to happen next in the poem. To some kids, it is the source of satisfaction of being right. There are endless examples of funny and rhyming poems for cat lovers. Below is the list of famous and funny cat poems.
1. 'The Funny Cat' By 'Sarah Griffin'
This is my funny car in a hat
He is black and white
And, oh, what a sight.
He will read here and there
He will read everywhere!
What's that, a book about ham?
Oh, my! He's a funny cat,
That Sam!
2. 'My Cat Is Fat' By 'James McDonald'
I've a cat named Vesters,
And he eats all day.
He always lays around,
And never wants to play.
Not even with a squeaky toy,
Nor anything that moves.
When I have him exercise,
He always disapproves.
So we've put him on a diet,
But now he yells all day.
And even though he's thinner,
He still won't come and play.
3. 'Cats' By 'Eleanor Farjeon'
Cats sleep, anywhere,
Any table, any chair
Top of piano, window-ledge,
In the middle, on the edge,
Open drawer, empty shoe,Anybody's lap will do,
Fitted in a cardboard box,
In the cupboard, with your frocks-
Anywhere! They don't care!
Cats sleep anywhere.
4. 'The House Cat' By 'Annette Wynne'
The house cat sits
And smiles and sings.
He knows a lot
Of secret things.
5. 'At Night' By 'Aileen Fisher'
When night is dark
my cat is wise
to light the lanterns
in his eyes
Other Cat Poems for Children
Poets often compose their poems perfectly in short, telegrammatic ways and add the style of essence to it. This conveys the poem's meaning more genuinely and becomes a sentimentalized poem. As the children love listening and reading cat poems, poets give their best to create more powerful and informative poems. Some other cat poems famous for creativity are given below:
1. 'The Shadow Kitten' By 'Oliver Herford'
There's a funny little kitten that tries to look like me,
But though I'm round and fluffy, he's as flat as flat can be;
And when I try to mew to him he never makes a sound,
And when I jump into the air he never leaves the ground.
He has a way of growing, I don't understand at all.
Sometimes he's very little and sometimes he's very tall.
And once when in the garden when the sun came up at dawn
He grew so big I think he stretched halfway across the lawn.
2. 'A kitten's Fancy' By 'Oliver Herford'
The Kitten mews outside the Door,
The Cat-bird in the Tree,
The Sea-mew mews upon the Shore,
The Catfish in the Sea.
The Emu with his feathers queer
Is mewing in the Zoo.
Why is it that I never hear
A Pussy-willow mew?
3. 'Foreign Kittens' By 'Oliver Herford'
Kittens large and Kittens small,
Prowling on the Back Yard Wall,
Though your fur be rough and few,
I should like to play with you.
Though you roam the dangerous street,
And have curious things to eat,
Though you sleep in barn or loft,
With no cushions warm and soft,
Though you have to stay out-doors
When it's cold or when it pours,
Though your fur is all askew—
How I'd like to play with you!
4. 'The Kitten At Play' By 'William Wordsworth'
See the kitten on the wall,
Sporting with the leaves that fall,
Withered leaves, one, two and three
Falling from the elder tree,
Through the calm and frosty air
Of the morning bright and fair.
See the kitten, how she starts,
Crouches, stretches, paws and darts;
With a tiger-leap halfway
Now she meets her coming prey.
Lets it go as fast and then
Has it in her power again.
Now she works with three and four,
Like an Indian conjurer;
Quick as he in feats of art,
Gracefully she plays her part;
Yet were gazing thousands there;
What would little Tabby care?
5. 'The Cat Of Cats' By 'William Brighty Rands'
I am the cat of cats. I am
The everlasting cat!
Cunning, and old, and sleek as jam,
The everlasting cat!
I hunt vermin in the night-
The everlasting cat!
For I see best without the light-
The everlasting cat!
Cat poems are fascinating and have classic vibes. It does not simply depict the cat but also features a cat. This way, cat poems become memorable, and children love reading such poems.
Also Read:
Nature Poems for Children
Poems About Bird for Kids
Beautiful Rain Poems for Children