Top 15 Feeling Books for Toddlers, Preschoolers & Kids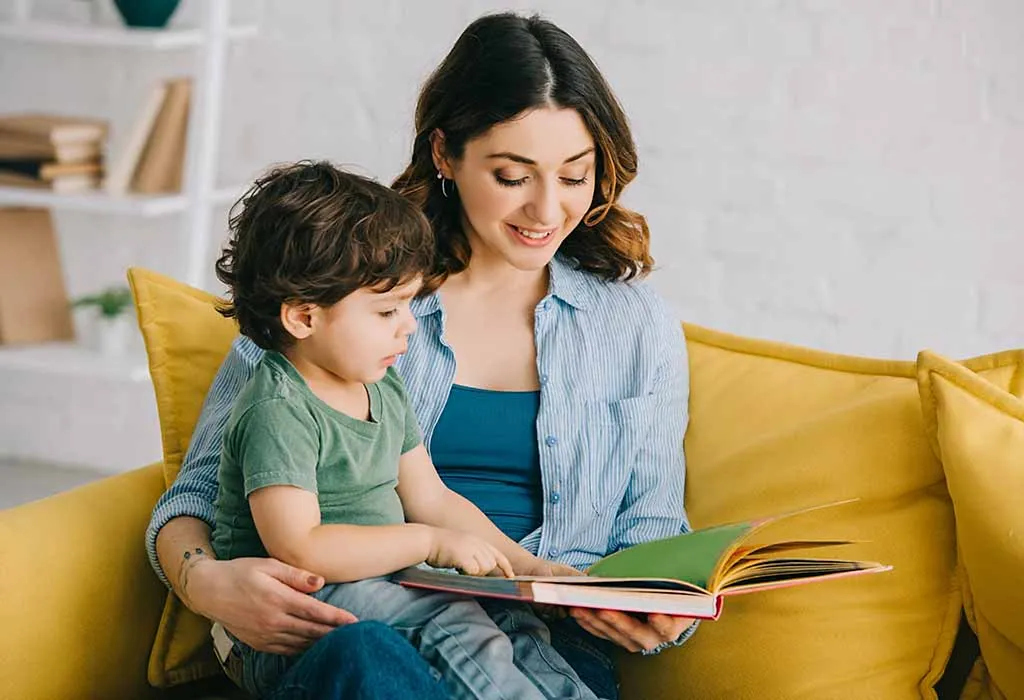 Every day children experience and deal with various kinds of emotions, but when they are little, it's hard for them to express their feelings and emotions. If your child is sad or upset, for instance, he or she may or may not be able to pinpoint the cause of the same. They may experience a certain emotion, but may not be able to communicate with you the reason for that emotion. And sometimes, certain unfamiliar feelings can disturb your child, that's why it's important for parents to help children express their feelings. And what better way to teach them to express themselves than books?
In this article, we will tell you about some books on feelings and emotions, that will enable your child to express and talk about his feelings from early. Reading these books will help your child to identify a particular emotion, situations that trigger it, and an effective emotion coping mechanism to deal with it.
Interesting Books on Feelings for Toddlers
These 5 best books about emotions for toddlers will introduce your child to a wide range of emotions. Children in the age group of 1-3 years will learn with board books better. So here is the list of our top picks for them.
1. Duck & Goose, How Are You Feeling?
Author- Tad Hills
What makes it interesting
This colourful board book teaches toddlers about various things. This third release helps the toddlers learn about their feelings. The book has one word per page that explains toddlers about feelings. The emotions are explained using colourful portrayals and facial expressions of the characters.
2. Grumpy Bird
Author- Jeremy Tankard
What makes it interesting
This particular board book deals with grumpy emotion. This hilarious story is of a bird that wakes up grumpy and feels like doing nothing. He does not want to eat or play or even fly. So he walks and finds many friends like sheep, rabbit, raccoon, beaver, and fox along the way. Each meeting made the bird even grumpier. But soon he realizes that friendship and little exercise elevates his mood. This cute story will help your child laugh off his/her grumpiness too!
3. The Feelings Book
Author- Todd Parr
What makes it interesting
This vibrant board book's each page has a different emotion explained in a simple sentence. Each emotion is also explained through colourful illustrations. It includes all types of feelings(both negative and positive) felt by a child every day. Young children who have just started to read can read this book on their own and explain his/her emotions better. Todd Parr has been the best-selling author for more than 40 books so far.
4. Baby Happy, Baby Sad
Author- Leslie Patricelli
What makes it interesting
In this book, the author has put in so much effort to make the child understand emotions through real-life situations. For example, the baby gets happy when he sees a cone of ice cream stands upright. But the next second the ice cream falls and the baby gets sad instantaneously. Each page has a picture and just a line of text telling about the emotion. The motive behind this book is to explain to the child how different situations turn our mood.
5. Calm Down Time
Author- Elizabeth Verdick, Illustrator- Marieka Heinlen
What makes it interesting
This is an amazing board book to be read to children who need regulation of emotions when they feel angry or sad. It uses rhythmic text and beautiful illustrations to explain an emotion. Along with it the method of expression is also taught. And at last, how to calm a particular negative emotion is also provided.
Fun Feelings Books for Preschoolers & Kids
Now we will be sharing 10 feelings books for the age group 3 to 8 years which is called preschool books about feelings. Get, set, and go!
1. I Can Handle It!
Author- Laurie Wright, Illustrator- Ana Santos
What makes it interesting
The title of this book is so powerful in itself. It imbibes in kids a feeling of confidence that they can deal with anything that might come their way. Each page of this book explains difficult situations that the child might face, and gives suggestions to deal with the emotions that accompany the situation. Positive self-talk in this book helps in developing a fighting spirit in the child in adverse situations.
2. The Way I Feel
Author- Janan Cain
What makes it interesting
This top-rated book uses colourful, expressive, and strong pictures along with easy verses to let the child connect with a word and its particular emotion. Just like we need a name to address somebody, similarly the child gets a name to address a particular emotion and talk about it.
3. How Are You Peeling? Foods With Moods
Author- Saxton Freymann, Joost Elffers Illustrator- Saxton Freymann
What makes it interesting
Looking for some books about feelings for 5-year-olds? This hilarious book is sure to make every child laugh. In this book, vegetables and fruits are given a face and are used to express different emotions. The vibrant photographs of various food items are accompanied by easy text. Mostly the text is in form of questions about how one feels when dealing with a particular emotion. It is an apt book on emotions for kindergarten.
4. A Little Book About Feelings
Author- Abbie Schiller
What makes it interesting
This book explains briefly the biological aspects of emotions. It tells about how our brain sends signals to our body, which produce different feelings inside. You can comprehend what someone's feeling by looking at their face or they can use words to express their feelings. The book also talks about the transitory nature of emotions through beautiful pictures and text.
5. The Feel Good Book
Author- Todd Parr
What makes it interesting
This is a classic children's book about feelings and emotions by Todd Parr. The book uses vibrant colours and silly scenes to run the child through various emotions. The book also essentially inspires the child to feel great about everything they do throughout the day and to celebrate various emotions that make them feel happy and content.
6. One Monday When it Rained
Author- Cherryl Kachenmeister, Illustrator- Tom Berthiaume
What makes it interesting
Straightforward text and real-life pictures of a boy are a perfect combination to explain emotions to a child. The author and illustrator have put together the thoughts and feelings of a little boy at a particular point in time. Through the pictures in the book, feelings of loneliness, excitement, fear, and pride are explained to the child in a simple way!
7. Sometimes I Feel Like a Storm Cloud
Author- Lezlie Evans
What makes it interesting
The book incorporates the big similes of a young and very expressive girl. The book also uses a real-life analogy to explain various emotions. Like her excitement is compared to a balloon that is growing until it pops. Her sadness is similar to a big and dark storm cloud. Kids will love these vivid descriptions and understand how to explain their feelings better through this book.
8. F is for Feelings
Author- Goldie Millar, Lisa Berger Illustrator- Hazel Mitchell
What makes it interesting
Each one of us deals with vivid emotions every day, but children are sometimes, unable to express their feelings. This children's book can help your child identify and express his emotions. Through this book, your child will have words to describe their feelings. It also explains that all emotions are important and natural.
9. The Great Big Book of Feelings
Author- Mary Hoffman, Illustrator- Ros Asquith
What makes it interesting
This book opens with the question, "How are you feeling today?" And leads to different pages that explain to children about emotions. Each page of this book deals with emotion with different ideas that might trigger that particular emotion. This book covers a wide range of emotions. The book also uses different characters from vivid ethnic and racial backgrounds to promote social causes.
10. The Invisible String
Author- Patrice Karst
What makes it interesting
This book is designed for children who feel lonely or scared quite often. This book is often recommended to adults too. This book helps kids and adults cope with separation anxiety, loss, and grief. This book is a story of a mother and her two children, to whom she explains that they are connected by an invisible string. She explains to them that a string of love always connects the loved ones, even if they are not in front of your eyes. This book offers a simple approach to overcoming loneliness and loss through a simple story.
Helping your child to identify emotions and regulate them is a necessity these days, and we hope that the books about feelings that we have mentioned in this article will help you teach your child all about emotions!
Also Read:
Classic Books for Toddlers, Preschoolers and Kids
Interesting Animal Books for Toddlers, Preschoolers and Kids
Read- Aloud Books for Toddlers, Preschoolers and Kids