Tips to Dress up Your Kids for Navratri Festival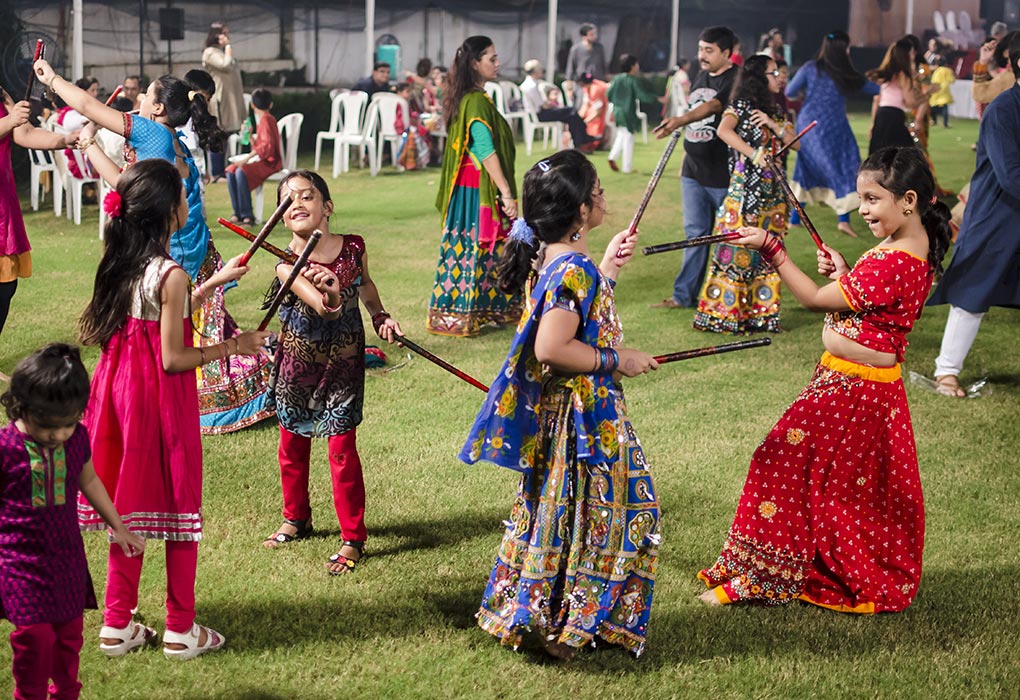 Navratri is one of India's most colourful festivals. It is celebrated to worship Hindu Goddesses. Meaning 'Nine Nights', it is a festival where every night is dedicated to worshipping a different form of the Hindu Goddess. It ends on the tenth day, which is called Dusshera or Vijayadasami. This entire festival is filled with merriment and joy, and a time for even young children to get decked up in the finest traditional attire so that they can dance their tiny legs away. Let's look at some Navratri dress ideas for kids below.
Video: Tips to Dress Your Kids Up for Navratri
How to Dress Up Children for Navratri?
Picking out a dress for your tiny tot can be a task in itself. You want your little one to look his or her best, get compliments from all your friends and relatives and outshine all his or her peers. Make sure that what you pick out not only looks good but is also comfortable. Your child will be wearing the attire and running all around, dancing to music and playing with his friends. He will be bound to work up a sweat, and you don't want his attire to make him itchy or uncomfortable in any way. Similarly, if you have a daughter, you don't want to weight her down with too much fluff and jewellery. Keep it simple, attractive and comfy. Here are tips you can take inspiration from:
Dressing up Little Girls for Garba
When it comes to dressing up little girls for Garba, the options are aplenty. Navratri, with its vibrant colors and lively dances.Here are some thoughtful Navratri dress ideas for little girls to shine during the festivities.
1. Their Dress
The traditional Garba attire for girls is as follows: a colourful flared skirt, an embroidered blouse and a dupatta which is patterned with sequins, mirrors, shells etc. There are many varieties available which are similar to this setup, and you can mix and match. But make sure the dupatta is not too long or heavy. It needs to be light so that your daughter can handle it with ease and not trip while dancing. Also, pin it safely to her blouse with a safety pin, so it doesn't slip off. The other tip is to find a dress which does not have sequins or mirrors which stick out. These might rub your child's delicate skin and hurt her. Lastly, keep the dupatta as an optional item, only if your child insists on wearing it.
2. Jewellery
Usually, it is better to leave your daughter free on any jewellery which might hamper her enjoyment by irritating her or ending up getting undone and lost. She will look fantastic even without any shiny jewellery. But if she insists and if you want to adorn her with some simple accessories, opt for lightweight jewellery. Like thread necklaces or bindis on her ears instead of earrings. You can adorn her arms with a few colourful bangles as usually they do not cause much bother and are light to handle. Handmade feet jewellery like thread anklets is another option.
3. Footwear
A type of Indian footwear called 'mojris' can be a comfy and attractive footwear option for your daughter. Or you can just let her wear her regular footwear. Don't put your child in any shoes with heels on them as it can be dangerous and she may trip and fall easily.
4. Makeup
If your daughter is above 5 years of age, you can use some light make up on her face. Make sure to use a good brand which is free of chemicals and does not cause any allergy to her face. Otherwise, just apply a bit of kohl and face powder, and she'll be ready to go!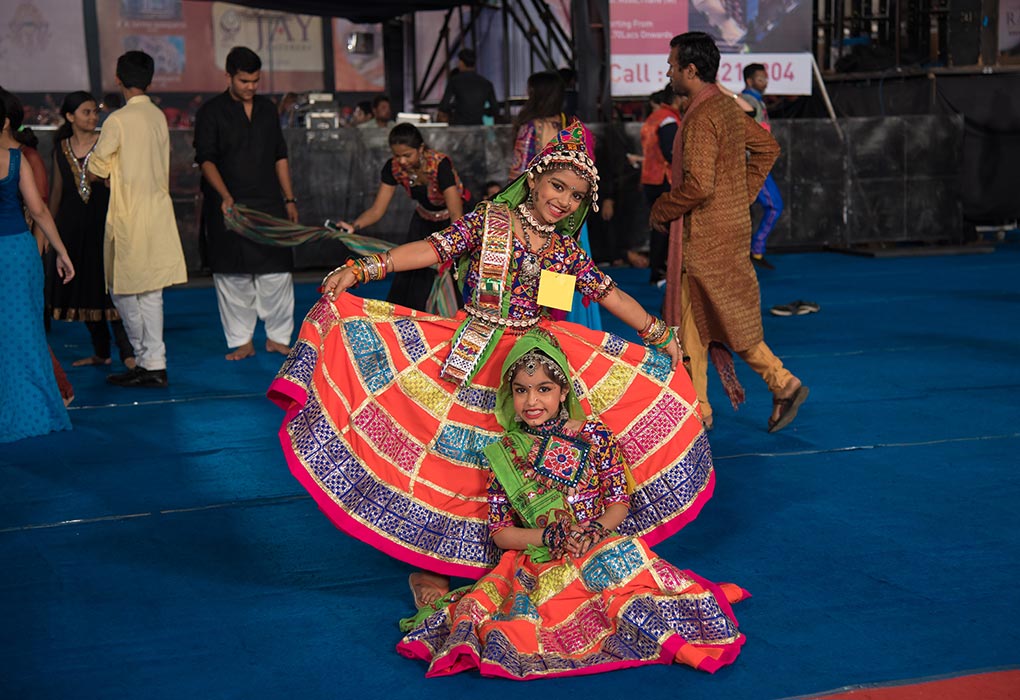 Dressing Up Little Boys for Garba
Preparing young boys for the vibrant festivities of Garba during Navratri is a delightful endeavor.Here, we present a selection of Navratri dress ideas little boys.
1. Their Dress
The typical male attire for Garba is a two-piece 'kediyu' which is a traditional embroidered sleeveless jacket, a coloured 'pyjama' below and a turban or cap. Make sure it is lightweight, and it does not have any sharp sequins or pins inside which can hurt your child. You need to get the right size for him so that it doesn't slip while dancing. The cap can be an optional item.
2. Jewellery
You can adorn your son with some oxidized lightweight jewellery like a metallic necklace, anklets and clip-on earrings. You can also go for thread accessories for the neck and feet.
3. Footwear
As for girls, 'mojris' for boys are the most comfortable to wear and dance in.
4. Makeup
If your son is fascinated with makeup and wants you to apply some on his face, dab a bit of lip gloss or foundation on. Make sure it is from a good brand which does not have any chemicals that can irritate your little one's skin.
Other Accessories for Children (Boys and Girls)
Dandiya dress ideas for kids are incomplete without the extra other accessories, like
Traditional anklets, armlets, and wristlets
Embroidered purses and slings
A smart, traditional umbrella piece
Your child will look smart carrying any one of the above as an accessory to his or her outfit. Of course, they might be enthusiastic in the beginning but tire out soon enough and stuff whatever they are carrying into your hands while they run off to play, but it would be worth to see them in the entire Navratri get up for at least some time, wouldn't it?
Navratri can be a beautiful time to celebrate for you and your family. Especially, your kids will have a whole lot of fun. And it would be amazing to watch them running around looking like princes and princesses. Hope you follow some of the above Garba dress ideas for kids and have a happy and safe Navratri. Make sure to take many pictures for the photo albums!
Also Read:
Navratri Colours and Its Importance
How to Dress Your Baby as Lord Krishna
Navratri Quotes,Wishes and Messages for Family