9 Colours of Navratri Festival and Their Importance
Navratri, the nine-day festival celebrating the victory of good over evil, has started! In the nine days from 15th October 2023 to 23rd October 2023, dress up in the nine colours depicting the true spirit of the Goddess. Also, get your husband and the kids onboard and enjoy a colourful festive season with our complete Navratri dress colours guide!
When the festive season arrives, we sit pondering over the colours to wear in Navratri. How are Navratri colours decided? Why do they change each year? Well, the colours are decided as per the Drik Panchang, based on the day of the week when the festival begins. Each day's colour is dedicated to a particular form of Goddess Durga.
From October 15th to October 23rd, why not dress up in the Shardiya or Ashwina Navratri festival's 9 colours and celebrate the many virtues of the Goddess? In a way, these 9 colours also stand for women in general. After all, from protecting our children from harm to keeping the family happy to staying brave in all circumstances, women are true warriors!
History and Significance of Navratri
Navratri nine colours represent the vibrant and diverse facets of this beloved Hindu festival. Each hue holds a unique significance, collectively creating a visual spectacle that captivates hearts. Beyond its striking visual appeal, Navratri carries profound spiritual meaning, symbolizing the eternal battle between good and evil, culminating in the triumph of righteousness. This cultural and spiritual Navratri significance unites communities, fostering a sense of togetherness and shared faith as they celebrate these auspicious nine nights. Delving into the history of Navratri unveils its time-honored traditions and customs, offering insights into its enduring importance in Hindu culture. Navratri is not merely a festival; it is a sacred time for invoking blessings and embracing a virtuous path, underlining the deep-rooted importance of Navratri in the hearts of millions.
Navratri Colours List for 2023
Prepare for Navratri 2023 with our guide on "navratri colors 2023″. Discover the Navratri 2023 colours to wear each day."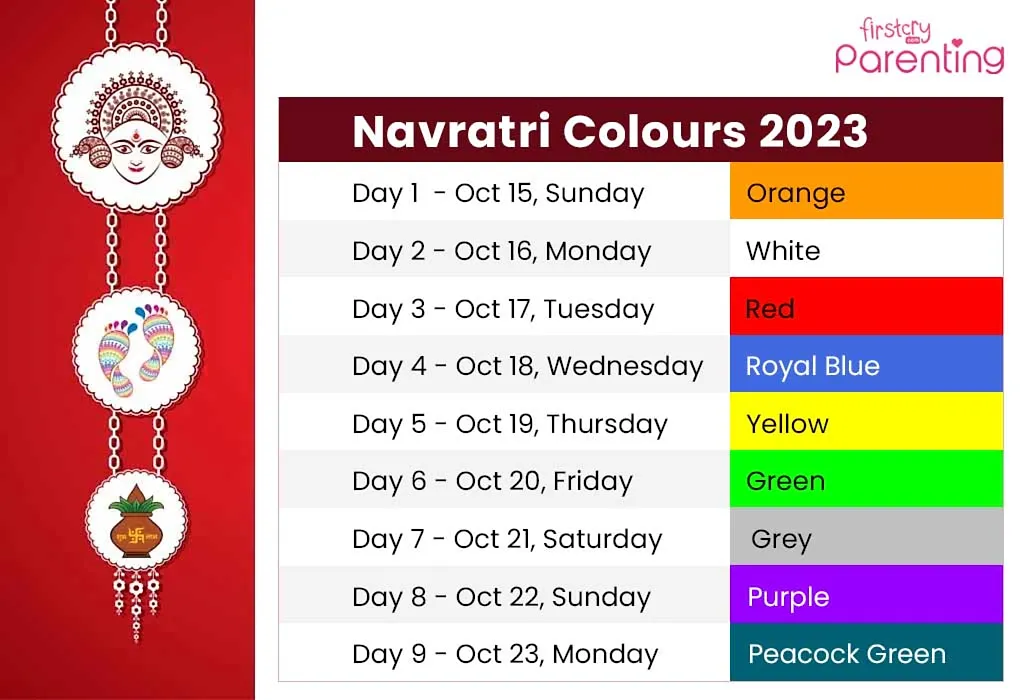 Day 1 – 15 October – Orange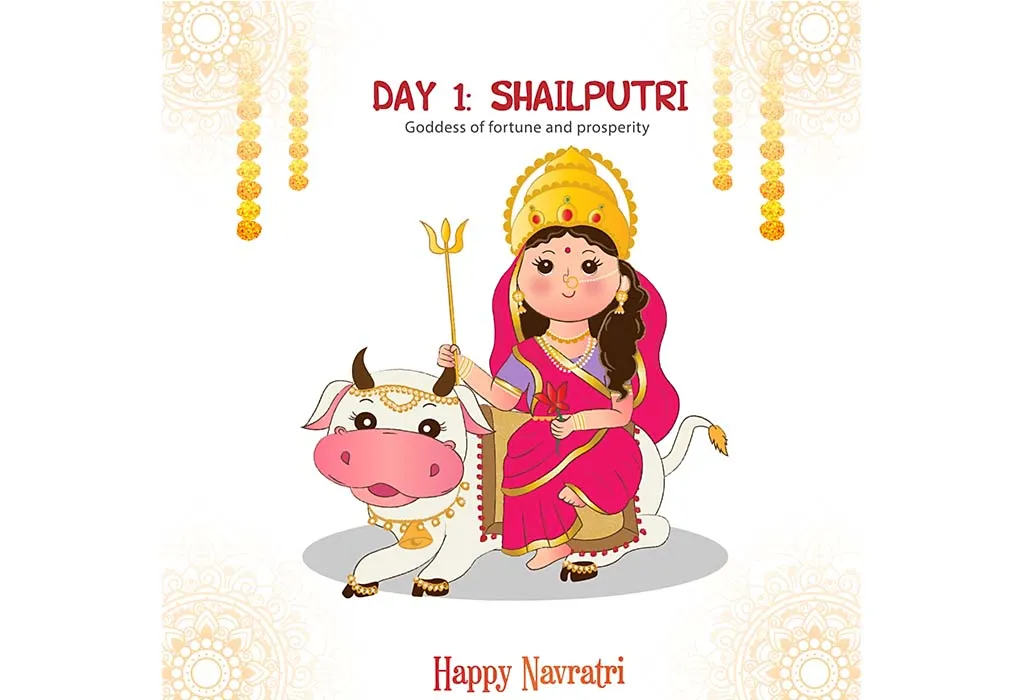 The festivities of Navratri begin with the worship of Mata Shailputri, one of the nine avataras of Maa Durga. She is the first form of Goddess Durga – the daughter of the mountains. With great fervour and enthusiasm, devotees, on this day, install an earthen pot, which is called Ghatsthapana, and offer myriad of offerings to Goddess Durga for the welfare of the world. This day's colour is orange that totally justifies the upbeat and exuberant energy devotees feel in their souls. Nothing lights up hearts like a bright shade of orange!
Day 2 – 16 October – White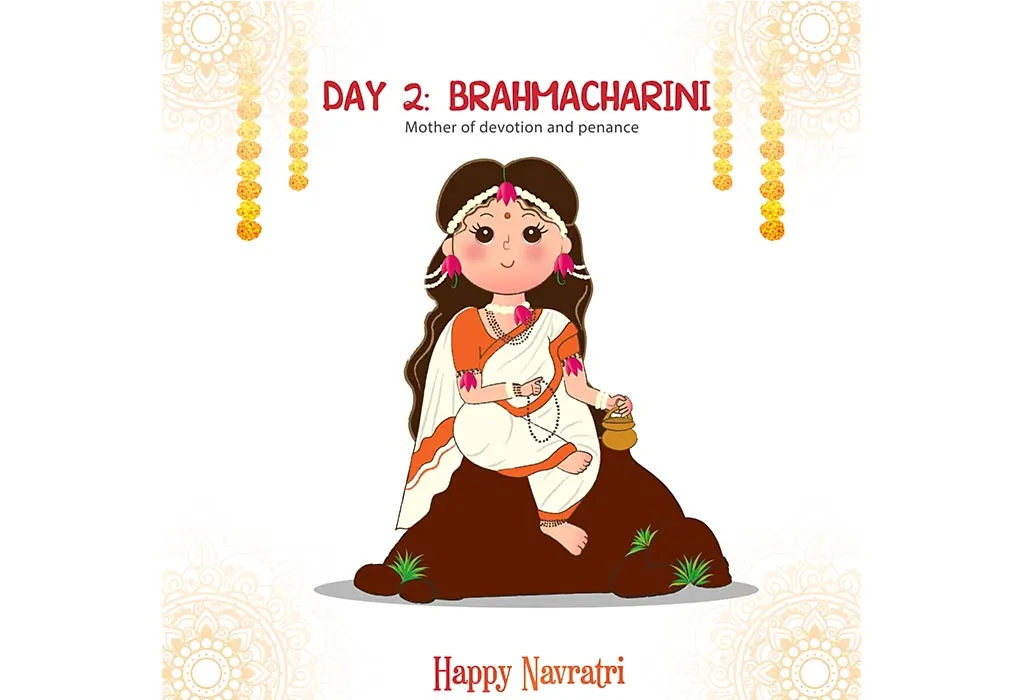 The second day of Navratri is celebrated with the same enthusiasm and full spirit. The day's colour is white, depicting peace, loyalty, and wisdom. On this day, Maa Brahmacharini is worshipped, and her idol will be donned with a white colour saree and white flowers. She is worshipped as the unmarried form of Maa Vaishno. With rosary in her right hand and a kamandala in the left, Mata Brahmacharini signifies as the epitome of love. Let's all wear white today and pray to Mata Brahmacharini for her immense blessings!
Day 3 – 17 October – Red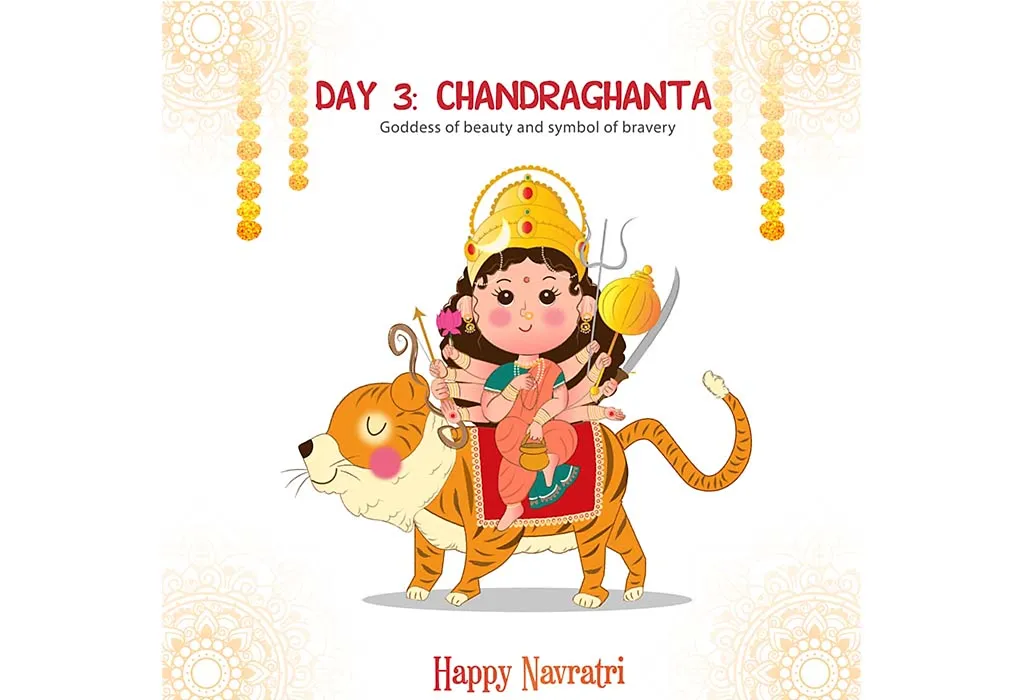 The third day of Navaratri continues with full vigour and enthusiasm. Wear the colour red on this day to express your passion and love. Red is the most preferred colour for Mata's chunni. Red is also the colour of Mata Chandraghanta who is worshipped on this day and fights against the evil forces in the universe. She adorns a beautiful half chandra (moon) on her forehead and has eight hands that carry rosary, pot, chakra, an arrow, bow, lotus flower, kamandala, and mace. Become fearless like Ma Chandraghanta by wearing a bold and beautiful red this day!
Day 4 – 18 October – Royal Blue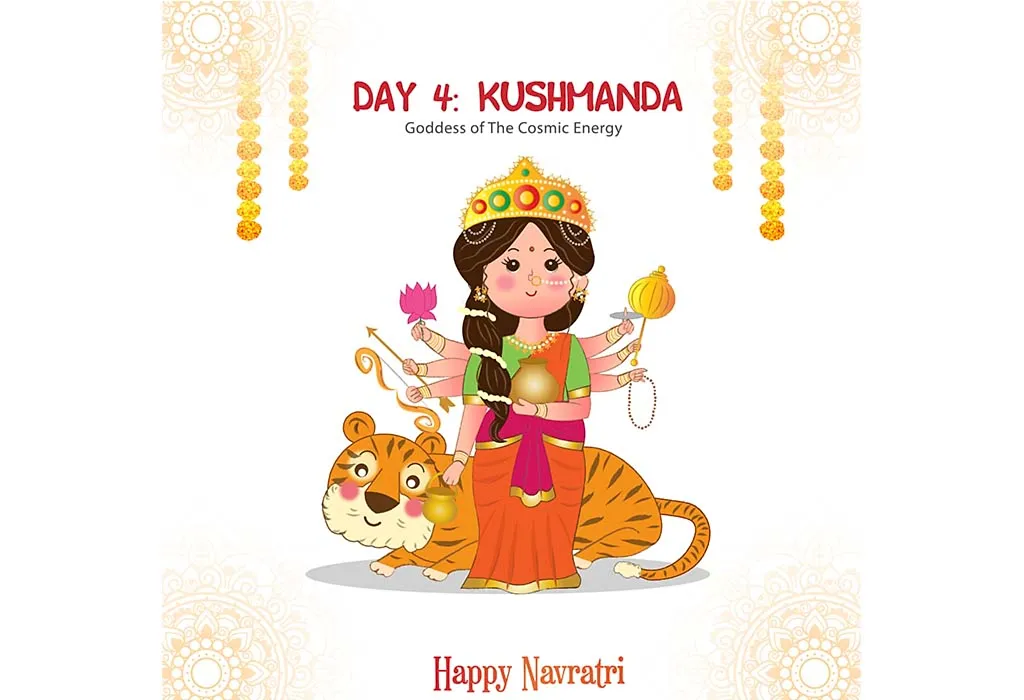 On the fourth day of Navratri, Mata Kushmanda, is worshipped. As per mythology, she is believed to be the creator of the entire universe and all through laughter! She blesses her children with glory, fame, and confidence. The day's colour is royal blue, symbolising health and prosperity which Maa Kushmanda always offers.
Day 5 – 19 October – Yellow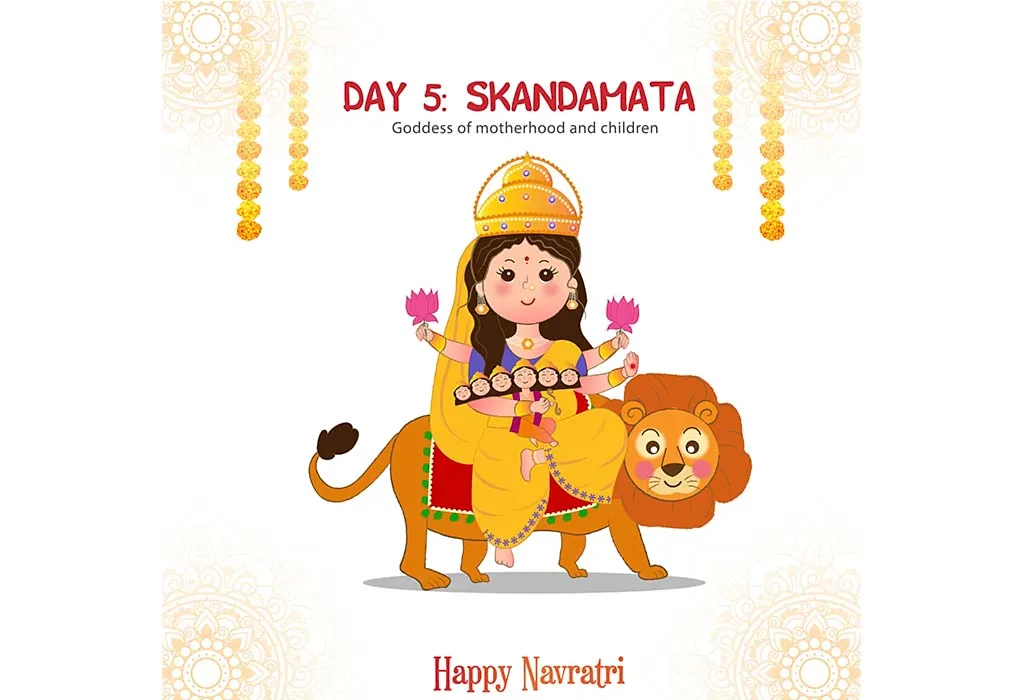 The fifth day of Navratri is deicated to Goddess Skandamata. The day's colour is yellow, symbolising the brightness and optimism of the heart. She is the symbol of elegance and richness. With little Karthik, her son, in her arms, Mata Skandamata exuberates strength and elegance yet the vulnerability of a mother. She can become a mighty storm cloud to protect her children if need be. Let's all wear yellow today, and fill ours and each other's hearts with a warm glow like a yellow!
Tip: Here are some fantastic dress options in yellow – note that it pairs the best with reds and pinks. We bet you'll fall in love with the Jodhpuri pyjamas!
Day 6 – 20 October – Green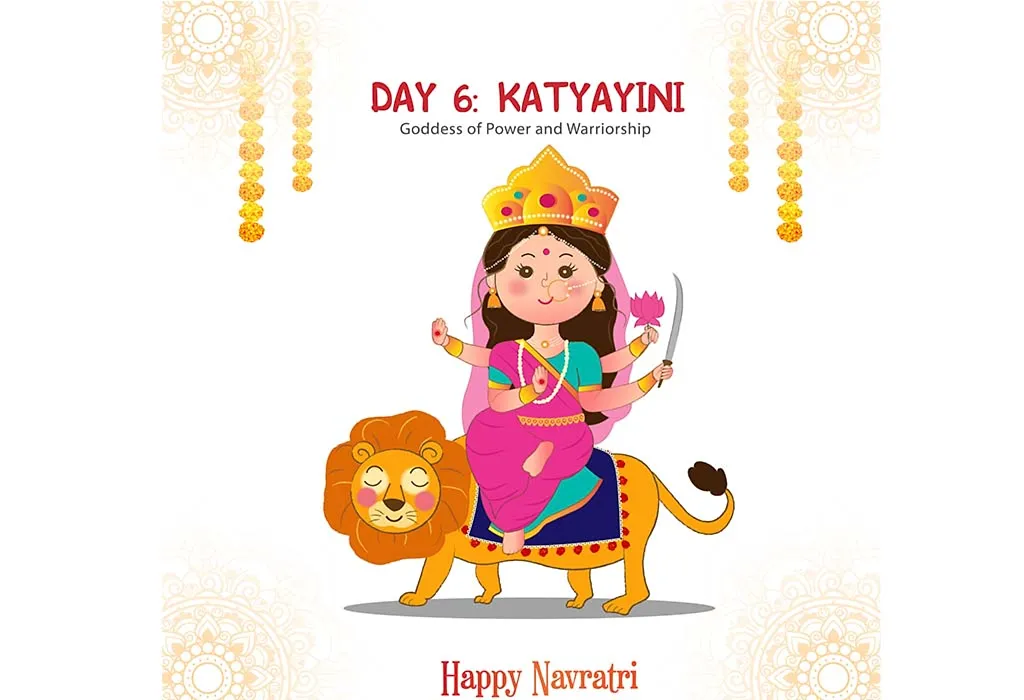 This is the day when Durga Puja kicks off with full fervour in West Bengal and several other parts of India. Shashti is the start of four days of festivities for Bengalis worldwide. Mata Katyayani, an avatara of Ma Durga, is worshipped today. The story goes that Maa Durga took the avatar of Mata Katyayani to destroy the tyrannical demon, Mahishasura. This day, dress up in green – the colour of fertility, peace, and new beginnings of life, which the Goddess always extends to worshippers. Traditional dresses in green add a subtle style statement that will look just wow on your kids and also get them in the festive spirit!
Day 7 – 21 October – Grey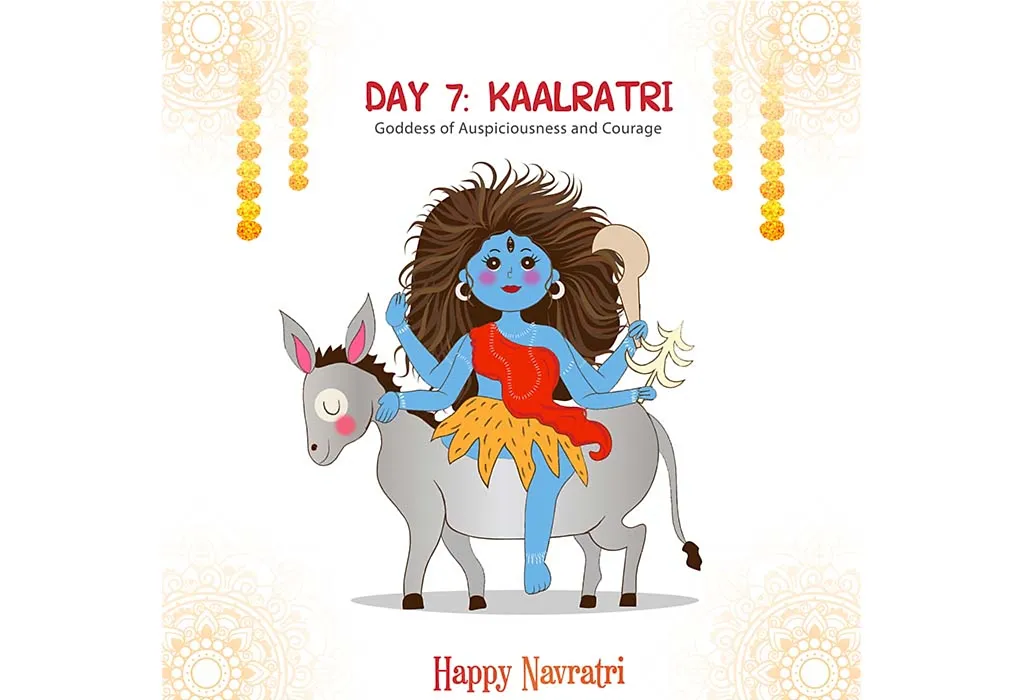 Devotees worship Mata Kaalratri on the seventh day of Navaratri. She is the most fercious of all Durga avataras and protects against all sorts of trouble. The legend has it that Mata Kaalratri sacrificed her golden skin to slay demons. She is the destroyer of bad omens, spirits, and energies. The seventh day of Sharad Navratri is made colourful by wearing grey clothes. Grey symbolises balanced emotions and a down-to-earth approach toward living. Make a subtle style statement by opting for fancy clothing options or by donning accessories in grey like oxidised jewellery.
Day 8 – 22 October – Purple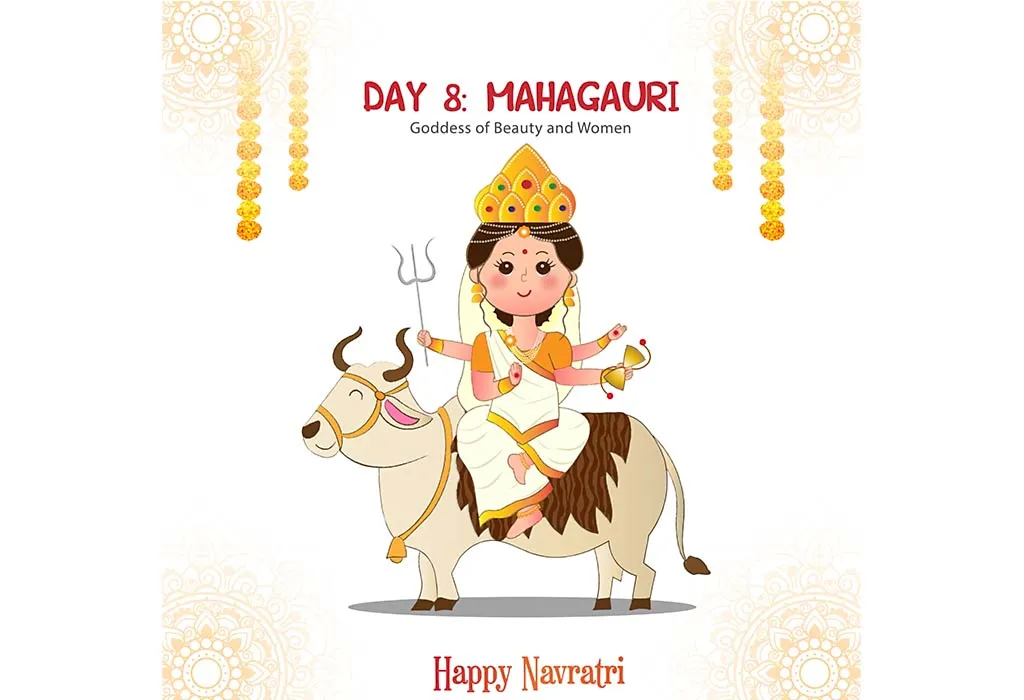 On Ashtami, Goddess Mahagauri is worshipped as the symbol of forgiveness and mercy. It is said that Mata Mahagauri destroys all the sins of time. The eighth day is also the day of Kanjak, where devotees welcome little girls in their homes as the avataras of Maa Durga and feed them with delicious offerings. A happening day, people celebrate the eight day with great love and devotion towards Maa Ambey. Hence, purple is the colour of the day, denoting universal harmony and love.
Day 9 – 23 October – Peacock Green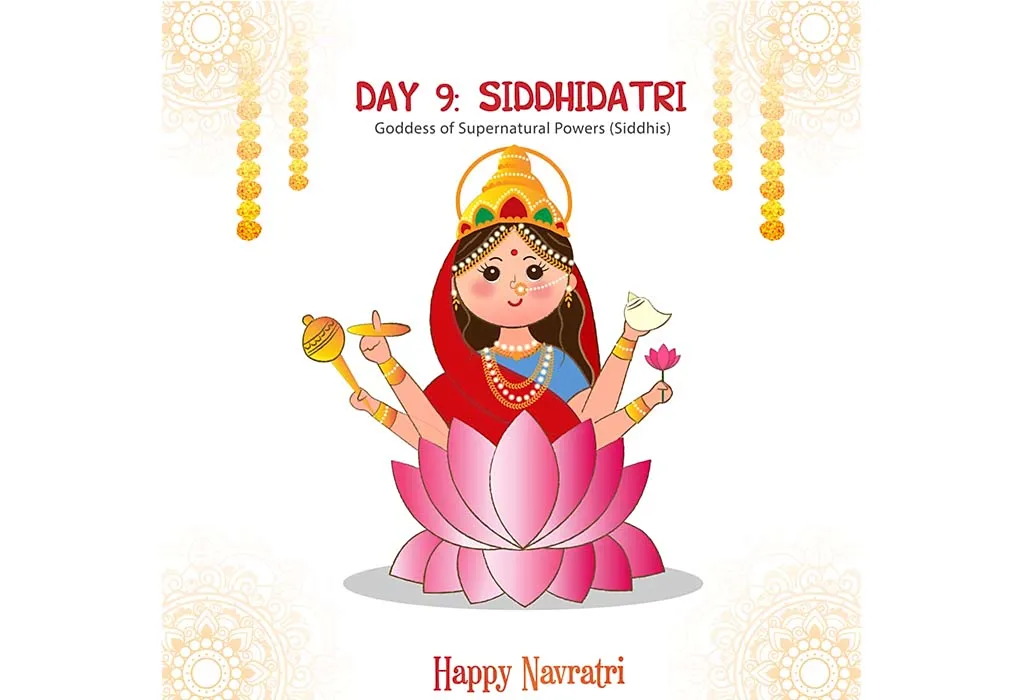 On the last day of Navratri, Mata Siddhidhatri is worshipped. Hindus worship Goddess Siddhidhatri to receive Siddhi (wisdom) and Nidhi (wealth). Maha Navami Puja, as well as Kanya Puja is performed on this day. The peacock green, symbolising the fulfilment of wishes and compassion, will be a lovely colour to mark the last day of festivities!
Colours evoke happy emotions in devotees. During Navratri, everyone comes forward to welcome Maa Durga into their homes and celebrate this auspicious occasion with one another. To elevate the spirit and enthusiasm of people, wear traditional and modern clothes in different colours designated to the days of Navratri. Wearing clothes of the same colour brings people together and lights up hearts with joy and divinity. Let us all celebrate these nine auspicious days with purity and devotion and bless each other with positive hearts.
Happy Navratri 2023!
Also Read:
Navratri and Dussehra Facts for Kids
Tips to Dress Up Your Kids for Navratri Festival
Delicious Navratri Fasting Food Recipes You Must Try This Festive Season
?>