This Unique School is Making Learning Magical for Little Kids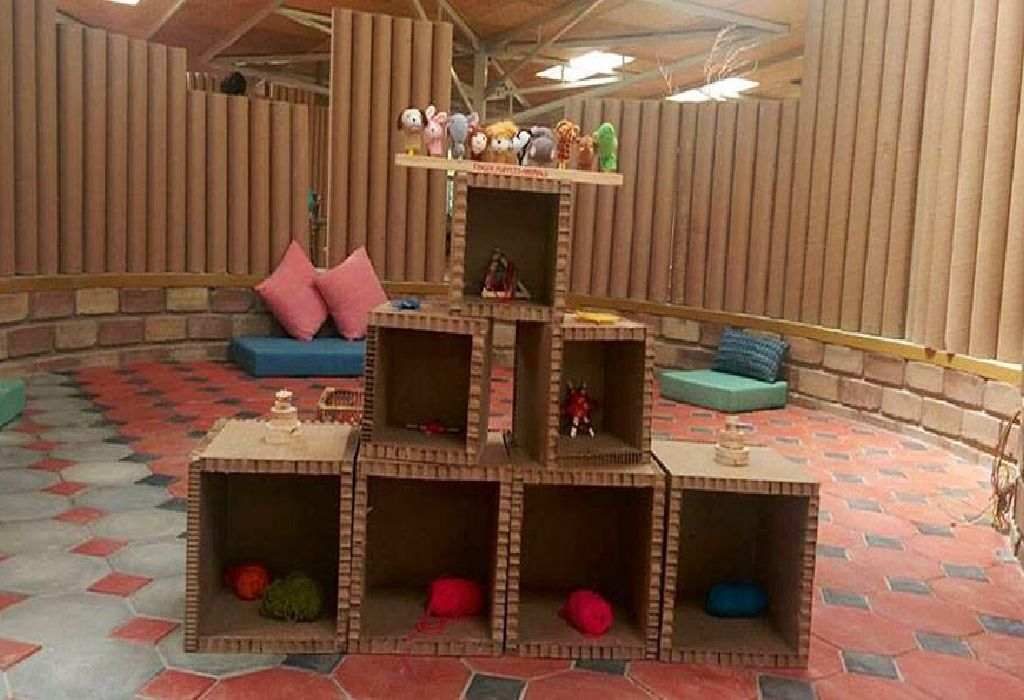 There was a little boy who never talked. His classmates in preschool would chit chat and have fun together, but this young man continued to be in his own world. The year went on, and life continued…
And then it was a fresh year. With fresh new chatter for the kids at preschool and busy days with tons of creative things to do. The world had changed colours, and with it, so had our little man. He now plunged into everything his class did and animatedly shared stories of his day with his friends, teachers and parents. It was a miracle of sorts, a little thing that brought infinite happiness to the people around him. And what made this miracle possible was a delightful little school tucked away in Guwahati…
The Atelier was founded in Guwahati in 2013 and runs educational programs for pre-schoolers and toddlers aged between 6 months to 6 years of age. These programs operate out of "studios" which are, simply put, magical little worlds of creative, open-ended and empowered learning. Spread over an area of 20,000 square feet, the school has dedicated rooms for each age group and a piazza to allow interaction. At the centre of this setup is the child, who, the team at The Atelier believes, is intelligent, empowered and capable of finding meaning in the possibilities posed to him. This draws from the educational philosophy called the 'Reggio Emilia Approach' which maintains that children are the protagonists in their learning.
"Kids have the potential to create their own learning from their natural instincts. This is why we believe in keeping a flexible curriculum – one that covers all the basic skills, especially language and math, but is not rigid. In fact, we pay close attention to every child to observe what interests him. If it's dinosaurs, then dinosaurs it is!" says Rythm Aggarwal, Co-founder & Director, The Atelier.
Teachers are Co-Learners. Parents are Partners. It is the Kids who are the Protagonists.
A typical day at the Atelier is packed with fascinating things such as clay, leaves, twigs, paper and pipes. There's also water exploratory areas, vegetable and herb gardens, obstacle courses, tunnels, and all kinds of media. Kids learn to use words, symbols, letters and numbers but steer this learning on their own. Unlike another comparable teaching approach such as say, Montessori, where the activities are more rigidly defined and based on scientific material, The Atelier's approach is more liberating.
Early education can be life-changing.

The early years in our kids' lives play a huge role in their personality and overall development. These are also the most impressionable years and your child will learn to be self-driven and creative if only we as parents let him. "We constantly work with parents, who we believe are our partners." says Rythm. "We don't restrict our association to weekly reports or PTMs. Whether it's storytelling day or learn-a-musical-instrument day, we get the parents along whenever we can".
The Atelier is all set to open its second studio in Bangalore. The team is abuzz with excitement and open invites have been sent out in the neighbourhood. Bangalore Moms, this is an excellent opportunity to let your kids explore their interests and experience a unique style of learning. If you have been there, we will be waiting to hear about your experiences!
In the meantime, we will take some inspiration and let our kids soak in the joys of empowered learning. Math, English, Science or Geography, everything becomes doubly more interesting once your little one understands the thumb-rule – Learning isn't boring. In fact, learning is their gateway to freedom, expression and imagination.