This Little Girl's Birth Story From Kerala Will Make You Believe in Miracles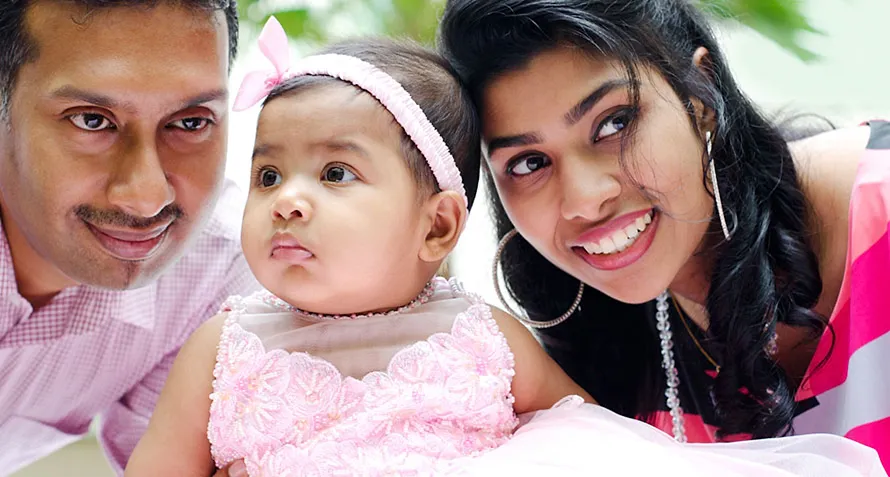 Gireesh and Sajini are the proud parents of a gorgeous three month old baby girl. Their daughter was born in Kerala, God's own country, and is now the apple of their eyes. What's so special about that, you ask? Well, this baby girl was born after the couple lost three babies to a deadly disease called Tay-Sachs…
Tay-Sachs is a rare genetic disorder that destroys nerve cells and subsequently, mental and physical abilities. Typically seen in babies at about three to six months of age, it results in death by the age of five. The worst part? It has no cure. Since both Gireesh annd Sajin were carriers of the disease, their babies contracted it too, causing them to die.
The destructive process of this disease began in the foetus right from early pregnancy. In this heartbreaking condition, the baby's development slows down rapidly, and by two years, the infant is unable to do simple things like crawling and sitting. The poor baby also gets frequent seizures, and becomes blind and non-responsive. Finally, the nervous system gets so badly affected that the child passes away by the age of five.
This young couple suffered greatly each time they lost a child. It left them feeling drained and disillusioned. But they couldn't do anything about it…
"As parents, we went through severe trauma when we lost three of our children to the disease. We were scared to try for another baby and were looking out for some kind of a miracle."
That's when Dr. Nair, the head of the Genetic lab at Craft IVF Hospital, Kerala, came to their rescue. She suggested they go for In Vitro Fertilisation (IVF). This is a process where eggs are removed from the ovary and fertilised with sperm in the laboratory. Dr. Nair and her team screened the embryos obtained during IVF to identify abnormailities. From the many embryos, they selected the one that was healthy and free from Tay-Sachs. The able doctor and her team continuously monitored Sajini throughout her pregnancy. It was a difficult time and the parents were constantly worried for their baby. After having endured so much loss, they didn't know what to trust or expect any more.
And then it was the D-day. The day their baby came into the world. On May 2016, Sajin delivered a perfectly healthy baby girl, free of even the possibility of any genetic disorder. It has been three months since the delivery and the baby is rapidly growing, enjoying the sun and the stars, and the unending love of her parents.
"We are proud parents of a three month old daughter and for us the most relieving fact is that she's free and safe of such a rare and deadly genetic disease."
– Gireesh
Truly a miracle, right? IVF not only secures babies against deadly genetic diseases but is also a great option for women who are finding it difficult to get pregnant naturally. Despite many Bollywood celebs opting for IVF it is still frowned upon by the general Indian public. Call it ignorance or apprehension about medical science, but this attitude is what keeps so many couples from enjoying the joys of parenthood. If you have been trying to get pregnant or are facing any other complications related to conceiving, don't hesitate to consult your doctor. There are so many solutions out there today to put things just right.
The story of Gireesh and Sajin is a shining example that no matter what, parents will do anything to ensure that their children are healthy and happy. And when you have faith and love to hold you in good stead, miracles are bound to happen.