This is the Reason Sonali Bendre's Little Son is Growing Up Into a Fine Young Man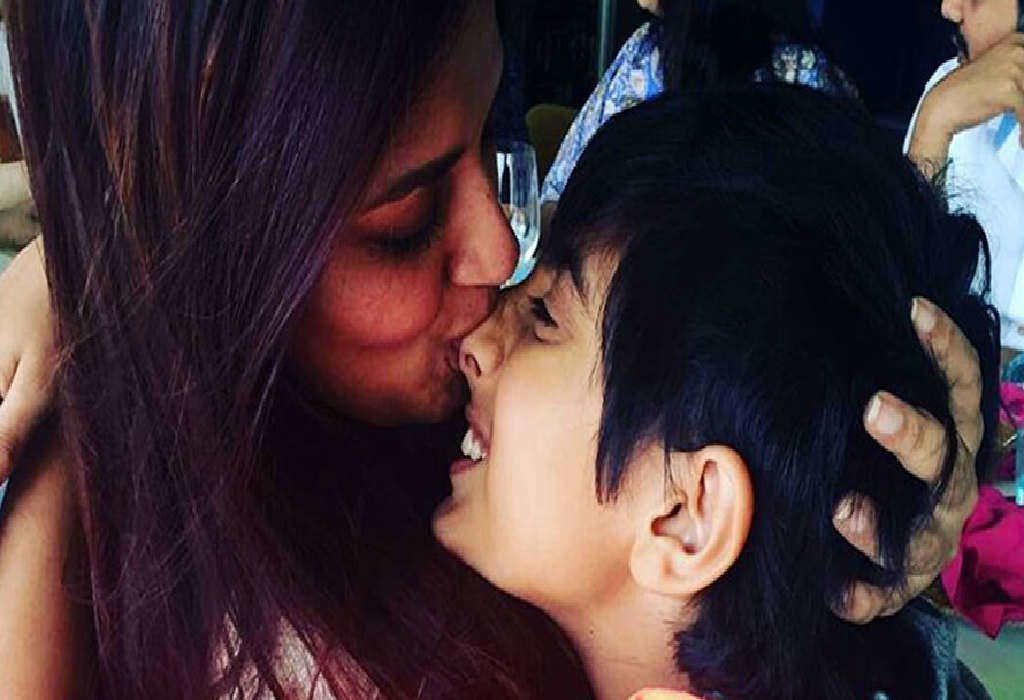 Raising kids in today's world is no easy task. Right from when they are little, our children are exposed to so much societal judgment, prejudices and pressures that growing up as a balanced individual requires effort – on their part as well as yours. As their mom, you do your best to make the right choices, adopt the right parenting style, and keep your kids protected from anything that's damaging or harmful for their development. Mom Sonali Bendre, who has a little son, is also witnessing her child grow up in the big, bad world. The reason he is rapidly becoming a fine young man lies in the parenting mantras she has adopted…
At the pinnacle of her career in 2005, Sonali Bendre took a sabbatical from Bollywood. The reason? She had just given birth to her son, Ranveer, and she wanted to be a full-time mommy instead of a career woman. Today, Ranveer is 11 years old and a delight for his family and friends. He is a curious and creative preteen and wants to try his hand at a lot of career options – from teaching to astronomy! Together with his Mom and Dad, he is exploring the world as a growing individual. The credit for this goes to his mom Sonali who is a strong believer in some parenting mantras
Here's Sonali's approach to parenting and bringing up her son. We are truly inspired by this thinking, new-age mom!
On putting her son first
She never had a qualm about quitting her career for her child. When Sonali quit her acting career, she frankly said she was doing it because she wanted to be with the child. Even today, she has chosen to stay away from the silver screen and opted for TV shows instead. Putting her child first has always been a decision she values.
On raising her boy to be sensitive and well read
Being a girl with two sisters, Sonali has not had it easy bringing up her boy. She revealed that she is still figuring it out as she goes. However, one thing she is sure about is that she wants to raise a sensitive son, epsecially in today's times when many men are rampantly disrespecting women. She has also revealed that owing to her father's busy schedule, growing up, books were her only friends. In fact, she still finds comfort in them whenever she is feeling stressed. This is probably why she wants Ranveer to be a voracious reader as well.
"Coming from being a mother of a boy, I think we need to teach our boys, compassion. It's okay for them to be sensitive. As a grown-up, I quite like sensitive boys."
Source: https://www.thehindu.com/
On allowing her son to make mistakes
Once her parenting book was out, her husband Goldie Behl had only one concern: would this put too much pressure on Ranveer? Sonali reassured him by saying it wouldn't. And een if he didn't turn out to be the most well-behaved child, it was okay. All they could do was try to parent right.
"I don't know what's going to happen in future. And nobody really knows. We can only try our best, give it our all, and give him the upbringing. He's a human being. He is going to make mistakes. I have to, as a mother, accept it; that's the only way."
On teaching her son to fight social prejudices
Sonali is also teaching her son to fight against social prejudices by standing up for causes she feels strongly about. Recently, there was a controversy on national television after actress Tannishtha Chatterjee was made fun of because of her skin colour. This is a problem that continues to stereotype women no matter how educated or strong they become. Some people don't even leave babies out of this and obsess over their skin colour, often subjecting them to harmful skin practices! Sonali wants her son to abstain from such prejudices and she is vocal about it.
"I think making jokes about somebody's skin tone is absolutely wrong. However, I am glad that everybody is becoming conscious of these things. So am I. I think it is time we all need to ponder over endorsing products that stereotype women."
On balancing work and mommying
Sonali believes in letting her child know that although he is the apple of her eye, she has a life that goes beyond parenting. She believes that moms need to continue to work more for this reason than to make money.
"Not just for financial independence but kids need to see that mother 's have their own time. It's not just all about them. I feel they learn to appreciate you more. It's also required for my sanity as a mother and wife."
On enlisting support
Sonali admits that it takes the combined efforts of parents and an extended family to raise a child. And for those who live in a nuclear setup, this family could be friends, neighbours and other moms.
"I have a lot of support and live in a joint family. I have come to realize that it takes up a village to bring a child. It doesn't necessarily have to be family. It could be the friends, neighbours, or school moms. Boys don't share too much, so I'm really thankful to these school moms of girls from whom I get to know a lot more about the happenings."
This mom has sure got it right when it comes to mommying. Parenting is a huge responsibility and one that needs to be fulfilled with love, care and faith. Sonali seems to be well on the right path. She wants her son to grow up with the values she holds dear but she also encourages him to explore and embace the world as he sees it. Being accepting, supporting and nurturing – that's something only mothers know how to do!