12 Bollywood Parents Reveal Their Favourite Foods From Childhood Till Now (With Recipes)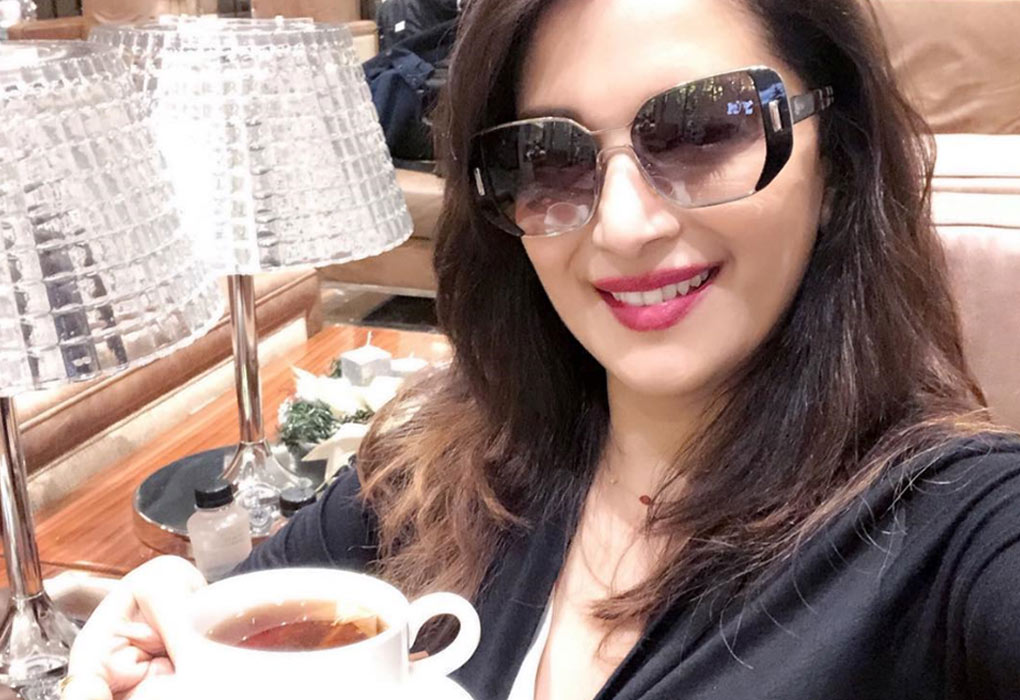 You just slaved for two hours in the kitchen to put together a healthy, balanced meal for your child. And as soon as he sees it, he starts screaming! Well, don't presume that you have a particularly picky eater; most children in their growing years (and some well beyond that!) are very fussy over food. Let's be honest – didn't we have a hundred and one complaints about food when we were young? But we also had a few favourite food items, thankfully for our moms, and these are the ones that we fondly love even today. We checked out what some of our Bollywood parents love eating and the result is this lip-smacking, hunger-inducing list…
We have brought for you an assortment of delicious food that our favourite Bollywood parents love to eat at home. These foods are so yummy that no kids can ever dream of fussing! When cooked healthily, they can make meal times in your household a lot more peaceful.
1. Shahrukh Khan
This daddy didn't get a chance to get too fussy over food at home – both his Mom and Dad were excellent cooks and made sure everything tasted delicious! SRK's father, a Pathan, used to eat a lot of dry Pathani food such as raan while his mom prepared yummy Hyderabadi food such as mutton biryani and khatti dal. Since then, there is one thing that SRK absolutely loves. It's tandoori and grilled chicken! He says he is addicted to it and can eat it 365 days a year. He laps up crispy and juicy chicken at mealtimes and we daresay it's the secret to his satisfied, happy smile!
Fussy Eaters Tip: Even for the fussiest of eaters, it helps to zero down on a favourite food. And then, the mom's challenge is really to make this food as healthy as can be and expand on its scope gradually – from chicken to other protein sources like eggs and fish, for instance.
2. Madhuri Dixit
Madhuri has always been picky about her food. She puts in a considerable effort to ensure that the fine line between tasty food and health food is maintained. This becomes difficult when you are a foodie, which Madhuri is, and have two little foodies at home! But for her, everything is forgotten when she can indulge in her favourite fish dish – creamed fish. She has a special love for fish and there's no denying that it can indeed be yummy. Madhuri also digs kande pohe and makes an excellent dish herself.
Fussy Eaters Tip: If you are non-vegetarian, we recommend trying fish as the answer to your child's fussiness. It will also give your child abundant protein. Madhuri's trick to dealing with fussy eaters is a balance – pizzas and burgers only once a week and delicious, homemade food the rest of the time.
3. Hrithik Roshan
One of the fittest Bollywood Dads ever, surely Hrithik grew up eating only healthy foods. How else did he become so toned and athletic? Well, while we Hrithik follows a strict diet now, when he was young, he made his mom fuss over him as much as any other kid! His absolute favourite food is piping hot samosas. He claims to be able to eat even a dozen samosas together! As a child, he also got his mom to prepare bread pudding; he has had it since he was four. Mommy Roshan's caramel custard is another much-loved dish.
Fussy Eaters Tip: Try and make meal-times memorable by associating them with fun. Click pictures, talk, make memories. Years later, when your kids eat food prepared by their mom, it will bring back sweet childhood memories and make any diet worthwhile!
4. Aamir Khan
If you thought this dad's perfection is limited only to his work, check this out: Aamir is very particular about his Mughlai cuisine and absolutely adores it. But it needs to be made perfectly, just like in the days of royalty. Mughlai food reminds him of his childhood and brings back memories of the good old days. Biryani badshahi, shahi rogan josh, you name it – Mughlai food gets Aamir's pulse racing. In fact, fire-cooked food usually cuts it for him, like a plate of yummy Lithi-Chokha, the specialty from Bihar!
Fussy Eaters Tip: Once you've identified a food type your child particularly likes, it can become an excellent motivator to get things done. We are just saying!
5. Akshay Kumar
Like Aamir, there's one food that makes Akshay happy no matter what – Thai Green Curry. He developed his love for Thai food while working as a chef in Thailand. So hot, spicy and soul-warming Thai is this dad's comfort food.
Fussy Eaters Tip: Akshay's main tip to deal with fussy eating is flexibility. He does not follow any rules during cooking but just lets his imagination and passion lead the way. Now that's some brilliant advice for all moms!
6. Aishwarya Rai
This Bollywood mom was quite the model child when it comes to eating! She helped her mom out in the kitchen and also learned cooking skills by watching her. Growing up, she didn't need anything fancy to satisfy her. The regular home-food such as dal, fish or chicken curry would be just right. What a dream daughter, eh? Today, Aish whips up different forms of southern sweets, Mangalorean dishes and other desserts in the kitchen. It's a fragrant household!
Fussy Eaters Tip: We got to remember that kids are attracted to colourful, sugary foods – it's a combination of biological and visual motivators! So while you should stick to healthy, simple fare, also remember to keep things special every now and then. A side-dish, a low-calorie dessert, or yoghurt-icecream can make dinners wonderful!
7. Karishma Kapoor
This Punjabi mom grew up in a household that loves food and needless to say, enjoyed a vast variety of tastes growing up. While she loved everything from Punjabi non-vegetarian cuisine to street food and Delhi-style North Indian food, Karishma has to have everything creative. We think her mom must have worked really hard to please this early creative foodie, even when preparing her favourite dal-chawal and bhindi!
Fussy Eaters Tip: Creative cooking brings greater variety to food and keeps taste buds happy. Karishma, for example, comes up with twists for traditional dishes and enjoys feeding her kids all her tasty experiments. Perhaps a dessert with bread rather than toast or baked potato-chips instead of aloo-pyaaz ki sabji? You should try this too!
8. Shahid Kapur
This new daddy has a weakness most of us identify with – a plate of samosas or bhajiya and a cup of hot tea when it rains! There is something divine about this combination and no one can dream of calling it unhealthy! Shahid has always enjoyed different cuisines, Chinese in particular, and a plate of spicy Chinese food always serves to please his taste buds.
Fussy Eaters Tip: Do the picky eaters in your house love Chinese too? The good news is that it can be quite wholesome when prepared at home. Try whipping it up in your kitchen to limit their attraction to unhygienic street food.
9. Imran Khan
This daddy has a soft corner in his heart for cooking and eating. He often cooks dinner for the family – hot, spicy dishes with different peppers. Imran makes a mean recipe using mushrooms and corn too. Not just the exotic, he also makes traditional fare for his wife and daughter such as rajma curry (of course, with peppers!). Despite the experimentation, he has always been pleased with this simple comfort food – rice and dal tadka. Reminds you of home, right?
Fussy Eaters Tip: The important thing to teach your child is that home-food is good for him. Limit the number of times you eat out or order in; your kids learn from you. Instead, innovate in the kitchen and make things interesting.
10. Shilpa Shetty
Shilpa is the one to emulate if you're looking to not just lose weight but also remain fit and youthful. This mommy managed to lose her post-pregnancy fat very quickly and only by following a healthy diet and exercise routine. But hey, Shilpa too has a weakness for something…it is the spicy mackerel curry cooked by her mom! Even though she now prefers vegetarian food, this is one recipe that first made her fall in love with food. Another bestseller on her plate is the South Indian breakfast – soft rava idlis with sambhar, coconut-jaggery mixture and coriander mint chutney.
Fussy Eaters Tip: Make sure you have a special day in the week. Remember the elaborate Sunday breakfasts you arrange for your little one? Talk about them and establish them as a weekly highlight – yes, cheats such as chocolate and fried food can be allowed. The rest of the week everyone eats healthy and fresh
11. Abhishek Bachchan
It didn't take much to please Junior Bachchan's taste buds – all he needed was rajma chawal! This quintessential North Indian recipe tastes even more amazing when freshly made at home. That said, Abhishek also enjoys cooking and makes a smasher of a Dahi Chicken Curry. He even demonstrated this recently on Farah Khan's cooking show. Between Aishwarya and him, we are sure little Aradhya is growing up into quite a food enthusiast!
Fussy Eaters Tip: Encourage your kids to participate in the kitchen. They can help with peeling potatoes, dressing the salad or even rolling the dough. Being involved in the process, and seeing both mom and dad doing it too, makes them less likely to throw a tantrum.
12. Ajay Devgan
This daddy is a big-time foodie and enjoys cooking as much as eating! From Indian and Mughlai to Chinese, he can cook it all and often regales his family with tasty new recipes. However, his heart still rests in these simple North-Indian foods – chhole-bhature and khichdi. Growing up, Ajay developed a strange habit of fussy eating – insisting on using a fork and knife for eating everything! Reportedly, he doesn't even eat chapatis with his hands for fear that the fingers would stink.
Fussy Eaters Tip: Even though it seems counter-intuitive to encouraging kids to be less picky, good table manners are important for kids. Teach them to use utensils properly. It makes them feel important and less likely to fuss. Ajay's pickiness, for instance, fussy or not, is surely a healthy eating habit!
Are you feeling hungry yet, mom? We sure are! The trick to tackling your child's picky eating sometimes lies simply in balancing taste with health. Go ahead and let him enjoy the occasional pizza or the Friday Chinese. But encourage him to relish his daily food, the food you prepare with love. Unknown to you, your child's favourite foods are also slowly occupying space in his heart. Many years later, he will think back to the days of his childhood and the food you used to cook for him. As for fussy eating at that time, why it will be all you can do to stop him from licking the plate clean.