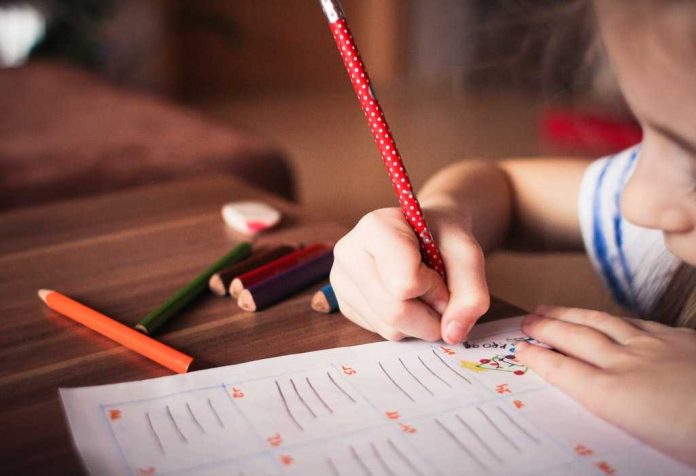 Last Updated on
Children learning to write their name will not just help them feel confident but they will also become better at coordination and concentration. This activity can be done in many ways, and just needs you and your toddler's time and attention.
The time between 3-4 years is wonderful for both the parents and the toddler. As a parent, it's overwhelming to watch your toddler during this phase talking nineteen to a dozen, singing nursery rhymes, showering innocent love and sometimes even asking such intelligent questions that they leave you amazed. At this stage, one of the many activities that the toddler enjoys doing is scribbling, coloring or even writing. This becomes a perfect time, then, to teach your tot how to write his name.
Tips for Teaching Your Child to Write his Name
1. Gauge Your Child's Inclination:
Some toddlers at the age of two or three years show an inclination towards holding a pencil or a crayon. It becomes relatively easier to bring around such toddlers to learn alphabets or write their name. For those kids who don't show much enthusiasm, coming up with fun ways for toddlers to write their names should help. Encourage him to draw to strengthen his hand muscles. You can even use playdough to make alphabets too.
2. When Should a Child be Able to Write their Name:
Some children learn how to write their names by the time they turn 4 years of age while others don't do this until 5 years of age. So, basically, there is no specific age but just a band anywhere between 3-5 years of age. Also, no two children develop at the same rate.
3. Learning to Write Your Name: Activities to Try:
StampingGive your toddler alphabet stamps and paper and teach him to stamp his name.
Magnetic LettersUse a magnetic board and letters. These are easily available in any shop. All you need to do is initially provide only the alphabets that are included in the child's name and ask him to put them in the proper order.
Typing on the computerOpen a word document and set a large colorful font and get going.
Salt PrintingSprinkle a lot of salt on a tray and ask your toddler to use his finger to trace out his name.
Water Painting on the ChalkboardWrite the name of your child on a chalkboard and give him water and brush to trace out his name. As he will do this, the alphabets will disappear making the exercise even more interesting.
Highlighter TracingWrite your toddler's name on a chart paper and provide him with a highlighter to trace it.
Letter BoxesOn a board, make boxes and write each letter of the name in the box. Ask your toddler to copy the same below in blank boxes using a piece of chalk.
Once you know how to teach a toddler to write their names, you can then graduate him to writing other alphabets and letters too. Make sure you make writing look more of a fun thing to do than it being a boring chore.
So how did you teach your child to write his name? Do share your experiences and tips with us!