Taking Your Toddler's Help To Sort Laundry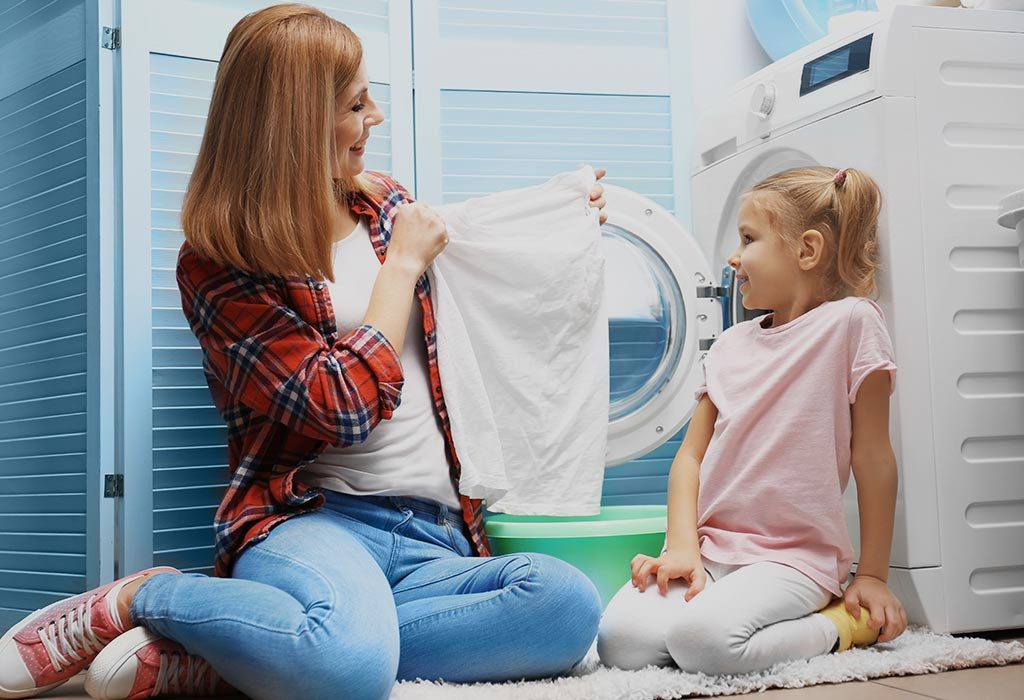 In this Article
Still wondering how to get your child to help in laundry? These hacks show how toddlers love to waddle through piles of clothes, sort them as per color, and push clothes into the machine too. With encouragement and right learning processes in place, this can be a fun skill.
Toddlers begin learning at home by observing their parents go about their daily chores. Involving themselves in the day-to-day functions of a household bolsters a child's self-relevance and makes them feel wanted, competent, and responsible. Get your kids involved in chores by teaching them day-to-day tasks like looking after their toys, tidying up their room, or getting the laundry done.
How Toddlers can Help with Laundry
1. Start them young
As a parent, you do everything for your child and it's easy to continue doing so. But the question is till when? If you want to turn your child into a responsible adult, then you need to teach her to do simple things on her own, including laundry. So, try to explain why clothes get soiled and need to be washed regularly. A visit to the local mart will introduce her to detergents, clothes brushes, fabric softeners, etc. Once through, grab 2-3 soiled clothes and offer a 'hand– washing' demo to make her understand the basic laundry processes in easy-to-perform ways.
2. Make them a Part of the Process
The first step is to teach her to separate white clothes from the darker ones. Tell them to also check pockets for change or tissues, match socks, and close up the zippers of pants and jackets. You can teach your toddler to fold dry laundry by starting with easy clothes like towels and washcloth. Ask your child to help you hang clothes for drying too. Teaching toddlers to help with laundry requires a lot of patience and diligence, but then, it's worth the cause.
3. Make Laundry Fun
Ask your toddler to collect all her doll clothes so that she can wash them. Imagine the excitement when you show her how to hand-wash delicate items in a sink full of soapy water. It's a game your toddler will love to indulge in. While running your kiddo's bath, add some stuffed toys and ask her to give them a bath too. Hallelujah! Her toys will be clean much before she is ready to be wrapped in her cute fluffy towel.
4. Encourage the Smallest Effort
Appreciate every small effort that your toddler puts in to help you, it'll encourage her to be more helpful. The "I can't do it" will change to "I will do it" with just a little appreciation from your end. Help her to be more responsible and energetic by getting her involved on all laundry days. Very soon, you will be able to conquer that mountain of dirty clothes at the end of the week, without any hassle.
So, are you ready to spend time with your little one by keeping her busy and teaching her a super useful life skill? Start today!