Dressing and Undressing Skills in Your 16 Month Old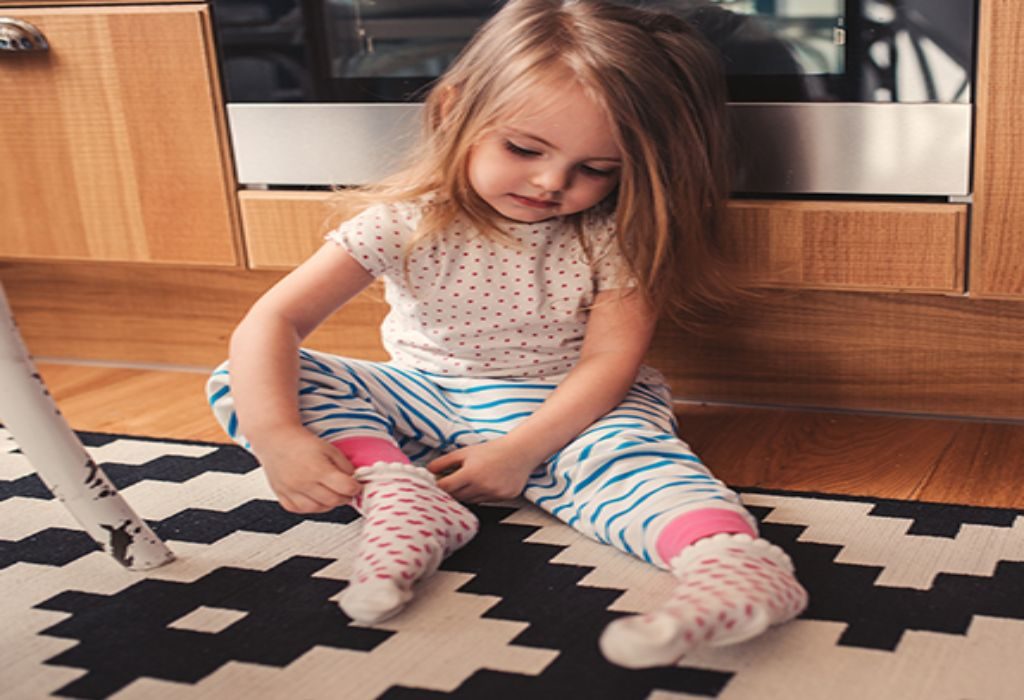 In this Article
When should toddlers be able to dress and undress themselves? Learn more through this article about the right age when toddlers start practicing this self-care skill! Your 16-month-old will take more time to wear his clothes on his own, but the initiation of this process is not too far away.
As a parent, you eagerly wait for your baby to reach the self-dressing milestone, which gives the child a sense of independence and control. Also, the fact that he can pull on his socks while you tuck in his shirt will save you some time as well! It's at the age of about 12 to 16 months when toddlers start tugging at their clothes and make caretakers take notice during dressing time.
Toddler Milestones: Dressing
1. At What Age Do Toddlers Dress and Undress Themselves?
Your toddler's cognitive abilities will start making an appearance around his first birthday. Though 16-month-olds dressing and undressing themselves completely isn't possible, the one-year mark signals that your toddler has started understanding the concept of clothing. At this time, you'll find him playing with a button, shuffling his legs to help put on those leggings, or tugging at his T-shirt's neck to hasten the process.
2. The Inception of Undressing
On an average, a child should be able to remove some of his clothing without aid between the ages of 22 and 30 months. Of course, there are aberrations, where some kids reach this stage as early as 18 months, while other kids take much longer. Undressing, like any other milestone, differs from one child to another.
3. The Right Age for Undressing Without Help
If you're wondering when toddlers should dress and undress completely, remember that this development stage will appear by their third birthday. So, if you have a 3-year-old child, be sure to find your tot plunging in the pool in his swimwear before you can even say, "Let's change!"
4. The Right Age When Children Can Dress Themselves Completely
Keep those tough back zips, tricky buttons, shoelaces, and complicated snaps aside, and you can expect a 4 to 5-year-old child to dress himself entirely. Children of this age are likely to put on their underwear, pants, socks, shirts, and shoes without any difficulty. A child as young as one or two years of age will somewhat attempt at dressing himself, too.
5. Take Stock of your Child's Willingness
It's important to remember that each toddler's personality is different, and plays an essential role in his willingness to learn the skill of dressing. Children with a self-driven, ready-to-grow mentality are likely to take up dressing responsibilities faster. Consequently, those who love being cuddled and tickled after a bath are likely to be less spontaneous in this department. However, in time, you'll see such toddlers dressing themselves all on their own, too.
The best way to spot an anomaly is to keep a close watch on the aforementioned dressing milestones, and consult a therapist if your child fails to reach them. Above all, make sure to keep encouragement handy!
How was this phase for you – tricky or smooth? Do tell us in the comments!