Sattu Ladoo Recipe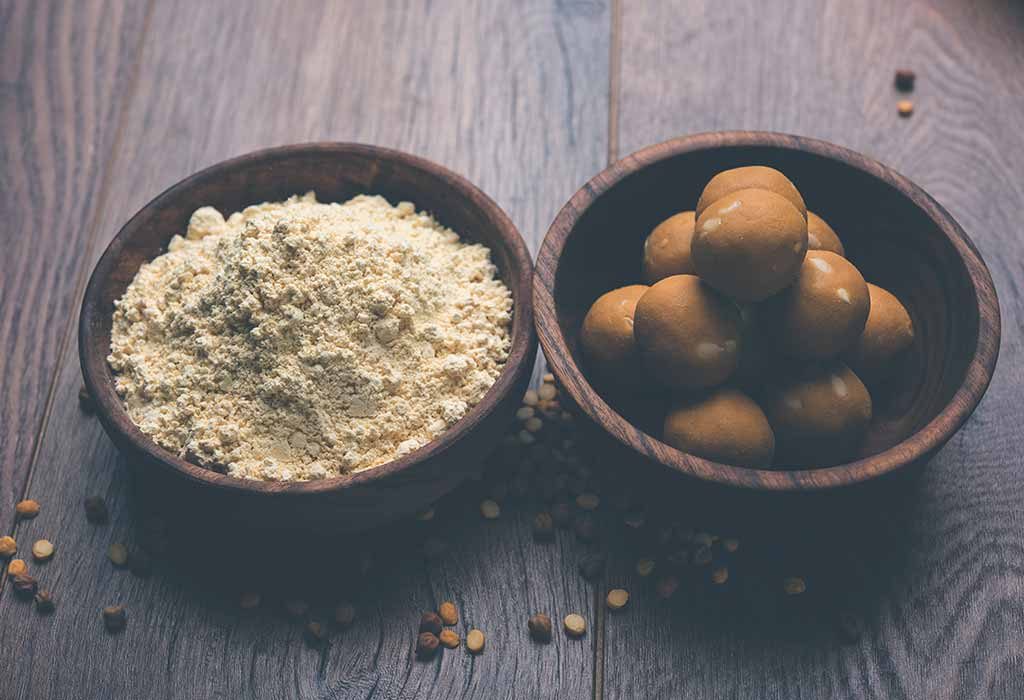 In this Article
You want to offer your child something sweet after meals, but you also want it to be healthy. You don't want to deny your child of simple sweet pleasures, but you also don't want to give him those high on sugar and calorie-rich sweets available in the market. What's the solution then? Simple – offer your child homemade sweets. If you want to know what you can make, how about sattu ladoo? Sattu ladoos taste delicious and are healthy too. If you want to know how you can make sattu ladoo, try this sattu ladoo recipe given here. This sattu recipe is the perfect solution to all your problems. Made with roasted chana dal, jaggery, and ghee, sattu ladoos make for an ideal snack in-between meals.
Cooking Time
| | |
| --- | --- |
| Type | Time (hh:mm:ss) |
| Preparation Time | 00:15:00 |
| Cook Time | 00:10:00 |
| Total Time | 00:25:00 |
Cooking Method
Gas
Type of Meal
Vegetarian
Suitable For
Toddlers above 12 months of age
Meal Schedule
Snack or dessert after breakfast, lunch or dinner.
Recipe Type
Snack or Dessert
Ingredients
| | |
| --- | --- |
| Ingredients | Quantity |
| Sattu flour | 1 cup |
| Jaggery powder or grated jaggery | ½ cup |
| Ghee | 3 tablespoons |
| Cardamom powder | ¼ teaspoon |
Instructions
Learn how to make sattu ladoos by following the step-by-step instructions given below.
Heat 1 tablespoon ghee in a deep bottomed pan or wok.
Add the sattu flour to the pan and roast it on low flame.
Stir continuously for about 2 minutes to prevent it from burning. Note – the flour needs to be lightly roasted on low flame.
Once done, transfer it to a separate bowl.
Add 1/2 cup of jaggery powder and cardamom powder to it.
Mix this well and add two tablespoons of ghee. The ghee must be at room temperature.
Mix the ingredients well until they blend in together.
Now start making the ladoos by taking small portions of the mixture in your hand, pressing them between your palms. If you are not able to bind the ladoos, add some more ghee.
Store the ladoos in an air-tight container and serve as snacks.
Recipe Tips
Note the simple tips given below to make your sattu ladoos taste even better.
Roast the sattu flour before making the ladoos. By roasting them you will get the perfect flavour for the ladoos. If you make them without roasting they may taste raw.
Use homemade ghee for making ladoos – your sattu ladoos will have a rich taste.
You can use sugar in place of jaggery but sattu ladoos taste best when made with jaggery. You can also use powdered jaggery if you are not able to grate it. Try to powder the jaggery in the mixer jar so that you get a fine jaggery powder.
Nutrition Information (Per 100 Grams)
| | |
| --- | --- |
| Type | Value |
| Calories | 120 kCal |
| Carbohydrates | 15.40 gms |
| Protein | 4.2 gm |
| Fibre | 3.8 gms |
| Fat | 11 gms |
| Iron | 1 mg |
| Sugar | 1 g |
Health Benefits
Sattu ladoos can be very satiating and healthy for babies and toddlers. They can also meet your little one's sweet cravings. Read on to find out the health benefits of sattu ladoo:
Made from roasted chana dal flour, sattu is full of carbohydrates, protein, and nutrients that are good for the body.
Sattu is rich in carbohydrates, which can help provide the required energy to your baby.
Sattu is also rich in protein, which can help in the healthy development of muscles in the body.
Jaggery in sattu ladoos can help prevent constipation and aid digestion.
Jaggery is loaded with antioxidants and minerals like selenium and zinc. These minerals can improve the immunity levels and the antioxidants can keep free radicals at bay.
Buying Guide
Refer to this quick guide when sourcing ingredients for sattu ladoo:
Sattu flour can be made at home by roasting chana dal and grinding it. You can also use store-bought sattu powder, but when buying sattu powder from your local grocery store, make sure that you pick the sealed pack of sattu flour. And do check the expiry date on the packaging before use.
Buy jaggery in sealed form and check the expiry date before use.
Try to buy organic jaggery and sattu flour as they will be free from chemicals and pesticides.
Sattu ladoos are ideal snacks for babies and toddlers as they offer them the right amount of sugar needed after a meal. The ladoos can be broken into tiny pieces and offered as a snack along with milk in the evening. You can also give sattu ladoo to your child at breakfast after a round of porridge. An all-round snack, sattu ladoos will definitely become a staple feature in your child's food plate.