Pea Soup Recipe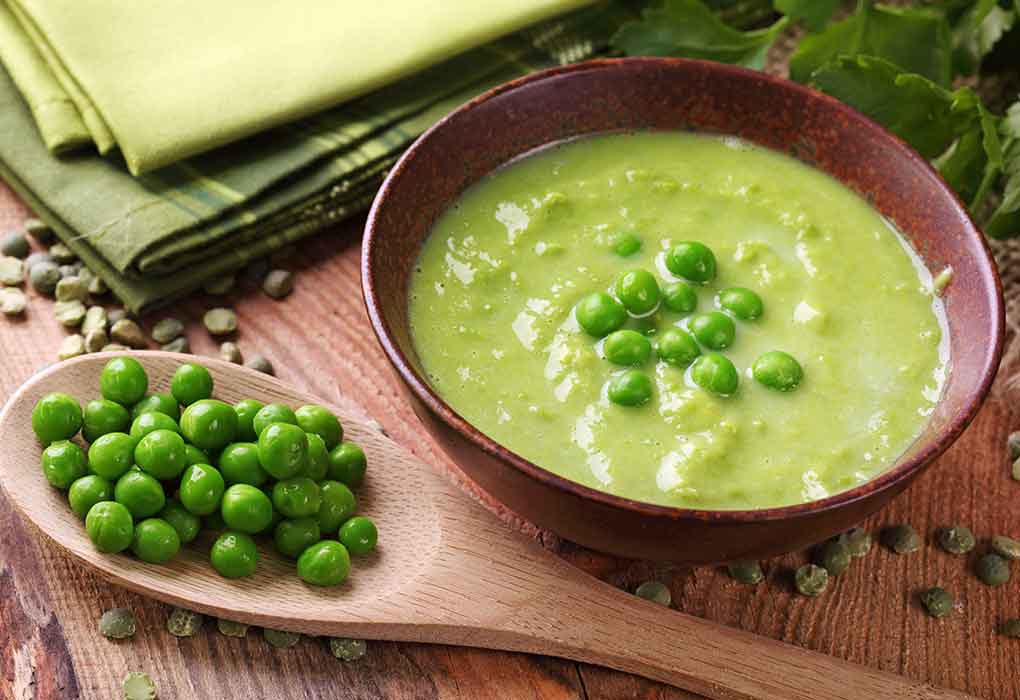 In this Article
Soups are always considered to be comforting food. The humble tomato soup served with dollops of butter and some breadsticks paved way for connoisseurs of cooking to introduce a variety of soups with various vegetables. This easy Pea Soup recipe is a versatile, pale-colored one that can be served chilled during the summers and hot in winter. It is the dash of mint that adds the flavor to the soup. So spin this unique combination of peas and mint leaves to make a mouth-watering and healthy soup.
Cooking Time
| | |
| --- | --- |
| Type | Time (hh:mm:ss) |
| Preparation Time | 00:10:00 |
| Cook Time | 00:20:00 |
| Total Time | 00:30:00 |
Cooking Method
Gas, Blender or Mixer Jar
Type of Meal
Vegetarian
Suitable For
Toddlers older than 13 months of age
Meal Schedule
Appetizers and Main Course.
Recipe Type
Main Dish
Ingredients
| | |
| --- | --- |
| Type | Quantity |
| Green peas | 2 cups |
| Butter | 1 tablespoon |
| Chopped Onions | ¼ cup |
| Milk | ½ cup |
| Freshly ground pepper | ½ teaspoon |
| Mint leaves finely chopped | 2 tablespoon |
| Salt | As per taste |
Instructions
Wondering how to make Pea Soup for your toddler? Fret no more and read on to find an easy step by step instructions to whip it up in no time:
Heat the butter in a pan and add the onions. Saute on a low flame for a few minutes.
Once done add the green peas and add about 1.5 cups of water. Add some salt to taste and bring to a boil.
Simmer and cook for about 15 minutes and make sure the peas are all cooked.
Once done turn off the gas and let the mixture cool down. Cool it down and blend it in a mixer to a smooth puree.
Combine half cup of milk with another half cup of water in a pan. Add the prepared green pea mixture puree and mix well. Cook on a medium flame for about 3 to 4 minutes. Keep stirring occasionally.
Add the pepper, half of the chopped mint leaves and mix well. Cook on a medium flame for about 1-2 minutes while stirring the mixture occasionally.
Serve hot or cold garnished with the other half of the chopped mint leaves.
Recipe Tips
Homemade Pea Soup baby food recipe seems easy to prepare, but these tips below will help you perfect it:
Cook the peas well. Make sure they are soft so that they get blended well in the mixer.
Try to use freshly ground pepper. It enhances the taste of the soup. You can use the pepper grinder or just the mortar and pestle and crush the peppercorns.
Chop the mint leaves finely, if possible in a food processor or chopper as it will not obstruct your children's mastication process.
Nutrition Information (Per 100 Grams)
| | |
| --- | --- |
| Type | Value |
| Calories | 209 kCal |
| Carbohydrates | 26.7 gm |
| Protein | 12.5 gm |
| Fat | 4.6 gm |
| Sodium | 282 mg |
| Fiber | 12.3 gm |
| Cholesterol | 11.8 mg |
| Sodium | 33.5 mg |
Health Benefits
Pea Soup for toddlers comes with its share of health benefits that cannot be debated. Read on to find out how it will benefit your toddler:
Peas are an excellent source of Vitamin C, Vitamin K, folate and fiber.
Peas pack a nutritious punch and offer several health benefits. It boosts eye and brain health. It is also an excellent source of fiber and helps in bowel movement.
Milk is a rich source of calcium essential for bones and teeth.
Mint leaves are also known to relieve indigestion symptoms.
It also improves brain function.
Mint leaves are great for relieving cold and flu like symptoms.
Buying Guide
Some key points to remember when sourcing ingredients for Pea Soup:
You can use frozen peas if you do not have fresh ones. It is good to use fresh ones as this will enhance the flavor of the soup.
Mint leaves must be freshly bought and nicely separated from the stalk. Do not use the stalk while making the soup. Once you buy the mint leaves separate the leaves from the stalk and wash them thoroughly. Chop them after washing it. If you find the leaves are wilted, do not use them.
Soup is comfort food for all and especially, during the winters. But the versatility of this soup is that it can be served during summers and winters both. This easy to make soup is an ideal choice to satisfy those mid-day hunger cravings of your children.