Mothi Choor Laddoo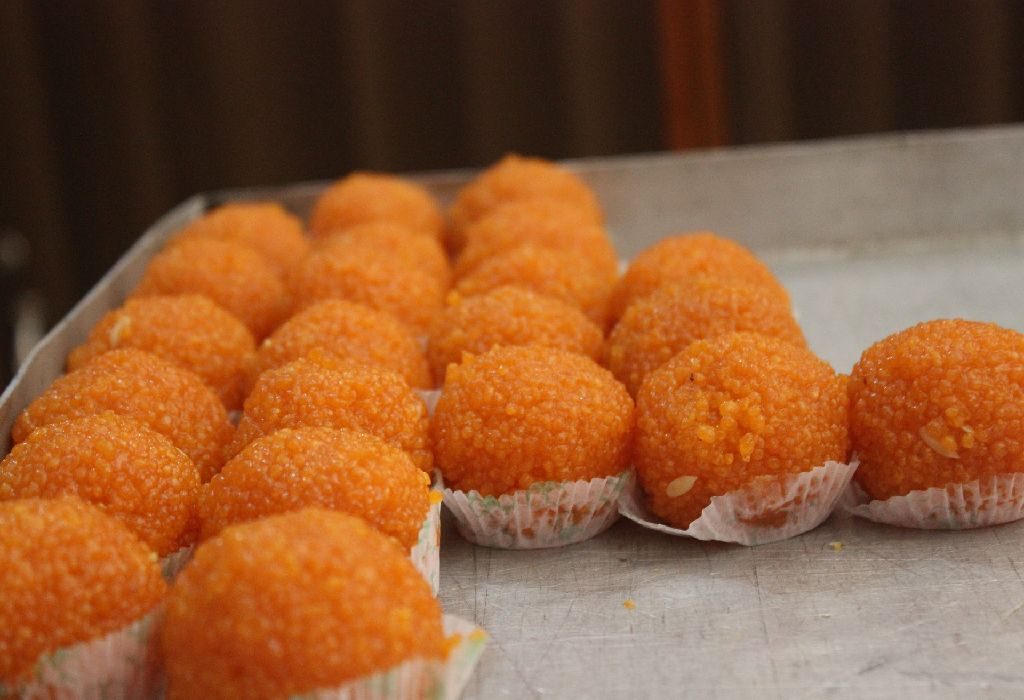 In this Article
The mothi choor laddoo is probably the most widely sold sweet across the country. Its presence is almost mandatory in weddings and festivals. Soft, melt-in-mouth laddoos are very easy to prepare and are loved by all.
| | | |
| --- | --- | --- |
| Serves | Preparation Time | Cooking Time |
| 5 People | 10-15 Min | 15-20 Min |
Ingredients
1 cup sugar
1/2 cup water
For preparing the boondi
1 cup besan
1/2 cup water
2 melon seeds
oil for deep frying
1/2 tablespoon of raisins
Method
Sugar syrup
Step 1
In half a cup of water, add sugar and heat the mixture on medium flame.
Step 2
Heat till the sugar syrup reaches one thread consistency and switch off the heat.
Boondi
Step 1
Make a smooth flowing batter of the besan and water without any lumps.
Step 2
Heat oil in a deep pan for frying the batter.
Step 3
Now, take a perforated ladle and hold it on top of the pan and drop a little batter on to the perforated ladle such that little drops of the batter fall into the hot oil.
Step 4
Fry the batter droplets till they turn golden brown and drop them into the hot sugar syrup.
Step 5
Do NOT fry them crisp or the laddoo won't hold.
Step 6
Leave the fried batter droplets to sit in the syrup for a minute and blend them in a mixer into smaller sized droplets.
Step 7
Add raisins and shape the batter-sugar syrup mixture into balls.
Step 8
Let the laddoos sit in the refrigerator for a further half hour and serve.
Nutritional Information
| | |
| --- | --- |
| Calories | 756 K cal |
| Proteins | 3.9 g |
| Fats | 14.4 g |
| Carbohydrates | 14.4 g |
| Cholesterol | 26 mg |
| Sodium | 6 mg |
| Potassium | 180 mg |