Happy Ganesh Chaturthi 2022 – Beautiful Wishes and Messages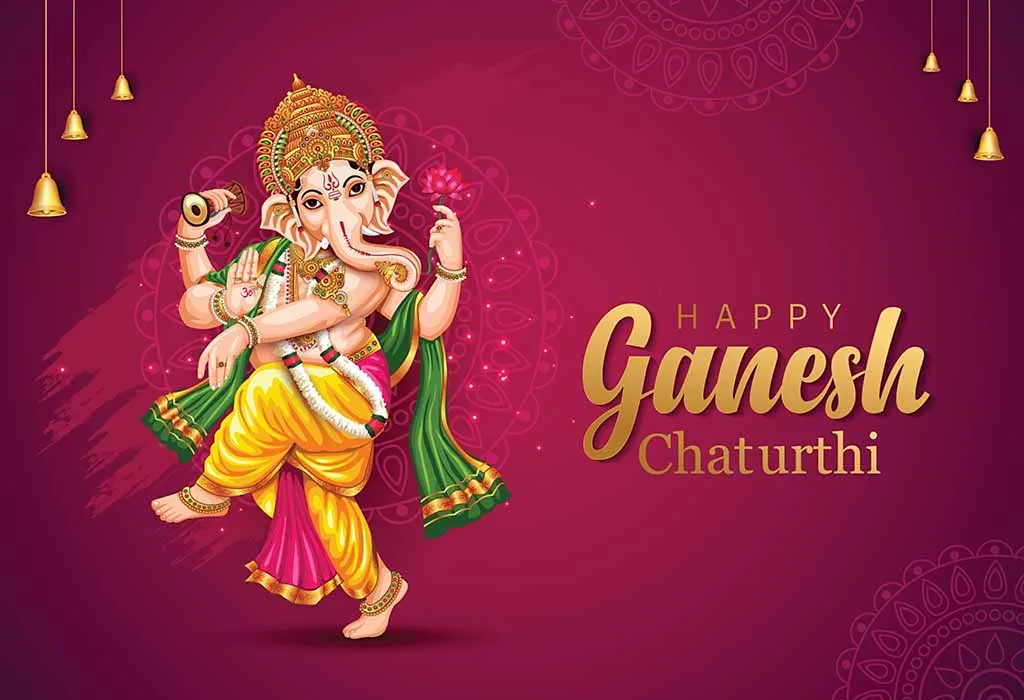 In this Article
The season of festivals has finally arrived, and that simply means you will be celebrating with your loved ones, wearing your best festive outfits, and preparing and eating lots of sweets too! Among these festivals, Ganesh Chaturthi is celebrated with great fervour, especially in Maharashtra, and this year it falls on 31st August.
This day commemorates the birthday of Lord Ganesha, the Elephant-headed God, who is the symbol of wisdom, good fortune, and intelligence. Every house is graced with an idol of Lord Ganesha, and devotees flock to different pandals seeking blessings.
While celebrations must remain low-key this year because of the coronavirus pandemic, you can still celebrate by sending these wishes and messages to your family and friends.
Ganesh Chaturthi Wishes for Friends and Family
May Ganpati Bappa bless you with happiness and success. Heartwarming wishes on Ganesh Chaturthi!
May Lord Ganesha bless you and enlighten your life. Happy Ganesh Chaturthi!
This Ganesh Chaturthi, let's hope Ganpati Bappa visits our home with bags full of love, prosperity, peace, and happiness. Ganpati Bappa Morya!
Sending you my best wishes this Ganesh Chaturthi. May Lord Ganesh guide you and bless you with a happy life!
Let's pray that Lord Ganesha always stays our mentor and protector. May he remove all the obstacles from our lives and bless us. Happy Ganesh Chaturthi!
I pray to Lord Ganesha to increase our happiness, destroy all our sorrows, and shower his blessings on us. Happy Ganesh Chaturthi!
May the blessings of Lord Ganpati be with you and your family forever!
Here's hoping this Ganesh Chaturthi will be the beginning of the year that brings joy for you and your loved ones. Happy Ganesh Chaturthi!
May Lord Ganesh remove all the obstacles in your path and shower you with peace, luck, and prosperity. Happy Vinayak Chaturthi 2021.
Wish you a beautiful, cheerful, and colourful Ganesh Chaturthi. May this joyous occasion bring along many more smiles and celebrations for you.
Let us offer our prayers to Lord Ganesha with all our hearts and our best intentions to seek his divine blessings for a beautiful life. Ganpati Bappa Morya!
May all your dreams come true, and may you find all the delights of life. Happy Vinayak Chaturthi!
May you always tread on the path of righteousness, as shown by Lord Ganesha. I wish you and your loved ones a very happy Ganesh Chaturthi.
Let us get ready to welcome Ganpati Bappa into our lives with great festivities and celebrations to make this Ganesh Chaturthi the most beautiful one.
May Lord Ganesha remove all the obstacles and help you achieve success throughout your life. Happy Anant Chaturthi!
May the holy blessings of Lord Ganesha bring you eternal peace and happiness, protect you from all evil and wrongdoings, and fulfil all your dreams and desires. Happy Ganesh Chaturthi!
On the joyous occasion of Ganesh Chaturthi, I wish that good luck may always be on your side. Happy Ganesh Chaturthi!
Wishing you and your friends and family a wonderful day honouring Ganpati Bappa! Let's celebrate this day with joy and happiness.
May Lord Ganesh always give you a million reasons to be happy. Wishing you all a joyous Ganesh Chaturthi!
On this auspicious day, let us pray to Lord Ganesha to help us with power and strength to follow truth and Dharma. Happy Ganesh Chaturthi!
May Lord Ganesha enlighten your lives and bless you with happiness this Ganesh Chaturthi. Happy Vinayak Chaturthi!
Sending you a plate full of modak for energy, boondi laddoo for colourfulness in life, and peda to appreciate worldly offerings. Happy Ganesh Chaturthi!
Festivals are a great way to bond with your friends and family. So, this Ganesh Chaturthi, bring a smile to their faces with these lovely Vinayaka Chavithi messages and wishes. Here's wishing you all a Happy Ganesh Chaturthi!
Also Read:
How To Decorate Your Home For Ganesh Chaturthi
Creative Gift Ideas For Ganesh Chaturthi
Different Modak Recipes You Must Try this Ganesh Chaturthi