Basant Panchami 2023 – Date, Significance, Rituals and Recipes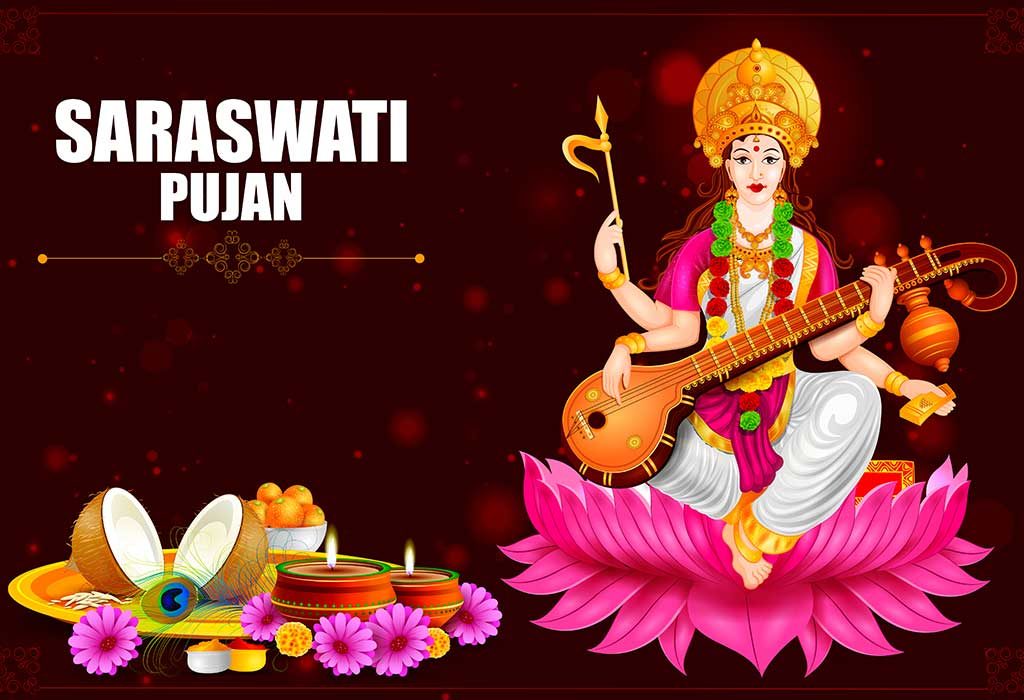 With the spring season knocking on the door, you have probably started preparing for Basant Panchami. Indians celebrate numerous festivals all year round. Basant Panchami is one festival that is celebrated in almost every state of this country.
Do you know why we celebrate it? What is its significance and how should you celebrate it by following all the rituals? We will take a look at all of these and much more in detail.
Importance of Basant Panchami
Basant Panchami 2023 falls on Thursday, 26th January. Goddess Saraswati is worshipped on this day. This festival also goes by the name of Shree Panchami.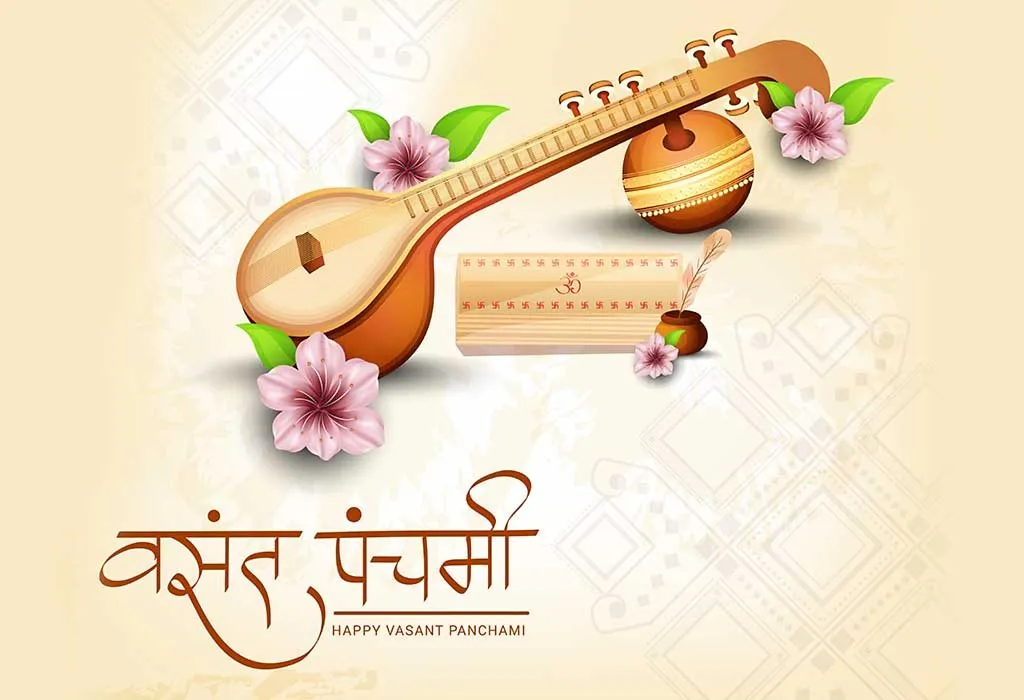 So, why do we celebrate Basant Panchami? Because it marks the beginning of spring and the end of winter. Saraswati puja is done on the fifth day of the month of Magh. Basant means spring, and Panchami means the fifth day.
Spring is a beautiful season when there are neither cold and depressing winds nor scorching heat and dodgy rains. There is nothing better than seeing trees full of leaves and colourful flowers. The festival celebrates the brilliance of nature and its vibrancy. It celebrates the start of the harvest season.
It celebrates the birth of Saraswati, the goddess of knowledge, culture, art, music, and education. The festival is considered to be very auspicious for children. It is known to usher new beginnings. Traditionally, this was the day when a child was taught to write their first words.
Saraswati Puja is a big festival for the residents of West Bengal and Odisha. It is even bigger for the children there as they get just one day when they are not asked to study. Students have to keep their books and notebooks at the feet of the goddess and take them back, only after the puja is done. They spend the time worshipping Goddess Saraswati either at home, school, or a local puja mandap.
Why Do We Wear Yellow on Basant Panchami?
Yellow is considered to be auspicious for this festival. Yellow is the colour associated with mustard flower, and this is the time when it blooms. It is also the colour of the mustard seed.
Yellow or Basanti colour, as it is known in a few Indian languages, symbolises peace, prosperity, energy, light, and optimism.
People celebrate the festival of Basant Panchami by wearing yellow clothes and eating sweets in the hues of the same colour. It will seem as if the whole country is bursting with the colour yellow.
In west India, this festival is celebrated by flying colourful kites. It is associated with a lot of fun and enthusiasm. People of all ages and varied levels of kite flying skills challenge each other. It is all about cutting the opponent's kite and running after it to catch it. In some places, swings are made by hanging ropes from trees, women apply henna on their hair, and folk songs are sung to welcome the goddess and the spring season.
Special Basant Panchami Recipes
One of the best things about Basant Panchami is its delicious prasad or offering to God. A lot of things are offered to Goddess Saraswati, and some are simply made to celebrate the arrival of spring and enjoy with family.
Here are some Basant Panchami food recipes that you can prepare:
1. Lemon Turmeric Rice
This delicious yellow rice takes just a few minutes to prepare.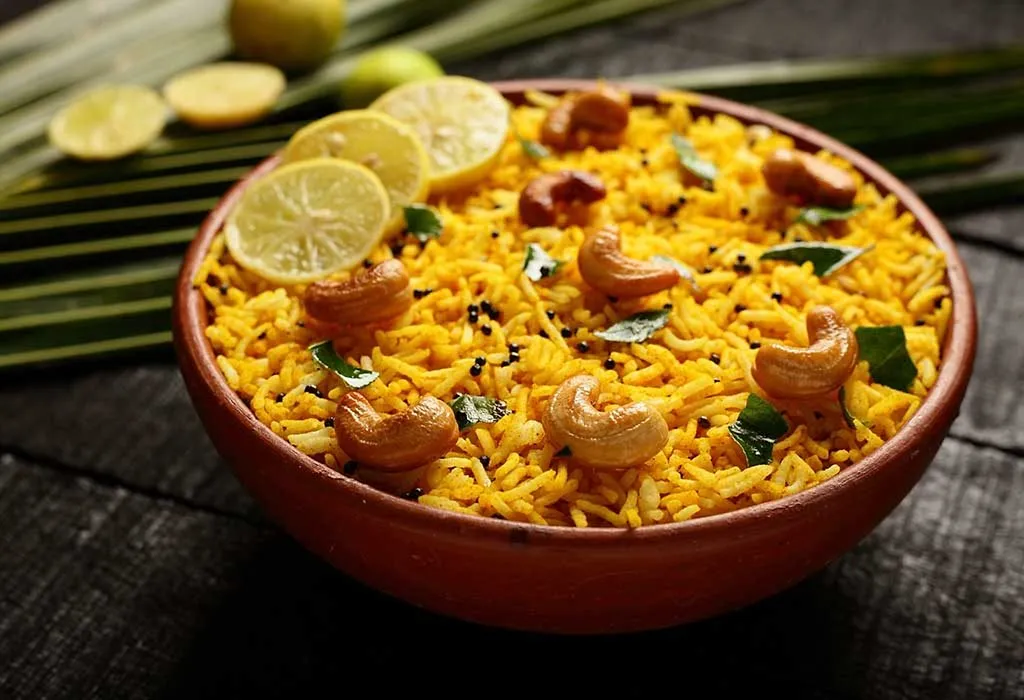 Prep Time: 5 mins
Cooking Time: 10 mins
Ingredients:
Cooked rice – ½ to 2 cups
Organic canola or safflower oil – 1 tsp
Black mustard seeds – ½ tsp
Whole curry leaves – 8 or 10
Roasted peanuts and cashews – 2 tbsp
Turmeric – ½ to ¾ tsp
Red chillies / red pepper flakes – 2 / ⅓ tsp
Lemon juice – 2 tbsp
Coriander leaves – for garnish
Salt – to taste
Procedure:
Cook the rice and bring it to room temperature.
Take a frying pan and heat oil over medium flame. Once the oil is hot, put in the mustard seeds and wait till they pop.
Now add the curry leaves followed by the red chilli flakes and mix well. Add in the roasted nuts. You can also add peas. Reduce the heat to low flame.
Add a few drops of water to reduce the temperature of the pan. Mix in the lemon juice.
Finally, add the rice and mix properly. Add salt as required. You might also want to add a little more lemon juice. Cook the rice for 2-3 mins.
Remove from flame and keep covered. Garnish with coriander leaves after 2 mins and your Basant Panchami yellow rice recipe is ready.
Note
You can use cauliflower rice for this recipe. Cover and cook the grated cauliflower over medium heat for 5-7 minutes. Let it steam as per your preference.
2. Sweet Saffron Rice
Celebrate Basant Panchami with this sweet rice recipe.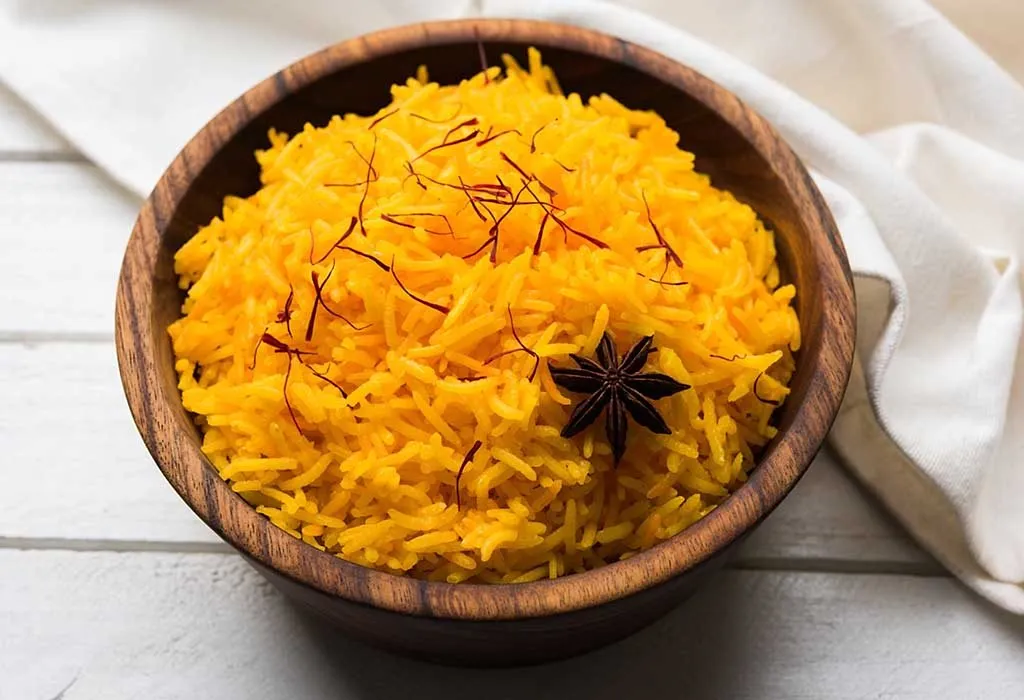 Prep Time: 20 mins
Cooking Time: 30 mins
Ingredients:
Long-grained basmati rice – 1 cup
Ghee or clarified butter – 1 tbsp
Almonds – 2 tbsp
Cashewnut – 2 tbsp
Pistachios – 2 tbsp
Raisins – 2 tbsp
Chopped cranberries – 2 tbsp
Cardamoms – 2
Bay leaf – 1
Cinnamon sticks – 2
Cloves – 6
Saffron – a pinch
Milk – 1 cup
Salt to taste
Procedure:
First, clean the rice and soak in water for 30 minutes.
Now add ghee in a pan. Add the chopped dry fruits and nuts. The raisins will puff, and the cashews will become golden brown. Remove these from the ghee and keep aside.
Add bay leaf, cardamom, cloves, and cinnamon to the remaining ghee. Fry for a minute.
Drain water from the rice. Next, put the rice into a pan and toast it with all the spices for 2-3 minutes over medium flame.
Pour in 2 cups of water and bring the rice to boil.
As the water starts to boil, reduce the flame. Next, put a lid over the pan and cook for 8 minutes.
Meanwhile, add the saffron to the cup of milk.
As soon as the rice is almost cooked, add the milk to the rice.
Toss the rice gently using a spatula until the rice gets a uniform golden hue.
Remove the pan from heat. Add in half of the fruit-and-nut mix.
Use the remaining to garnish the rice.
Note
This rice tastes best when served with a spicy curry.
3. Mango Rawa Halwa
This sweet delicacy will only make the festival sweeter.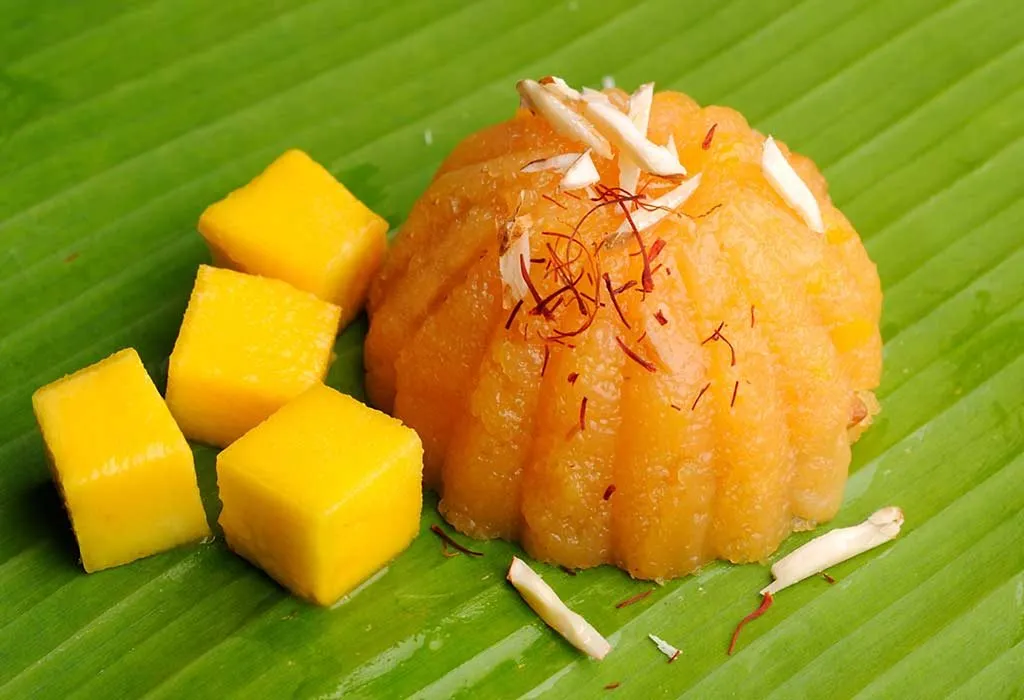 Prep Time: 10 mins
Cooking Time: 20 mins
Ingredients:
Rawa / Sooji / Semolina – ½ cup
Mango puree – ¾ cup (fresh)
Milk – 1 ½ cups
Sugar – ½ cup
Saffron sticks – 6 to 8
Cardamom powder – ¼ tsp (fresh)
Cashews – 10
Chopped pista – 2 tsp
Raisins – ½ tbsp
Ghee – 3 tbsp
Procedure:
To make the puree, peel and chop one mango.
Boil milk. Take 2 tbsp of warm milk in a bowl and add the saffron sticks to it. Keep aside.
Take a pan and heat ghee on it. Fry the raisins and cashews. Add sooji to the same pan. Roast until light brown. Keep stirring to ensure the sooji is not burnt.
Now mix in the sugar and milk. Keep stirring, so no lumps are formed. Cook on low flame for 2-3 minutes. The milk will get absorbed into the sooji.
Add mango puree and cook for a few minutes. Mix well and cook on low flame. Add cashews and chopped pista. Mix in the saffron-mixed milk.
Add 2 tsp of ghee to this and blend well. Cook well for 2 mins.
Let the halwa stand for 10 minutes before serving.
Note
Milk can be replaced with water. You can garnish the halwa with chopped mango pieces. Make sure you use good quality mangoes for the halwa.
4. Pumpkin Halwa
Did you know pumpkin can be used to make sweets too?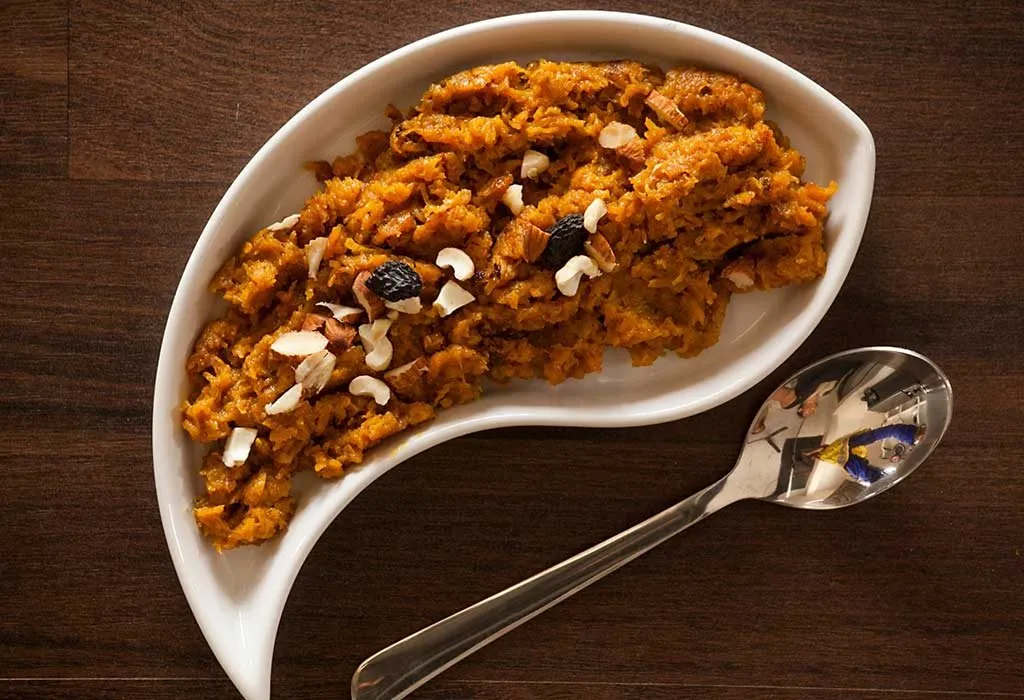 Prep Time: 10 mins
Cooking Time: 20 mins
Ingredients:
Grated pumpkin – 2 cups
Milk – 2 cups
Ghee – 3 tbsp
Sugar – 1 cup
Almonds – 10 to 15
Cardamom – ½ tsp
Procedure:
Take a heavy pan and heat some ghee in it. Add the almonds and fry them until golden brown. Keep aside.
Add grated pumpkin to the same pan and fry for a few minutes.
Keep frying the pumpkin for 5 mins, and you will see the raw smell disappearing.
Add milk and mix well.
Cook until the milk evaporates.
Add sugar and cook until it melts.
The ghee will start separating and slowly the halwa will start leaving the sides of the pan.
Mix in the cardamom powder and add the roasted almonds on top.
Remove from flame and allow the halwa to cool.
Note
Sugar can be substituted by jaggery while preparing this halwa.
5. Kesar Rabdi
If your kid doesn't like plain milk, treat him to homemade Kesar Rabdi.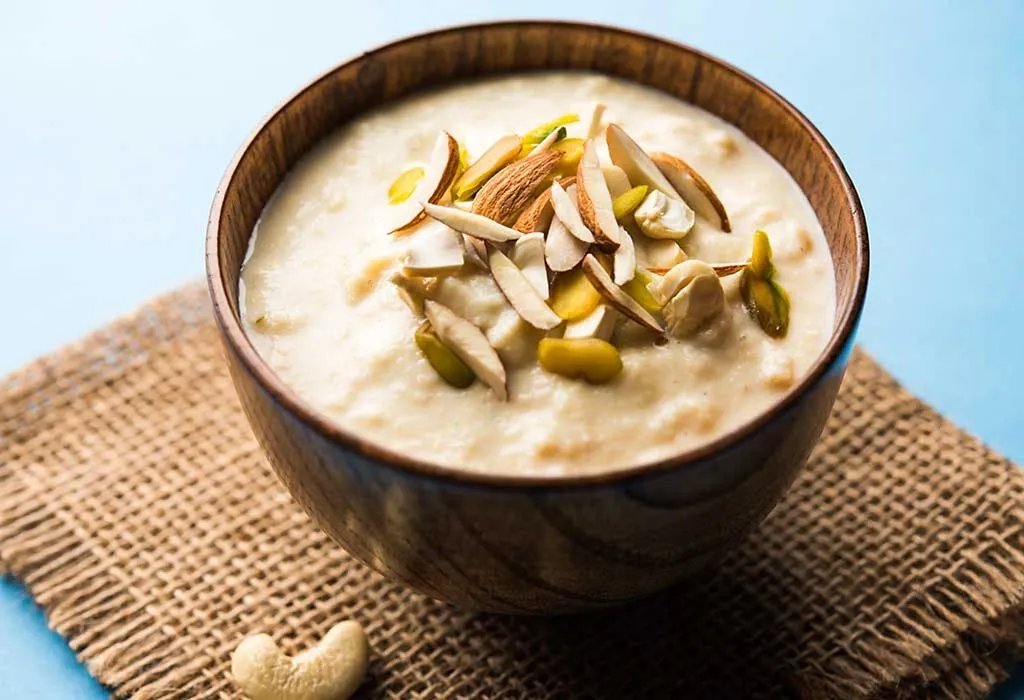 Prep Time: 5 mins
Cooking Time: 2 hours
Ingredients:
Full fat milk – 1 litre
Saffron – 1 pinch
Sugar – 2 tbsp
Rose water – ¼ tsp
Procedure:
Use a heavy bottomed pan to boil the milk.
Boil the milk and take 2 tbsp of milk in a cup. Add saffron to it and keep aside.
Reduce the flame and keep boiling the milk. Keep stirring and cook the milk for 1-1.5 hours. The milk should get reduced to a quarter. Remember to scrape the sides of the pan.
Now, add the sugar, rose water and the saffron-mixed milk to the reduced milk. Pour it in an earthen pot. This will enhance the taste of the rabdi. Else, you just transfer to a serving bowl. Garnish with pistachios and almonds. Serve hot or cold.
Note
Make sure to keep stirring the rabdi while cooking every 10-15 minutes to prevent it from sticking to the bottom of the pan.
These are some of the Basant Panchami recipes that you can easily try at home and make the festival special for your family and guests.
FAQs
1. Is Basant Panchami a Public Holiday in India?
Basant Panchami is not a public holiday in India. It is a restricted and optional holiday. According to holiday laws in India, employees can choose certain holidays from a given list that includes all the optional holidays for the year. Depending on your company laws, you may choose to take this day off. Most businesses and offices remain open on the day of Basant Panchami.
2. Is Basant Panchami a Harvest Festival?
Basant Panchami has different significance in different parts of the country. In Punjab, Basant Panchami is a festival of kites, and in Bengal, Goddess Saraswati is worshipped. Goddess Saraswati is the goddess of education and art. Basant Panchami can be considered to be a harvest festival. It is during this time that mustard is sown in the fields. It marks the beginning of spring and harvest after the end of the dreary winter.
These are a few things about one of the most popular spring festivals in India. Do not forget to prepare the delicious recipes and wear yellow on this auspicious day!
Also Read: