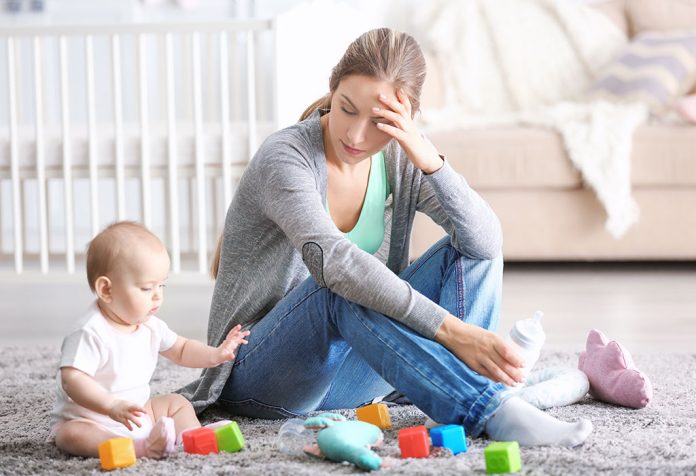 I would like to discuss a very alarming and important issue, it's "Postnatal Depression". When you get pregnant, it's the world's most wonderful feeling and you feel almost like on the top of the world. From the pregnancy test to the baby bump, everything makes you soo happy and you're totally excited to welcome the little bundle of joy in your life.
But generally, all this ends with postnatal depression. I have myself faced this problem and I'm sure almost all new mothers too must have.
It's a very emotional thing when you become a mother, delivering a baby is like your own re-birth. After delivery, it's very obvious you face a lots of difficulties like stitches, weaknesses and other related complications. A mother requires a lot of care both physically and emotionally at this stage. But generally what happens is, the family and your husband are too engrossed with the newborn that you feel that you are actually left out in the whole scene. After seeking soo much attention and almost becoming the centre of attraction during your pregnancy, you almost end up being cornered after the baby is born. It's the bitter reality but it's true.
When you are pregnant you are treated like a VIP. No work, no pressure and only people around will make you happy; lots of photoshoots, outings and lots of happiness for you.
But after the baby is born, all the attention is actually shifted from you to the baby, so a sudden change from being the centre of attraction to get almost cornered is something a mother is unable to bear. Your body is soo weak after delivery that a lot of care is required, sometimes you feel soo tired that you are even unable to breastfeed your baby. Your own body does not support you initially and you are asked to start feeding a newborn; which is actually your responsibility after being a mother, but low stamina and post-delivery problems make you feel sad and depressed. Intially the amount of milk released is also low, people around would traumatize you by saying the baby is unable to get a proper feed and start taunting you for low milk production as if you purposely want to produce less amount of milk. All these situations made me feel so low and unhappy that I gradually started slipping into depression.
I still remember that for around a month, I was unable to build a proper connection with my baby and totally failed in properly breastfeeding her. I would yell on every single person, would fight with my husband and would blame others for no reason.
It was a very difficult time.
I feel that all the difficult situations in our life are for a reason and they arise to teach us something and trust me, it's only you who can treat yourself from any kind of depression and sadness. So I will say, you have to become your own hero.
After a month I realised that how I lucky I am to have become a mother and God has actually blessed me with such a beautiful present. I discussed my problems with my loved ones and my husband, I felt that discussing your problems diminishes them anyways. Whenever you feel low, you should always discuss it with your loved ones and try to get their suggestions. It is a very positive activity. I gradually realised that things are going to change, soon I will resume my normal life, I will again go to office and for outings. I even started remaining happy; whenever I was free, I used to watch funny videos.
And when my baby was around one and a half months old and she started responding and smiling, that day all my depression just flew away as if it was never ever there. All my depression actually vanished with time and looking at your child smiling and giggling makes you feel on the seventh cloud.
"Don't let depression ruin your beautiful journey of Motherhood".
Being happy made my milk flow better and I didn't have to rely on formula milk anymore. My relationship with my baby, husband and family became healthy. I started being happy and thankful to the Almighty for all the blessings in a form of a cute little baby.
Please like my blog if you find your own story similar and also share your own moments when you felt heartbroken and depressed.
Disclaimer: The views, opinions and positions (including content in any form) expressed within this post are those of the author alone. The accuracy, completeness and validity of any statements made within this article are not guaranteed. We accept no liability for any errors, omissions or representations. The responsibility for intellectual property rights of this content rests with the author and any liability with regards to infringement of intellectual property rights remains with him/her.