80 Best 9th Anniversary Quotes, Wishes, and Messages for Husband and Wife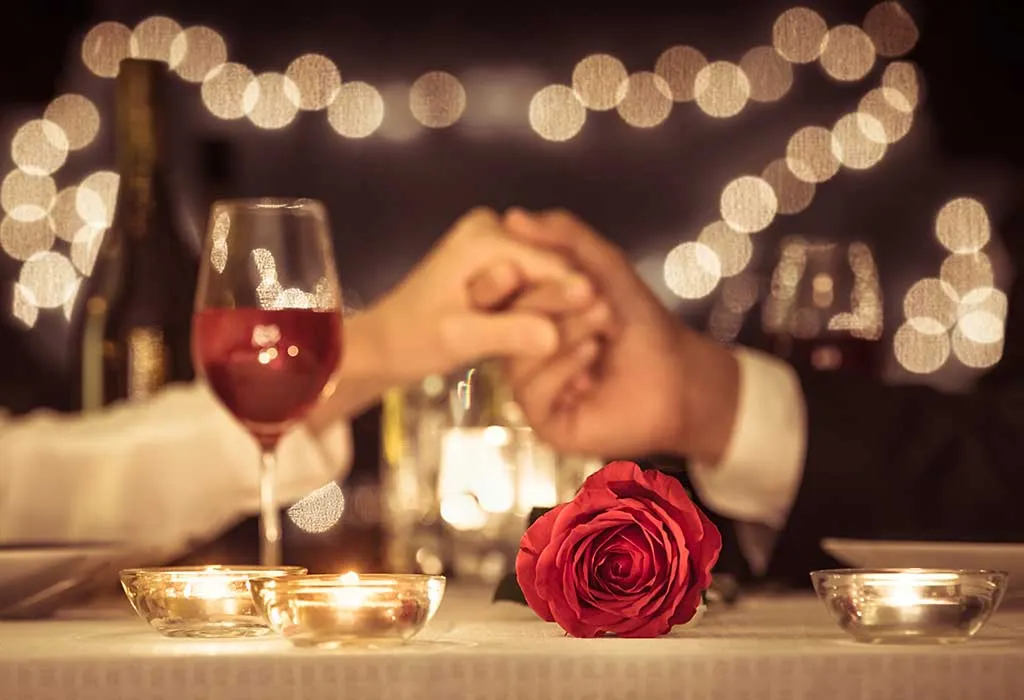 Marriage is a beautiful institution that gives you a partner for your lifetime, "in sickness and health." While the day embarks upon a wonderful journey of forever, the journey also has a lot of ups and downs, which eventually makes the bond between partners strong. You live for moments like these: silly fights, late-night conversations, laughing at stupid jokes, staring at the stars together, taking multiple trips together, etc.
Anniversary is a day to celebrate all the good things you made while reaching this milestone. You celebrate love and family on this very occasion. You vowed to nurture and cherish each other till you live on this very day. Anniversaries can be a good reason to take time out of your busy lives and reconnect with your soulmate.
9th Anniversary Quotes for Husband and Wife
Quotes are the best way to express your feelings in a few words. These perfect nine years of togetherness quotes will beautifully profess your spouse's love.
"I didn't think it was possible, but I love you more and more with each passing year. Here's to another year filled with love." – Anonymous
"Every day I discover that I love you even more, and in this infinite universe I will love you till the ends." – Alicia N Green
"The minute I heard my first love story I started looking for you, not knowing how blind that was. Lovers don't finally meet somewhere. They're in each other all along." – Rumi
"Every heart sings a song, incomplete until another heart whispers back. Those who wish to sing always find a song. At the touch of a lover, everyone becomes a poet." – Plato
"You have touched a part of my heart that no one else has ever been able to get to. I will love you forever." – Anonymous
"So, I love you because the entire universe conspired to help me find you." – Paulo Coelho
"A wedding band is the smallest handcuff ever made, I'm glad I chose my cellmate wisely." – Unknown
"A marriage anniversary is the celebration of love, trust, partnership, tolerance, and tenacity. The order varies for any given year." – Unknown
"A good marriage is like a casserole—only those responsible for it really know what goes in it." – Unknown
"Thank you for always being my rainbow after a storm." – Anonymous
"The best love is the kind that awakens the soul; that makes us reach for more, that plants a fire in our souls and brings peace to our minds. That's what I hope to give you forever." – Nicholas Sparks
"An anniversary isn't measured in hours of the day, but in each minute when two people remain one." – Unknown
"Love is not something you go out and look for. Love finds you, and when it does, ready or not, it'll be the best thing to ever happen to you." – Anonymous
"We are all a little weird and life's a little weird, and when we find someone, whose weirdness is compatible with ours, we join up with them and fall in mutual weirdness and call it Love." – Dr. Seuss
"A strong marriage rarely has two strong people at the same time. It is a husband and wife who take turns being strong for each other when the other feels weak." – Ashley Willis
"Thank you for being you. For sharing your love with me. For inspiring me to accept myself. For helping me see the unique beauty in imperfection. For showing me that love is something you do; something not to just be said, but also to be shown." – Steve Maraboli
"For the two of us, home isn't a place. It is a person. And we are finally home." – Stephanie Perkins
"You know you are in love when you don't want to fall asleep because reality is finally better than your dreams." – Dr. Seuss
"Forever is a long time, but I wouldn't mind spending it by your side." – Unknown
"The secret of a happy marriage is finding the right person. You know they're right if you love to be with them all the time." – Julia Child
"A successful marriage requires falling in love many times, always with the same person." – Mignon McLaughlin
"Love grows more tremendously full, swift, poignant, as the years multiply." – Zane Grey
"In a sea of people, my eyes will always search for you." – Unknown
"Our anniversary is just a momentary celebration, but our marriage is a timeless one." – Unknown
"I'm in love with you, and I'm not in the business of denying myself the simple pleasure of saying true things." – John Green
"If you live to be a hundred, I want to live to be a hundred minus one day so I never have to live without you." – A. A. Milne
"There is no more lovely, friendly and charming relationship, communion or company than a good marriage." – Martin Luther
"'Cause all of me loves all of you, loves your curves and all your edges, all your perfect imperfections. Give your all to me, I'll give my all to you. You're my end and my beginning, even when I lose, I'm winning." – John Legend
"In all the world, there is no heart for me like yours. In all the world, there is no love for you like mine." – Maya Angelou
"Chains do not hold a marriage together. It is threads, hundreds of tiny threads, which sew people together through the years." – Simone Signoret
"I swear when our lips touch, I can taste the next sixty years of my life." – Unknown
"Success in marriage does not come merely through finding the right mate, but through being the right mate." – Barnette R. Brickner
"Love is not about how many days, months, or years you have been together. Love is about how much you love each other every single day." – Unknown
"As we grow older together, as we continue to change with age, there is one thing that will never change … I will always keep falling in love with you." – Karen Clodfelder
"The couples that are 'meant to be' are the ones who go through everything that is meant to tear them apart and come out even stronger than they were before." – Unknown
Happy 9th Anniversary Wishes and Messages for Husband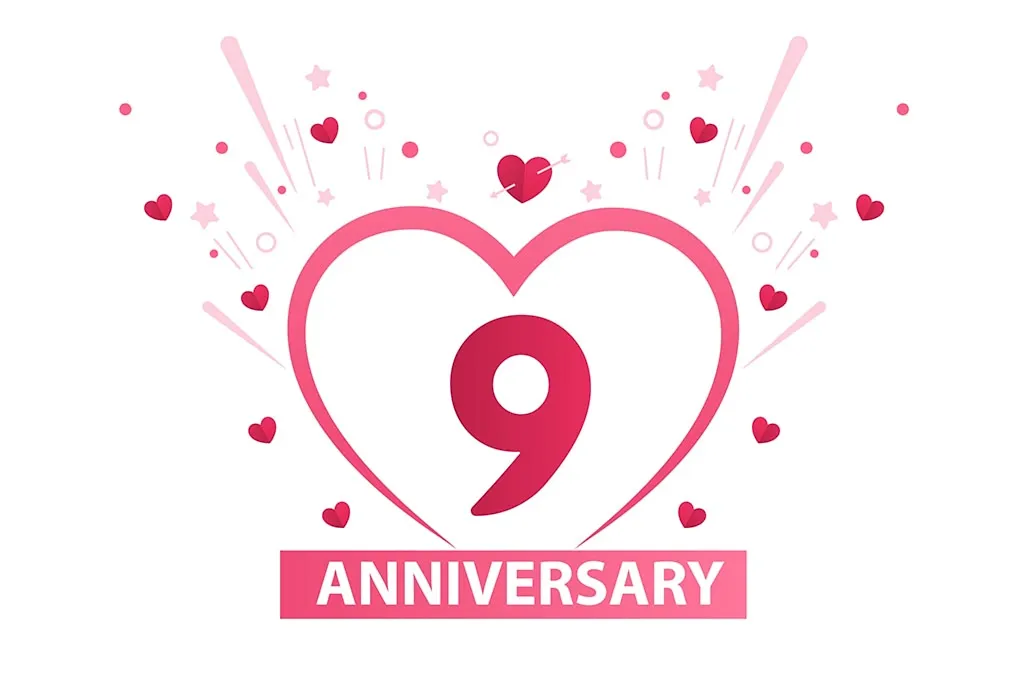 Show love to your husband with these heart-warming wishes.
It's hard to believe that we have completed nine years of marriage. Wow! You are still the true love of my life. Let's rock the world together!
Today, we complete nine years of marriage. I can't believe how lucky I am that I get to spend the rest of my life with my one and only soulmate. Love you forever and ever!
You are the kindest person I know, and I will always save a place for you in my heart. Happy 9th Anniversary my dear love!
You are my love, my friend, my knight in shining armor. You are my soulmate. Happy anniversary to my husband!
I love you and cherish the sweet moments we spend together. Every day with you seems so wonderful! Happy nine years of love to my wonderful husband.
Dear Hubby, I can't imagine a single day without you. Our love grows every day, and as time passes, I fall more in love with you. Here's to nine years of our love!
I am on my knees today, all set to propose to you again, just like I did nine years back. I love you, my husband! Happy 9th wedding anniversary! Lots of love to you!
A great way to celebrate nine years of togetherness is by taking a moment and thanking God for the best thing that ever happened in your life.
I love you more every day. You are my greatest adventure, and I am your greatest love story. I will love you forever and always.
Wonderful 3285 days since I met you, my love. I am so glad you are a part of my life. Happy 9th year anniversary of togetherness!
I am always amazed by how lucky I am to have found you. You make me so happy and fill my life with joy. I love you, my sweetheart!
You are the light that guides me through this world. I love you with all my heart and soul. May this day be a celebration of our love!
You taught me how to let go of all my fears and fall head over heels. Thank you for being so damn amazing! Happy Marriage Anniversary.
My love for you has grown every year, and our sacred relationship has blossomed in these nine years. I am proud to share my life with you, my loyal partner, my dearest husband. I love you, my dear.
Dear better half, thank you for making this journey so special. I am always looking forward to the next day with you. Happy anniversary.
9th Wedding Anniversary Wishes and Messages for Wife
Your wife deserves beautiful words of love on your anniversary. Here are some wishes that may help you profess your feelings.
Today we've been married for nine years. I can't imagine spending the rest of my life with anyone else. Love you, baby, always & forever!
I have loved you since the moment I first laid eyes on you, and I will love you forever. Many more years of happiness are planned for us.
It takes a lifetime to express true love. But over the past nine years, I have managed to prove my love for you. You are not only my wife but also my best friend. Cheers to our 9th wedding anniversary!
A very happy anniversary to the most beautiful woman who has given me the most beautiful life!
Every day, I think of how lucky I am to spend my life with the woman of my dreams. You are a beautiful gift from God, and I love you so much. Happy 9th anniversary my love!
My dear wife, we have been married for nine years now. You have and will always be the only one I want to spend my life with. You make me feel so special every day!
Even after all these years of depending on you, you haven't grown tired of me and thrown me out. Happy Anniversary, wifey!
If I could go back in time and choose again, I would choose you. My dear, I wish you a happy anniversary.
Thank you for spending the past 9 years with me. You have made me a better person than I was before we met. You are my soulmate and my best friend; I love you.
I am so blessed to be married to someone as wonderful as you. Happy anniversary.
I can never tell you enough how beautiful you are, how much you make me smile, and how much you mean to me. Happy anniversary to my one true love.
Happy anniversary! Thank you for always loving me for who I am.
There's nowhere else I'd rather be than right here by your side with your hand in mine. Happy anniversary.
In a world where so many things can be uncertain, you are the one thing that I will always be sure of. Happy anniversary!
I get a lot of emotions, happiness, joy, and excitement from loving you. I'm happy to treasure those feelings for you. Wishing to share those for another year and a lifetime!
9th Anniversary Wishes and Messages for Your Loved Ones
Celebrating anniversaries with your loved ones can show how much they matter to you. Here are some wonderful wishes for people in your life on their anniversaries.
Happy 9th anniversary to my favorite uncle and aunt! Please share the secret of your happy relationship! I wish to follow your secrets to keep my better half as happy as you both are. Lots of love to the beautiful couple!
Congratulations on completing nine years of love! You both look simply awesome together. Let's capture this beautiful moment on camera to cherish it on every future anniversary.
May you continue to be a wonderful husband and wife to each other. Wishing you nothing but happiness, love, and joy in the years ahead.
Happy wedding anniversary. May you continue to cherish and enjoy all the simple pleasures in your lives together.
A day becomes perfect when I see a couple as you stay together for life long! Wishing you a blessed anniversary.

A successful marriage requires falling in love many times, but always with the same person.

You both couldn't have found better partners for each other. You are an exact fit, just like pieces of a jigsaw puzzle. Happy 9th anniversary! Cheers to true love!
Happy 9th anniversary, best friend. You are such a kind-hearted person who has filled my life with happiness and joy! Blessings to my favorite couple!
Happy 9th anniversary, Mom and Dad! The unconditional love and support you have for each other always inspire me. You are definitely the best couple in our family!
Happy 9th anniversary to the sweetest couple I know. All these nine years, you have proven to me that true love does exist. You both have set the bar high for my future lover!
May you continue to love, cherish and honor one another for years to come. Happy anniversary!
May your lives be filled with adventure and your love be never-ending. Happy anniversary.
Falling in love is easy, but staying in love is something different. You did it. Happy anniversary!
I feel so lucky to call you both my parents. I hope you have a wonderful anniversary filled with happiness and laughter!
Hoping that the love you shared years ago is still as strong today as it was then. Happy anniversary!
Nine years is a long time, and it is a milestone worth celebrating with your soulmate. With these many years behind you and a lifetime ahead of you, you will have a ball of a time with your partner. Anniversaries are simple days when you realize and profess your love again for your partner. In the 9th year, you are just a year away from a decade of your togetherness! All the more celebration!
Also Read:
Anniversary Ideas for Couples
Anniversary Poems for Husband and Wife
Wedding Anniversary Letters for Husband and Wife