Gifts for Parents Who Have Lost a Child
Losing a child is the hardest thing for any parent. It doesn't matter whether the child was an infant, teen, or unborn. This incident is enough to break their heart and soul. As their family or friend, it becomes your responsibility to comfort, support, and help them out in this critical situation. Though, sometimes just words are insufficient to comfort them or to express your sympathy and support. At such times a thoughtful gift can adequately express what words fail to do. Also, you may be away from them at such time so that a compassionate gift can convey your condolence and support to the grieving parents. A compassionate gift can tell the grieving parents that you are with them and think of them in this tragic time.
Compassionate Gift Ideas for Parents Who Have Lost Their Baby
Buying a heartfelt gift for a grieving parent is a challenging task. The gift has to be well-chosen and ideal to express your feelings of support and empathy for their loss without being ostentatious. They need not be expensive or big, just enough to express your care and support. Some gift ideas for the parents who lost their baby are:
1. White Flowers
White flowers are one of the aptest bereavement gifts. The loss of a child is a tragic incident for everyone, so flowers are the best to convey your condolence and heartfelt sympathy.
2. Lantern With a Quote
You can also gift a metal or wrought-iron lantern with emotional quotes written on the glass inserts to strengthen grieving parents. The flickering LED, or candlelight, signifies the departed's spirit that can never be extinguished or forgotten.
3. Personalized Keepsake Box
A personalized keepsake box in either wood or metal is one of the most thoughtful memorial ideas for the loss of a baby. You can customize the box with the child's name on the front nameplate or the glass top. The box can have felt-lined interiors and multiple compartments. For the grieving parents, it can serve as the memorial for their child, in which they can keep pictures, notes, jewelry, cards, or other mementos.
4. Personalized Photo Frame
A personalized or remembrance photo frame is a good option as a sympathy gift. You can personalize the photo frame with an inspirational poem to give strength to grieving parents. You can insert the picture of the child before giving the frame to the parents. This gift is ideal to be kept by the parents in their bedroom or mantelpiece.
5. Angel Figurine
An Angel figurine with a personalized note or inspirational quote is a gift that will be there with the parents for many years. Babies are considered angels of God, so this gift is a thoughtful reminder that their Angel is safe with God and provides them with a ray of hope. The figurine is available in different materials like marble, granite, or sandalwood.
6. Willow Tree Figure
A personalized Willow tree figurine serves well as a reminder to grieving parents that their baby is eternally cared for and safe in Heaven. The Willow tree comes with a wooden stand or base, which you can customize to inscribe the name and birth date of the child.
7. Personalized Blanket
Gifting a personalized warm and soft blanket is a thoughtful gift option that shows your warm feelings during this challenging time of a parent's life. The blanket can be printed with inspirational and caring quotes giving hope and strength to the parents.
8. Meditation Book
A book that teaches meditation is a thoughtful option for grieving parents. The book with instructions on meditation will help them recover from their loss. Meditation gives people strength and peace, so it will surely help them cope with their loss and slowly get back to their lives.
9. Memorial Bracelet
A sleek and simple bracelet made from surgical stainless steel with the child's name or a caring quote will be a great gift to grieving parents. The bracelet will never tarnish or fade, so it will always serve as a memento for the parents of their beloved child. You can further personalize it with dates or miniature figurines attached.
10. Motivational Book
Child death is excruciating for the parent. Spoken words are not enough to give them comfort or strength to cope with this loss. A motivational book with incidents about coping with difficult times will surely give them hope and strength to bear this loss. They will find motivation through this book, and you will help them in their journey.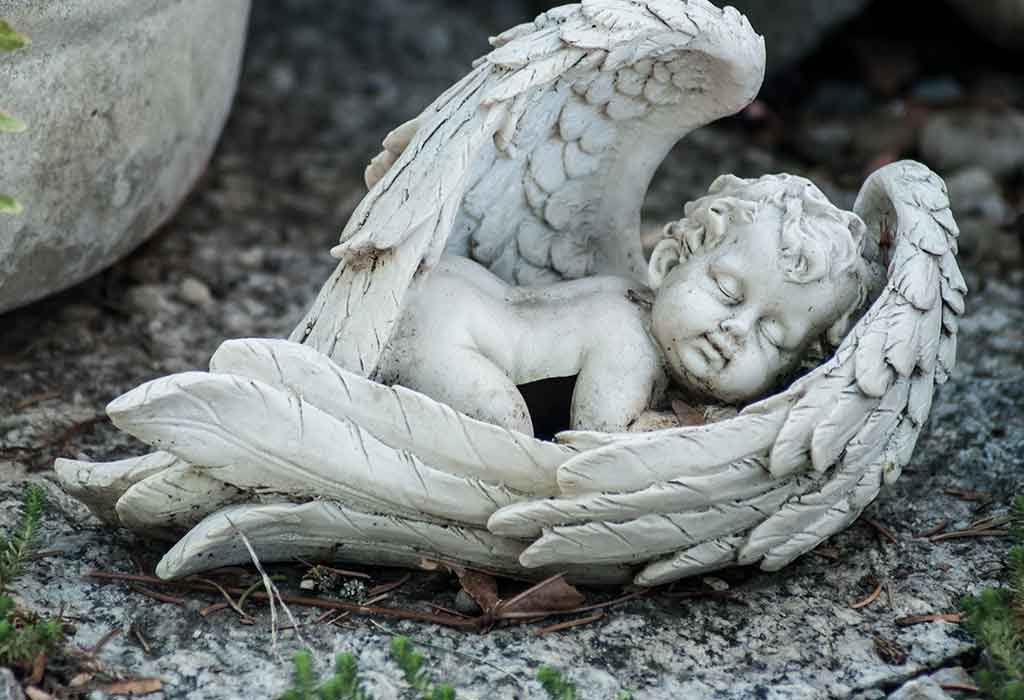 11. Sympathy Card
If you find giving a gift a bit inappropriate to grieving parents and yet want to give something to convey your feelings, then a card is the best option. With its kind and healing words, this old-school gesture will convey your support and comfort them by telling them that you are thinking about them and understand what they are going through.
12. Baby Memorial Keychain
This is an ideal baby loss keepsake for a parent who suffered stillbirth or miscarriage. A keychain made with stainless steel as it wouldn't tarnish or rust will express your feelings in this emotional time to the parents and help to balm their loss. The parents can use it for their house or vehicle key to remember their child daily.
13. Memorial Wind Chime
A memorial wind chime is different from a regular wind chime. It comes with angel wings wrapped around heart shapes with a caring quote written. The parents can hang it on the porch, bedroom, or living area and remember their child whenever it chimes.
14. Keepsake Glass Jar
A keepsake glass jar filled with inspirational messages will surely comfort the grieving parents. The gift will express your condolences, care, and support for the parents during this difficult time. The parents can read the inspirational quotes and messages to find strength, and the beautiful glass can be displayed as a showpiece anywhere.
15. Memory Journal
At times, the parents cannot express their feelings of loss and despair; they rather tend to keep them bottled up inside. They can write their feelings and thoughts in a memory journal dedicated to their child and work through their loss and stress.
16. Angel Necklace
Giving some memorial jewelry for the loss of a daughter is a thoughtful idea for a grieving mother. Angel necklace comes in many designs, such as angel wings surrounding a heart shape, angel wings with baby feet, or just an angel pendant on a chain. This beautiful necklace will serve as a baby loss keepsake and help the parents gain strength from it during this tragic phase.
17. Personalized Candleholder
A candleholder customized with the name and dates is a good gifting option to the grieving parents. The candle holder can be tailor-made in different designs with a motivational quote engraved on the stand and last for several years.
18. Bereavement Memorial Hanging Ornament
A bereavement memorial hanging ornament or showpiece with an angel figurine is a good sympathy gift option. The ornament can be hung in-home or office and remind the parents that their baby is now in the care of the Angels.
19. Positive energy Gift set
A positive energy gift set is a kit with many comforting items such as a blanket, tote bag, neck pillow, pair of socks, and eye mask. The warmth of the gifts will provide hope and comfort to the grieving parents.
20. Charity Donations
To honor the memory of the deceased child, what better way than to help another child? So to show your care and support, donate to a children's charity in the child's name. This will console the grieving parents and give them hope.
Sometimes words are not enough to show sympathy and condolence to grieving parents who have lost their children. At such moments a thoughtful gift can express support and empathy to the parents, for which words fall short.