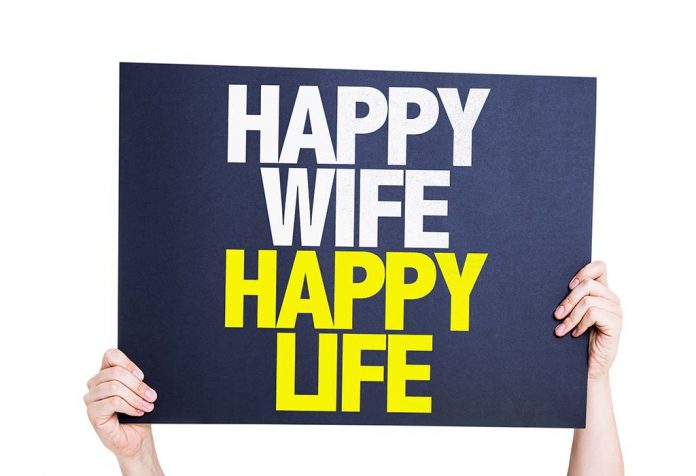 Marriage is a journey and not a destination. It is full of ups and downs, some great moments and some not-so-great moments, but what keeps you going is the fact that you're on the ride with the love of your life. Yes, you may argue sometimes with your spouse, but you know that you can't really live without them. Now if your anniversary is around the corner and you want to let your partner know blessed you feel to have them in your life, we've got some heartwarming love quotes for you. You can also send a love quote to your partner just to surprise them when they are busy. You don't need an occasion to let them know how you feel, do you now?
Happy Marriage Quotes
Here are some quotes on a healthy and happy marriage!
"True love stands by each other's side on good days and stands closer on bad days." ― Anonymous
"Happy is the man who finds a true friend, and far happier is he who finds that true friend in his wife." ― Franz Schubert
"A successful marriage requires falling in love many times, always with the same person." ― Mignon McLaughlin
"Who we marry is one of the most important decisions in life. One that will influence the level of happiness, growth and success. Like no other choice." ― Nathan Workman
"A happy marriage is a long conversation which always seems too short." ― Andre Maurois
"It is not a lack of love, but a lack of friendship that makes unhappy marriages." ― Friedrich Nietzsche
"Marriage: Love is the reason. Lifelong friendship is a gift. Kindness is the cause. Til' death do us part is the length." ― Fawn Weaver
"Never marry the one you can live with, marry the one you cannot live without." ― Anonymous
"There is no more lovely, friendly, and charming relationship, communion or company than a good marriage." ― Martin Luther
"In marriage do thou be wise: prefer the person before money virtue before beauty, the mind before the body, then thou hast a wife, a friend, a companion, a second self." ― William Penn
"So it's not gonna be easy. It's going to be really hard; we're gonna have to work at this everyday. But I want to do that because I want you. I want all of you, forever, everyday. You and me… everyday." ― Nicholas Sparks, The Notebook
"There is no greater happiness for a man than approaching a door at the end of a day knowing someone on the other side of that door is waiting for the sound of his footsteps." ― Ronald Reagan
"It is a truth universally acknowledged, that a single man in possession of a good fortune, must be in want of a wife." ― Jane Austen, Pride and Prejudice
"Marriages are like fingerprints; each one is different and each one is beautiful." ― Maggie Reyes
"A perfect marriage is just two imperfect people who refuse to give up on each other." — Dave Willis
"If I get married, I want to be very married." — Audrey Hepburn
"Chains do not hold a marriage together. It is threads, hundreds of tiny threads, which sew people together through the years." — Simone Signoret
"To be fully seen by somebody, then, and be loved anyhow – this is a human offering that can border on miraculous." — Elizabeth Gilbert
"Happy marriages begin when we marry the ones we love, and they blossom when we love the ones we marry." — Tom Mullen
"Being in a long marriage is a little bit like that nice cup of coffee every morning – I might have it every day, but I still enjoy it." — Stephen Gaines
"Marriage. The roots are deep. The covenant is solid. The love is sweet. Life is hard. And God is good." — John Piper
"It's amazing how one day someone walks into your life, and you cannot remember how you ever lived without them." — Unknown
"Sensual pleasures have the fleeting brilliance of a comet; a happy marriage has the tranquillity of a lovely sunset." — Ann Landers
"One day, in your search for happiness, you discover a partner by your side, and you realise that your happiness has come to help you search." — Robert Brault
"A happy marriage is the union of two good forgivers." — Ruth Bell Graham
"Marriage lets you annoy (read as, love and pamper) one special person for the rest of your life." —Anonymous
"Marriage is the most natural state of man, and the state in which you will find solid happiness." — Benjamin Franklin
"My most brilliant achievement was my ability to be able to persuade my wife to marry me." — Winston Churchill
"When you realize you want to spend the rest of your life with somebody, you want the rest of your life to start as soon as possible." — Nora Ephron, When Harry met Sally
"I would rather share one lifetime with you than face all the ages of this world alone." — J.R.R
Tolkein
"Marriage is a mosaic you build with your spouse. Millions of tiny moments that create your love story." — Jennifer Smith
"People stay married because they want to, not because the doors are locked." — Paul Newman
"True love isn't about being inseparable; it's about two people being true to each other even when they are separated." ― Anonymous
"To get the full value of joy you must have someone to divide it with." ― Mark Twain
"A good marriage is one which allows for change and growth in the individuals and in the way they express their love." ― Pearl S. Buck
New Marriage Quotes
Here are some love quotes for newly married couples!
"Love, laughter, and happily ever after." ― Anonymous
"To love is nothing. To be loved is something. But to be loved by the person you love is everything." ― Unknown
"A good marriage is a contest of generosity." ― Dianne Sawyer
"The secret of a happy marriage is finding the right person. You know they're right if you love to be with them all the time." ― Julia Child
"The highest happiness on earth is the happiness of marriage." ― William Lyon Phelps
"It doesn't matter if the guy is perfect or the girl is perfect, as long as they are perfect for each other." ― Robbin Williams, Good Will Hunting
"The greatest marriages are built on teamwork. Mutual respect, a healthy dose of admiration, and a never-ending portion of love and grace." ― Fawn Weaver
"Marriage is a gift from God to us. The quality of our marriage is our gift to Him." ― L. Whitney Clayton
"The secret to a happy marriage is if you can be at peace with someone within four walls, if you are content because the one you love is near to you, either upstairs or downstairs, or in the same room, and you feel that warmth that you don't find very often, then that is what love is all about." ― Bruce Forsyth
"A great marriage is not when the 'perfect couple' comes together. It is when an imperfect couple learns to enjoy their differences." ― Dave Meurer
"Love is a two-way street constantly under construction." ― Carroll Bryant
"Marriage, ultimately, is the practice of becoming passionate friends." ― Harville Hendrix
"Best friends for life, husband and wife." ― Anonymous
"Marriage is not a noun; it's a verb. It isn't something you get. It's something you do. It's the way you love your partner every day." ― Barbara De Angelis
"Marriage stands the test of times when both you and your spouse work towards making things better. And we are tested the most when we face adversities. If you can sail through the adversities as one, as a team, then you have won half the battle." ― Unknown
Funny Marriage Quotes
Some of you may identify with these funny marriage quotes! Read on!
"When a man opens a car door for his wife, it's either a new car or a new wife." ― Prince Philip
"What counts in making a happy marriage is not so much how compatible you are but how you deal with incompatibility." ― Leo Tolstoy
"One of the keys to a successful marriage is separate bathrooms. When he enters my bathroom sometimes I'm like, 'Why are you in here?' And he's like, 'I live here. Can I enjoy my bathroom too?" ― Michelle Obama
"An archaeologist is the best husband a woman can have. The older she gets, the more interested he is in her." ― Agatha Christie
"Remember that creating a successful marriage is like farming: you have to start over again every morning." — H. Jackson Brown, Jr
"You know there is a name for people who are always wrong about everything all the time… Husband!" — Bill Maher
"I am a very committed wife. And I should be committed, too—for being married so many times." — Elizabeth Taylor
"Marriage is not just spiritual communion, it is also remembering to take out the trash." — Joyce Brothers
"Keep your eyes wide open before marriage, half shut afterwards." — Benjamin Franklin
"Who won in life? Me. Because I got to marry you." — Chip Gaines
"By all means marry; if you get a good wife, you'll become happy; if you get a bad one, you'll become a philosopher." — Socrates
"Before you marry a person you should first make them use a computer with slow Internet to see who they really are." — Will Ferrell
"Marriage is like a tense, unfunny, version of 'Everybody Loves Raymond.' Only it doesn't last twenty-two minutes. It lasts forever." — Knocked Up
"Spend a few minutes a day really listening to your spouse. No matter how stupid his problems sound to you." — Megan Mullally
"I married for love but the obvious side benefit of having someone around to find my glasses cannot be ignored." — Cameron Esposito
"Did you know that the institution of marriage was created when the average person lived to the age of 30?" — Kim in The Last Kiss
"Because I always say, if you're married for 50 years, and 10 of them are horrible, you're doing really good!" — Michelle Obama
"We have a couple of rules in our relationship. The first rule is that I make her feel like she's getting everything. The second rule is that I actually do let her have her way in everything. And, so far, it's working." — Justin Timberlake
"Being a good husband is like being a stand-up comic. You need 10 years before you can call yourself a beginner." — Jerry Seinfeld
"After about 15 years I finally figured out that she's always right. So surprisingly we just stopped fighting after that." — Barack Obama
"The best way to get most husbands to do something is to suggest that perhaps they're too old to do it." — Ann Bancroft
"The first draft of my vows, which I wrote the day after we got engaged, clocked in at around 70 pages." — Leslie in Parks and Recreation
"Marriage is like a graph—it has its ups and downs and as long as things bounce back up again, you've got a good marriage. If it heads straight down, then you've got some problems!" — Dame Julie Andrews
"There are only three things women need in life: food, water and compliments." — Chris Rock
"Marriage has no guarantees. If that's what you're looking for, go live with a car battery." — Erma Bombeck
"Marriage is our last, best chance to grow up." — Joseph Barth
"We were married for better or worse. I couldn't have done better and she couldn't have done worse." — Henry Youngman
"Husbands are like wine, they take a long time to mature." — Lise Friedman
"A man's main job is to protect his woman from her desire to 'get bangs' every other month." — Dax Shepard
"People say, 'Jeez, it must be hard to stay married in show business.' I think it's hard to stay married anywhere, but if you marry the right person, it might work out." — Tom Hanks
"Look, you want to know what marriage is really like? Fine. You wake up, she's there. You come back from work, she's there. You fall asleep, she's there. You eat dinner, she's there. You know? I mean, I know that sounds like a bad thing, but it's not." — Ray Barone from Everybody Loves Raymond
"Make sure you have date night even if it's once in a blue moon because most of the time you're just too tired and you'd actually prefer to sleep." — Chris Hemsworth
"I don't want to hear about the endless struggles to keep sex exciting, or the work it takes to plan a date night. I want to hear that you guys watch every episode of 'The Bachelorette' together in secret shame, or that one got the other hooked on 'Breaking Bad' and if either watches it without the other, they're dead meat." ― Mindy Kaling
"Marriage is a bond between a person who never remembers anniversaries and another who never forgets them." ― Anonymous
"My wife, Mary, and I have been married for forty-seven years, and not once have we had an argument serious enough to consider divorce. Murder, yes, but divorce, never." ― Jack Benny
"We always hold hands. If I let go, she shops." — Henry Youngman
"I'm just a diaper-changing facility hooked up to a life-support system, but my wife, she's breakfast, lunch, and dinner. She's a human Denny's all day long … and it never ends for her. She's the most beautiful Denny's you've ever seen though, I guarantee it." — Ryan Reynolds
"Always get married in the morning. That way if it doesn't work out, you haven't wasted the whole day." — Mickey Rooney
"A guy knows he's in love when he loses interest in his car for a couple of days." — Tim Allen
"We just like each other. You start there…I still can't believe my wife goes out with me. If we were in high school and I was just funny, I'd never have the courage to talk to her." — Tom Hanks
"My wife didn't take my name which isn't weird but what's weird is when people think it's weird like we're on a first-name basis anyway." — Mark Agee
"Love, gratitude, compassion, because sometimes every man or every woman will drive their partner crazy." — Goldie Hawn
"A man doesn't know what happiness is until he's married. By then it's too late." — Frank Sinatra
"Sometimes I wonder how you put up with me. Then I remember, oh I put up with you. So we're even." ― Anonymous
"Our marriage was the most difficult, gruelling, excruciating thing that we have ever taken on in our lives. And you know, we're just not quitters." — Will Smith
Love and Marriage Quotes and Sayings
A few cute and short marriage quotes and love saying:
"Marriage is not about age; it's about finding the right person." — Sophia Bush
"The most important four words for a successful marriage: 'I'll do the dishes." — Anonymous
"Who, being loved, is poor?" — Oscar Wilde
"There is no remedy for love but to love more." — Henry David Thoreau
"You don't love someone for their looks, or their clothes, or for their fancy car, but because they sing a song only you can hear." — Oscar Wilde
These were some quotes on love and marriage that define the relationship between a couple perfectly. We hope you liked them. Send these to your spouse and let them know how much you love them!
Also Read:
Affectionate Love Quotes for Husband from Wife
Romantic Love Messages and Quotes for Your Wife
Love Quotes That Define Relationship Accurately