Khandvi Recipe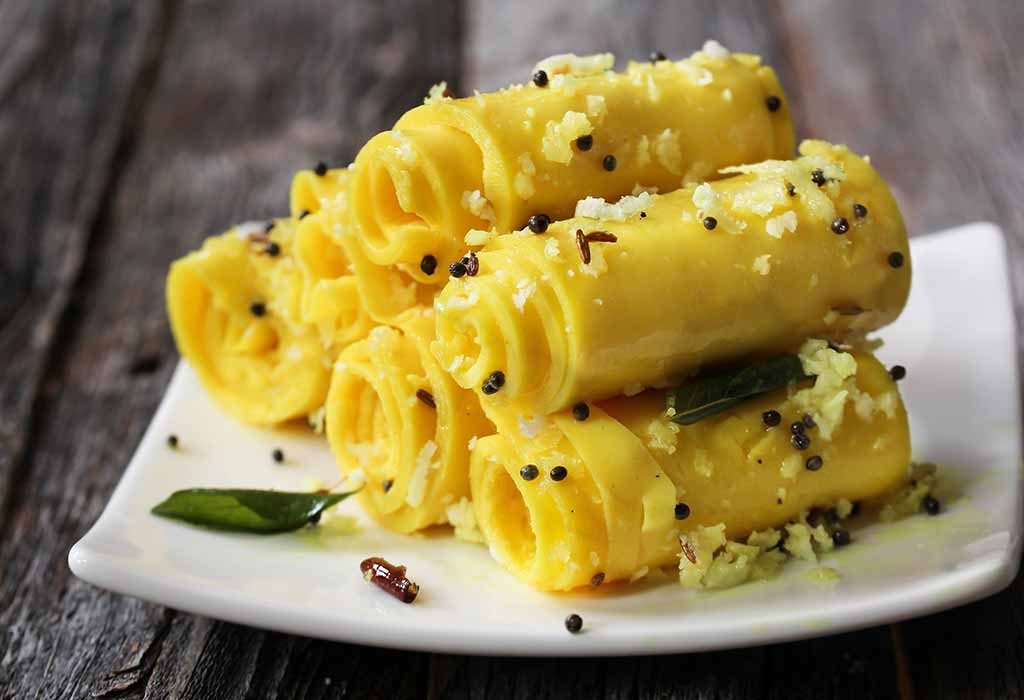 In this Article
If you are looking for a healthy Indian snack for your munchkin, Look no further, here is an excellent khandvi for babies that you should try. Khandvi is an amazing finger food that comes from the state of Gujrat in India. Khandvi is an excellent recipe that is loaded with great flavours and silky texture. It is a delicacy made with besan and curd as the main ingredient, and it is a great way to introduce new tastes and flavours to your baby.
Cooking time
| | |
| --- | --- |
| Type | Time (hh:mm:ss) |
| Preparation Time | 00:20:00 |
| Cook Time | 00:45:00 |
| Total Time | 01:05:00 |
Cooking Method
Gas Stove
Type of Meal
Vegetarian
Suitable For
Toddlers above 16 months of age
Meal Schedule
Mid-morning, lunch, dinner
Recipe Type
Main Dish
Ingredients
| | |
| --- | --- |
| Ingredients | Quantity and Volume |
| Besan | 1 cup |
| Fresh curd | 1/4 bunch tightly packed |
| Turmeric powder | ¼ teaspoon |
| Asafoetida / Hing | A pinch |
| Cooking oil | Two teaspoon |
| Water | 1½ cups |
| Mustard | ½ teaspoon |
| Curry leaves | 5-6 leaves |
| Coriander leaves (finely chopped) | 2 tbsp |
| Grated coconut | 1 tbsp |
| Lemon juice | 3-4 drops |
| Ginger paste | ½ teaspoon |
| Salt | As per taste |
Instructions
Khandvi might not be one of those easiest dishes you come across; however, you will surely not regret the efforts you put in because of its nutritive value for your little one. You must be wondering how to make khandvi! Find below the instructions that help you master the art of making khandvi.
First, mix the fresh curd well with water and keep it aside.
In a Kadai, mix besan, curd-water mixture, lemon juice, salt, turmeric, ginger paste and asafoetida and cook on a low heat for about 15 minutes until you see the mixture getting thick.
Grease the reverse side of a plate, or you can grease your working kitchen counter.
While the Khandvi mixture is still hot, reverse the spatula and spread a portion of the khandvi mixture onto the reverse side of the plate or spread the mixture on the greased working kitchen counter evenly and uniformly.
Repeat to spread the entire mixture while it is still hot.
When it is cold, cut the khandvi lengthwise to make strips.
Roll up each strip carefully one after the other.
Now, for tempering add oil in a pan then add in the mustard seeds and curry leaves and allow it to splutter.
Pour the hot tadka on the khandvi and garnish with chopped coriander leaves and grated coconut.
Recipe Tips:
Do not forget to consider the following points, before making this simple khandvi recipe for your baby:
Make sure the besan you use is fresh; otherwise, there are more chances of the khandvi breaking.
You may skip lemon juice if the curd you are using is sour.
Mix the besan and curd mix well without any lumps before adding in other ingredients for a smooth and silky texture.
You can also add sesame seeds for tempering along with other ingredients for added taste and flavour.
Nutrition Information (per 100 gms)
| | |
| --- | --- |
| Nutrient | Value |
| Energy | 186 Cal |
| Protein | 7.4 gm |
| Carbohydrates | 17.6 gm |
| Fibre | 3.9 gm |
| Fat | 8 gm |
| Cholesterol | 7.8 gm |
| Vitamin A | 130.2 mcg |
| Vitamin B1 | 0.1 mg |
| Vitamin B2 | 0.2 mg |
| Vitamin B3 | 0.6 mg |
| Vitamin C | 1.5 mg |
| Folic Acid | 39.8 mcg |
| Calcium | 100.3 mg |
| Iron | 1.2 mg |
| Magnesium | 40.2 mg |
| Phosphorous | 132.5 mg |
Health Benefits
This simple khandvi is loaded with numerous health benefits for you toddler.
Besan has more protein and good fat compared to wheat flour.
Besan is rich in complex carbohydrates and folic acid, which is essential for good growth and development of your baby.
Turmeric has curcumin which acts as a prominent bio-active component known to prevent many diseases.
Turmeric also has anti-inflammatory properties and helps in digestion, thereby preventing bloating.
Khandvi has vital nutrients, like magnesium and phosphorus, which are required to regulate body temperature and essential for the formation of bones and teeth in your baby.
Buying Guidelines:
Before following the step by step instructions given above, note down the buying guide below to purchase the right ingredients:
Check for the expiry date of the products in the supermarket before picking them up.
Buy organically grown green leaves to keep your children safe from chemicals and pesticides.
Make sure you buy fresh curd to avoid sour-smelling curd. Organic curd is a great option.
Try to select cold-pressed cooking oil to ensure the good health of your baby.
Your baby is your world of happiness, so feeding your baby with healthy food by following this home-made khandvi recipe is nutritious as compared to the store-bought formula food. Khandvis are gluten-free snack bites which your baby will love.