How to Safely Paint a Baby's Crib
You have received the good news of the new arrival into your family. You have started preparing and decorating the baby's room with the most comfortable furniture. The most important furniture for the baby is the crib. It has to be extremely comfortable and safe, as your precious baby will be spending most of its time in that. You can either get a readymade crib from the market or get it custom made. Also, many times parents already have the crib of the elder child or cribs given to them by close family or friends who no longer need the crib, which they want to use for the new baby. It's the parents' choice to buy a new one or use the older crib. As long as it keeps your baby safe and comfy, it doesn't matter if the crib is old or new. However, you may want to paint the crib to match the nursery's decor. Read on to know how to safely paint your baby's crib.
Can Cribs Be Painted?
You have bought a new crib for the baby. Though the crib is comfortable and safe, still it isn't in the colour you have decided for the nursery. Or you are using an old crib but its paint has chipped off or looks worn off. In both scenarios, the easy solution is to paint the crib. You can get the painting work done by some professional or do it yourself. Painting a crib is nothing complex and does not need experts. Even if you're not very talented at DIY projects like this, you can easily paint the crib. You have the flexibility to paint it in your preferred colour and match it to the nursery's décor and palette. Also doing the repainting a crib yourself will show your affection for the new baby. Just follow the below-given steps and enjoy painting your baby's crib.
How to Choose the Right Paint for the Crib
You have decided to do the DIY crib painting yourself. Now the most important question is what type of paint to choose so that it is completely safe. You can't just use any paint for the crib, it has to be a non-toxic paint for baby crib. To choose the right baby-safe paint for the crib, consider the following points before purchasing the paint:
It shouldn't have any lead. Though most paints these days are without lead, still read the contents to be doubly sure.
It should be completely non-toxic.
Purchase paint which is water-soluble. Water-soluble paints are non-toxic and have no lead.
Use paint with low VOCs (Volatile Organic Compound) or with zero VOCs. Low VOCs should be less than 50 grams per litre. Paints with low or Zero VOCs have less harmful chemicals.
The paint should be odourless or with very less odour with very few additives.
Preferably use a paint which doesn't require a primer. It will have fewer chemicals.
Ask for a paint which has antimicrobial agents to keep mold or mildew away.
What Supplies Do You Need to Paint the Crib?
Painting your baby's crib is easy and can be done with basic supplies. However, having the proper supplies beforehand can make your work easier and make the work enjoyable for you. The supplies you'll need to paint the crib are:
Vinegar and water mixture in 1:1 ratio or a no-rinse TSP
Ultrafine abrasive pads
Non-toxic liquid sandpaper or a medium/fine grit sandpaper or a de-glosser
Lint-free cloths
Mask
Tack cloth
Spray bottle with fine mist setting filled with clean water
A safe paint with preferably no odour and zero VOC
Round painting sponge
Paint sprayer or high-quality paintbrush with a synthetic bristle
Safe topcoat with no odour and zero VOC
Simple Steps to Paint a Baby's Crib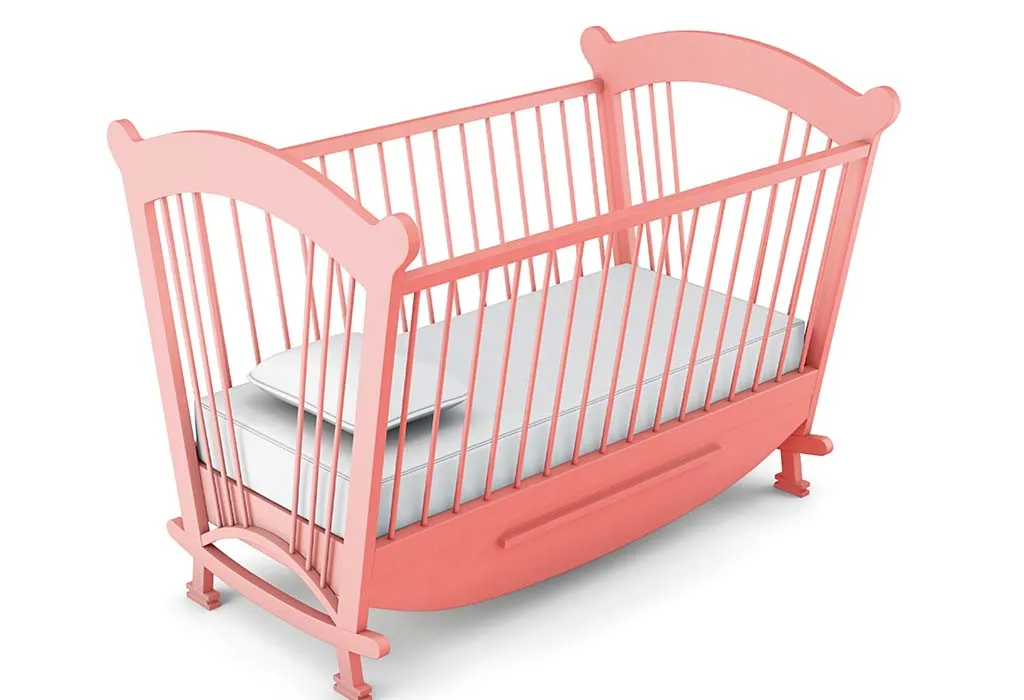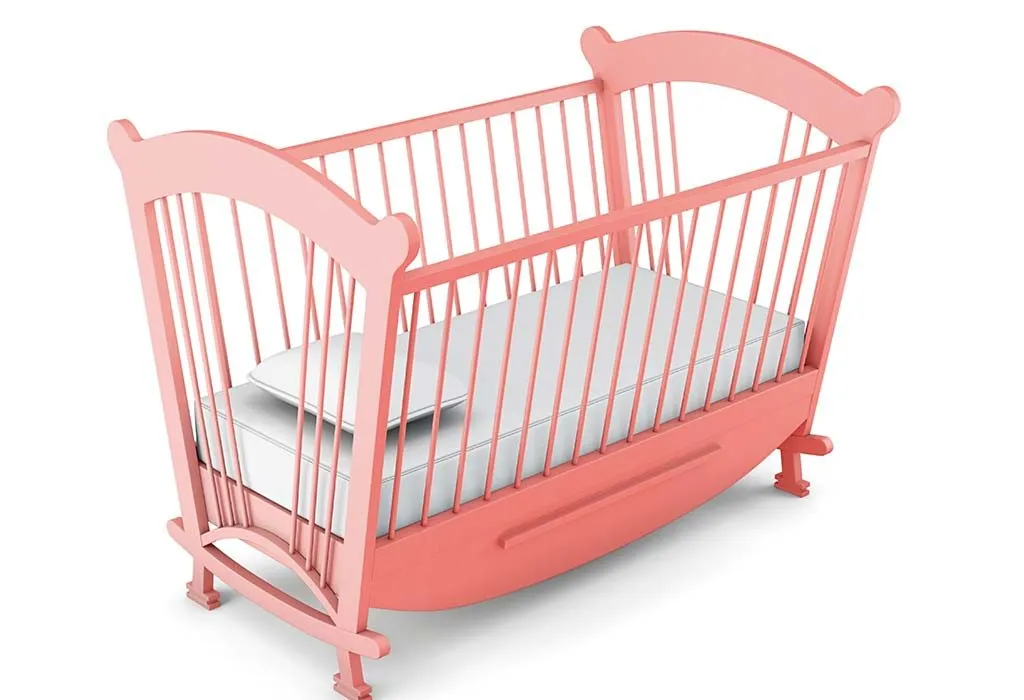 You have got the crib, chosen the paint and collected all the supplies required to paint the crib. Now you just need to follow these simple steps to paint and your crib will be ready. The steps to paint a crib like a professional are:
Step 1
Place the crib on any used cloth or old newspapers in an open space or in a garage or a room not used for anything. Ensure the crib is absolutely clean with no dirt or dust. Even a small particle of dust can mess up your paint job, so be extra sure of removing every speck of dust. Use water and cloth to clean the dust or use vinegar and water mixture (1:1 ratio) or the no-rinse TSP with non-abrasive pads. Let the crib dry completely before starting to paint.
Step 2
You can disassemble the crib if it's possible for a thorough painting job, though it's not necessary. Wear a mask to avoid dust inhalation. Lightly sand or scruff the complete surface of the crib, ensuring no part is left. Use a fine (220#) grit or medium (180#) grit sandpaper or a sanding sponge. Just do a light sanding to roughen up of the surface. It should remove the old paint to expose the inner surface. The roughing up will let the new paint adhere to the surface and doesn't come off. Ensure the scuffing is even for the new paint to form an even bond with the wood.
Step 3
Take a tack cloth, and remove all sanding dust from the crib. Pay extra attention to nooks, inner corners or indentations for remaining sanding dust. Sanding dust left on the crib will blend with the paint and give an uneven surface appearance, ruining your hard work. You can also use a damp cloth to wipe the entire surface for a more thorough job. Just remember to dry the crib afterwards.
Step 4
Paint the crib with safe, non-toxic paint. Wait for four to six hours and then repaint it. Before applying the second coat, do check for drips or left spots. Light sand the paint drip and apply spot paint on left spots. When it dries, apply the second coat. Do remember to use a good quality brush. You may have purchased the best paint but a sub-par brush will not produce the best results. Professional-like paint job is done by high-quality brush. So remember to use a high-quality brush. Do remember to buy paintbrushes in medium to small size. Medium for large surfaces and small brushes to paint the nooks and difficult to reach parts. You can also use a good quality paint sprayer. After the paint dries, you can also make designs or write anything on the crib using design stencils available in the market. It will add to the design and customise your crib.
Step 5
This is an optional step. You can do it or skip it as per your choice. When the second coat of paint dries, you can apply a top coat of a safe clear finish to the crib. The clear finish topcoat doesn't add any benefit to the painting job, but just makes the paint more durable or in case of any scratches, the top-coat gets scratched and the paint remains intact. Though if you have used high-quality, non-toxic paint, then the paint finish will be very durable and there is no need for the topcoat to refinish a crib.
Step 6
As you have used a non-toxic paint, so now as the topcoat or the second coat of paint dries, the crib is ready to use.
FAQs
1. Can I Use Oil-based Stain Blocking Primer While Painting the Crib?
It is advisable to stay away from oil-based stain-blocking primer when painting the crib. Oil-based primers are high in VOCs and not safe for babies.
2. What Kind of Finish Should I Choose for a Crib?
You can any finish you want for your baby's crib. You can go for eggshell, semi-gloss or glossy as per the decor of the nursery or your personal preference. They all are equally functionally ideal, hardwearing and durable.
3. If I Have Already Primed the Crib, Is Sanding Still Needed?
If you have already primed the crib, then there is no need for sanding. Sanding is only required to scruff off the glossy finish or to rough up the surface. With priming, sanding is not required.
4. How Can I Paint the Spindles Easily?
Use the painting sponge to paint the spindles with ease. Just take the sponge with paint and quickly paint the spindle in one go. Just remember to clean the sponge before painting and use a dry sponge.
Painting your baby's crib yourself is the best way to express your love for your baby. Painting a crib is very easy and can be done in a day, making it enjoyable for you. Also painting it yourself ensures the crib and the paint is completely safe, without any harmful chemical for your baby.
Also Read:

What to Buy – Bassinet, Crib or Cradle?
When Does Baby Refuse to Sleep in Crib?
Are Crib Bumpers Safe for Babies?