Gooey-Wooey Slime Party Ideas for Kids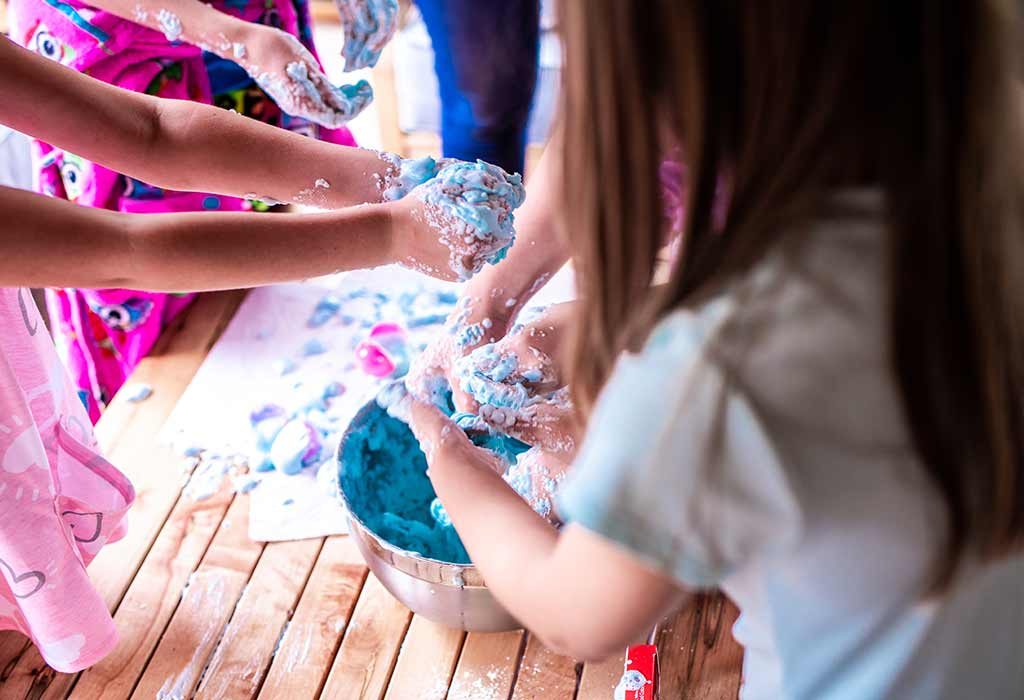 Does your little one admire mess? Does your baby girl love to play-doh with her toys, and their noses? If yes, you should consider throwing a striking slime party for their next birthday. Hosting a great slime party is no longer rocket science. In fact, with just a few inspiring ideas, and you will be able to put together the best party ever!
How to Throw an Ultimate Slime Party for Children
So, how do you throw an ultimate slime party for children? The entire mood is set with the invitations. You need to start by asking your child to brainstorm for unique invitations that blend with the theme. Then comes the slime, followed by the food and decors. Just like any other birthday party theme, slime parties need to be organised in a step-by-step fashion.
That being said, here is a guide to help you throw a great slime party without much hassles or tussles.
Party Invitations
A slime birthday party is meant to go by its name! Almost anything and everything in this celebration have to feature slime. Or, the items must at least be covered in loads of slime. This is what makes a slime party truly special and memorable. This includes everything you can think of, ranging from the decorations to games to foods to battles, and even the invitations! Yes, you cannot skip the invitations when you plan a slime party.
Your party invitations can be customised with slimy shades. This could be slime green, pink, or blue. And, the font used inside the invitation should be both slimy and runny. Many times, parents opt for slime splashes on the invites. This is a great way of keeping the entire invite colourful.
Slime parties are meant to get messy and interesting. It would be difficult for someone at the slime party to return home neat and clean. But, if your guests wish to return "perfect", they need to bring a change of clothes. That's is why your invitation has to mention "slime party", and it should encourage guests to carry extra clothes.
Party Location to Setup the Station
Now, your slime party is organised to have fun, but ensure the guests don't feel lost! This is why every slime party needs stations. The role of these stations is to guide guests through each element, or activity at the party. The stations can have signs, which are printed on construction paper.
There are two common types of slime party stations:
1. The Simple Version
As suggested by its name, these would be the simple slime party stations or pouring stations with a filler. These stations can have special tables for adding colours and mixing them.
2. The Carnival Version
If many kids are invited to the party, you may need to organise several tables. This gives the party a carnival effect. At each table, you can introduce a different type (or colour) of slime. The carnival version adds more panache to the party. It can make the entire event more striking and exciting.
3. A Slime Bar
To make the party much more inspiring, you can consider setting up a slime bar. At the slime bars, kids can make their own slime. Ensure that the bars are loaded with sequins, sand, foam balls, and ample food colouring.
Slime Party Decoration Ideas
You can always give your event a perfect slime party theme. Though slime is the key element, you don't need to shun away from conventional birthday themes. There are a few ways you can blend the usual party themes perfectly with a slime party:
1. Rainbow Slime Party Theme
As suggested by its name, this party is all about rainbow colours in a slime party theme. For this, you need to choose slime based on the colours of the rainbow.
2. Unicorn
If your little one loves unicorns, you can always decide on a slime party with unicorn decors. Thus, you need to pick slime that is white in colour, too!
3. Go Green
The most commonly found shade in a slime party would be green. So, stick to this if you want a green-themed party! You can pick a green slime party backdrop, too, and create beautiful, delicious green-coloured cupcakes. These will add to your slime party theme.
4. Marvel Heroes
If the party is for your little Marvel fan, you can opt for a Marvel-based slime party theme. Pick your kid's favourite marvel characters, and customise the slime recipe for each hero. Don't forget to choose the right slime texture and shade for each character!
Fun-filled Games and Activities
At the slime party, you can host some minute-to-win-it games. Here are a few ideas to help you get started:
1. Find the Missing Worm
This is a classic game where every kid is given one minute to find gummy worms that are carefully hidden inside slime! The best part about this game is that the kids cannot use their hands!
2. Slurping Jellies
As the name suggests, kids need to slurp jellies using a straw. The kid who eats the highest number of jellies in a minute wins!
3. Tossing Shower Caps
Another game that is always a hit amongst little ones is tossing the shower caps. For this game, kids need to work in groups. Kids need to break into two groups and form a straight line. The leader of the line should hold a shower cap, which needs to be covered in cream. The kid at the tail of the line needs to hold Cheetos. The team that manages to pass many Cheetos from the tail to the head, and stick on the shower cap wins!
4. Slogging Spoons
This is yet another game with jello. Jellos will be kept inside cups. Kids have to pass jello from one cup into another cup without spilling any. Also, they cannot use their hands to move the jello. They can use their feet, or mouth to move the jello. But, it should not spill during the movement. This is definitely a tough game and is apt for the bigger kids.
Must-have Slime Party Supplies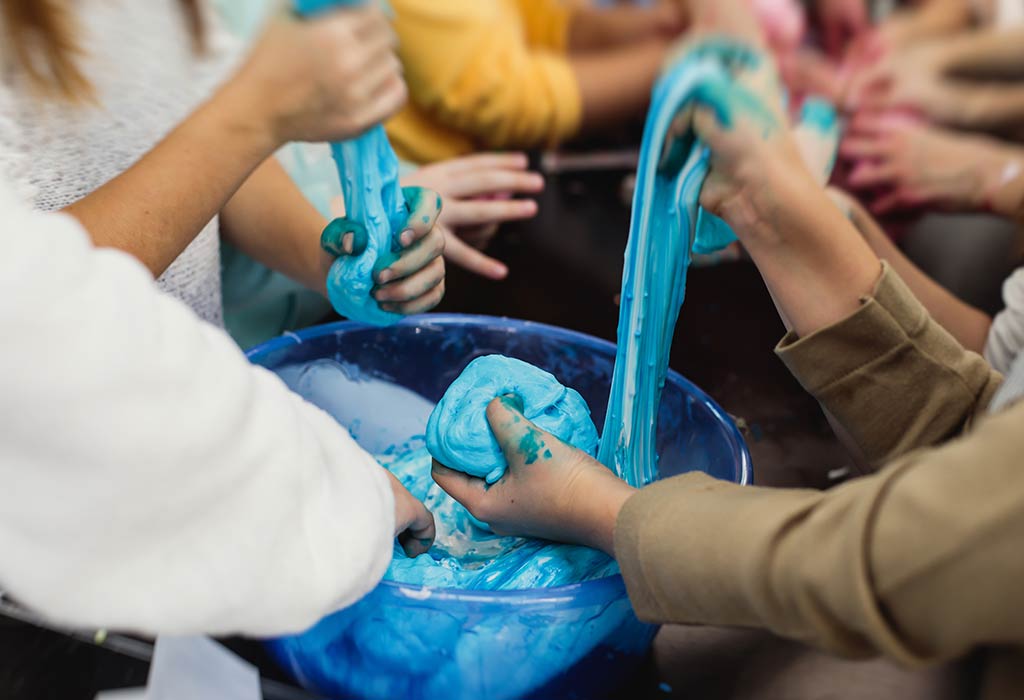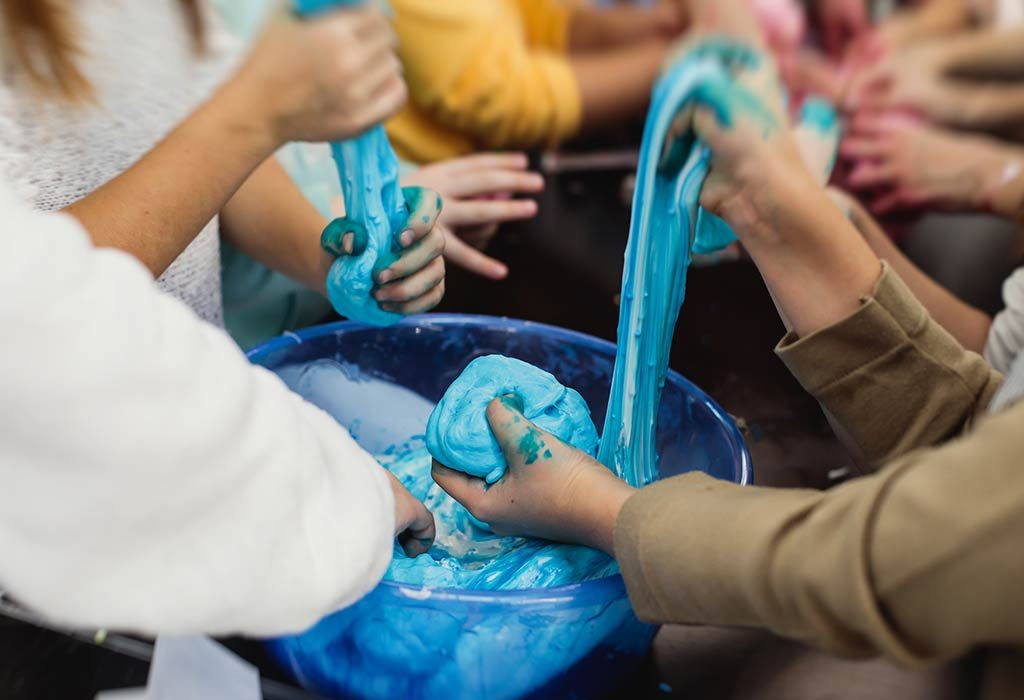 Slime birthday party supplies cannot be neglected. When compared with other conventional parties, the slime-based ones need a few "special" items. Here is a quick walk through these items:
Glue: You need to buy plenty of glue. To be on the safer side, you have to go for the glue that is white in colour!
Magical Liquid: The magical liquid comes in different shades and textures. The most commonly used brand would be Elmer.
Craft sticks: They are a must-have in any slime party. The craft sticks help kids get engaged with their slimy ideas, but still, stay clean.
Jars: Plenty of plastic jars with lids. You need these jars to separate slime and hand them over to each kid. After all, you wouldn't want disappointed kids at the party! Ensure that you buy plastic jars that are the same size.
Glitter: For a shimmering experience, you cannot forget the glitter. It can also add more fun, and colour to the idea. Of course, you need to handpick glitter that blends well with the theme of the party.
Food colour: Food colouring is an optional supply at the slime party. But, it would always be great to have some good food colouring, based on the party theme.
Slime Recipe Variations
There are no hard and fast rules to make that perfect slime. The trick during slime parties is to let your little one experiment as much as possible. Here are a few interesting slime recipe variations you can use to make different types of slime once you have the basic slime ready.
1. Glitter Slime
As suggested by its name, it carries tons and tons of colourful glitter. Make sure, the glitter shades blend with the theme of your party.
2. Neon Slime
If the party is for those who love neon colours! Of course, you can let your kids experiment and come up with crazy, weird bright colours, too.
3. Cloud Slime
This is a rarely used slime variation. Cloud slime brings to life instant snow. These are available in craft stores and even on Amazon. The final slime looks and feels like kinetic sand, but it is extremely fluffy.
Yummilicious Slime Party Cakes
Planning the right cake is important for any birthday party. And, when it comes to a birthday even with a theme, the cake needs to fit in perfectly. Here are two ideas to help you choose a yummilicious slime party cake.
1. Slime Frosting Cake
To begin with, you can opt for cupcakes that are filled with slime-like frosting. The slime filling needs to be brightly coloured. The best shades for the slime-like frosting would be neon or bright yellow. You can opt for a piñata cake, where the centre of the cake is filled with slime-like frosting. When your little one cuts the cake, the slime would ooze out.
2. Two-Tiered Neon Cake
To add more charm to the slime-theme party, you can opt for a neon-coloured two-tier cake. As the little one cuts into the cake, you need to have "ganache" oozing out! The ganache used to fill the cake needs to be brightly coloured, too! If your slime birthday party theme is rainbow, you can fill the cake with vivid reds, oranges, and blues. On the other hand, if you are opting for a standard slime party, everything about the cake can be "green"!
Tasty Food Ideas for Slime-themed Party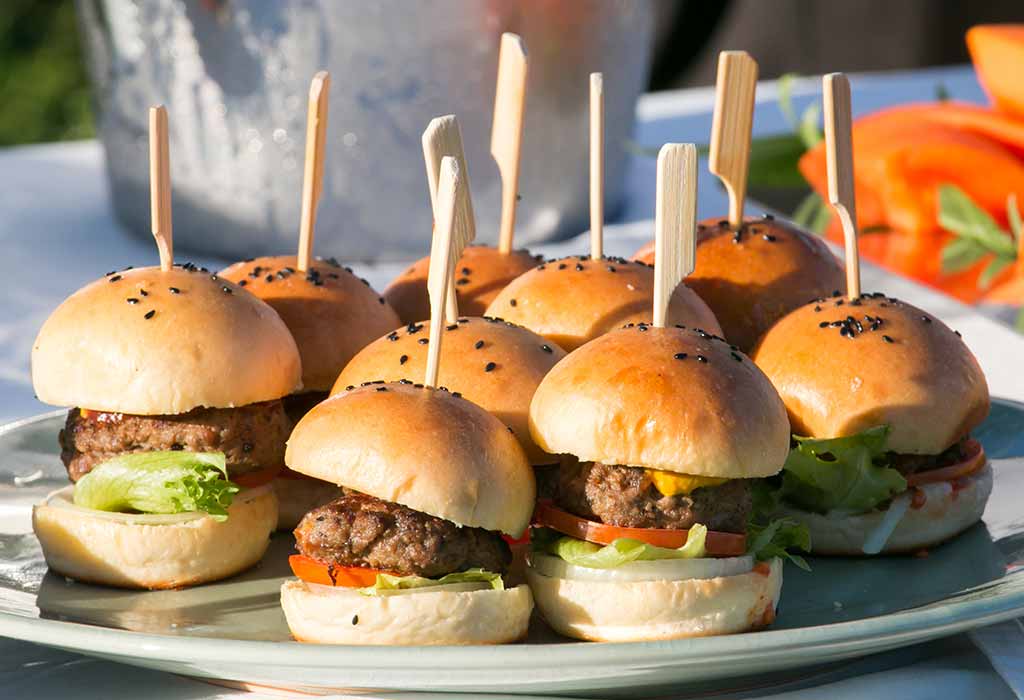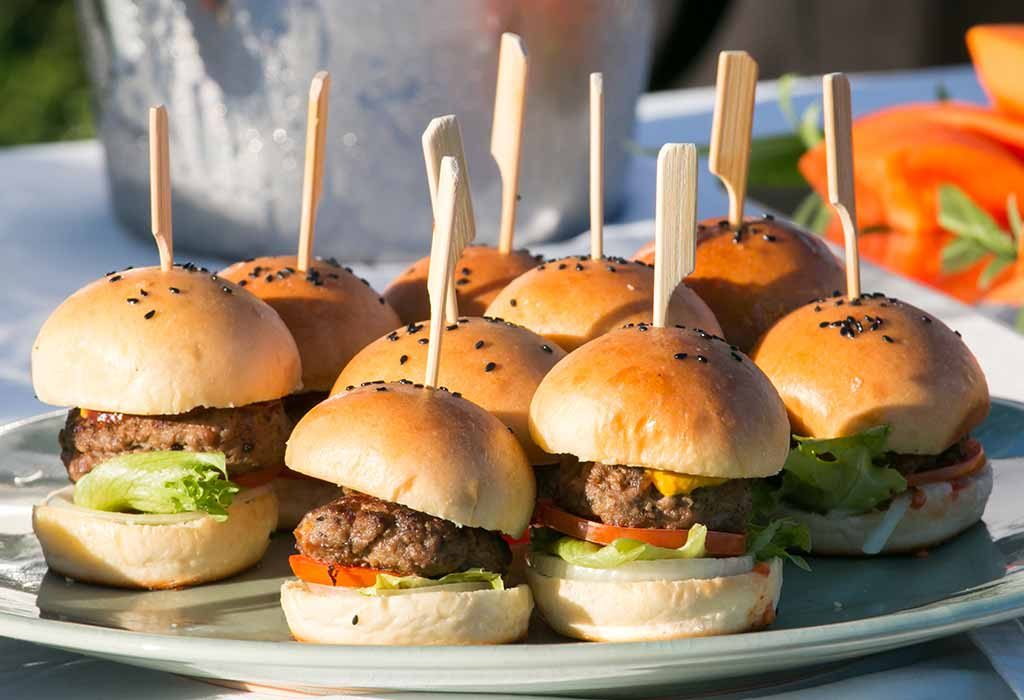 Any party will be incomplete without the right mix of food and treat. Here are few treats that go well with the slime party theme:
Mini Hamburgers:

This is de-facto at any kid's birthday party. But, since you are organising a slime party, offer the hamburgers on sticks. This will make the entire experience of consuming the hamburger messy, and tricky, but extremely fun!

Marshmallow Bars With Gooey Ganache:

Kids love marshmallows. The recipe stays fresh for days and is definitely tasty with some fudgy ganache.

Pineapple Pops:

Delicious pineapple pops are a must at any kids' party, even a slime-themed party.

Fizzy Drinks:

Get fizzy drinks in different shades of green, blue, and orange or any colour that goes with the colour scheme of your party.

Potato Poppers:

Another standard that never misses impressing the taste buds would be the potato poppers. For an extra twist, you can consider filling the poppers with loads of cheese.
Slime Party Favors
Here are some ideas for slime party favours:
1. Reusable Containers
You can grab these containers from any conventional grocery store. They can be used to store food, carry snacks to school or even keep stationary. Try to incorporate the kid's name (or at least the initials) with the help of a permanent market on the containers.
2. Jars and Labels
Small plastic slime containers may not be expensive, but they can turn into everyone's favourite goodies. Just like the containers, you can imprint the guest's initials or name on the jars, too.
3. Baggies
Since the party is all about slime, you can consider giving away a bag filled with some slime. This idea will remind them of the party for weeks or even months. Decorate the bag with drawings, paintings, and crafts that go with the theme of the party. You could even add a figurine, some sweets/cookies to complete the hamper.
Safety and Precautions for Slime-themed Party
Slime parties are often known for their risk factors. Nevertheless, if you are careful, the chances of an accident can be avoided, and you will be able to enjoy the best slime party ever. To begin with, you need to handpick slime that is both biodegradable and non-toxic. The slime you choose should not have any harmful chemicals. It is quite easy to verify if the slime you pick is harmful or not. All the details you need will be printed on the label of the slime. Take some time, and go through this label.
Many times, parents choose homemade slime recipes. This is because homemade variants are less likely to have harmful chemicals.
A crucial ingredient to focus on during slime parties would be boron and borax. These are ingredients that can make the slime risky, and unhealthy. According to a BBC Health post, the slime that contains boron and borax should be avoided at any cost.
After Party Clean-Up Hacks
Once the party comes to an end, what happens? How should parents and the little ones handle the mess left behind? Here are a few tips to help you with the cleaning:
Getting rid of slime is a common problem faced. Thus, you need to use an effective detergent, which can handle stubborn stains – even slime!

Once your clothes are clean, you need to address the slime found on your hands, face, and feet! The best solution to this would be to thoroughly wash hands with soap and water and then using a good hand sanitising.

Use an all-purpose cleaner to clean tables, chairs, countertops, and even sofas.

Don't destroy the actual fineness of the surface. Use a soft cloth and a mild solution at all times! If the mess created is too much, consider hiring a cleaning contractor for the job.
Hosting a slime party is fun, no doubt, but it can also be a lot of work. Your little ones are bound to enjoy the activities, treats, and slime. It is important for parents to organise the event with the utmost care to prevent accidents and also the exhaustion from the cleaning that follows the party.
Also Read:
Fancy Goodie Bag Ideas for Kids' Birthday Party
Menu Plan and Foods to Serve At Kids' Birthday
Best Places to Host Children's Birthday Party
?>