10 Colorful Rainbow Baby Announcement Ideas
It is so heart-breaking and often a traumatising time for parents who have lost a baby, either through miscarriage or still-birth. The ordeal leaves them feeling like they will never be able to bounce back, let alone heal their broken hearts. But in time, a miracle does occur. A new baby is conceived. And just like the rainbow after the storm, this new baby brings hope back to the parent's lives. The joyful couple feel so happy and hopeful, that it is impossible to contain. This is why your rainbow baby your reveal needs to be done right.
10 Perfect Rainbow Pregnancy Announcements That Will Fill Your Life with Beautiful Colours
There are many ways that you can make the announcement for a rainbow baby. What you choose will ultimately depend on your personality and what you are comfortable with. Here are some cute ways to announce a rainbow baby.
1. Mailbox/Letterbox Reveal
The first person to reveal this blessing to is always the husband, so if you want a different way to make a rainbow baby announcement to your husband, you can always paint your mailbox with rainbow colours. You can keep the baby's sonogram inside with a cute letter written with all the colours of the rainbow. Imagine his surprise when you ask him to grab the mail. Leave the mailbox up if you would like to make a public statement to anyone who sees it.
2. Sibling Reveal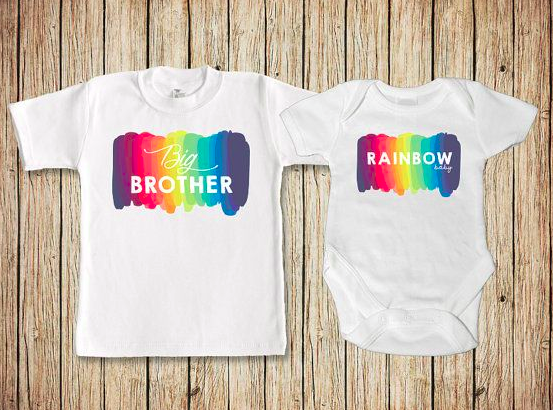 Source: Pinterest
If you already have a child, you can make a sibling reveal. A great way to do this is to get matching outfits for them. Get a shirt and an onesie printed out and have your elder child wear it while holding up the onesie. Take a picture and send it to all your family and friends. This will be a great way to include your child into the excitement. It will also be very cute when your baby arrives and the two of them wear their matching outfits.
3. A Beautiful Onesie
Special order a lovely onesie that will one day be worn by your rainbow baby. You can get creative with this and add in a pair of little booties, or a rainbow baby cap. Add your monogram to the mix, and you have all the ingredients for a wonderful image to send to those you want to make your announcement to.
4. A Wall Hanging
There are some wonderful rainbow wall hangings that you can find, which are perfect for making the announcement. Hang it up in a place that can be seen as soon as you enter the home. It should be bright and colourful so that it stands out from everything else. This is another great way to break this wonderful news to your husband when he walks through the front door.
5. Rainbow Cupcakes
This one is probably the most delicious way to announce your little rainbow blessing to family and friends. Make some delicious muffins and decorate them with rainbow designs and colours. You can distribute the delicious treats and surprise your loved ones. If you make enough, you can even distribute them to all your neighbours so they can join in the happy occasion.
6. Rainbow Confetti
Confetti is always seen as a symbol of celebration. With your rainbow baby on the way, rainbow confetti is the perfect background for your maternity photoshoot. You can wear a beautiful white gown and show off your baby bump while the rainbow confetti rains down around you.
7. Rainbow Wall Paint
Decorate your baby's nursery with rainbow colours. A wall painting of a rainbow will be just perfect for your little miracle. It will also be a reminder that your baby is the precious gift that came after the storm. Once you are done, you can take a picture of the finished product and send it to all your family and friends or post it on social media. If you want to be a little mysterious, don't say anything when you send or post the picture. You can have a little fun seeing who guessed your big news with just a picture.
8. Rainbow Umbrella
If you live near a beach, you have the perfect setting for a simple, elegant and beautiful photoshoot to make your special announcement. Grab yourself a rainbow coloured umbrella and take a stroll along the water's edge. You and the hubby can pose for some fantastic pictures with it. Stand before the setting sun and hold your umbrella between you and the camera so you can get just a silhouette of the two of you.
9. Chalkboard Rainbow
If you have a chalkboard available at home, go ahead and draw a rainbow with some coloured chalk. You can add a message and the date to make it more personal. Using chalk and a chalkboard gives the message a cute, childish air, which is perfect when announcing a baby. If you have a flair for art, you can go on and decorate the chalkboard and make your message look absolutely beautiful.
10. Smoke Colours
If you are a fan of the magical and mystical, you will love this idea. You can organise to have this picture taken somewhere that has woods if you want it to have a fantasy air to it. However, even if you are not able to take the picture in a place with woods, anywhere in nature will still be great. Crown your head with a rainbow coloured floral crown to make it all the more ethereal.
There are so many wonderful ways to announce your precious new baby to the world. After all the grief that you have faced, this new spark of life will breathe a new beginning into your family. Share the news with your husband first; cry, laugh and get your emotions out. If you have kids, you can include them into the rainbow birth announcements so they do not feel left out. Whatever you choose to do, take many pictures so that you can enjoy this moment for the rest of your life.
Also Read:
Adorable Christmas Pregnancy Announcement Ideas
Simple Halloween Pregnancy Announcements Ideas
Creative Ways to Announce Your Pregnancy on Thanksgiving