25 Cute and Creative Maternity Photoshoot Ideas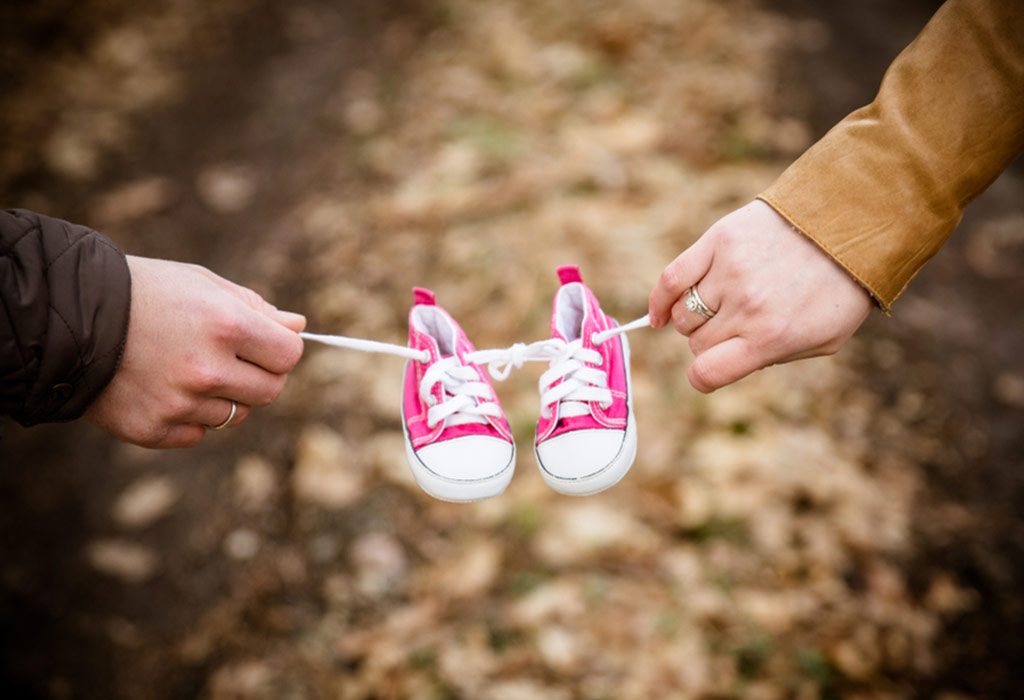 Pregnancy brings about a lot of changes in your body. Most of the time, you limit yourself during this time from engaging in strenuous activities, and the pressure of a maternity photo shoot must be the last thing on your mind during this time. However, the truth is that involving in such activities can improve your mental strength and family bond. You can choose any of the ideas mentioned here and create moments that you will adore for the rest of your life.
A simple photo shoot can create beautiful moments with your spouse or children. Ideas like your partner's arm around you, small children caressing your stomach and so on can gift you some good memories along with the amazing pictures.
25 Unique Ideas for Maternity Shoot
The maternity shoot is all about your comfort and good feel. This is something you can try during the maternity period without any effort. Once you find your rhythm, this is one of the best activities that could help you enjoy your pregnancy time. The ideas mentioned below can be used for selecting the one which you may prefer or like.
1. Have a Milk Bath
The maternity photo shoots are all about ideas that you like. A milk bath shoot might be the perfect one for you. It has white charm and the baby bump will be visible clearly. It is sure to be a great moment that you will cherish for a lifetime.
2. Having Your Belly Painted
Get on with your artworks and be creative! A perfect snap of your painted belly will bring a smile to your face later. If you want, even your family can join in to make the shoot more memorable.
3. Use Flowing Dress With Long Tail
In a maternity photo shoot, poses and clothing have a great significance. Wearing flowy dresses with a long tail and accentuate your look. Choose a plain colour to add some special charm to your poses.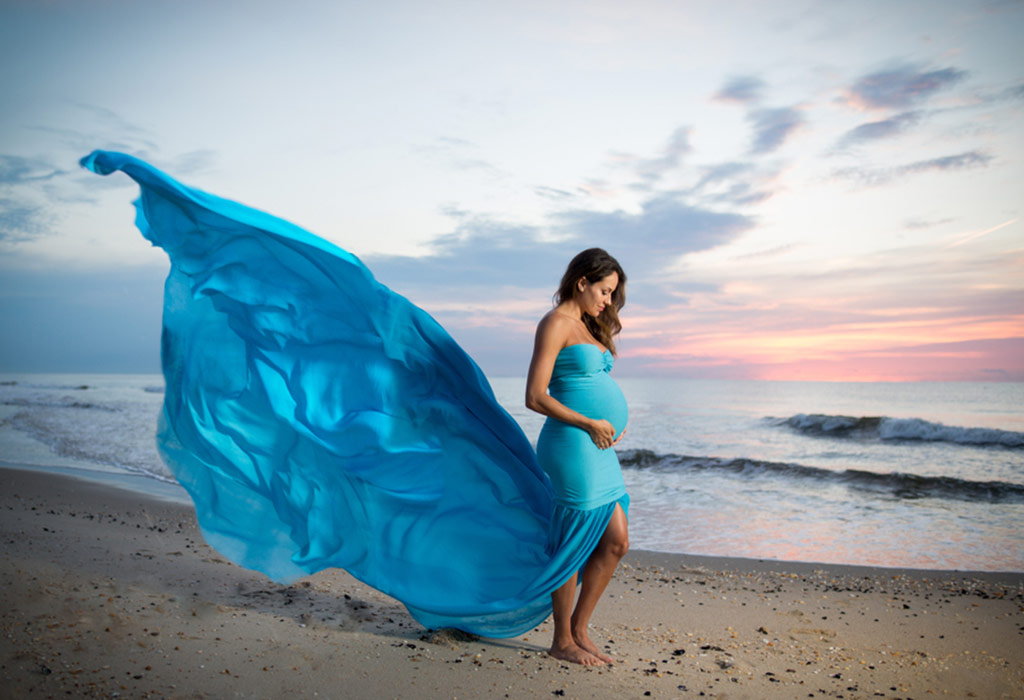 4. Floral Head Dress On Crown
Pregnancy is one of the most special times for a woman, and a floral headdress with a crown will make you feel special like a queen. These special clothes and the crown pose will be a great outdoor style for your photoshoot.
5. Use Your Humour To Have Fun
The best way to have fun is to be humorous in your photoshoots. Use your own humour sense about pregnancy to add some spice to the frame, with funny and quirky poses.
6. Charming Silhouette Shot
The sun in the frame adds a tinge of perfection to any picture. Capture yourself with the baby bump in the shadows with the sun in the background during sunset.
7. Innocent Care Of Your Children
Let your kids join you in this photoshoot – the innocent care of your kids is captured for a special memory for the whole family.
8. Head To A Water Back Drop
Comfort is always a great choice, for pregnant women. The water backdrop in your simple frame will give you some quality time outside with your partner.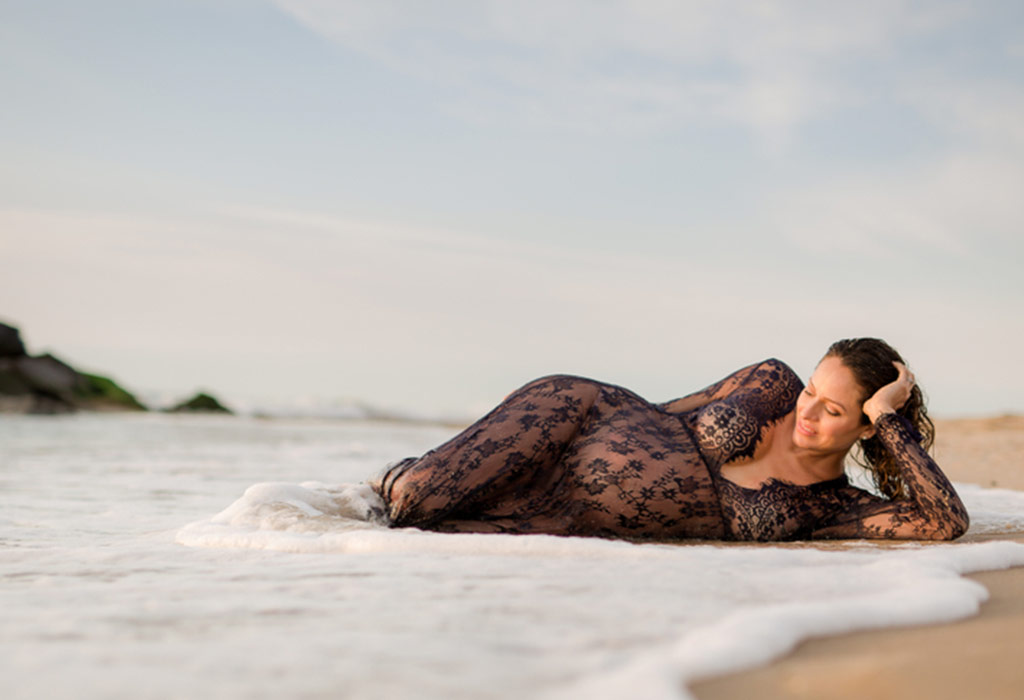 9. Together With Your Soulmate
Nothing is better than having your husband with you, for a wonderful picture. Capture the best of the moments with your partner and also have fun on these little outings.
10. Perfect Smile For The Cover
Nothing beats a smile on the face of a woman, and the same is true in case of photos. Capture the perfect, happy moments with your family- the smile will serve as a reminder of your happiness.
11. Lovely Family Moments
Get out and have some fun with your family! A part of the family time can easily be captured, when everyone is enjoying. You can enjoy the quality time during the photoshoot easily too.
12. Smile With Your Partner
Take some time alone with your partner, and get a photographer to click pictures of it. You can capture the moments when you both are happy with a smile for your baby.
13. Lovely Moments With Your Lover
Have the romantic poses with your lover ready! This can not only help you feel a good ten years younger but also serve as a reminder of the love and care you share with your partner.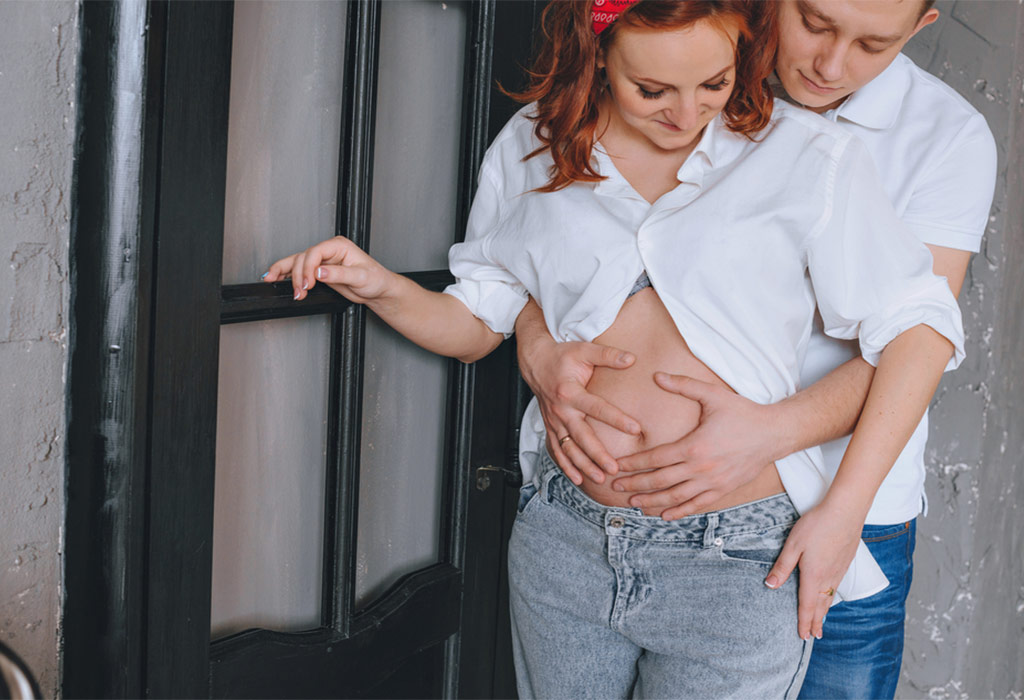 14. Dad Is Here For You
Let your partner have the frame to show his love towards the baby. You can keep this pose natural and capture it. The adorable love of a father will be a great snap for you to capture and keep in memory.
15. Enjoying Pregnancy
The idea is a lovely photograph of yourself in the outdoors or anywhere you may prefer with your smile. The main aim is to create a happy moment to remember about your pregnancy.
16. Little Giggles
The little giggle photo is perfect and adorable at the same time. Let your photographer be ready to capture the best, at the second which both of you looks to be enjoying.
17. I Can Hear You
Let your partner hear your baby's movements, and capture the special moment which includes all of you listening to your baby. This is one of the best maternity photo shoot ideas with husband.
18. Maternity In Style
Maternity is never a restriction on your style. Let your style shine during your pregnancy and let the snaps reflect how you are enjoying pregnancy at the same time.
19. Nature's Love
Get in the midst of nature and breathe in some fresh air! Nature is one of the best maternity photo shoot ideas, and also helps you have some quality time.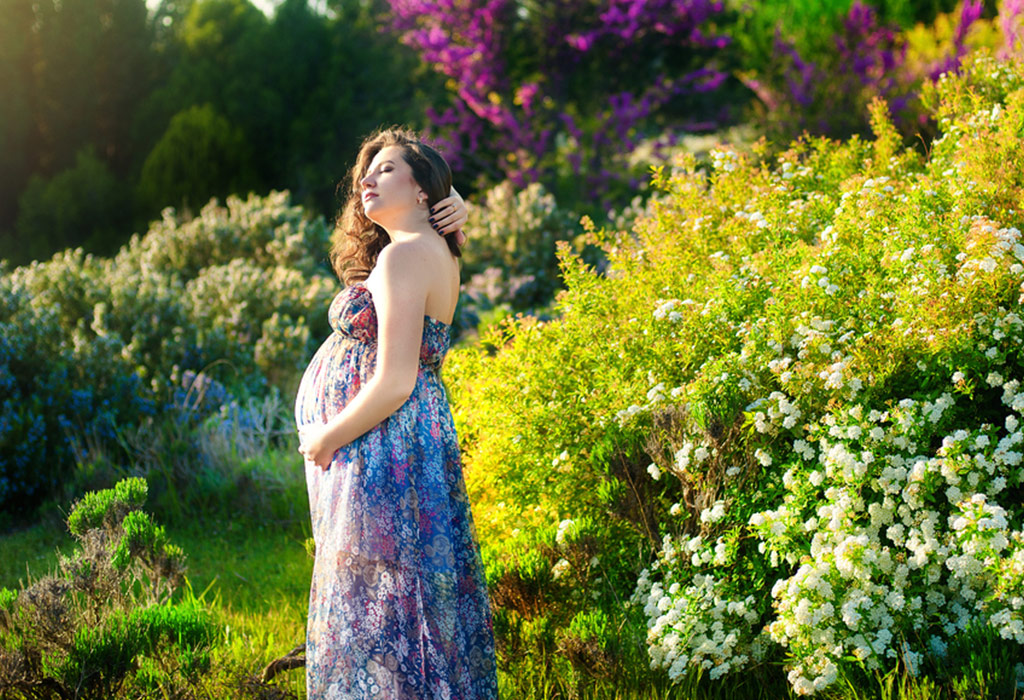 20. Dad's Touch
Capture the best of moments like your lover touching your belly lovingly. The moment is a perfect image of your partner's love for your baby.
21. We Care For You
Let your partner embrace you while you keep your hands on the belly. Enjoy the time with your lover, so that you have snaps that look like you care for your baby. Let your photographer know about your plans beforehand, though.
22. Adorable Moments With Your Children
Little kids always prefer to be with their parents. Let them show their love to their sibling by having a little time with them. The natural poses and acts turn out well, always.
23. Father's Love
The photoshoot of your lover touching your belly can be captured for a perfect moment of care. Both you and your husband have to do the poses yourself for a better look.
24. Shadowing Love
Use shadows for your photoshoots, to great effects. The 'Heart' shape can be shadowed on the baby bump on the frame- other creative ideas using shadows can also be used as you wish.
25. I Already Love My Brother
Let your kids show their love for the baby in their own way. The innocent moments captured will be a treasure for the whole family.
Handy Tips for Best Maternity Photoshoot
During a maternity photo shoot, there are specific things that you might want to keep in mind. These could help you to plan your photo shoot better.
Choosing a photographer of your comfort: The photographs usually will show how much you enjoy the shoot or how comfortable you are posing. Hence it is important that you select a photographer whom you will be comfortable to work with. You can always spend some time with them to get to know them better during the photoshoots.
The timing of the photoshoot: As far as the timing of the photoshoot is concerned, you should plan it for the 7th month of your pregnancy. This is because the pregnancy glow will be at its best around this time. You will look charming and beautiful with your baby bump.
Location of the photoshoot: There are a lot of choices for the location of the photoshoot. First of all, it all depends on the comfort and style you choose. For intimate photo shoots, it is better to choose your home, as that would be more convenient and comfortable for you. You can choose the studio for some random poses and your own creative props ideas. Outdoors are yet another choice which brings you closer to the beauty of nature and adds a special charm to your photos. However, outdoors can be uncomfortable if you have others staring at you- so try and choose places of your comfort.
Creative poses: There are like many creative poses that you might like on various blogs, Google, and Pinterest. Choose the one to your liking to create a perfect moment of your choice. You have to practice these poses and share your ideas with your photographer to get the photo of your liking.
Proper selection of your dressing: Outfits are easily noted in your photoshoots. Hence you have to choose them wisely to get the perfect photo of your choice. Simple or solid colours can be your choice. The outfit should reveal the baby bump in a way that looks elegant. Avoid the use of jewellery and fusion designer clothing, as they may not go hand in hand with the maternity photo shoot.
Hair and makeup: Keep your hairstyle and makeup as simple as possible. This can help the photograph be more focused on your baby and your love. Usage of proper, simple makeup according to the location will be helpful for your looks.
Use of props: Props are adorable. The use of the props is the best thing to signify that you are waiting for your little one. You should always keep in mind to use props you like. A small shoe or dress, anything is fine- just try not to use too many props at once. Try and discuss with the photographer about your plans with props, so that you can select the location suiting your ideas.
Involving family member: Nothing looks more lovable than having a simple maternity photo shoot with your husband. Choose the theme of your choice to have the perfect moments in the frame. Your kids can also use the frame to show their innocent love during this photoshoot.
Simple and cute: The maternity photography ideas are the perfect way to show your love towards your baby. The special moments created during the shots have to be simple in all way so as your love for the baby and the baby bump is highlighted.
Enjoy and have fun: The most important thing about the maternity photo shoot is that you have to enjoy the same. Otherwise, you can't capture the best of the moments and have fun with these photo shoots. These photo shoots are just perfect for you as they don't need much of an effort and helps you to create memorable moments to cherish for your lifetime.
Maternity photo shoot is one of the best ways for you to spend the peak time of your pregnancy. The relaxing and enjoyable activity will help you to create many wonderful moments.
Also Read: Baby Photoshoot Ideas