Eating Corn Flakes During Pregnancy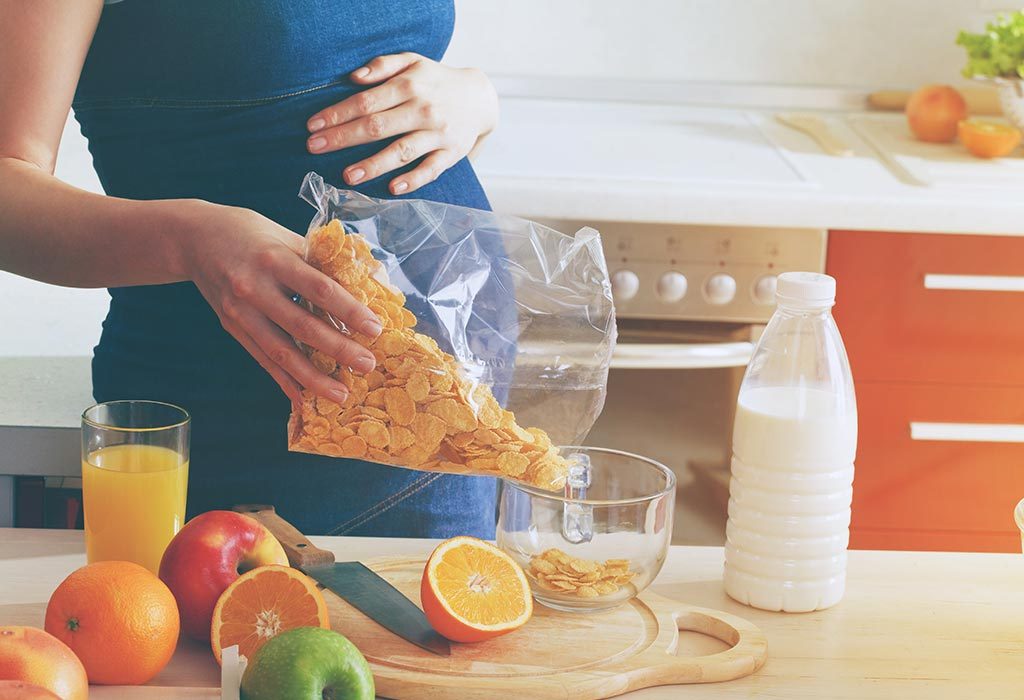 Pregnancy calls upon precautionary measures at every step in a woman's life. She finds herself thinking about what she must eat, how much and how often. One of the foods that are contemplated during pregnancy is corn flakes. Are they safe to consume? There is no right answer because there are some health benefits a pregnant woman can gain by consuming corn flakes in limited quantities. If you are pregnant and have been craving for corn flakes, you will find this article helpful. Here, we shall discuss everything pertaining to eating corn flakes during pregnancy. Read on to know more.
Why Should You Eat Corn Flakes During Pregnancy?
Corn flakes help you feel rejuvenated throughout the day. This is because they are rich in carbohydrates and provide energy. They are also rich in riboflavin, thiamine, iron, dietary fibre and niacin that make it a wholesome food. Let's take a look at the nutrition a bowl of corn flakes (100 grams) can provide.
Nutrition in Corn Flakes
Calories – 357
Dietary Fibre – 13% of Daily Value
Protein – 16% of Daily Value
Iron – 160% of Daily Value
Vitamin A – 35% of Daily Value
Vitamin D – 35% of Daily Value
Vitamin C – 35% of Daily Value
Vitamin B6 – 90% of Daily Value
Magnesium – 9% of Daily Value
Benefits of Eating Corn Flakes in Pregnancy
Corn flakes are a rich source of nutrients, and therefore, make for a healthy breakfast for pregnant women. Here are some advantages of eating cornflakes during pregnancy:
The dietary fibre in corn flakes helps reduce blood pressure and provide relief from constipation. One average bowl of corn flakes contains about 25 grams of fibre, which can help you manage most constipation-related issues.
Consuming one bowl of corn flakes daily can help reduce the risks of preeclampsia that is triggered by high blood pressure. Preeclampsia can cause severe developmental issues in the foetus.
A bowl of cornflakes for breakfast can fill your stomach with the dietary fibre and satisfy your hunger as well.
Consuming corn flakes also helps maintain your pregnancy weight.
The iron content in corn flakes can help manage anaemia during pregnancy to a certain extent.
Corn flakes are a good source of Vitamin D, Vitamin B-6, Vitamin C, and Vitamin A, which are highly essential for the mother-to-be and the developing foetus.
Adverse Effects of Eating Corn Flakes When Pregnant
Eating corn flakes in limited portions can be beneficial during pregnancy; however, excess consumption can cause some problems. Here are some adverse effects of eating corn flakes in excessive quantities during pregnancy:
The commercially available corn flakes are rich in fat, salt and sugar. Its consumption in excess is unhealthy, especially during pregnancy.
Cornflakes may result in health issues like flatulence, intestinal gas, abdominal pain and bloating. The capability of your body to absorb zinc, iron and minerals decreases when you eat corn flakes in excess.
Cornflakes with grains are usually acidic; hence they cause an acidic state in the tissues and blood.
Compared to sprouts, fruits and vegetables, it is harder to eat grains in corn flakes.
Existing health conditions related to the digestive system may exacerbate further if you eat corn flakes.
Now that you know the benefits and side effects of eating corn flakes, you can manage the quantities and frequency of consuming it during pregnancy. But, you must follow some tips to make the most of this nutritious breakfast item.
Tips to Keep in Mind When Eating Corn Flakes During Pregnancy
Follow these tips while eating corn flakes during pregnancy.
If you love to eat corn flakes for breakfast, include them in your pregnancy diet too. Just make sure that you eat them in moderation.
Avoid eating corn flakes that contain artificial sweeteners or artificially flavoured corns.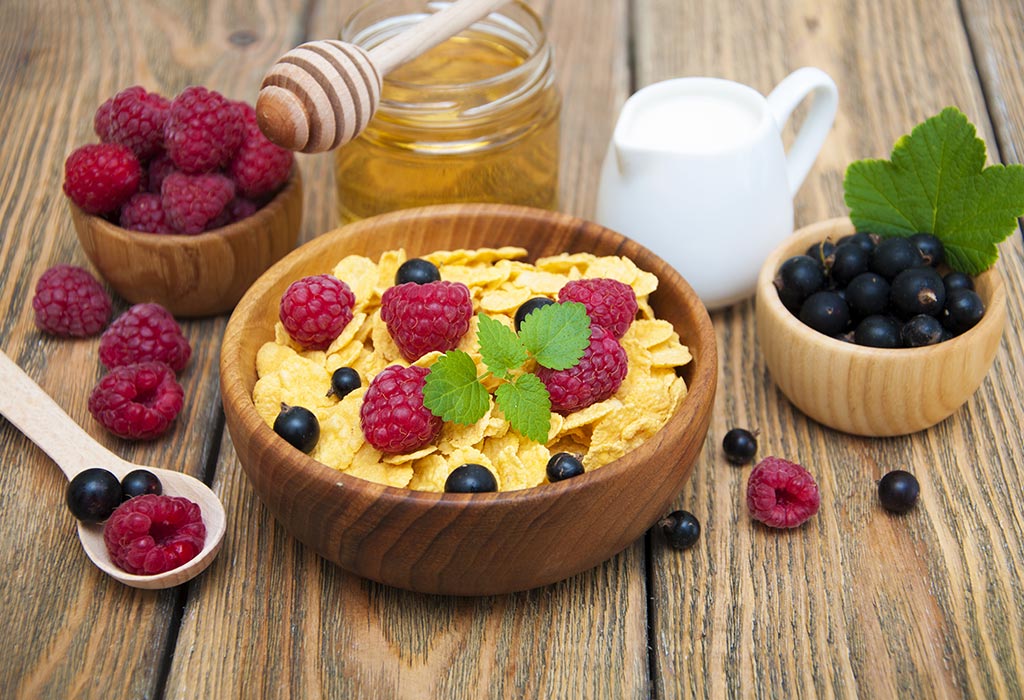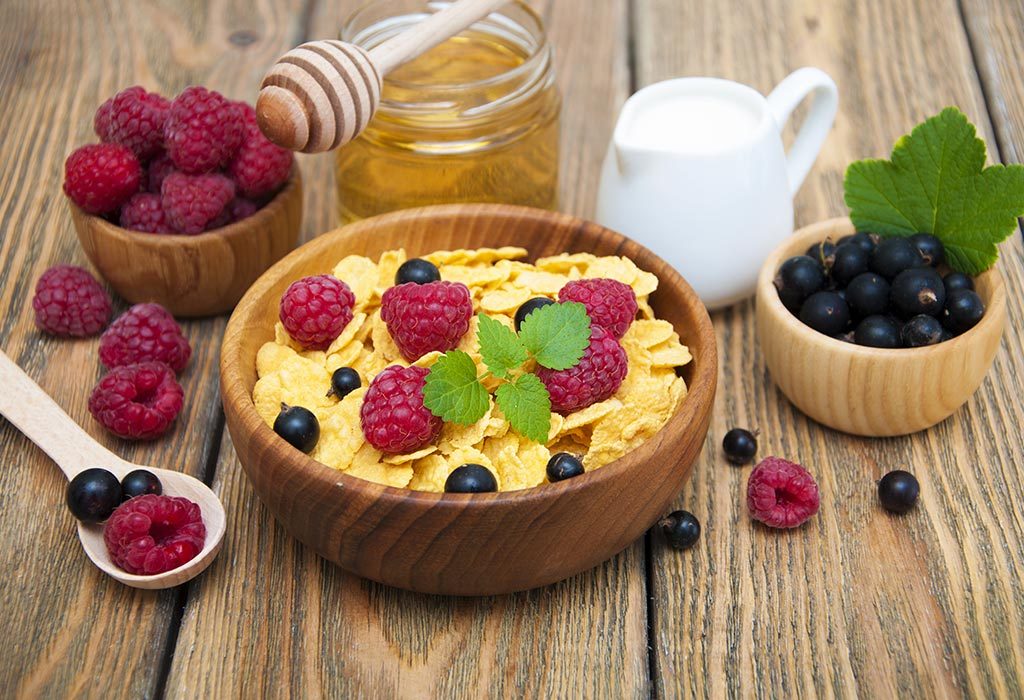 You can add natural sweeteners such as strawberries or honey, to enhance the taste of your meal.
Feel free to consult a nutritionist before you make any changes to your diet plan. Also, discuss your food habits and cravings.
Always add warm milk to the cornflakes because dry corn flakes might make you feel nauseated.
Try to have corn flakes only for breakfast and not during other meals.
Eating cornflakes will do you no harm in pregnancy if you eat it in moderation. Cornflakes without any artificial ingredient can be healthy to consume during pregnancy. But, don't forget to follow the tips if you are going to add them to your pregnancy diet. If you are still unsure about eating corn flakes, we recommend you consult your nutritionist and include it in your pregnancy diet accordingly.
References:
Also Read:
Healthy Breakfast during Pregnancy
Eating Oats during Pregnancy