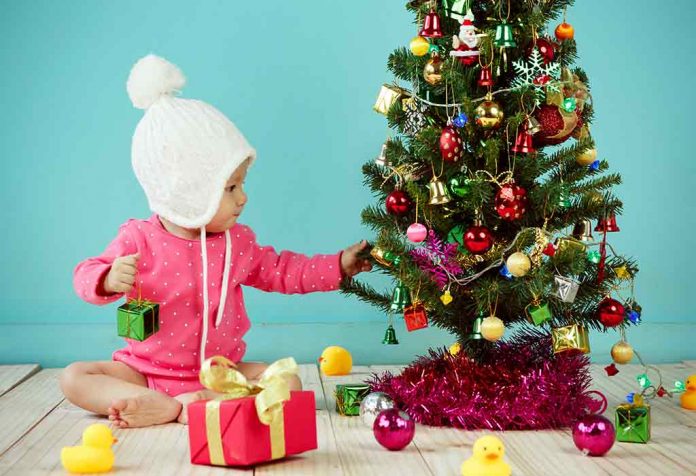 Last Updated on
When the Christmas season rolls in, excitement runs through the air, and toddlers can feel your excitement at decorating the house, baking, and creating magical moments. Baby-proofing your Christmas tree should definitely be Number 1 on your to-do list when it comes to the winter season. When you're putting in the time to set up your Christmas decorations, caring for the tree, and doing more to make sure everything's perfect – the last thing you want is a toddler getting hurt or ruining it all by accident.
Tips for Child-Proofing Your Christmas Tree
Are you looking for tips on how to set up a toddler-proof Christmas tree? Say no more – we've got you covered. Try out our time-tested tips below and enjoy a safe but merry Christmas.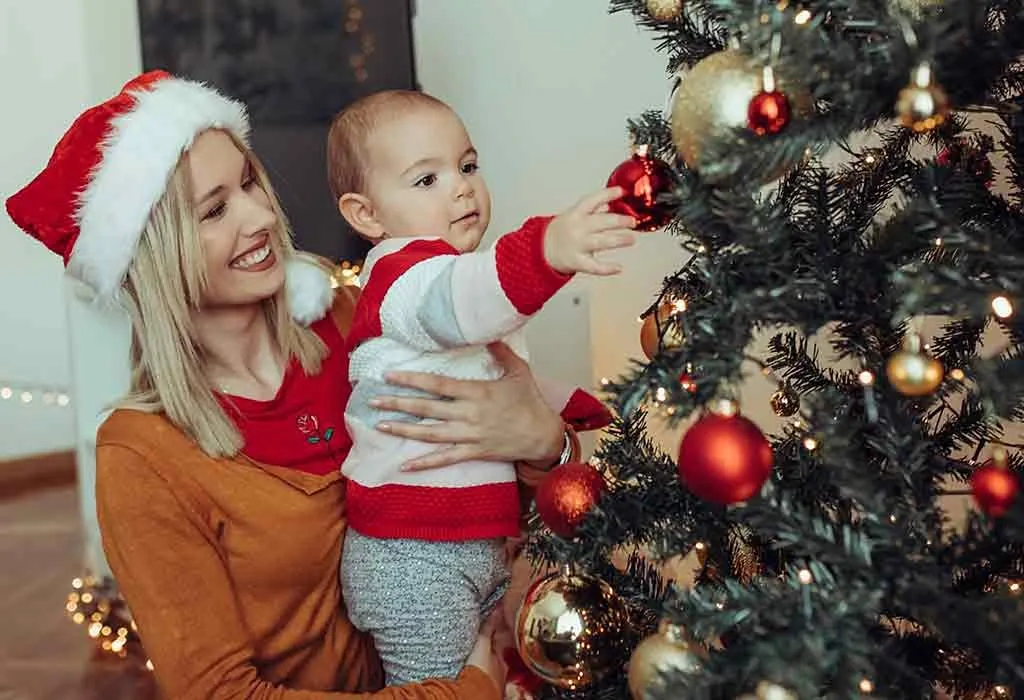 1. Install Baby Gates
Baby gates create a barrier between your child and the Christmas tree. These are fantastic for keeping them away and doesn't let them get near it. If you want a kid-proof Christmas tree, this is how you do it.
2. Buy an Artificial Christmas Tree
Getting a fake Christmas tree and setting it up in your home is a smart move. Your toddler can't tell the difference between the fake and real one since they're new to Christmas. Buying a fake Christmas tree is a really good diversion that works.
3. Use Rugged Unbreakable Christmas Decorations
Just in case you're worried that your toddler will climb onto your Christmas tree and put the decorations into their mouths, use rugged unbreakable Christmas decorations. These aren't choking hazards and they won't break easily. Go for bright, colourful plastic ornaments that are shatter-proof. That way even if your kid throws them on the floor, they won't break. And they can't chew on them. For glass ornaments or precious decorations, place them at the very top of the tree where kids can't reach.
4. Placement is Key to Prevention
Where you place your Christmas tree is key to making it toddler-proof. Place it behind the sofa or hard-to-reach corners and they won't be able to crawl to it. You could place your tree at elevated places where the kids can't climb up to. If you're setting it up on a table or cupboard, make sure those objects can't be pushed over to make the Christmas tree fall down. Consider the weight.
5. Avoid Using Tinsel
Tinsel is known for being a choking hazard to babies and kids. Although it's used to mimic ice and used as a Christmas decoration for that extra sparkle, it's not great for kids. Avoid using it to decorate your Christmas tree since it poses a serious health risk for kids.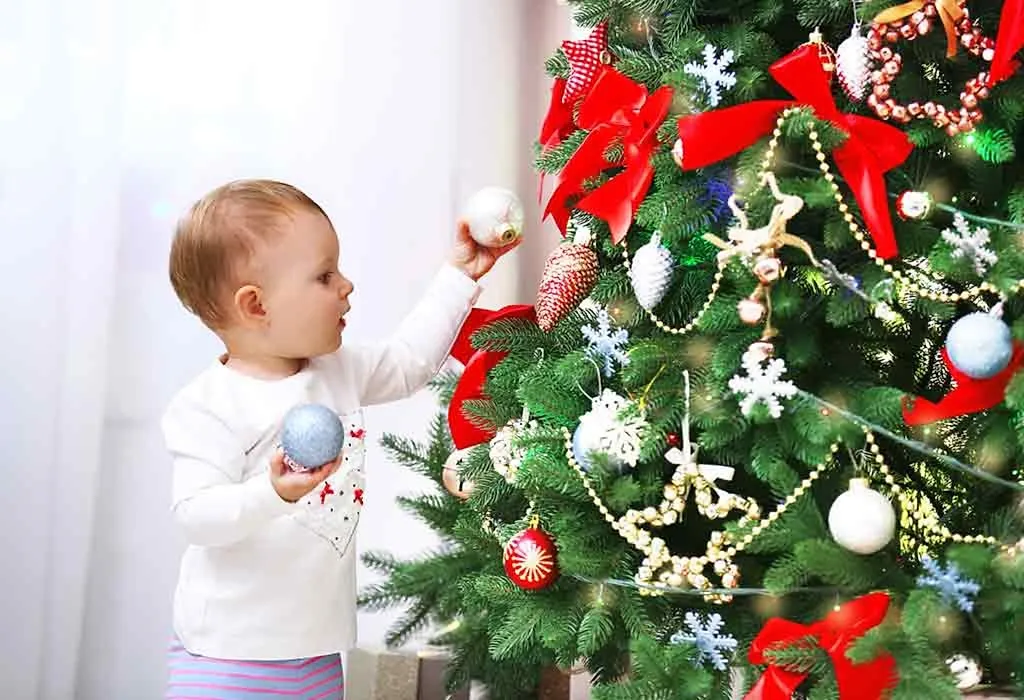 6. Hang Your Ornaments Using Ribbon
Most Christmas tree decorations are hung using wired hangers and sharp metallic parts. Using soft ribbon threads is a safer alternative. That way you know that even if the kids touch the threads, they won't cut, bleed, or get hurt.
7. Stock Away Presents Until Christmas Eve
We don't recommend placing your presents or gift-wrapped items under your tree until the big day. Toddlers don't understand the word 'no' and won't be able to help but crawl towards them. They'll chew on it, tear them down, and before you know it your whole room becomes a mess.
If you're worried about that, then just don't place your presents under the tree. Keep them locked away somewhere else and place them only during Christmas day.
8. Install Christmas Lights at the Back of the Christmas Tree
Most Christmas trees don't come pre-lit which means you'll have to set up the lights. If you're installing lights for your tree, make sure you place them at the back and not around the edges. Also, make sure you weigh down your Christmas tree so they can't tug, pull, or topple it over.
9. Bribe Them to Not Break Stuff
If your toddler is old enough to comprehend words and understand what you tell them, straight up bribe them. Tell them Santa won't visit homes with broken things and if they break or touch the tree, they won't get any presents. Your kids will exercise discipline and believe it strongly. And it works like magic every season, trust us on that.
10. Ask Your Toddlers to Help Out
If you want your toddlers to not break the Christmas tree that you've painstakingly worked on, maybe it's time you invite them for help. You can give them a few soft ornaments to hang on the tree. Encourage them to help you with decorating it and tell them to be careful.
When they are invested in the process and put in the work to make it look beautiful, they are less likely to ruin it. And they will have lots of fun.
11. Paper Ornaments Go All the Way
You know your kid is definitely going to try to climb the Christmas tree and reach for those shiny ornaments. So, why not hang paper ornaments instead? You can also put up yarn ornaments and pom-poms that are kid-friendly.
12. Install Baby Trouble Bells
If you have a toddler at home and your home is eerily silent, then understand it is not a golden silence, but a troubling one. Your little munchkin is definitely up to something not good. You can hang kid-friendly, smooth-edged bells on the lower branches of the tree so you can hear whenever your kid is too close to the tree. This will help you rescue your tree and your baby in no time.
If all else fails and you're out of ideas, just keep your Christmas tree stored away somewhere else until the big day arrives. Don't decorate your tree in one go and make sure you decorate only the top half until Christmas Eve. You can also consider using a movable trolley for the soil and the Christmas tree. Kids won't be able to push it around since it's heavy and it's another great way to baby-proof it.
And the best way to prevent kids from messing with it is by creating distractions. Give them fun activities to do until the big day and keep their minds busy. They won't even notice the tree in the room when they're engrossed in hours of fun.
Also Read: Baby Proofing Checklist