Easy DIY Puffy Sidewalk Paint Recipe for Kids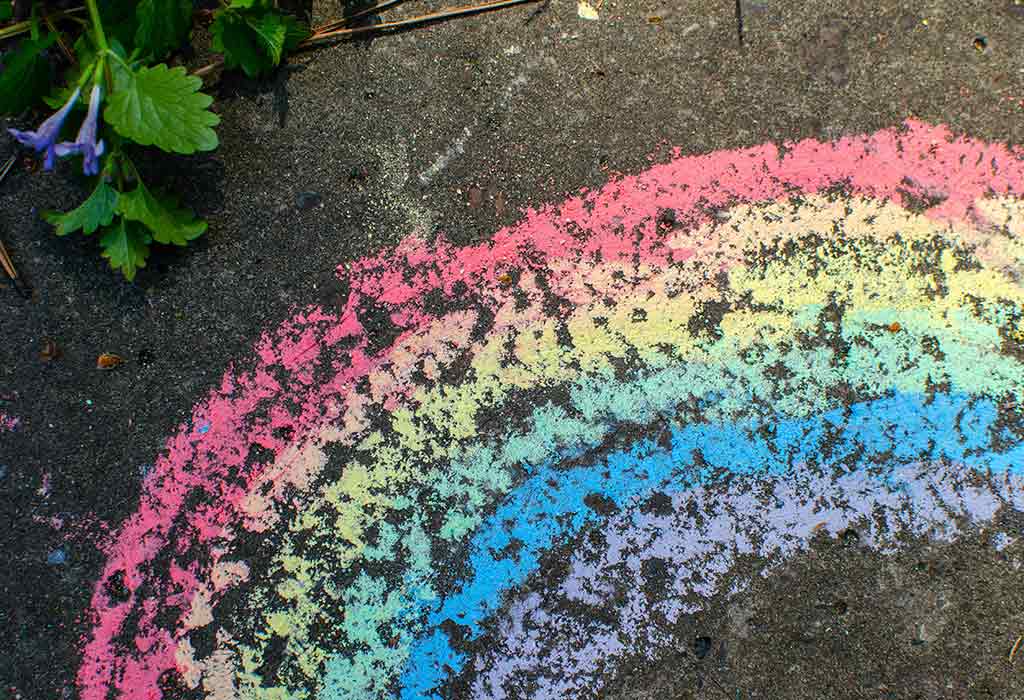 In this Article
Sidewalk puffy paint is an exciting twist to the sidewalk chalk that kids love. Made with a few ingredients, it offers hours of fun to kids who love to spend time outdoors in the summer. All you need a few things from your pantry to get started.
The consistency for sidewalk puffy paint is similar to that of oobleck, a fun sensory substance that seems solid and liquid at the same time. Due to this consistency, the non-Newtonian substance makes for a fun sensory activity for kids. Once you apply pressure to puffy paint, it feels like a solid, and once you scoop it up, it feels like a liquid. Due to its consistency, it spreads across the sidewalk and hardens before it gets too thin. The result is a myriad of colourful hues that gleam in the sunshine.
With a simple homemade recipe, puffy paint is quick to make and can be used by kids for many things. Drawing, painting, practising early writing skills- letters, numbers, names, sight words, and much more-this paint is fun to encourage learning in children.
With this sidewalk puffy paint, kids can make huge brush strokes and sweep right through the whole sidewalk. Kids can use stones, sticks, and twigs to paint with sidewalk chalk paint, too, because its consistency is suitable for any prop. Easy to clean, this sidewalk chalk puffy paint can become a summer staple activity for you and your kids.
Homemade Puffy Sidewalk Paint Recipe for Children
Puffy sidewalk chalk paint is excellent for use indoors too. Not very difficult to clean, it can be rinsed off with some water. If left outdoors, the sun will bleach it all off in a matter of minutes. So you do not have to worry about stains or even allergic reactions as it is made with simple ingredients.
This sidewalk chalk paint is easy to squirt out and stays 'puffy' when used on concrete. Kids can draw pictures, write words and even doodle with the liquid chalk. Use any colour of chalk or make a rainbow of colours. Adding dishwashing soap makes this easy to clean up.
The best thing about sidewalk chalk paint is that it is natural and not harmful to the skin. It is made with the most basic ingredients found in a regular household pantry, making it suitable for children and their sensitive skin.
Things You Need
1 cup flour
1 cup water
1 tablespoon dish soap
Several pieces of sidewalk chalk
1 unit of plastics squeeze bottle ( ketchup bottles will be ideal)
Cheese grater
Funnel
How to Make Puffy Sidewalk Paint
Mix 1 cup of flour with 1 cup of water. Make sure there are no lumps.
Add 1 tablespoon of dish soap.
Keep mixing until all the lumps are gone and the mixture is smooth.
Now grate coloured chalk on the cheese grater in the finest setting.
You could either use separate colours with separate mixtures of flour and water or mix all colours together. Alternatively, you could also use food colouring.
Depending on how dark you want the colour to be, grate ½-1 sidewalk chalk piece and mix well to combine the colour.
Use a funnel to pour this mixture into a squeeze bottle. Alternatively, you can use piping bags as well.
Squirt it around on the sidewalk to paint a picture.
Make sure to use within a day and do not leave the paint inside the squeeze bottle overnight as the pressure may cause it to burst.
FAQ's
How Do I Make My Sidewalk Chalk More Vibrant?
The best way to make sidewalk chalk more vibrant is to add more chalk to the recipe. Grate the chalk pieces finely for them to mix well with the flour mixture. Alternatively, you could also add some food colouring of the same colour to make it look more colourful and vibrant.
Does Homemade Sidewalk Paint Wash Off?
Rain is the best solution that will wash off the homemade sidewalk paint. If it does not rain, once your kids finish the activity, get them to wash it off with water – A great idea to get kids working and clean the mess they have made. All you need to do is give them a few buckets of water and a few mugs to carry water to wash off the paint. In case you have added food colouring to the paint, then it may stain clothing. Just spray some shaving cream on the stained cloth, and the stain will fade away. Ideally, a high-pressure garden hose will rinse off the paint once you are done, and the paint is still wet. Do not let the sidewalk chalk paint stay in the sun for too long. Make sure to test the puffy paint in an inconspicuous area before painting the sidewalk or driveway. A word of caution – if your driveway or sidewalk is new, chalk can get stuck in the concrete's open pores and absorb the colour.
Painting on the sidewalk is like offering an unending canvas to kids. Their creativity need not be restricted to a piece of paper. Get your kids painting the driveway or the sidewalk to give it a nice facelift in the summer. After all those dreaded days of winter with the dried leaves covering your sidewalks and driveways, you need a breath of fresh air, and the kids will get a chance to explore their creativity while being outdoors.
Also Read:
Thumb and Finger Painting Ideas for Children
15 Fun Learning Activities for Children
Canvas Painting Ideas for Children