Dal-Spinach Soup Recipe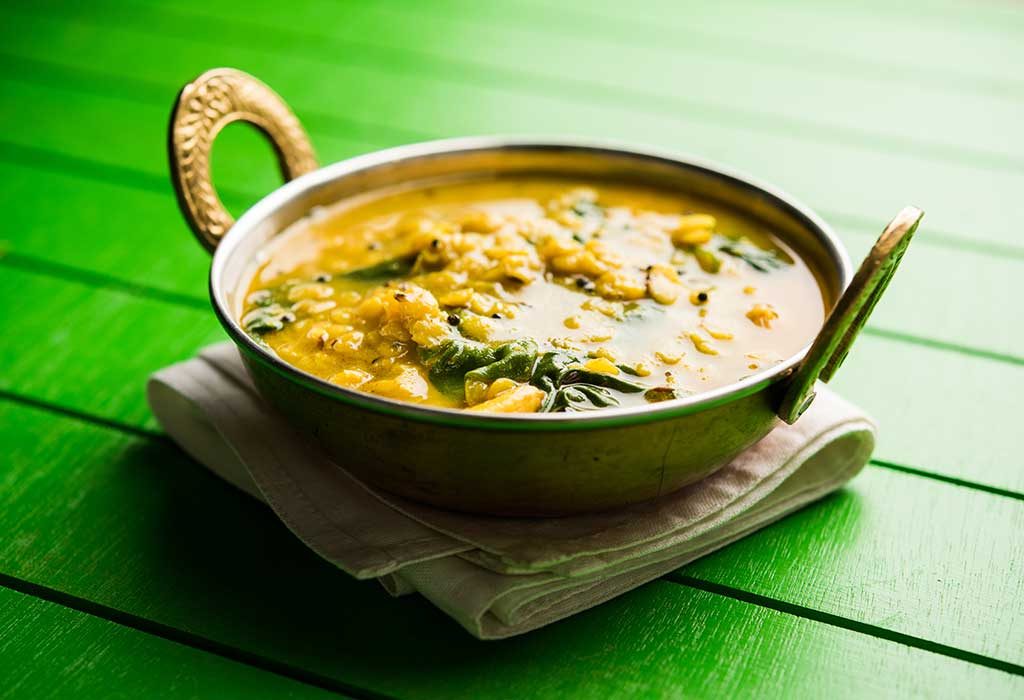 In this Article
Soup in any form is loved by babies and toddlers and is a comfort and saver food for mothers of fussy eaters. A bowl full of soup provides a baby with all the needed carbohydrates, proteins and vitamins that they would need for their healthy growing. The easy Dal-Spinach soup recipe is the perfect mouth-watering soup that combines the goodness of dals and leafy vegetables. Your child will love the texture and you will love the nutrient profile. The dal gives the calcium, protein and iron and the spinach gives the iron, Vitamin A and folic acid.
Cooking Time
| | |
| --- | --- |
| Type | Time (hh:mm:ss) |
| Preparation Time | 00:5:00 |
| Cook Time | 00:11:00 |
| Total Time | 00:16:00 |
Total Servings: 1-2
Cooking Method: Gas stove or induction
Suitable For: Any baby above 6 months of age
Type of Meal: Great/Suitable for vegans, Suitable for vegetarians too
Meal Schedule: Appetizer for Lunch, Dinner or in-between meals
Recipe Type: Starter for lunch or dinner, Main meal for infants
Ingredients
| | |
| --- | --- |
| Ingredients | Quantity & Volume |
| Shredded Spinach | ½ cup |
| Moong Dal | 1 tbsp |
| Water | 3/4 cups |
| Salt | As per taste |
| Ghee | 1-2 tsp |
Instructions
You do not have to think hard to figure out how to make Dal-Spinach Soup. One of the easiest recipes, you can make this in a jiffy and feed it to your toddler. It is a perfect option for busy mothers and working mothers. Follow this step by step guide:
Wash the spinach and shred it into pieces.
Rinse the dal in cold water and wash it a couple of times.
Combine the spinach and dal in ¾ cup water and cook well in a pressure cooker for three whistles.
Allow the steam to escape before opening the lid.
Let is cool before you blend it well in a blender. Blend until it is blended smoothly.
Transfer this blended mixture to a pan. Cook on a medium flame for one minute.
Add salt and stir well.
Add some ghee to soup and serve lukewarm.
Recipe Tips
Dal-Spinach Soup for babies is a perfect introductory food for your 6 month old toddler. You can introduce it as part of the weaning diet.
It is a perfect recipe for winter.
Dry roast the dal before cooking as it will lend a nice aroma to the soup.
Make sure you wash the spinach leaves of all the dirt. It is advisable to wash the leaves a couple of times as spinach leaves tend to have a lot of dirt on them.
Spinach is a winter vegetable and it is advisable to prepare this dish during the winter.
The soup can be served as an appetizer before lunch or dinner.
Alternatively, you can also choose to serve the soup as mid-morning or evening snack. If your toddler has had a heavy breakfast and lunch, you can substitute dinner with this light but nutritious soup.
Blend the cooked dal and spinach in a blender. Make sure that there are no chunks as it can choke your baby.
Make sure you cooked the blended mixture for about a minute to enhance the taste.
You can also substitute the moong dal with toor dal if you like. Moong dal is easily digestible and feels lighter on the stomach. You can opt to use the split green gram dal instead of the yellow moong dal. The split green gram dal contains loads of protein and is equally nutritious.
Seasoning the dal with ghee lends a creamy taste that will definitely be liked by your baby. Babies need ghee which contains fat that will break down the proteins in the dal.
Nutritional Facts Per Servings
| | |
| --- | --- |
| Nutrient | Value |
| Calories | 57 kCal |
| Fats | 0.4 gm |
| Carbohydrates | 9.3 gms |
| Protein | 4 gms |
| Cholesterol | 0 |
| Sodium | 21.5 mg |
| Fibre | 1.9 gms |
| Folic Acid | 56.5 mg |
| Iron | 1.4 mg |
| Calcium | 40.2 mg |
Health Benefits
Enjoy the health benefits of this homemade Dal-Spinach Soup baby food recipe. Read on to find out more:
Spinach is rich in vitamins and minerals. One of the most nutrient rich vegetable and contains Vitamin C, Vitamin K, folic acid, calcium and iron.
Moong dal is rich in protein and easily digestible.
Moong dal is rich in antioxidants that increase the immunity levels of the body
Ghee is rich in fat that will help break down the protein in the dal and help the body absorb the nutrients.
Buying Guide
Dal Spinach Soup baby food recipe is a simple recipe for babies over 5 months of age and can be easily made at home without any difficulty in preparation
Spinach leaves must look tender and fresh. They must not be wilted or bruised. Make sure you avoid the leaves with a slimy coating as it indicates signs of decay.
Buy moong dal in packaged form. Avoid buying dal in loose quantities as they may be adulterated.
Season the dal with home-made ghee as it will enhance the taste and appease your baby's taste buds.