Dad Creates 10 Stunning Disney Lunches For His Kids' Tiffin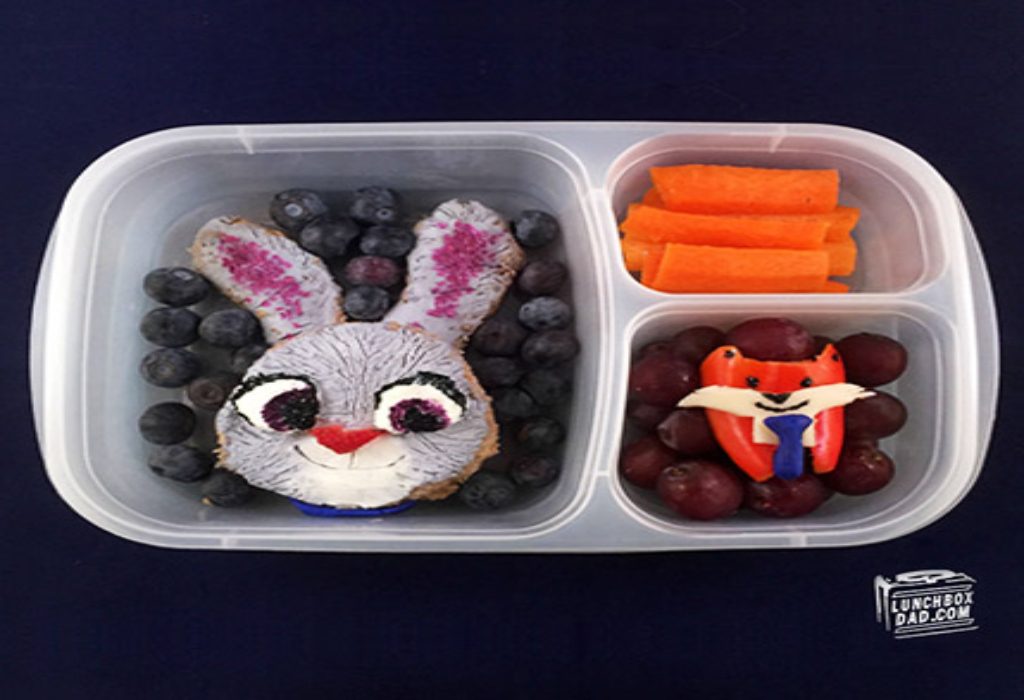 "Why isn't your tiffin-box empty?!" Every afternoon, in households across the world, these are every mom's favourite words! No matter what we do, achieving the perfect balance of taste and presentation in our kid's dabba is difficult. But wait. This Dad, with his exceptionally amazing Disney-themed lunches, just showed us how!
When we wake up in the morning, there are a zillion things to do. Kids to be readied for school, house-work to be finished, and lunch-boxes to be packed. Amidst all this, we are also worried about the nutritional value of the tiffin. Will it be enough to keep our child alert and active in school? Moreover, will it be attractive and delicious enough for him to finish and not distribute, or worse, dump?
Beau Coffron, Dad to three kids and resident of Oklahoma, U.S., devotes one day every week to creating a super tiffin. He spends about 30 minutes making this star meal, but everyone eagerly looks forward to it the entire week.
While Beau has no art or cooking background, he started making fun lunches for his daughter when she started kindergarten. The l'il one was his inspiration! Since then, his special lunches have become a kind of family tradition. Everyone carries them along, even his oldest. The Disney-themed lunches are a particular favourite, as the whole family shares a love of these movies.
So, how complicated are these Disney lunches? Is it practical to make them for your child's lunch-box in the mad rush of the morning? Totally. Beau uses regular American ingredients– nothing too fancy– and you can replace them with similar Indian ingredients. We promise the rewards will more than make up for the effort!
1. Zootopia Lunch
Who are Officer Judy and Nick Wilde(above) out to catch today? The bad guys better beware!
Ingredients: Whole bread sandwich, cheese, jam, sweet pepper, edible dough
2. Finding Nemo Lunch
We are sure a lunch as tempting as this will make finding cute old Nemo that much easier. Make sure you don't get lost amidst the colourful star-and-fish underwater world.
Ingredients: Dried mango, yogurt covered raisins, blue Jello, peas, broccoli
3. Inside Out Lunch
One thing is definitely reassuring about this one. The lunch-box is sure to be turned inside out, without a scrap of food remaining uneaten!
Ingredients: Sandwich made with tortillas, edible dough, fruits
4. Classic Mickey And Minnie Mouse Lunch
These adorable love-birds and their beautiful world never gets old. Perfectly re-created within the confines of this dabba.
Ingredients: Hard boiled eggs, olives, fruits
5. The Nightmare Before Christmas Lunch
Who's scared of nightmares when you have all the Halloween spooks right in your lunch-box? Downright, deliciously scary!
Ingredients: White rice, black/brown rice, cheese, dried mango
6. The Avengers Lunch
An Avengers sandwich, Hulk eggs, a Captain America shield and Scarlett Witch hex-spheres – what else do you need to win the day?
Ingredients: Whole wheat bread and cheese, hard boiled eggs, pretzel sticks, berry and cream cheese, dried fruit
7. Tangled Lunch
Here's our very own Rapunzel with her glorious hair – never thought you'd feel tempted to eat it all up one day, did you?
Ingredients: Bread, food coloring, pasta, cheese, meat
8. It's a Small World Lunch
Well, it may be a small world. But it is a mighty delicious world at that – especially that salami sneaking in from behind!
Ingredients: Tortilla, nut free spread, cheese, salami, dried blueberries
9. Tinker Bell Lunch
When there's a fairy in the tiffin, ready to grant wishes and make magic, you know it's going to be an splendid day!
Ingredients: Bread, cheese, spinach tortilla, apples, applesauce
10. Monsters Inc. Lunch
Finally, let's gobble up some monsters for extra strength and health. They sure look mouth-watering!
Ingredients: Whole wheat bead, peanut butter, cheese, kiwi, yogurt, blueberries, food coloring
Aren't these lunch-boxes utterly amazing? Try out your own creative lunches and give your kids company by diving into them yourself. After all, the family that eats together, stays together!
Do you have an interesting lunchbox idea up your sleeve? Do share it with us!
Source:
https://www.boredpanda.com/disney-themed-lunches-for-kids-lunchbox-dad/
https://www.lunchboxdad.com/