Creative Superhero Crafts for Kids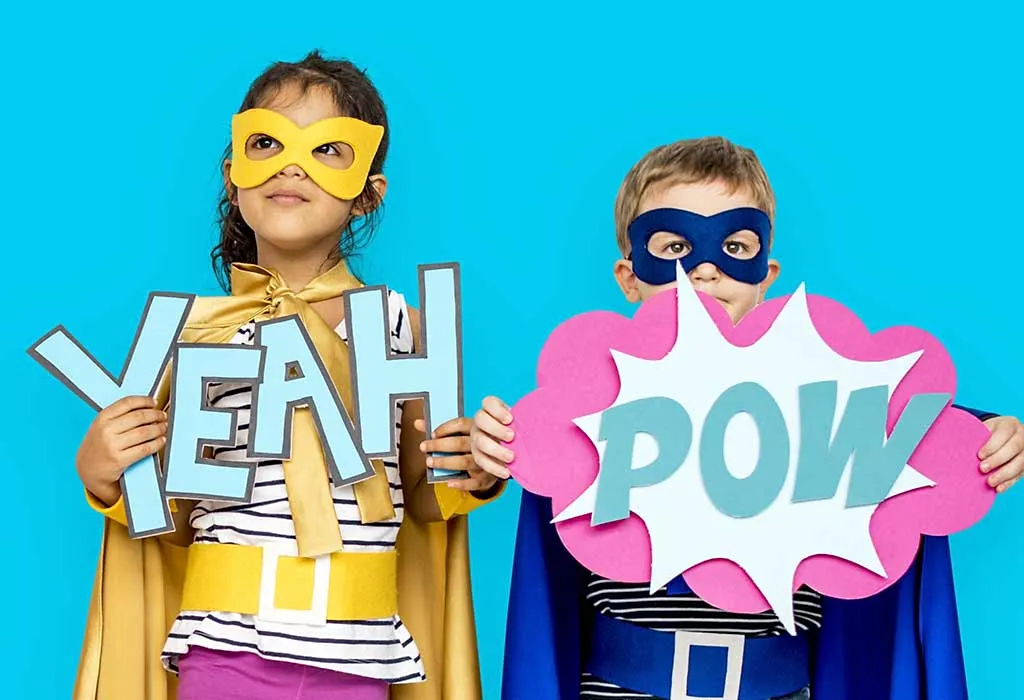 In this Article
Superheroes are the friendly crimefighters that entertain us and inspire us with their heroic antics. Endowed with extraordinary abilities, they encourage kids to fight evil with the same strength and heroism as them. Why not do some superhero-themed superhero arts and crafts activity with the doting fangirls and fanboys to engage them creatively.
Easy To Make Superhero Crafts for Kids
As compared to ordinary people, a superhero possesses extraordinary abilities and powers to make the world a better place. Dedicated to protecting the public and fighting crime, these fictional do-gooders encourage people to find their inner strength. The concept of superheroes is relatively old, with superhero comic fiction dating back to the 1930s and 1940s. First came the DC (Detective Comics) comics, with Superman and Batman. Later, Marvel introduced us to legendary figures such as Spiderman, Captain America, Hulk, and Black Widow, who face unique challenges yet experience human feelings, similar to the ones we face in our daily life. They teach kids the values of heroism, self-sacrifice, and teamwork to overcome obstacles in the same fearless manner. Apparels, collectables, gift items, action figures, toys, and accessories of these costumed protectors of society have become popular merchandise items in modern times, catering to a superhero movie and pop culture fans' needs. However, these specialized products can be expensive or have a limited edition. So, why not utilize your kid's summer break for making some superhero craft items that they can feel proud to display. Here are some ideas for superhero activities for preschoolers that you can try at home to beat the boredom blues and bring out the superhero in your child.
1. Superhero Puppets
Starting off the lineup of amazing superhero crafts for preschoolers are the easy DIY superhero puppets. They are fantastic for pretend play, and they can accompany superhero comics and stories perfectly.
Credit: https://bigfamilyblessings.com/
What You Need
Craft Sticks
Craft Glue
Pens
Skin coloured Cards
Coloured paper (for costumes and cape)
Superhero masks and printable badge
Googly eyes
How to Make
Download and print out a copy of the superhero masks and badges.
Cut out some head shapes in oval shapes from a skin-coloured piece of card.
Stick the superhero masks to the head shapes and draw out the mouth. Glue up the googly eyes.
Glue the badges and head onto a craft stick. Stick a triangle of the coloured card to the back of the craft stick for the cape. You can even recreate the costumes of your favourite superheroes with the coloured paper.
2. Superhero Cuffs
Perfect for imaginative play dates, cuffs are simple to make using easy-to-find everyday craft supplies. By slipping on these handcuffs, your child can pretend to be superheroes and learn about recycling at the same time!
What You Need
Craft Glue
Scissors
Coloured paper
Toilet rolls x2
How to Make
Cover your toilet rolls with black or grey paper. Alternatively, black-coloured or grey-coloured pencils can be used to colour them.
Cut a yellow circle and stick it to the paper toilet roll with glue.
Trace out any superhero symbol like Batman from a superhero image or draw a bat shape on the back of a black paper. Cut it out using the scissors and attach it over the yellow circle.
Alternatively, make a superman cuff – cover the toilet roll with blue paper, and attach a yellow triangle. Draw, cut, and paste a letter 'S' for Superman on it with glue.
Once they've dried, cut the toilet roll down the back and place it over your child's arm. You can use a string to hold it in place.
Repeat the same for the other hand.
3. Superhero Masks
These masks can be used for Halloween and make a great addition to your kid's superhero craft series.
What You Need
Sticking tape
Sheets of card-quality paper or felt paper (in superhero mask colours)
Craft Glue
¾ inch elastic thread
Scissors
How to Make
You can use printable basic mask templates to cut out the masks from the card paper or felt paper. Make sure to match the colour according to the superhero.
Cut the eye holes in at the end to make sure it fits the child's eye.
Embellishments like circles or stars and bolts in different colours can be added to the masks. Adding eye wings will add to the look.
Insert the elastic thread through the side holes of the mask and knot it up.
Place sticking tape to hold the elastic thread in place and prevent the card from tearing.
Make sure you make the correct size of the masks to fit your child's face.
4. Captain America Shield Craft
Captain America is an active super soldier in Marvel while serving as an agent of S.H.I.E.L.D and acted as a field leader for the Avengers. This Captain America shield craft activity gives your child a chance to practice paper cutting skills.
What You Need
Star Template
Paper Plate
Craft Glue
Acrylic Paint (Red, White and Blue)
How to Make
Draw concentric circles on the paper plate starting from the centre towards the edges for specific indications.
Paint each of the rings on the plate. Start with the outer red ring, then move on to the next white and red while finishing with the blue in the centre. Let it Dry
Print a large star template, cut it out, and glue it in the middle on top of the blue ring.
5. Superhero Cape from T-shirt
Batman or Moonlight might use their capes to fly across cities, shield its citizens from harm and disorient their enemies, but your child can wear a no-sew cape to make a big impression at a friends' party and feel like a superhero.
What You Need
Scissors
Hot Glue/Fabric Glue
1 Sheet Yellow Felt (A4).
1 Large Men's T-shirt
How to Make
Lay the T-shirt flat on the table and cut off the sleeves.
Next, cut up the sides.
Now lay it with the neckband in the centre. The two halves can be put flat on either side.
Cut out a cape shape from the T-shirt while leaving one-half intact. Cut around the neckband to create the neck of the cape.
Make a large star shape on the yellow felt and cut it out. Glue it to the back of the cape using hot glue or fabric glue.
6. Superhero Wooden Peg Dolls
Fun and easy to decorate, these wooden peg dolls can be a great prop for any pretend play.
What You Need
Wooden Peg Dolls
Felt
Markers
Craft Glue
How To Make
Cut shapes out from the felt paper. (Squared off triangles for capes, long skinny rectangles for belts and scarves, diamonds, stars, and lightning bolts for decoration)
Add glue to the cape and paste the shapes on them to decorate it.
Measure the exact size around the 'belly' of the peg and cut the length of felt for the peg doll's belt accordingly.
Put a thin line of glue directly on the felt and stick it to the doll's waist.
Add embellishments on the belt as a buckle.
7. Superhero Handprint Coaster
This is a great Father's Day craft idea for kids to share that their father is their favorite superhero.
What You Need
Paint
Sharpies
Cardstock
Black pen
How To Make
Make a black handprint on the cardstock paper.
Add ears to the palm and paint it black.
Outline the design using a black pen.
Using paint draw out batman's face that is not covered by the mask (skin-colour) eyes (white slits), and yellow badge on the palm print.
Using a black pen draw lips on the face and a bat for the badge.
Use the black pen to define the round edges of the eyes and face.
Crafting allows you to bond with your child while kids get something to focus on. It reduces their stress level, encourages critical thinking, supports self-esteem, and builds their confidence.
Also Read:
Bird Crafts for Children
Ocean Crafts for Children
Animal Crafts for Children