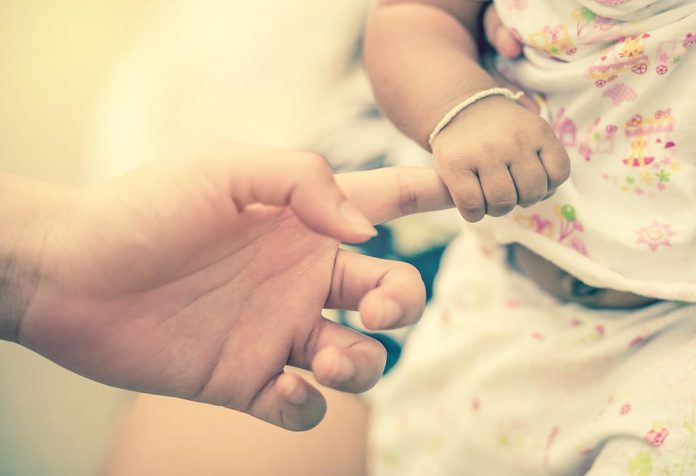 Last Updated on
"What's your name?" I asked the woman, a couple of years younger than me, who was standing beside my bed in the hospital.
"Manju Aich," she replied in a low voice.
Clad in a chiffon saree, Manju's hair had vermillion stuffed in the middle parting of her hair. Her lips were dark red in colour because of the betel leaf she was chewing. And I could tell (and smell) the other substances, that impact health badly, inside Manju's mouth. We requested a nanny, and the Aaya Center agency sent Manju in response.
"How long have you been employed in the agency?"
It was 10 am, time to head back home from the hospital, with the newest arrival of the family.
"Seven months," she said, with a little pride in her smile.
"Do you have any experience in taking care of such a small baby?" I pointed towards Saesha, a.k.a. Mini, who was in a deep sleep on the hospital bed.
"I took care of two siblings on my last job. None of them were so small like her."
My heart sank with Manju's reply. She was a novice, chewed betel leaf with an off-putting smell from her mouth, yet had been appointed by the agency to look after my three-day-old daughter. My mother-in-law (broke her arm two months before my delivery and was still recovering) and mother (lost her voice temporarily after suffering from a viral fever and was under treatment) were not in a position to give me 'real' help with a newborn. At that moment, whatever she smelt like, Manju was the need of the hour.
"Will you be able to take care of the baby?" I tried to affix my question with a smile, but couldn't."
"Why not? I, too, have kids," she replied nonchalantly.
There was a car waiting outside to take us home. But with stitches from a C-section, sitting in a car with Mini in my lap meant an uncomfortable journey for both of us. Father-in-law and husband were not confident enough to hold Mini. Manju was the only choice left. With an anxious heart, I gave my newborn in Manju's arms. And so, Mini made an entry into the Paul household, not in her mother's, but in her nanny's arms.
Manju's shift hours were from 8 am to 7 pm. Another nurse would take over from 8 pm till 7 am the next morning. This was the arrangement planned, until I became fit to take care of Mini on my own. Needless to say, I hugely depended on others even to get up from the bed, let alone feed my baby.
The next morning, it was 8:30 am and there was no sign of Manju. She wasn't even picking up calls. Just when husband was thinking to give a call to the agency, Manju appeared near the gate.
"So late?" husband asked. "Please try to be in time from next day onwards."
"Sorry, Dada," she smiled with her red lips. "I couldn't figure out the address."
Such a lame excuse! How could Manju forget an address when she had been there the day before? And what about not picking up calls? This was highly unprofessional behaviour. They always have more than one innovative idea to justify their absence or not being in time, I thought.
But that was the last day that we reminded Manju to be punctual. Not because she came right on time after that – on the contrary, she was always half an hour late to report – but because my mindset changed.
Manju had left her in-laws' house after her alcoholic husband, carpenter by profession, tried to stab her with a kitchen knife. She didn't hail from a well-to-do family, had studied till the 6th standard, was married off at an young age, and had two sons (aged 10 and 4) to look after. Someone informed her about the Aaya Center, and that's how her career as a nanny began.
Manju started her day at around 5 o' clock in the morning. She prepared meals for the kids, got ready, started from her home at 7 o' clock, walked 15 minutes (unless her brother decided to give her a lift) to reach the bus stop. After changing two rides and again walking for 15 minutes (taking another ride meant spending an extra 10 rupees), Manju reached our house. The return journey comprised of the same route. This was how she spent her entire week (agency had no weekly offs). And, all the pain was for 7,500 rupees at the end of every month.
I tried to place myself in her shoes. Ouch! It hurt a lot. A nervous breakdown was inevitable for me, had I been in the same situation. But, Manju was all smiles. Patience – that's the word she reminded me of whenever she was around.
Initially, I had doubts about how she would handle Mini. But, to my surprise, I found myself slowly getting accustomed with the sight of Mini in Manju's arms. She cared for Mini the way she would have cared for her boys. Starting from changing Mini's diapers, washing her clothes, cleaning the trash, giving Mini her bath, helping me to even change positions while feeding Mini, make Mini burp, putting her to sleep… Without Manju, all these things looked difficult.
Mini was also super comfortable with her Manju Maasi from day one. Within a few days, her habit of chewing betel leaf didn't bother me anymore.
I had had issues with Manju's unprofessional behaviour. But, she quickly erased that notion from my mind. NO was something that I had never heard from Manju. You simply had to give her a task, and she wouldn't rest until that was over. This was her level of professionalism.
And what I got as a bonus, was her presence of mind. With her experience of rearing two kids, Manju had an intelligence that gave me correct advice whenever I was worried about anything particular for Mini.
"I think Mini has caught a cold. She coughed thrice last night," I said.
"Babies cough sometimes. It's normal. Still, if you're worried, then pay close attention when Mini breathes. If she has phlegm stuck inside, you'll hear a strange sound. Plus, she won't be able to suck milk properly."
I visited her doctor a few days later, and he, too, said the same thing.
When Mini turned 5 months old, husband and I decided to return to Singapore. But, I was really nervous inside. Manju had spoiled me with her presence in these five months. How was I going to manage Mini without her!
I still remember, the evening we were leaving for the airport, Manju was standing near the door with tears in her eyes. During our first meeting in the hospital, I had no idea Manju was going to play such an important role in Mini's and my life.
Being a single parent, be it father or mother, is tough. No one can replace your partner when it comes to parenting. Manju has her parents by her side, though. Still, she is dealing with many things, both at work and home, on her own. Manju represents the modern woman we always talk about. Smart, independent, flexible, and ready to take on any challenge. She isn't highly educated, or have much money. Then, from where does she get this confidence? Then, I realised the answer.
Motherhood. It does weird things to you. The baby becomes your greatest weakness and strength at the same time. Her two little boys are Manju's hope for a better tomorrow. That's because, apart from being Mini's nanny, Manju is a mother, too, just like me.
P.S. Manju gifted a pair of silver anklets to Mini on her rice ceremony. This is one of the most precious gifts Mini has received so far. I am waiting to tell her stories of Manju Maasi when she grows up!
Disclaimer: The views, opinions and positions (including content in any form) expressed within this post are those of the author alone. The accuracy, completeness and validity of any statements made within this article are not guaranteed. We accept no liability for any errors, omissions or representations. The responsibility for intellectual property rights of this content rests with the author and any liability with regards to infringement of intellectual property rights remains with him/her.