The What and How of Constipation in Babies and Remedies for It!!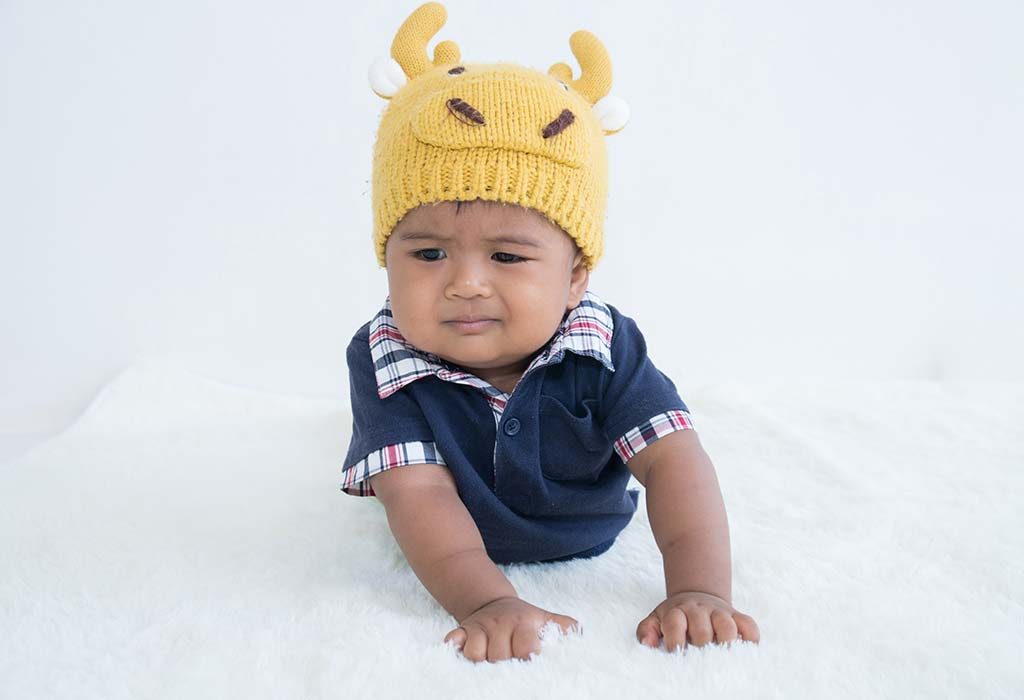 Constipation is one major issue which comes up every now and then not only for newborn infants but also for toddlers. It's really a challenging time for new or first-time parents as they are confused and troubled as to why the baby has:
Sudden aversion to feeding or food.
Is crying incessantly due to a stomach ache or while passing stools and twitching and stretching of legs. Also why the babies stomach is hard.
Has a changed poop schedule and even when passed with great difficulty, the stool is black or sometimes even bloody.
Crankiness in small babies during poop time and elder ones delaying or avoiding it.
So, let us look at some reasons for constipation and remedies to treat them for babies as well as toddlers and elder kids.
For Babies Less than Six Months Old
Milk is the only source of nutrition and water for babies who are less than six months old and it is a well-known fact that exclusively breastfed babies may not poop for even a week as breastmilk is easy to digest, but the ones who are on only formula milk or combination are more prone to constipation. So what one can do is:
For babies who are on formula milk only, sometimes the brand of the milk is the culprit. So, the best course of action is to meet the paediatriciann and ask for a change to a suitable brand.
For infants who are exclusively breastfed or on a combination of breastmilk and formula, the mother's diet can help. If the mother includes lots of fruits and vegetables like papaya,chikoo, cucumber, beans, pomegranate, kiwis, etc in her diet, and also other fibre rich foods it helps the baby. Also adding hing or asafoetida, to the diet and drinking water boiled with fennel seeds or cumin seeds and carrom seeds with little black salt is good.
For Babies Older than Six Months
A baby who is older than six months can be given water and solid food too besides milk so, a few things which can help are:
One must avoid giving too much solid food or meals at the start of weaning. Milk is a baby's main diet till one year, so the increase in the number of meals and snacks should be gradual.
Giving adequate water and other fluids like fresh homemade juice helps digestion and eases bowel movements, so giving age appropriate amount of water is essential. It should not be too much as it will eat up into baby's appetite for solid food and milk. Besides, sometimes even warm water can be given if a baby has not pooped for a long duration.
A baby's digestive system is not as developed as that of an adult and it's acceptance to different food items and their digestion is sensitive. A baby's diet should always include some amount of fibre. Fruits like papaya, chikoo, kiwi, avocados are very good for avoiding as well as treating constipation in babies. It's not necessary to always keep giving just apples and bananas. They should also switch with these fibre rich fruits sometimes.
If the baby is constipated, then giving a vegetable daliya and sabut moong daal helps a lot. One can roast a small quantity of daliya in oil or ghee with little hing and jeera powder, add grated veggies and cook the daliya with water. For sabut moong daal, just boiling it and adding little ghee can also do. Always try to add as many veggies to meals like khichdi or daal for the child so that besides cereals, an adequate amount of roughage is also there in their meals.
Prunes are also very helpful in treating constipation in babies. They are dried plums available in the market. One can soak them at night and give to the baby. Also, one can soak raisins and give it's water to the baby which is helpful.
Last but not the least, carrots can also help in treating constipation in elder kids. Grated carrots can be boiled in milk and given. One can also add little jaggery to it when off flame, as sugars usually help ease the bowel movement.
Also small tricks like applying hing and water paste around baby's navel area and giving cycling exercise help in dealing with constipation.
Avoiding maida laden foods like bread, biscuits, processed foods and foods which are too spicy and oily like french fries, pizza etc also help avoid constipation in toddlers and older kids.
Thus, like our food determines our gut health, it's true even for infants and small toddlers. So making them eat a balanced diet with enough fluids and fibre is the key to avoid stomach related issues in them!!
Happy parenting!!
Disclaimer: The views, opinions and positions (including content in any form) expressed within this post are those of the author alone. The accuracy, completeness and validity of any statements made within this article are not guaranteed. We accept no liability for any errors, omissions or representations. The responsibility for intellectual property rights of this content rests with the author and any liability with regards to infringement of intellectual property rights remains with him/her.