10 Things I Do for My Twin Toddlers to Stay Happy and Healthy for Life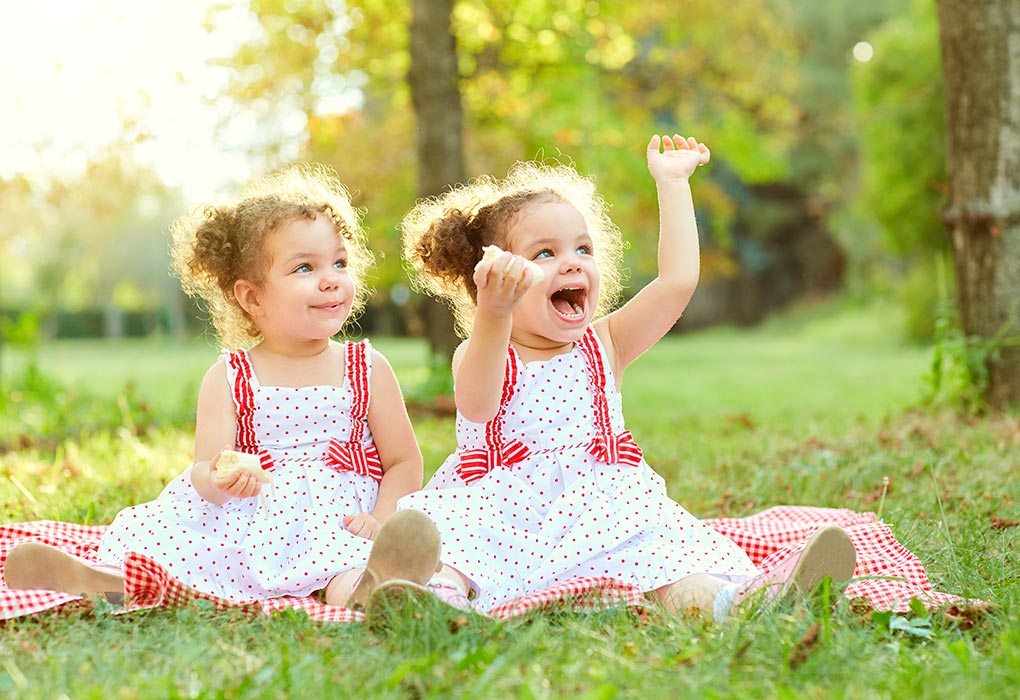 We mommies are always the ones who cannot see their kids being sick/sad or dull! Right?
What if I tell you there are few tips and tricks that are easy to follow and will ensure that your baby stays healthy and happy!!
Basic things like setting up an effective routine, providing them with healthy and nutritious meals, .indoor-outdoor activities, family time and bonding plays an important role in a child's life!
So, in this article I have mentioned things that I do to make sure that my twins stay happy and healthy.
Article:
Hey!
Us mommies always want to see our kids be happy, healthy and do all the mischievous things that they are supposed to do! Right!??
There wouldn't be any mommy who would wish that their baby be dull and boredeven for a second! Whatever they do, how much ever tired we feel, still we always want them to be active and playing around happily!
So I'm going to share few tips that I follow to keep my twin toddlers happily active and busy all through the day!
Set a routine at the youngest age possible and try to maintain it throughout. This will help them in understanding what needs to be done when! Trust me, it won't happen overnight! But within a span of time, they are surely going to adapt it!
Give them healthy home cooked meals as much as possible. It doesn't mean that we don't eat food from outside! There are days I even give them pizzas. But I always make sure that there is a balance between the foods they eat!
Encourage them to play DIY activities. Kids learn a lot when it is done through play! We sit together and do an activity every single day! I plan their activities in advance so that I clearly know what has to be done today! For e.g. did painting and they learnt about different colors, water play, how to handle a brush and enjoyed doing their own piece of art!
Keep them hydrated. Whenever you drink water, make sure you give half a glass of water to them as well! If they are not into plain water, try infused waters or tender coconut water!
Try to reduce the amount of desserts/chocolates/processed foods they eat. Every kid is fond of sweets/desserts. I generally tend to do some healthy desserts as a part of my meal preparation so that whenever they demand for some sweets, I have it ready!
Make them have their fruits: My girls enjoy their veggies but when it comes to fruits they are very choosy! All they want to have is bananas and watermelons! So in order to make them have other fruits as well, I give them a smoothie every single morning.
Make sure to give them a good body massage every single day. It definitely helps them to relax and have a good night's sleep! Take at least 5 minutes to calm them down before their bedtime!
Try adopting certain cleanliness manners like washing hands before and after meals by doing it along with them! Kids learn faster by seeing us do.
As much as I emphasize on at home activities, it's really important to take them out and let them have free play! If you don't have access to park/play area at least take them for an evening walk in your neighborhood itself! They tend to learn about their surrounding and it also helps them in socializing.
Finally please don't forget that family time is really important! Try sitting with them without your gadgets or TV and have a real conversation with them! You will be mesmerized about how much these little ones have to share with you.
Lastly, I wish let all the kids have those healthy smiles and happy lives throughout.
Disclaimer: The views, opinions and positions (including content in any form) expressed within this post are those of the author alone. The accuracy, completeness and validity of any statements made within this article are not guaranteed. We accept no liability for any errors, omissions or representations. The responsibility for intellectual property rights of this content rests with the author and any liability with regards to infringement of intellectual property rights remains with him/her.