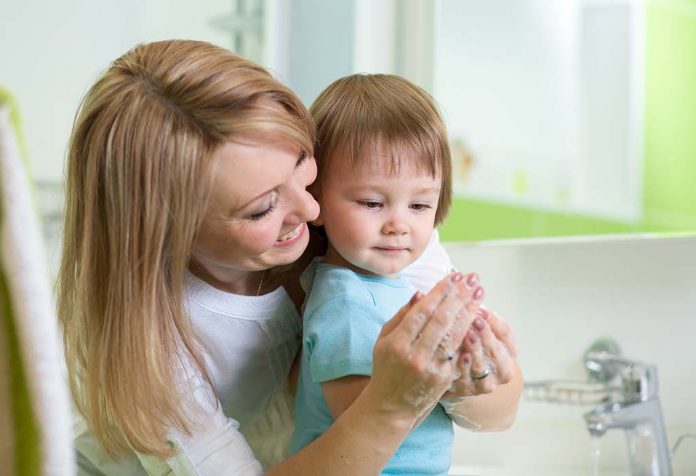 As your child grows and is exposed to a new environment and surroundings, he should learn about personal hygiene. Maintaining personal hygiene will help your toddler fight illness and stay healthy. Here are some ways (that are not boring at all!) to help your child learn about basic personal hygiene.
Some toddlers love to bath as they get to play with water, but there are other kids who do not enjoy bathing at all. If your toddler falls in the latter category, you should inform him why it is important to bath and stay clean. To make it fun let him play in the tub or take his favourite toy in the bathtub and ask him to bath it as you bath him. Teach him how to clean all body parts like hands, legs, neck, etc.
Teach your toddler to wash his hands before and after having his meals, after using the toilet, and after coming from outside. Tell him the importance of washing his hands and how this habit can help him stay healthy. You can make it fun for your little one by teaching them the blowing of soap suds. Praise him and give him a star for every time he remembers to wash his hands if he is old enough to understand rewards.
Teach your kid about bad breath and dirty teeth. Show him the right way to brush the teeth. Get an attractive toothbrush for him, a toothbrush with drawings of his favourite cartoon and he won't say no to brush his teeth. Use toothpaste which is made especially for kids. Let your child imitate you while you brush his teeth – he will surely learn. Make him stand in front of the mirror and make it a game of brushing teeth from left to right and from up to down.
Coughing and Sneezing Etiquette
The best way to teach toddlers and preschoolers is by demonstration. Show and tell them how it's done – and they will learn! We all know kids love to copy adults. To teach them about the sneezing and coughing etiquette, cover your mouth when you sneeze or cough. Show them how to do it, ask them to copy you. You can make it a game of sneeze and cover to make them remember it easily like peek-a-boo.
Most kids have a habit of picking food off the floor and eating it. While it may seem cute when your baby does that, but it's not safe. Tell your child that the floor is dirty and that he should not pick and eat anything off the floor. I know your child will not listen to you, and it's not easy to get kids to do what we want but try. Try the 'show and tell' method again. Do not eat food items fallen on the floor and throw them in the dustbin. If you can wash a certain fruit and eat it later, then do not pick it up in front of your kid. Do it later. Just don't use it or eat it again when your toddler is present.
Follow the above methods to help your toddler learn about hygiene. The most important thing for you is to be patient, as these habits may take time to build. However, once these habits develop in your child, you will have nothing to worry about. Your child will prefer a hygienic routine and will stay healthy!
Disclaimer: The views, opinions and positions (including content in any form) expressed within this post are those of the author alone. The accuracy, completeness and validity of any statements made within this article are not guaranteed. We accept no liability for any errors, omissions or representations. The responsibility for intellectual property rights of this content rests with the author and any liability with regards to infringement of intellectual property rights remains with him/her.