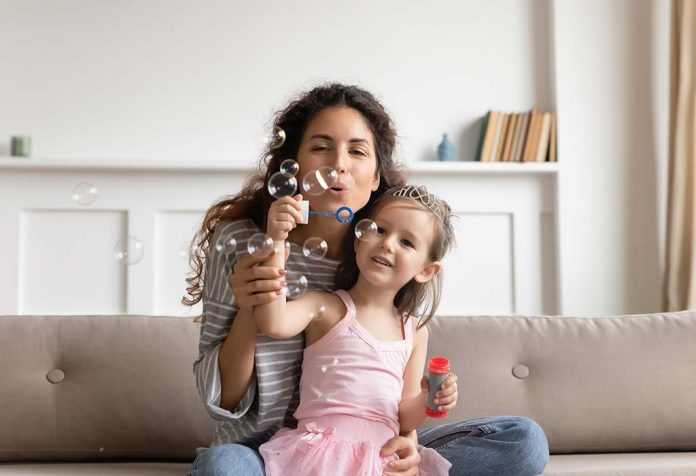 Last Updated on
Is your kid in a bad mood? Maybe you forgot to buy his favourite candy? Did he have a rough day at school, or you had to leave your kid at a caretaker to go
to work? Did his favourite toy break down, or maybe you couldn't take your child to the park as promised?
Now, whatever the situation may be, you might be wondering, "How do I fix this?". It looks like it needs a lot of efforts, right? But it doesn't.
You can make your kid happy in just 5 minutes and fix all this. Yes, it will take only 5 minutes.
How wonderful it is to see a kid happy, cheerful, smiling and laughing. The bright, innocent smile and cute laugh of your kids will brighten up your mood and turn any day into a wonderful day no matter what happened. After all, a happy child equals a happy home.
So here is a list of simple, easy and quick ideas to make your child happy and lift their mood in just 5 minutes.
Read along and try these simple ways to make your child smile and laugh and create some memorable moments in 5 minutes.
Bubbles and More Bubbles
Kids love blowing bubbles. Give them a bubble solution, and they are ready to blow. Oh, you don't have one at home?
No problem. You can easily make a bubble solution at home by following these three simple steps.
Take half a glass of water.
Add few drops of any liquid soap to it (dishwasher liquid/detergent liquid).
Stir it with a straw. The instant bubble solution is ready to be used.
I tried this with my kid, and it worked. This doesn't take more than 5 minutes.
Instant Dance Party
Kids love dancing, especially if you join them too. Play their favourite party song and shake a leg with them. Additionally, you can create an atmosphere with the help of a music system, woofers, and disco lights, if you have them. These things will make the dance party a lot more fun. Just be sure you keep the volume low to avoid getting any complaints from your neighbours.
Movie Time/Story Time
Depending on your kid's preference, quickly arrange for a movie at home or read out their favourite storybook. Watching their favourite movie or listening to their favourite story will bring up a bright smile on their face. Make sure you listen to their cooked-up narrative while watching the ongoing movie, and you will be amazed to see how creative kids can be.
Meanwhile, control your urge of grabbing and scrolling through your mobile. This will turn off the kids if you are not giving them your 100% attention. Movie or storytime will not only make your kid happy in 5 minutes but will also strengthen your bond.
Surprise Lunch
Your kids are in a bad mood as you didn't allow them to take a day off from school. How to cheer them up? One of the easiest ways is to surprise them with your presence at lunchtime. If you are a stay-at-home parent, cook his/her favourite dish and take it along while visiting. Those 20-25 minutes spent together during the surprise lunch will not only make them happy but will also make their day.
Make Oobleck
If your kid is a pre-schooler or a toddler, then this idea is for you. Oobleck is fun to make, and kids love it. It is very simple and easy to make.
Pour a cup of corn starch into a bowl.
Add half a glass of water to it.
Now, mix the two things, and Oobleck is ready.
This is a non-Newtonian fluid, which means it is solid when pressure is applied and is liquid when you let it slip out of your hand. This is a super fun activity for kids. Add food colouring to get colourful Oobleck. A few days back, I had fun making Oobleck with my kids.
Here is a list of a few more simple ideas to cheer up your kid.
Give them balloons, especially ones with their favourite cartoon character or with led lights.
Bake a cake with them. A simple mug cake is good to start with.
Look at old photos together. Kids love looking at their childhood photos. You can display their childhood photos on a TV and if possible, recollect and tell them about funny incidents that happened while taking those photos. They will love it.
Buy them an inexpensive Toy.
Cook their favourite meal with them.
Spend time by playing pretend-play games.
Make a tent house to hide under while playing hide and seek.
Give them a crazy, funny hairstyle.
Paint their face by making a creative and funny pattern on their face.
If nothing else works, you can hug them and say I love you to reassure them that you care about them no matter how busy you are with work.
Try these simple quick hacks to brighten up your kid's mood and make them happy and cheerful in just 5 minutes.
Disclaimer: The views, opinions and positions (including content in any form) expressed within this post are those of the author alone. The accuracy, completeness and validity of any statements made within this article are not guaranteed. We accept no liability for any errors, omissions or representations. The responsibility for intellectual property rights of this content rests with the author and any liability with regards to infringement of intellectual property rights remains with him/her.