Fighting Away Postnatal Depression With Positivity and Strong Will For Your Baby and You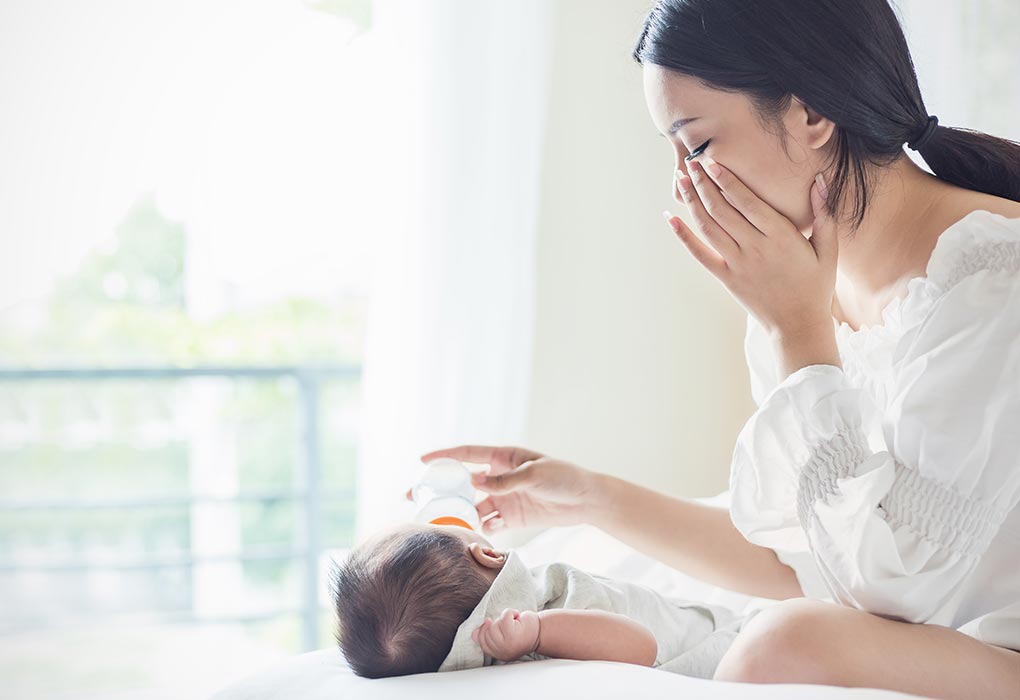 This little bundle of joy had just arrived in our house…and there was happiness,excitement and eagerness to welcome this tiny soul.The whole house had been decorated with pink balloons and i walked holding her towards the gate with the music in the background"Mere ghar ayi ik nanhi pari"
I never had imagined this amount of happiness in my life…everything was going fine until i came into my room.
Deep down there was something pushing me out of this joyous moment.
Holding her seemed like a huge responsibility..time went by with her crying and feeding sessions..and suddenly I found myself crying without any appropriate reason!
My mother in law slept with me for a month. I felt a grave loneliness sitting all day in my room without anything to do.
I wanted my husband by my side,wanted to talk to him. But whenever he came I just cried, I cried while eating my meals, while feeding her, while sleeping.
I was shattering down,my mother in law was tensed as to what happened to me.my husband would come,console me that she would grow up soon to be understanding and the time would pass away.
But the reason was something else..I would cry on the phone when mom dad called, I just started hating my life ,myself,and unfortunately sometimes the baby?
I took my phone and googled my symptoms..my sister sent me an article about PND. I found ways to come out of this but all in vain.
"Google could not help me come out of this.Only thing that could help me was ME MYSELF"
Days went by and so the sadness. It had overcome me completely. I would cry on every little thing be it an old photo or just a glimpse of my husband. My room was eating me. Mother in law told me to come downstairs and watch TV.. I would cry even while watching TV.
Everyone got tensed..I could not feed my baby properly she never seemed full after the feed and this irritated me..I would sit for straight two hours to feed her still not successful. I didnot sleep all night and day..thinking about she would wake up and cry for the feed. I lost my sleep,smile,happiness,even myself!!
And then the other day my husband took me to my gynaecologist.
And when I went inside I literally cried facing her..telling her about my situation.She talked to me for an hour and told me how I was pushing myself into depression. I joined my hands in front of her telling her to take me out of all this. Hubby told her how I would cry all day along, not sleep,and not eat well.
When I sat there crying she wrote some medicine on the prescription and explained the dosage to my husband..that was medicine for sleep.
And then turning towards me she said
"If you will not take yourself out this how will u take care of your baby,you dont want to be a cry momma do you?!"
We came out and hubby took me to the garden outside,we sat on a bench!!
He held me ,my phone and the prescription,asked me to google the medicine.
I was in shock ,something struck me really hard in my head because those were the medicines for mental depression and sleep!!
When i was blessed with immense happiness and joy, why I was wasting my time drowning in the sadness!!
I cried my heart out and he consoled me that he was with me and will always be there for me..and we would fight this together!! He told me we still had time and everything would be perfect only if I wanted.
And from that moment onwards,there was no looking back!!
I would keep myself busy with my baby, household chores, writing diary,and when I was free I would try to sleep and keep myself positive!! Hubby would take me out for walk or shopping and he would try to keep me happy always.
Things started changing their way and everything fell into place and today my lill baby is all grown up to 9 months.
Time has passed by just like an adventure full of smiles and some teeny tiny cries.
Fighting the postnatal depression is within you so be a fighter and enjoy the victory to a life that awaits immense happiness!!
Disclaimer: The views, opinions and positions (including content in any form) expressed within this post are those of the author alone. The accuracy, completeness and validity of any statements made within this article are not guaranteed. We accept no liability for any errors, omissions or representations. The responsibility for intellectual property rights of this content rests with the author and any liability with regards to infringement of intellectual property rights remains with him/her.