Best Hair Care Solutions After Pregnancy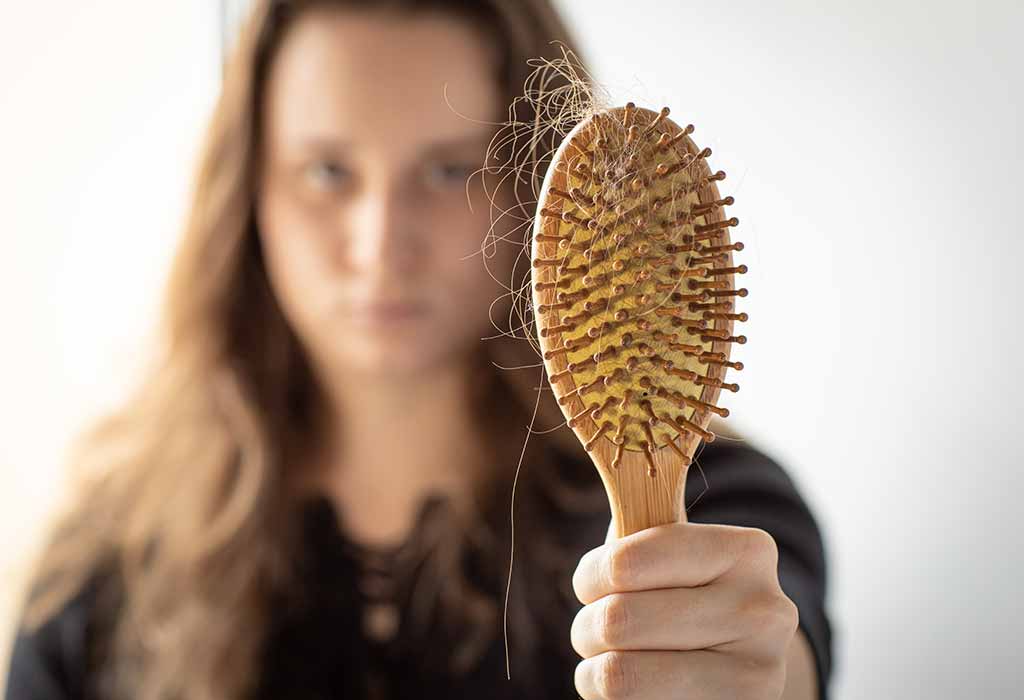 My honeymoon period ended, as soon as my pregnancy got over. I was worried about the chunks of hair I started to lose every day. I thought it would continue for a week and then stop, but nothing would prevent that. I was not the only one on this journey. I had a few friends too, who were in the same boat and faced the same problem just after their pregnancy, losing chunks and chunks of hair every day. Their hair lost shine and turned thinner than mine.
I tried several things that finally helped me to get over it. I won't say whatever works for me would work for you right away, but be assured that following these tips for hair care after delivery will help you in the long run.
Castor Oil for Hair Care after delivery
Castor oil can be used as a natural hair conditioner. Dry and damaged hair can significantly benefit from an intense moisturiser like castor oil.
Applying castor oil to the hair regularly helps lubricate the hair, increasing flexibility and decreasing the chance of breakage. Castor oil benefits those who experience dandruff and flaky skin on the head, thus strengthening hair and improving hair quality.
Olive Oil is Good for Hair Care After Delivery
People have used olive oil for hair care for thousands of years, as it adds shine, glow, softness, removes split ends, and increases thickness.
Massage the oil deeply into your hair for a few minutes. You can also massage it into your scalp if you have a dry scalp.
For the most effective conditioning, wrap your hair in a shower cap and let the oil soak in for 15 minutes or more. You would soon start to see the difference and would get rid of hair fall after pregnancy.
Shampoo AfterEvery Three Days
I used many shampoos to find the best, and then I realised that you should buy a shampoo which smoothens your frizzy hair. The shampoo you take must be ideal for taking care of your split ends and hair fall. You can also try suitable hair serums once the shampoo suits you.
You must shampoo once in three days to get rid of dryness and frizziness. Wrap your hair with a cotton towel to soak up the water. Avoid drying your hair with a dryer unless it's an emergency.
Take a Hair Spa When Necessary
I am not a great fan of chemicals. But if your hair gets too dry, thin and frizzy, you must get a hair spa once a month. But hair care is a must after the spa process to maintain shine and dirt-free hair. This treatment is meant to deal with unsightly dandruff that can impact the self-confidence of an individual. This process helps to add lustre to the hair and make the scalp clean and fresh.
Head massage, which is part of hair spa therapy, improves blood circulation in the scalp. Blood carries nutrients to your scalp to help to keep it healthy and promote hair growth. It also enables hair follicles to receive more oxygen and nutrients via blood, thus revitalising the scalp and improving hair growth.
Don't Wet Your Hair Every Other Day
Washing your hair too many times dries up your hair and soaks up all the shine. For example, take a cotton cloth and wash it every day. As you clean any cloth every day, it loses the newness, glow and shine. Similarly, our hair loses the shine with daily hair wash. It leads to extreme dryness. So, avoid washing your hair daily. Limit this to once in three days or once in two days.
Follow a Hair Care Routine
The secret to healthy hair is to follow a good hair care regime, such as combing your hair thrice a day, regularly oiling, shampooing, and conditioning. Many new moms are so busy with their babies and busy schedule that they hardly get any time for themselves. But it would be best if you take out time for yourself.
My daily hair routine is –
Comb thrice a day.
Comb before you oil your hair to avoid mess or frizziness.
Shampoo after an hour or more once you are done oiling.
Use hair conditioner after and before washing.
Use a hair serum that suits you the best.
Make plates and bun before going to sleep; the friction between hair and bed makes hair dry and rough.
Drink lots of water and eat fruits.
Eat vitamin supplements – sometimes, hair fall is related to vitamin and folic acid deficiency in the body.
Last and the Best Hair Care Tip After Delivery – Cut Your Hair Short
How much ever you try, you always get less time for yourself. As a mother, your baby becomes the priority. A new mother is already juggling with too much; hair care becomes the least important thing in her life. You would soon see split ends, roughness, dandruff and then chunks of hair falling at intervals. So to save your hair after pregnancy cut them short. This would need minor maintenance. Combing and tying up your hair will take care of the rest. There are a few salons that suggest the best haircut as per your face structure. Trust the experts and get a good haircut to keep up your motivation.
So here to the mummas, I know your baby is a priority, but your health, skin, and hair also need to be happy too. So drink lots of water and eat fruits to enrich yourself with vitamins that protect your hair.
Thanks,
May
Disclaimer: The views, opinions and positions (including content in any form) expressed within this post are those of the author alone. The accuracy, completeness and validity of any statements made within this article are not guaranteed. We accept no liability for any errors, omissions or representations. The responsibility for intellectual property rights of this content rests with the author and any liability with regards to infringement of intellectual property rights remains with him/her.