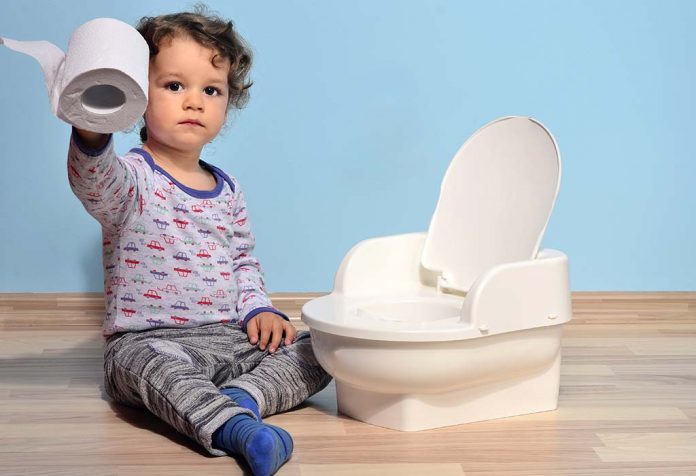 Last Updated on
There are many apprehensions for first time mothers, which must be done away with. A major one is the first encounter with baby pee and poop! Yes, it may sound really funny (or disgusting at pre-motherhood stage), but at some point of motherhood, you may end up obsessing about it. "Oh, it happened more than once yesterday today!", "Why is it not happening to her today?", "It looks different!" And so on. However, that's not the end of it. There is a mountain summit of toilet training to be conquered, which will make your baby's diaper days seem like a cakewalk.
I have signed up for it twice, hence the double summit. For my older one, there was a whole lot of convincing and counselling that happened every time I pleaded her to enter the washroom. Moreover, making her use it took a whole lot of juggling, singing, and senseless talk so that she did not try to escape. Ironically, it is just the opposite for my younger one. The washroom has become her hangout spot and I am facing a hard time explaining to the 22 month old that the place is to be visited only on a need basis.
Jokes apart, there are a number of internet videos and articles on guidelines for toilet training. Nonetheless, here is my compilation of disclaimers on the topic, purely based on experience. Do take a glance at it, if you are about to or already into the challenge.
Initially, it will happen just at the moment you step out of the washroom with your child, without fail. So, replace your new fancy doormats with old ones you can discard.
Do not ignore your toddler's call of visiting the hot seat even when it is hardly two minutes after your last parade. Sometimes, the job needs a couple of rounds to be certified as complete!
You have to master at least one performing art – singing, mimicry, story telling, or juggling. If you really thought that the toddler would sit there patiently with folded hands and a smiley face without you putting up a show, then I am sorry to break your bubble.
This one is the most crucial for those who have more than one toddler around. The 'trained' toddler will certainly want to visit the same washroom at the very same moment when the 'trainee' toddler is just beginning to feel enthusiastic about the visit. So have a contingency plan for this one in place, before hand.
Never be under the illusion that just because you made her visit the washroom before stepping outside, she will not ask you to take her to a restroom, just when you are relishing a plate of your favourite dessert at a lovely restaurant. Trust me, none of my outings is complete without me taking a trip to the restroom with my trainee. I may not know where the sale is happening in a mall, but ask me about the washrooms!
There may be some ulterior motive to visiting the washroom, like getting her hands on the new soap bar or an urge to play with the faucet, or simply an excuse to run away from the bowl of khichadi, when the toddler makes the sweetest face while saying, "Mumma, poo poo!"
Always, always, turn off the gas burner if you're cooking anything on it, before the washroom marathon with toddler. There is almost a 99.99% chance that the milk will overflow or curry will burn.
At the moment, I do not understand when people say, "Kids grow up so quickly. I never realised when mine did." Maybe I would say that, too, when many memories like these eventually turn into funny anecdotes. But, right now, I do live through every single day of motherhood, especially with my toilet training experiments.
Disclaimer: The views, opinions and positions (including content in any form) expressed within this post are those of the author alone. The accuracy, completeness and validity of any statements made within this article are not guaranteed. We accept no liability for any errors, omissions or representations. The responsibility for intellectual property rights of this content rests with the author and any liability with regards to infringement of intellectual property rights remains with him/her.