A Battle of Wits with My 3 Year Old Pre-Schooler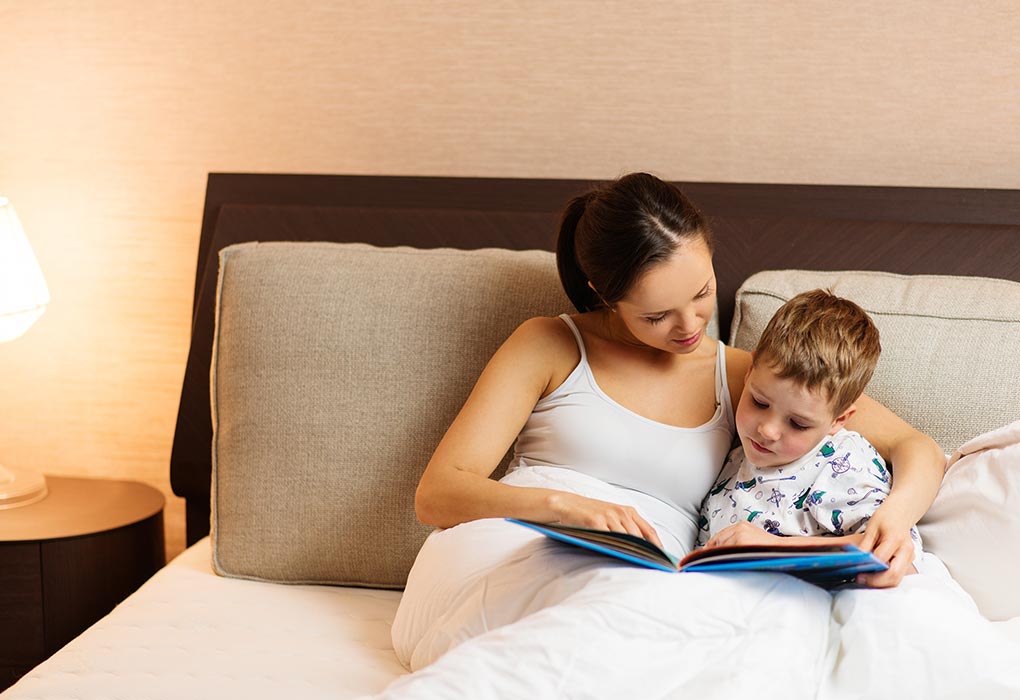 Off late my son has been becoming more and more stubborn and obstinately determined to do things his own way. I wanted to mend his ways and as suggested by many, I got some bed time moral story books for him. Yesterday was our first day and I chose to read out the story of a greedy fox to him. The story goes like this.
Once upon a time, there were two shepherds who would go in the jungles to graze their cow and sheep. They kept their lunch boxes in the hollow of a tree and go away. One day a hungry fox saw them keeping the meals and waited for the shepherd to leave. As soon as they left, he jumped into the hollow of the tree and ate away all the food kept there. Now he was so full and bloated that he couldn't move an inch. He got stuck in the hollow and couldn't come out. It was time for the shepherds to come back. When they saw that the fox had eaten up their lunch boxes, they picked up sticks and beat him up. The fox was badly hurt and couldn't move also.
Moral of the story: Never be greedy.
Now it was my son's turn to elucidate it further. My son immediately exclaimed:
Son: The shepherds are very bad boys.
Me (Totally shocked): But why?
Son: Because they beat up the poor fox with sticks. See he looks so hurt and in pain.
Me (In profound thoughts): Hmmm. And what about the fox?
Son: The fox is a good boy! Poor soul. He got hurt so badly.
Me (Totally shocked): But why?
Son: Because he finished off the meals like a good boy. That too all of it.
Me: But he ate other's meals. We should not eat other's tiffin.
Son: But you tell me to share things with everyone. His mom must have told the same to him na?
Me: FacePalm!! At loss of words and at wits end.
I explained him that we should not take other's belongings without their permission and share only a portion of our meals. But, I learned a lesson for a lifetime. Parents may not always be right. Our parents retorted to scolding and beating to imbibe moral values in us. But today I realise that it just iinside fear in children. Moral values should not be preached but should be adopted as a way of life. Talking out and discussing with your children with an open mind definitely gives us a better understanding of their perception and helps us progress in life too.
Disclaimer: The views, opinions and positions (including content in any form) expressed within this post are those of the author alone. The accuracy, completeness and validity of any statements made within this article are not guaranteed. We accept no liability for any errors, omissions or representations. The responsibility for intellectual property rights of this content rests with the author and any liability with regards to infringement of intellectual property rights remains with him/her.