Coconut Chutney Recipe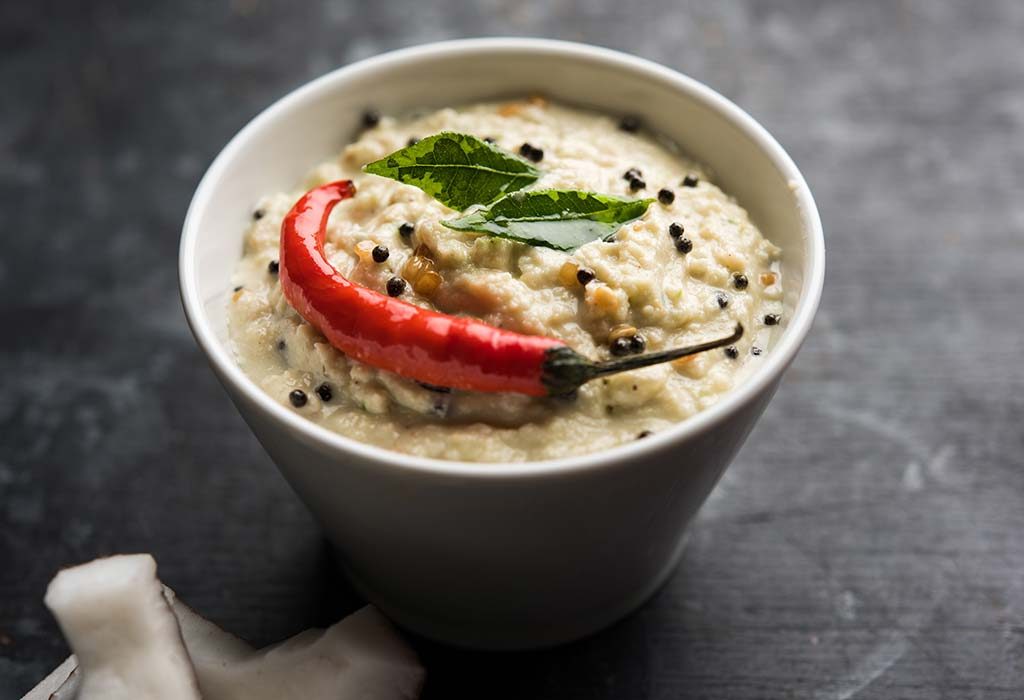 In this Article
Coconut Chutney is prepared in southern India for dishes such as idli, dosa, vada and pakoras. It is one of the most important side-dishes of South Indian cuisine and is usually made with fresh coconut along with other herbs and dals. Coconuts are a very healthy source of various vitamins, minerals, and fibre that are beneficial for the healthy growth of kids. For babies and toddlers, we must prepare these side dishes and dips that are healthier, tastier, and less spicy. Coconut chutney is a dish that your little one will find delicious. It is very simple to make, and your little one will surely enjoy it with his yummy food. Want to know how to make coconut chutney that is delicious and nutritious? Here's how you can make this amazing side-dish in no time.
Cooking time
| | |
| --- | --- |
| Type | Time (hh:mm:ss) |
| Preparation Time | 00:05:00 |
| Cook Time | 00:05:00 |
| Total Time | 00:10:00 |
Cooking method
Blender
Type of meal
Vegan
Suitable for
Any Toddlers above 13 months of age
Meal schedule
Breakfast, lunch or snacks
Recipe type
Side-dish for main course or snacks.
Ingredients:
This delicious and healthy coconut chutney for toddlers can be given to them with snacks any time. Here is what you need to make this side-dish:
| | |
| --- | --- |
| Type | Quantity |
| Freshly grated coconut | 1 cup |
| Garlic cloves | 2 |
| Roasted chana dal | 1 tbsp |
| Salt | ¼ tsp |
| Lemon juice | ½ tsp |
| Coriander leaves | 1 cup |
| Oil (for tempering) | 1 tsp |
| Mustard seeds | ¼ tsp |
| Asafoetida (Hing) | 1 pinch |
| Curry leaves | 4 to 5 |
Instructions:
Here are step by step directions to make coconut chutney:-
Take ½ cup of tightly packed freshly grated coconut in a chutney grinder jar or a small grinder jar.
Add 1 tablespoon roasted chana dal.
Then add the chopped coriander leaves and the garlic.
Add salt to taste and the lemon juice.
Add a few drops of water to make a smooth paste-like consistency.
A tempering of oil with crackled mustard seeds crisp curry leaves and asafoetida brings more flavour to plain coconut chutney.
Recipe tips:
There are several types of homemade coconut chutney baby food recipes. Some examples are Mint Coconut Chutney, Roasted Sesame Chutney, and so on.
You can add mint in the recipe to make Mint Coconut Chutney or you may add peanut for a change in taste. Make sure that you roast the peanuts well, before adding it to the chutney.
The roasted sesame seeds make a great addition to this chutney as they contain a good amount of calcium that is good for your baby's health.
This recipe is a saviour to all those parents whose child does not like having vegetables. Coconut is so versatile that this chutney can be prepared even by adding carrot, capsicum, beetroot, spinach, tomato and onion. Moreover to develop the tangy taste buds of your child you can even add curd, tamarind or raw cut mangoes.
Nutrition information (per tbsp) :
| | |
| --- | --- |
| Nutrient | Quantity |
| Energy | 36 cal |
| Protein | 0.4 g |
| Carbohydrates | 1 g |
| Fibre | 1 g |
| Fat | 3.3 g |
| Cholesterol | 0 mg |
| Sodium | 2.1 mg |
Health Benefits:
Our diverse country has lots of recipes from the different parts of the country, but at the end of the day, a healthy diet is the sole key to a better life. This simple coconut chutney recipe will surely meet your expectations.
A great superfood to give to your growing baby.
Coconut is a unique fruit because of its high-fat content essential for the energy of the child.
It is rich in vitamins and minerals, which is essential for the physical development of a child.
Manganese and antioxidants in coconut help to boost your child's immune system and digestive system.
Coconut is highly rich in fibre, and it has numerous health benefits for children, including improved heart health and digestion.
Lemon juice adds vitamin C, which also boosts your child's immune system.
The coriander leaves make the chutney rich in iron.
Buying guide:
Buy organic coconuts if possible. You can use frozen coconut, but fresh coconut is better for health.
Make sure that the spices are not past their expiry date when buying. If they are old or have become damp, the flavours must be prominent.
If you are planning to add any extra flavour, then pick the flavour based on your child's preference. As this side-dish is for kids, avoid lots of spices and chillies.
The ingredients to make coconut chutney are readily available online and in the local grocery stores.