Chunda Recipe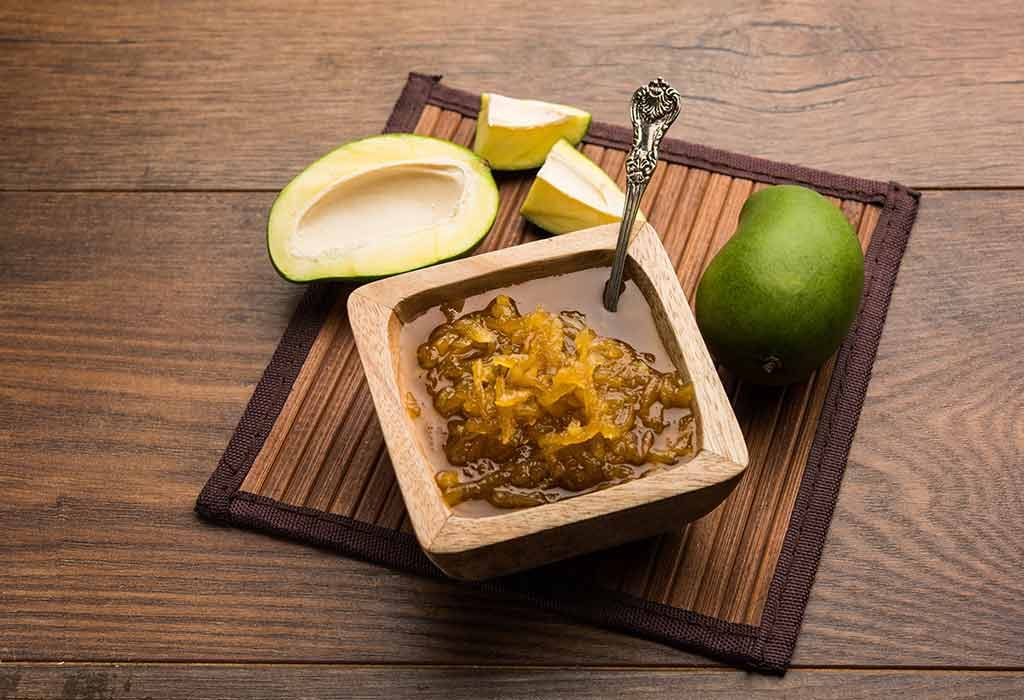 In this Article
Chunda is a pickle that is commonly made in most Gujarati and Maharashtrian families. It tastes delicious and is a side dish that can be consumed with chapatis, paratha, khichdi, or pulav. The conventional way of making chunda is time-consuming and tedious but it's worth the effort. It is usually made in batches during summers, which last for a while. If you want to learn how to make chunda, we have a recipe that you can try. The winning formula for this recipe is to achieve the one string consistency. Now with this recipe of chunda for babies, you can make a supply for a year and feed it to your munchkin anytime!
Cooking Time
| | |
| --- | --- |
| Type | Time (hh:mm:ss) |
| Preparation Time | 00:10:00 |
| Cook Time | 00:10:00 |
| Total Time | 00:20:00 |
Cooking Method
Gas Stove, Induction
Type of Meal
Vegetarian
Suitable For
Babies above 13 month of age
Meal Schedule
Breakfast, lunch or dinner
Recipe Type
Accompaniment
Ingredients
| | |
| --- | --- |
| Ingredients | Quantity and Volume |
| Raw mangoes (Rajapuri variety) – peeled and grated | 2 cups |
| Sugar | 1 3/4 cups |
| Turmeric powder | ¼ teaspoon |
| Salt | 1 teaspoon |
| Red chilli powder | 1 teaspoon |
| Roasted cumin seeds powder | ½ teaspoon |
Instructions
If you want to learn how to make chunda, follow this step-by-step guide given below. Check the recipe and give it a try before the summer season ends.
Mix the grated mangoes, salt, turmeric powder, and sugar in a wok.
Mix these ingredients well on a low flame for about 3 minutes. Stir the mixture occasionally and wait until the sugar melts completely.
When you see the mixture bubbling, give it a good stir and mix well. Cook on a low flame for another 6-8 minutes while stirring constantly. Keep doing this until you receive a one-string consistency.
Transfer the mixture to another bowl and let it cool down completely.
Once it cools down completely, add the roasted cumin seeds powder and red chilli powder.
Store in an air-tight container and keep it in a dry place.
Recipe Tips
Follow these tips to make sure you get the right consistency of chunda.
Wash and peel the mangoes well before grating them. If the peels are mixed when cooking, they will leave a bitter taste.
Make sure the sugar dissolves completely. Cook it on a low flame and wait until all the sugar dissolves.
To achieve the one string consistency, take half a teaspoon of the mixture between your thumb and index finger. Stretch the finger and thumb to see if the mixture appears like a piece of thread.
Nutrition Information (Per 100 Grams)
| | |
| --- | --- |
| Nutrient | Value |
| Energy | 53 kCal |
| Protein | 0 g |
| Carbohydrates | 13.2 g |
| Fibre | 0.2 g |
| Fat | 12.4 g |
| Cholesterol | 0 mg |
| Sodium | 97.1 mg |
Health Benefits
Chunda maybe just a preserve that can be had as an accompaniment but there are several health benefits of the ingredients of raw mangoes, which is a prime ingredient of chunda.
Raw mangoes are known to cure stomach troubles during summer.
Raw mangoes help lower side effects of heat and dehydration.
Raw mangoes are effective treatment of scurvy. Raw mangoes are a rich source of Vitamin C.
Vitamin C in raw mangoes can help promote the production of red blood cells.
Raw mangoes give energy to the body and boost the body's response to drowsiness.
The Vitamin A content in raw mangoes is good for the skin and hair.
Buying Guide
keep the following points in mind, when buying ingredients required to make chunda.
Buy organic raw mangoes that are free of chemicals and pesticides.
Buy organic sugar as it will be processed using natural ingredients.
Buy sealed packets of turmeric powder, red chilli powder, and cumin seeds powder.
You want the best for your baby and it is, therefore, important to make homemade dishes for him, pickles included! This tasty chunda can be served as an accompaniment so go ahead and keep a year's supply ready!