Best Travel Toys for Toddlers and Tips for Choosing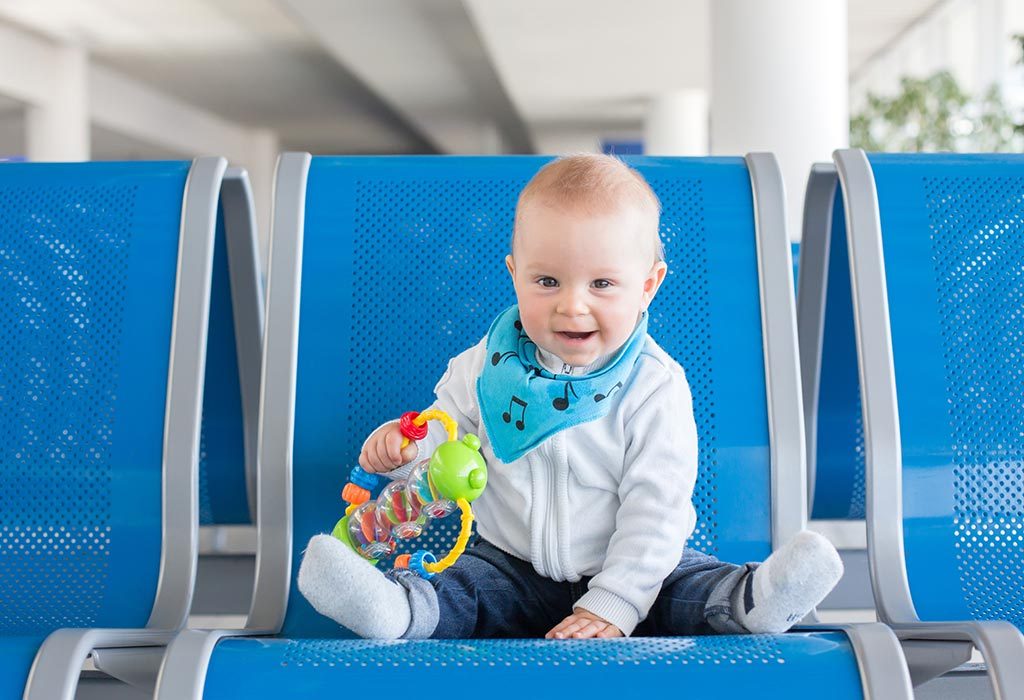 Curious, rapidly growing toddlers and travelling on a vacation is a stress-inducing combination for most parents. Those who have "been there and done that" will be vigorously nodding their heads in the affirmative. Kids at this age are forever in an exploratory mode and refuse to sit still in one place (read car/airplane), especially when being forced to do so. The best way to keep a child engaged during travel is to carry a few toys. Deciding which travel toy to take for your child and also fit into your luggage is difficult. However, the key is to select the right toy to ensure travel is enjoyable and stress-free for all.
Toys to Carry while Traveling with Toddler
Your child may have a favourite toy he cannot do without and that one will automatically find its way into your suitcase. But you will need other travel toys for toddlers in the car or an air trip so that they remain occupied through the journey.
1. Magnetic Toys
These toys are perfect for travelling since they remain on the magnetic board that has various scenes printed on it. Choose the cars, planes and trains theme since it gives the kids something to connect to during your vacation travel. The collectible carry case that it comes in ensures that the toys can be stored easily and kept in one place. If you are travelling in a car, there are no chances of the vehicles or airplanes rolling off into unreachable corners.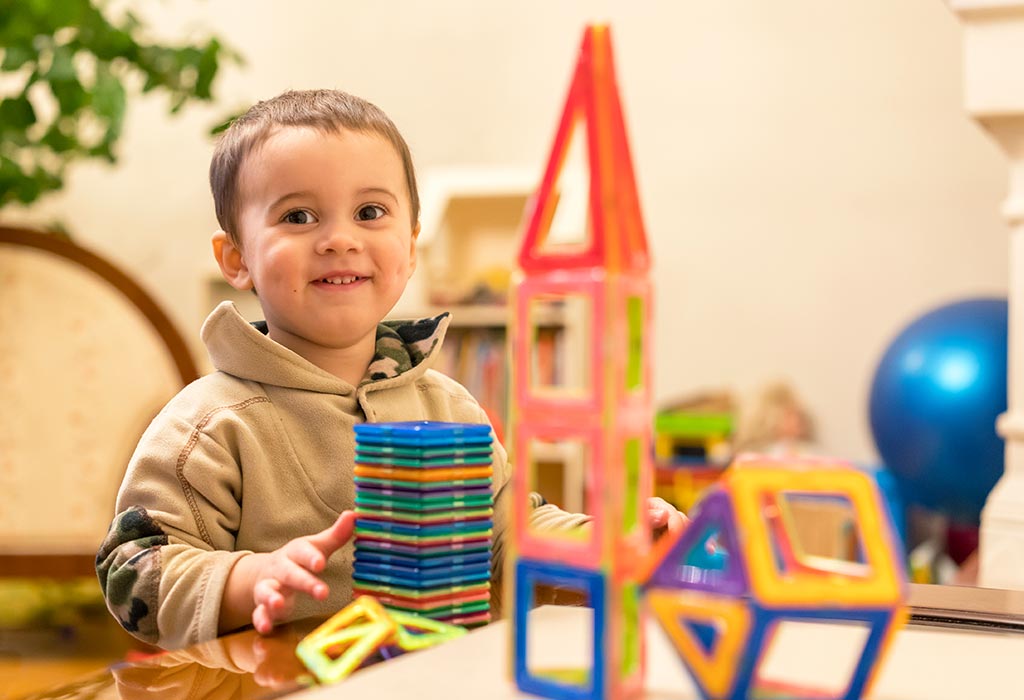 2. Stacking Cups
These versatile toys are essential items that your toddler will love to play with. Since they are easy to stack, it becomes easy to carry them and they do not take up too much space too in the suitcase. With a fertile imagination of a toddler, stacking cups can be used to play unending games like building towers or colour sorting in the car's back seat or in the flight seat too. Kids also love to use them to eat snacks from these colourful stacking cups.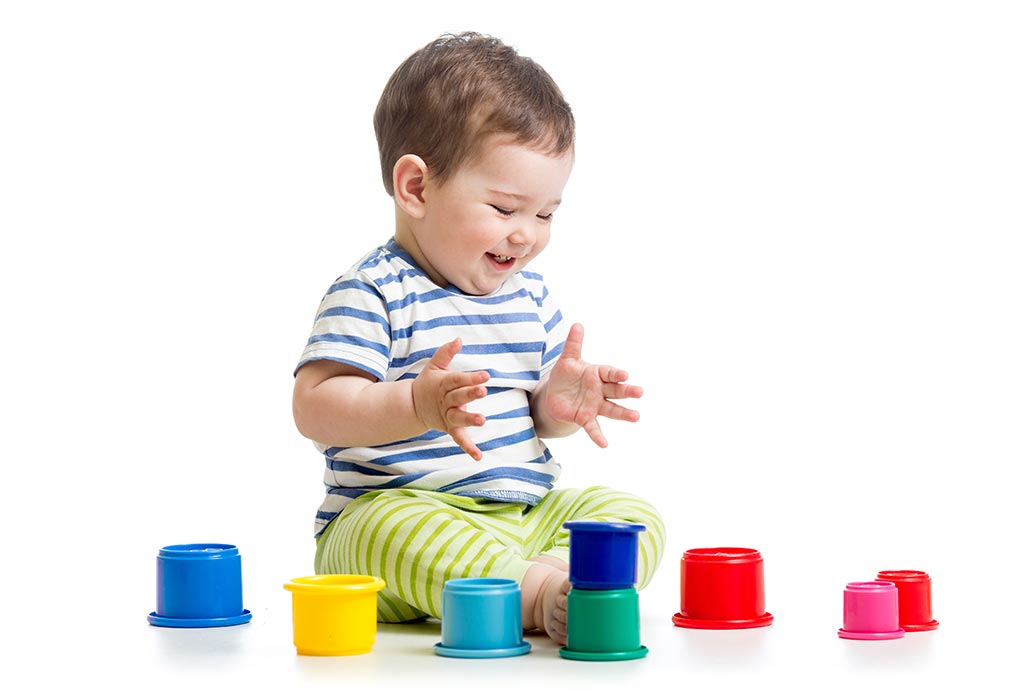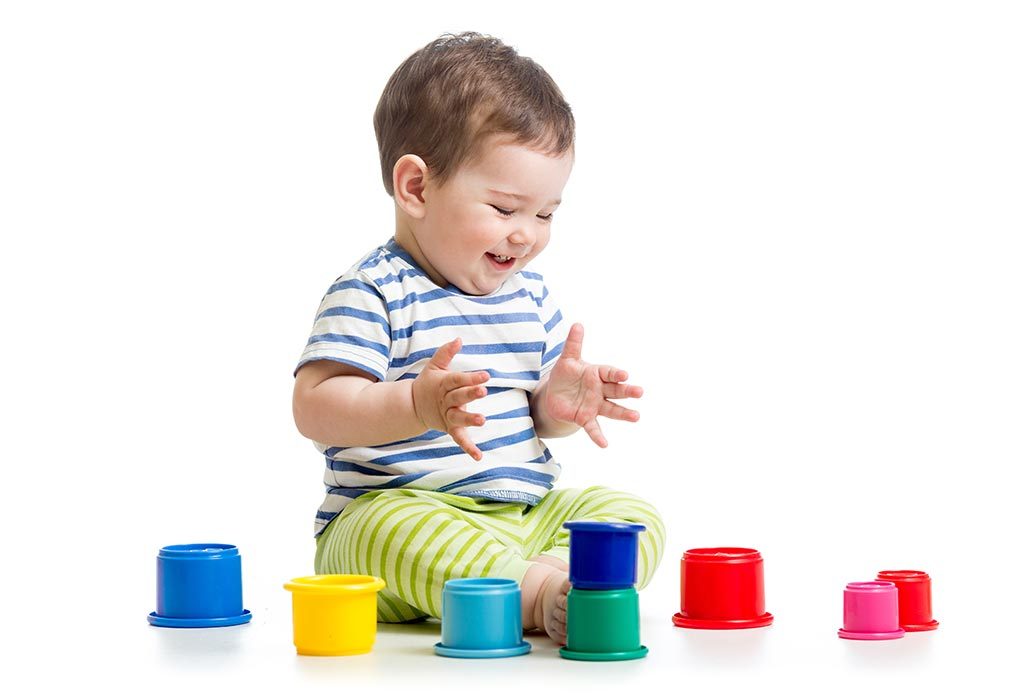 3. Stuffed Toys
While travelling on a vacation with your tiny tots, stuffed toys are must-have items to be packed along with others. Every child has a favourite stuffed animal and your toddler will have one too. He may need it while sleeping to cosy up with or while having a meal. It gives them the feeling that they have bought a friend along. If your child loves the over-sized bunny, try to trade it with a smaller version which can be fitted easily in one of your suitcases. Superhero action figures are essential as they can keep your little one engaged for long hours while you drive or during transit/flight delays at airports.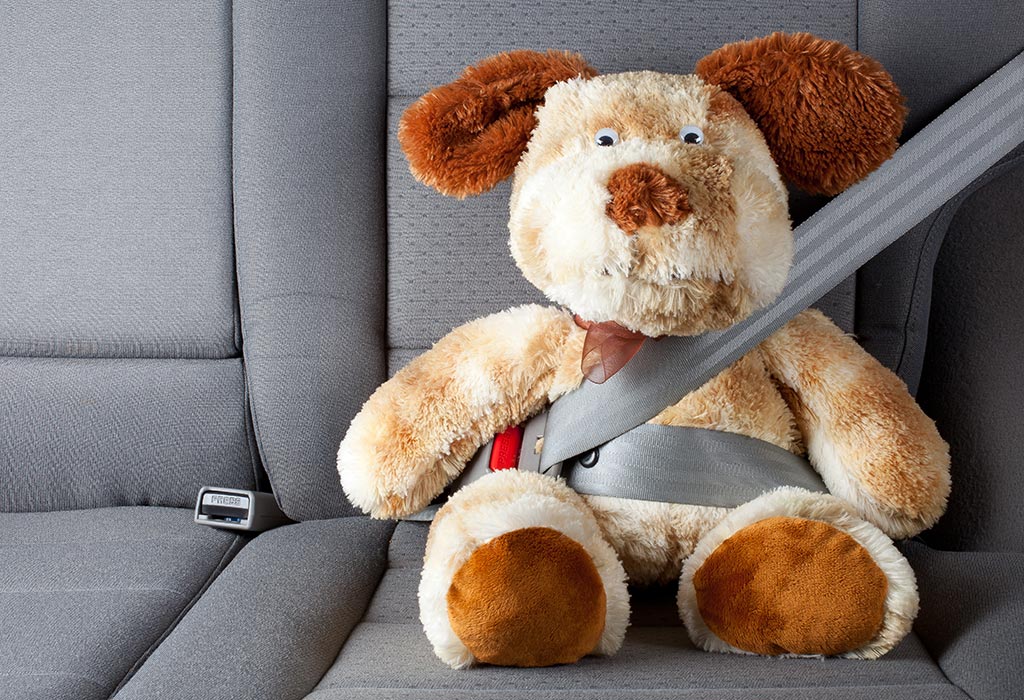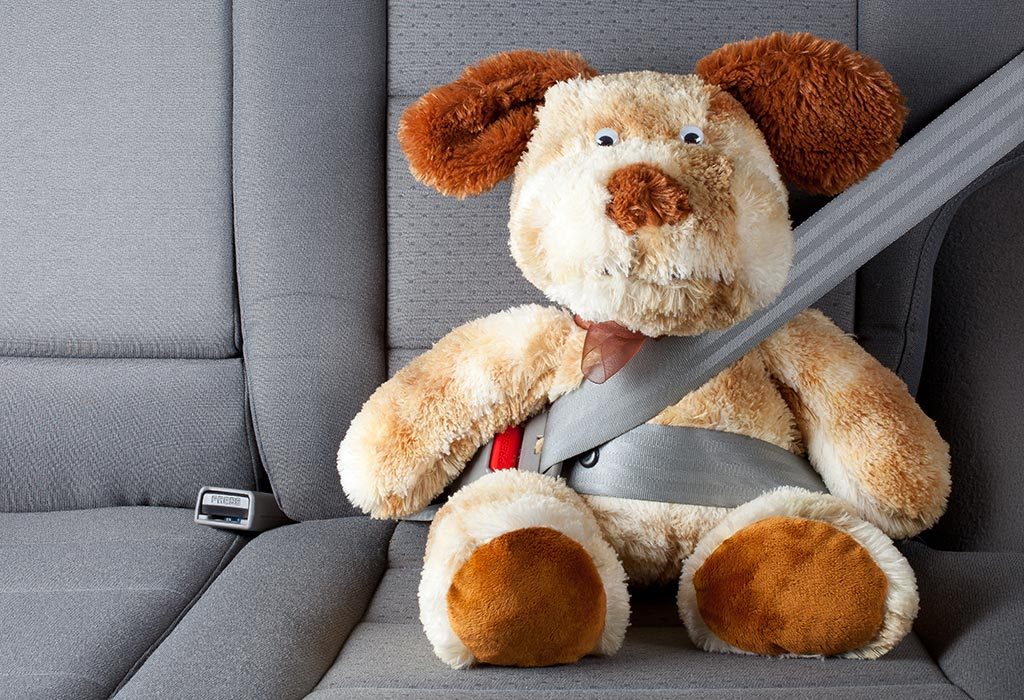 4. Books
Your toddler's books are the perfect travel companions and are helpful in keeping your little one occupied. You could carry 2 or 3 of his favourite books and add a new one to help draw his attention in case he gets bored with others. Read out interesting stories while travelling and also allow him to browse through the books on his own. Pictures and large colourful fonts will grab his attention so select the book accordingly.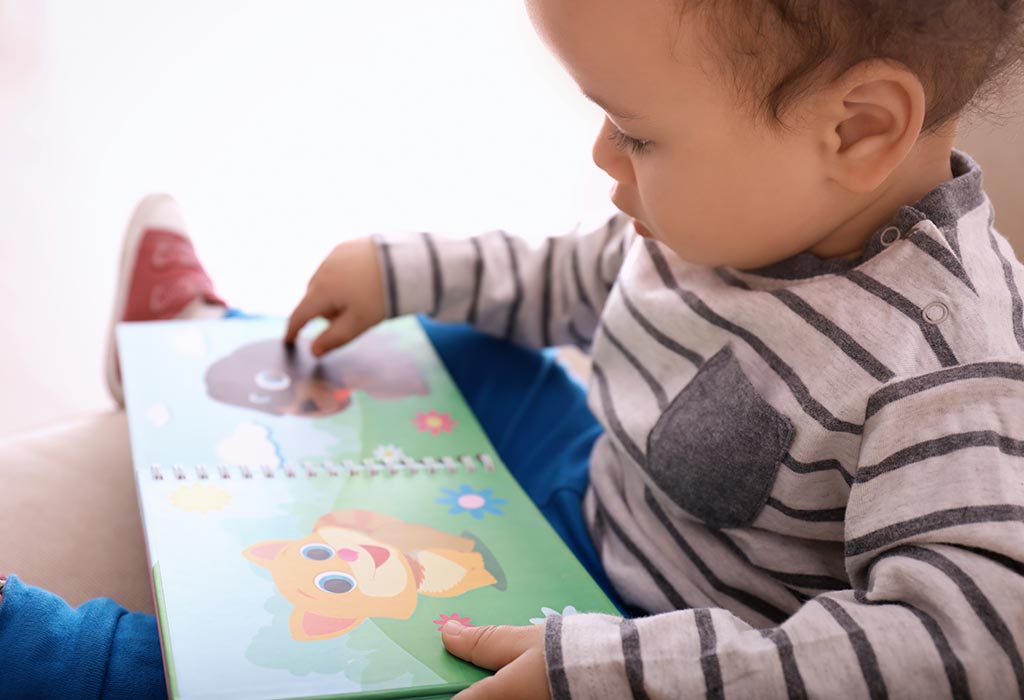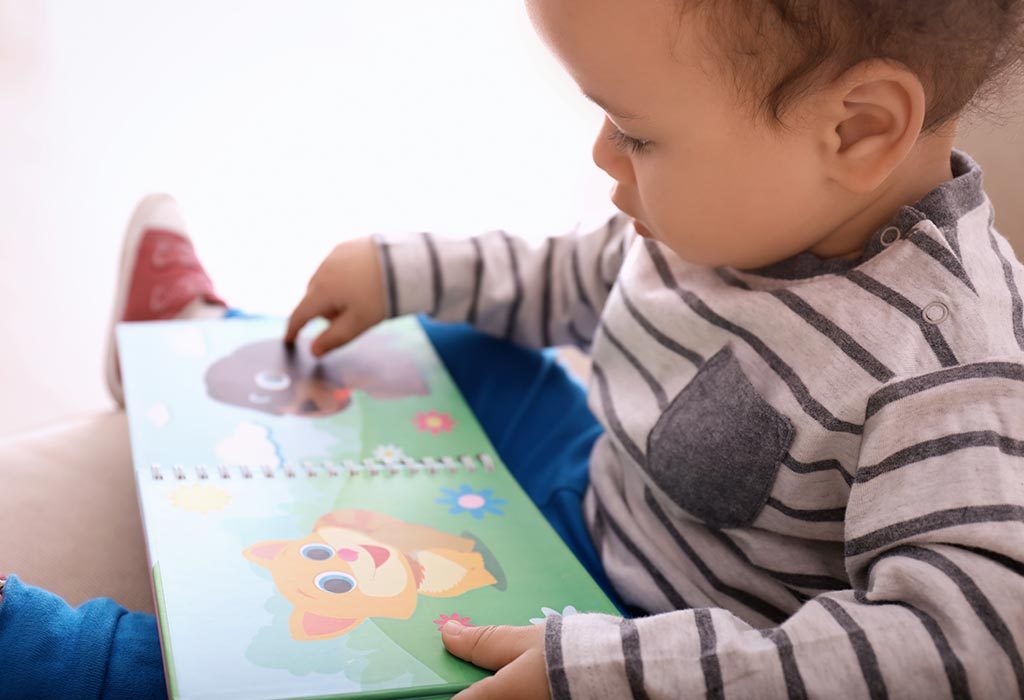 5. Trains, Planes and Automobiles
Taking along transportation toys has its own benefits as you can use it to connect it to your own mode of travel. Show how trains connect towns and cities if you are travelling by train or show how the airplane flies through clouds and lands at the airport. Buy age-appropriate toys for your little one if you do not have them already.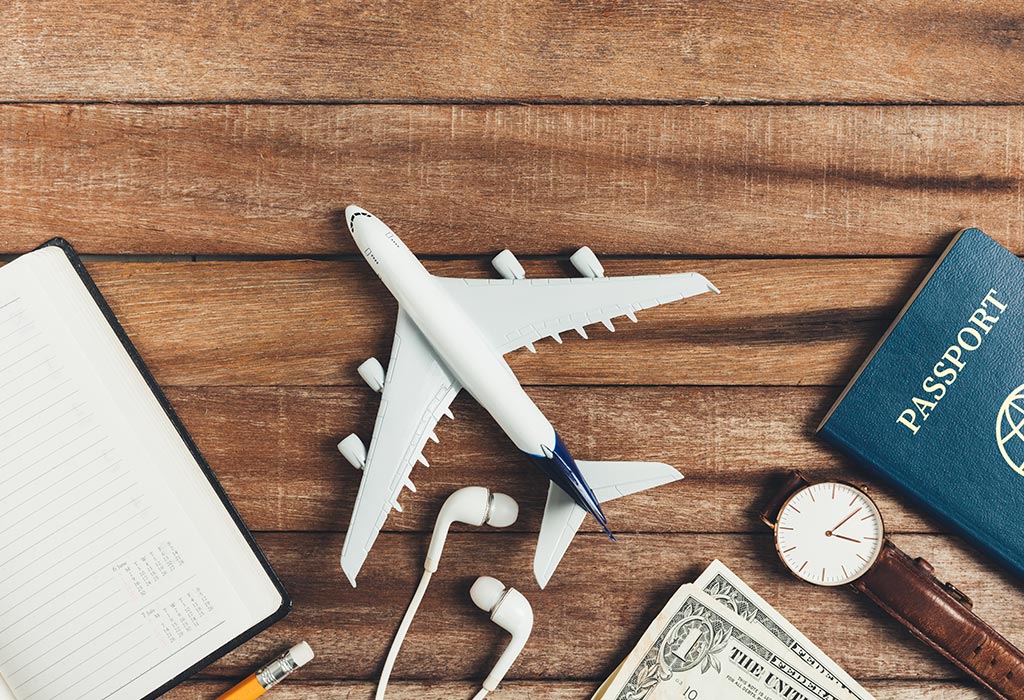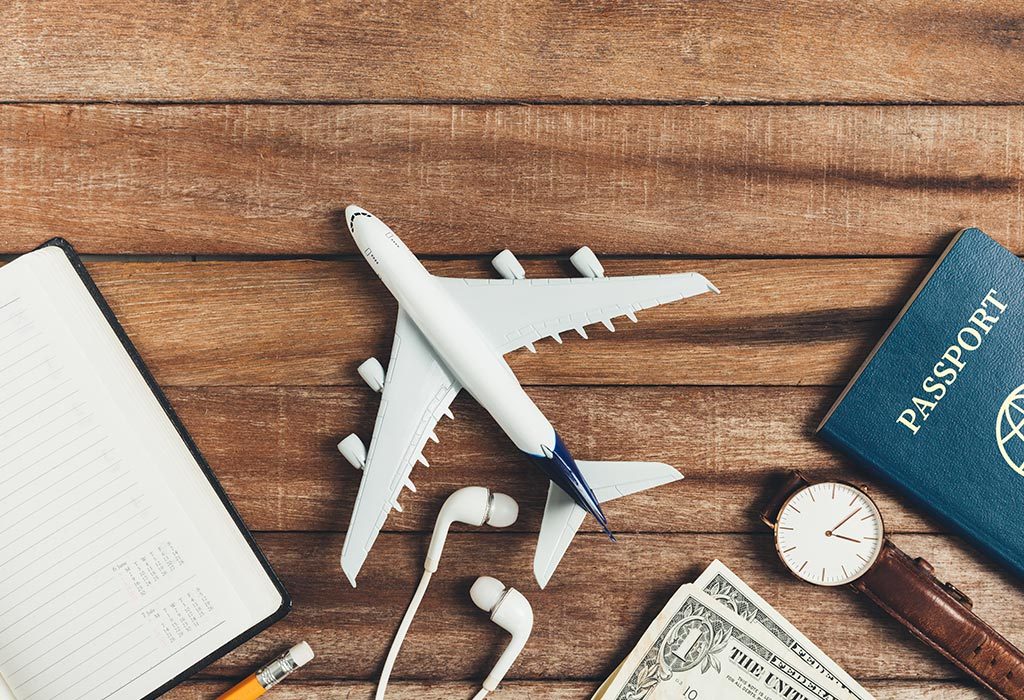 6. Ink-free Drawing Boards
If you want to avoid the hassle of packing crayons, paper and markers, which can be a messy affair and bulky too, try one of those mess-free doodle boards. You won't have to deal with broken crayons or missing markers or shaky paper pads when your little one uses the doodle board. It can be used on both sides and needs a sprinkling of water to get your little Michelangelo started. These ink-free boards are available at the local toy store or the supermarket too.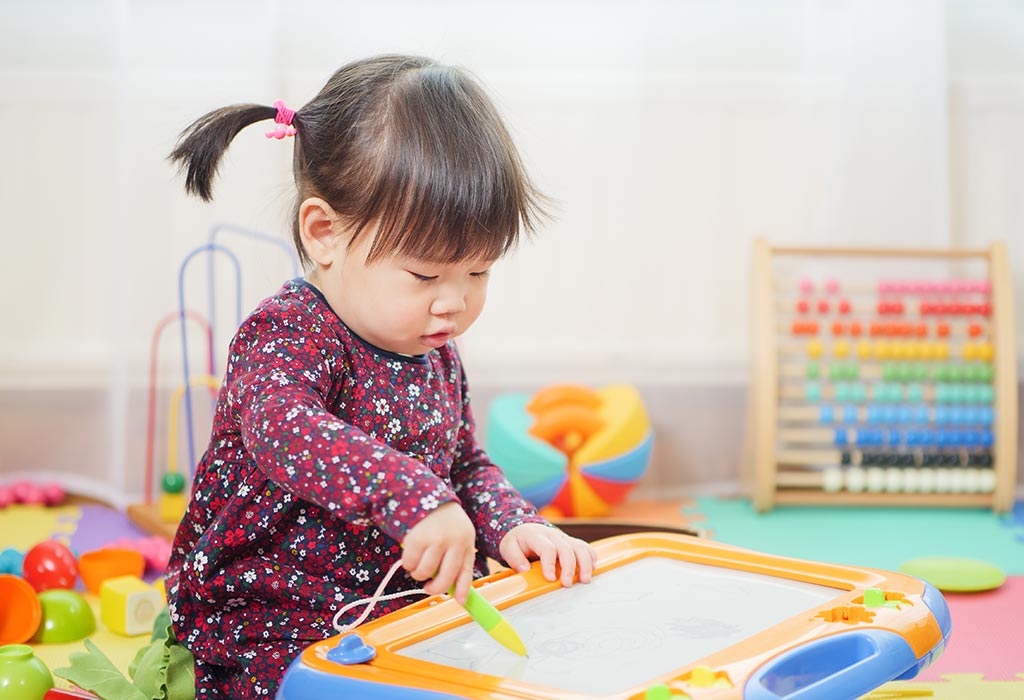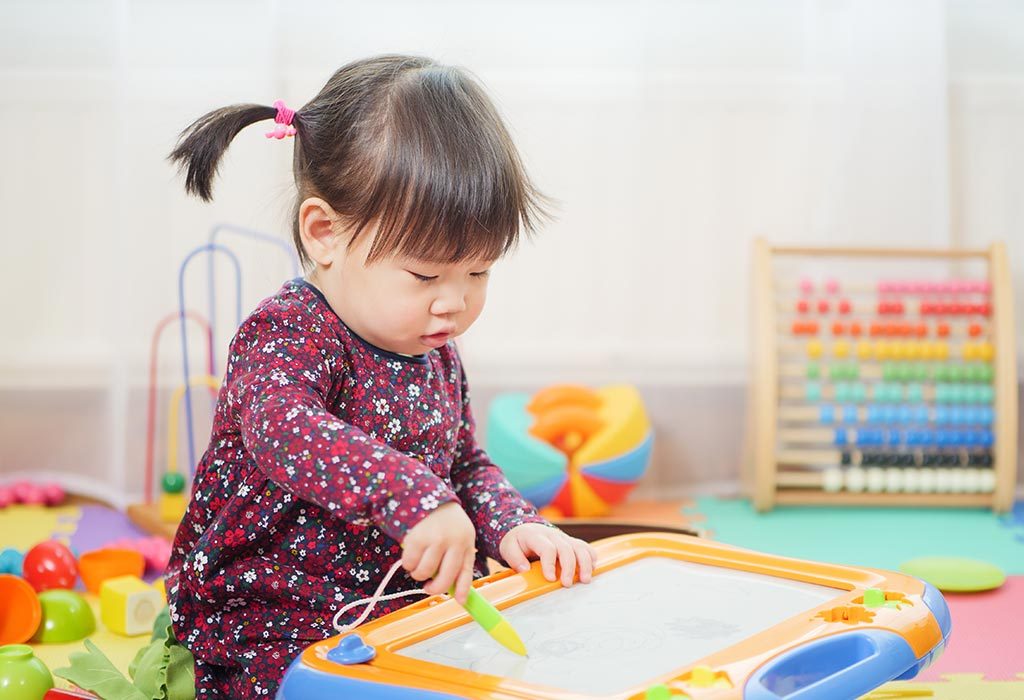 7. Educational Toys
Toys like toy laptops are extremely popular with toddlers as they provide unlimited hours of entertainment in the form of fun games and quirky music. These laptops are preloaded with many educational games which teach the basics of math and language skills. Your little one is bound to be fascinated by the colourful buttons and screen animation. Their small size and easy-grip handles make it ideal to carry for trips where road or air travel are included.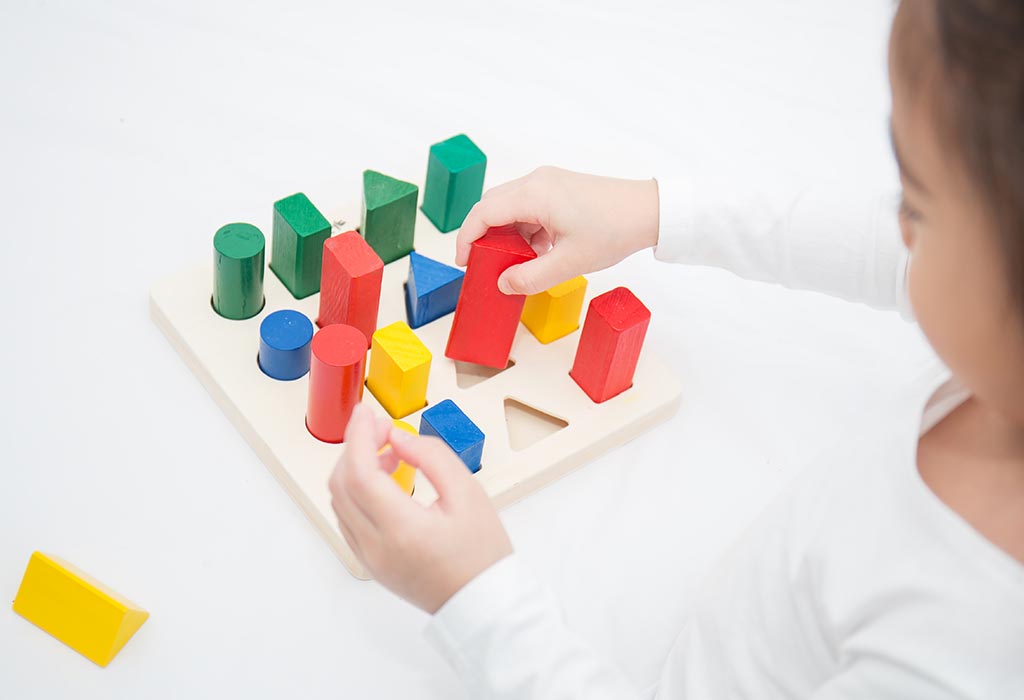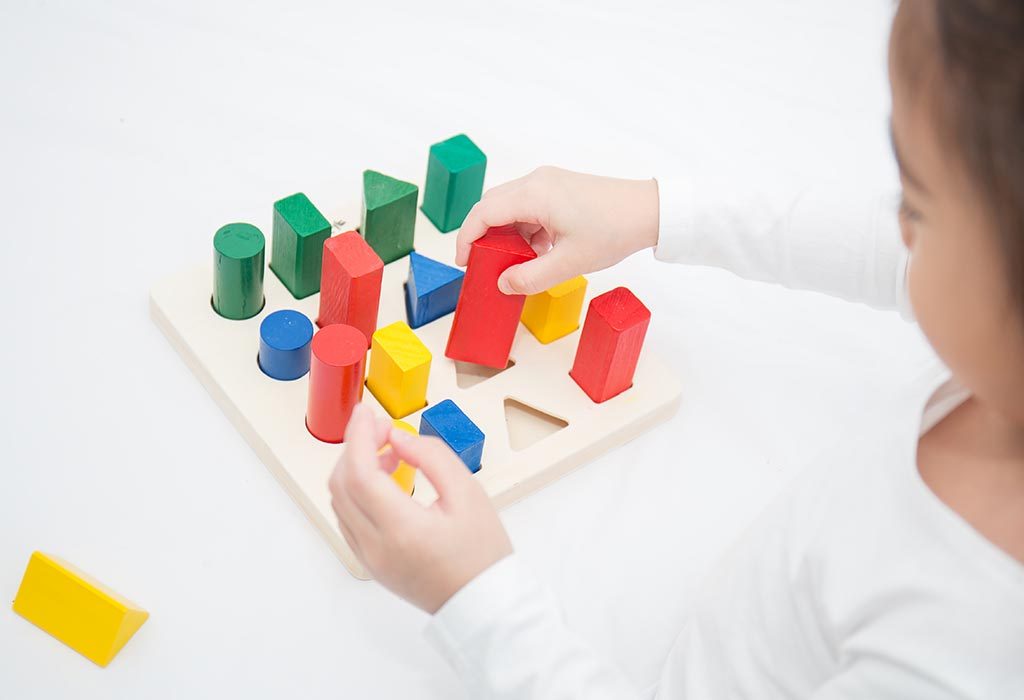 8. Interactive Storybooks
Interactive books can make long car journeys quite bearable for your little one when he has little else to do. They are filled with puzzles, stories and sounds that teach numbers, colours, words and pronunciations to the pre-schooler in your family. These colourful books are full of tabs to be pulled, flaps to be lifted and buttons to be pressed, making them the ideal companion for travelling kids.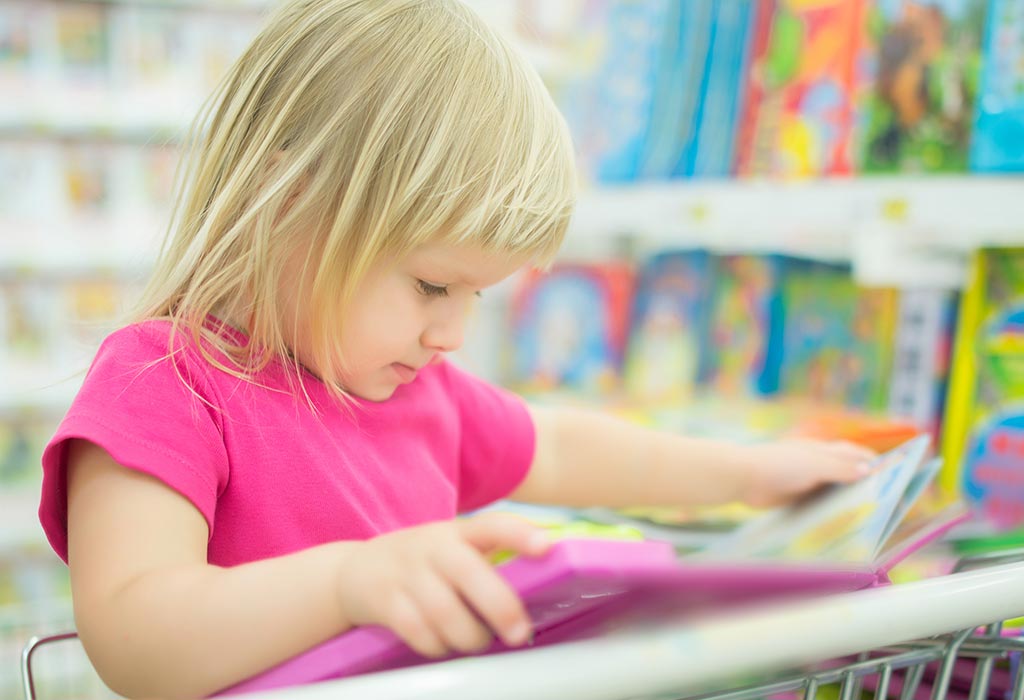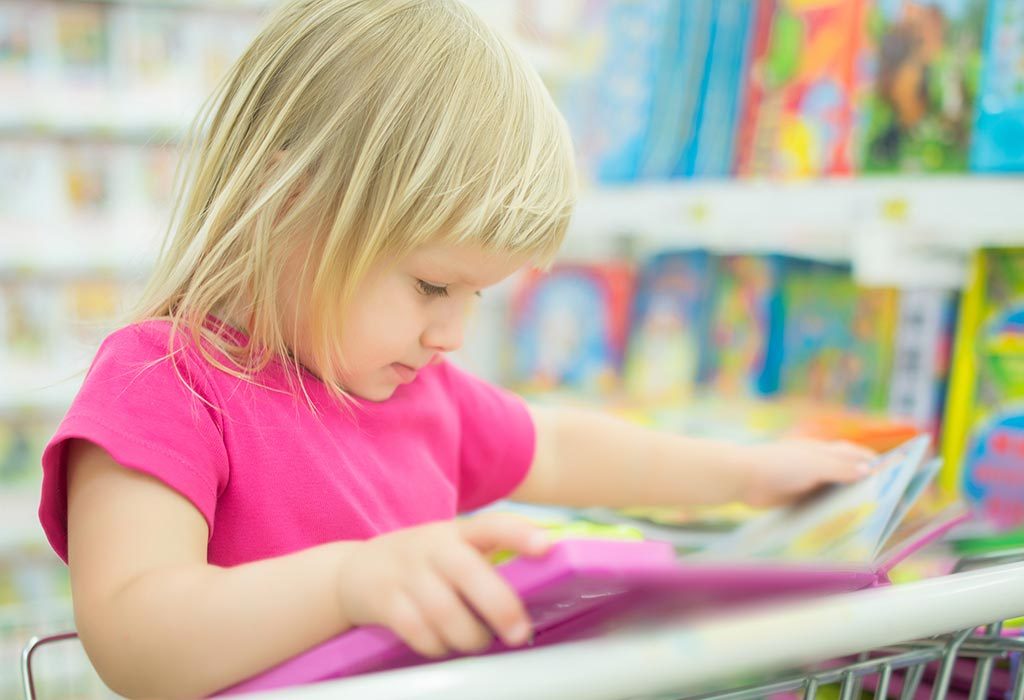 9. Toy Cell Phones
Your child sees his parents using the mobile phone and is eager to play with it and handle it himself. If you want to keep your cell phone out of his hands, how about getting a toy cell phone for him? Get one that has large buttons, fancy colours and plays songs and sounds. It is an engaging toy, especially during travel and also helps in introducing numbers and alphabets in a fun and interesting way. Bird and animal sounds may get on your nerves as an adult but your child will love to play them over and over again. Buy a toy cell phone that can be gripped easily by his tiny fingers and has non-toxic colours that will not harm him.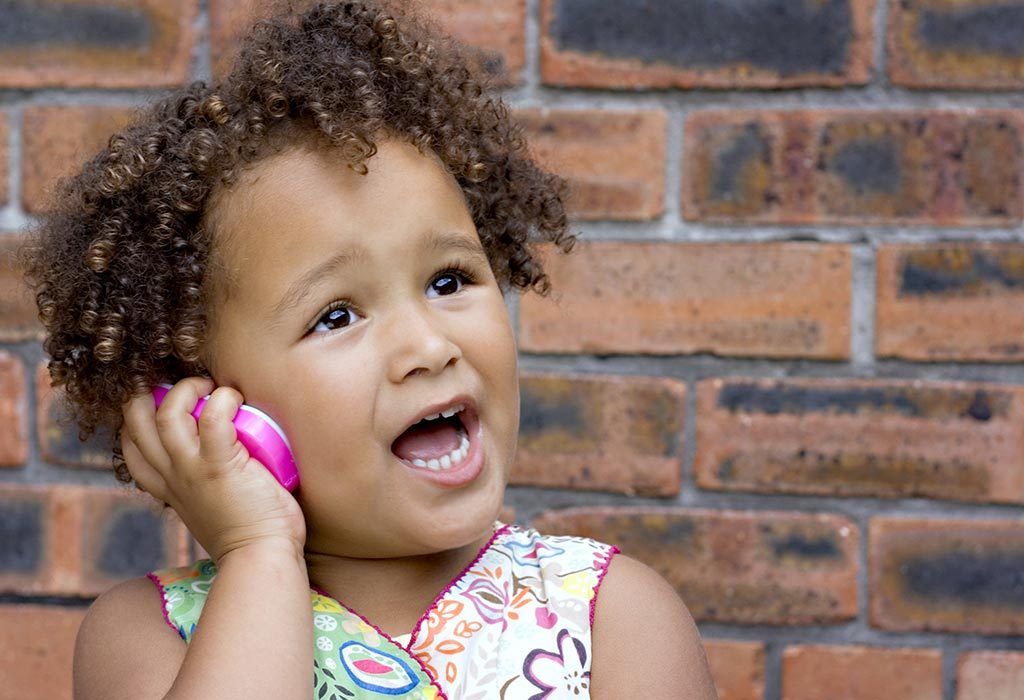 10. Flashcards
These are wonderful travel companions for little kids and are guaranteed to engage them especially when parents or older siblings are willing to join in too. You should select flashcards that will help you to introduce your child to animal sounds, fruits and vehicles of transportation. Make appropriate sounds and gestures when you flash these cards and they will bring a lot of joy to your kid. These cards boost recognition and memory and thus helpful in their cognitive development in a huge way.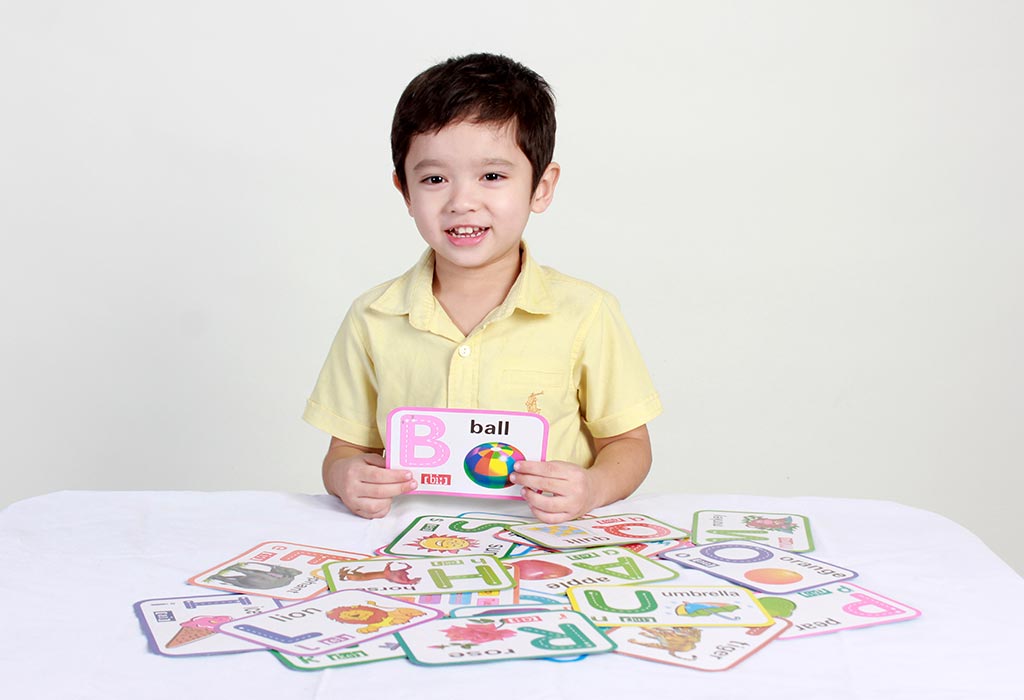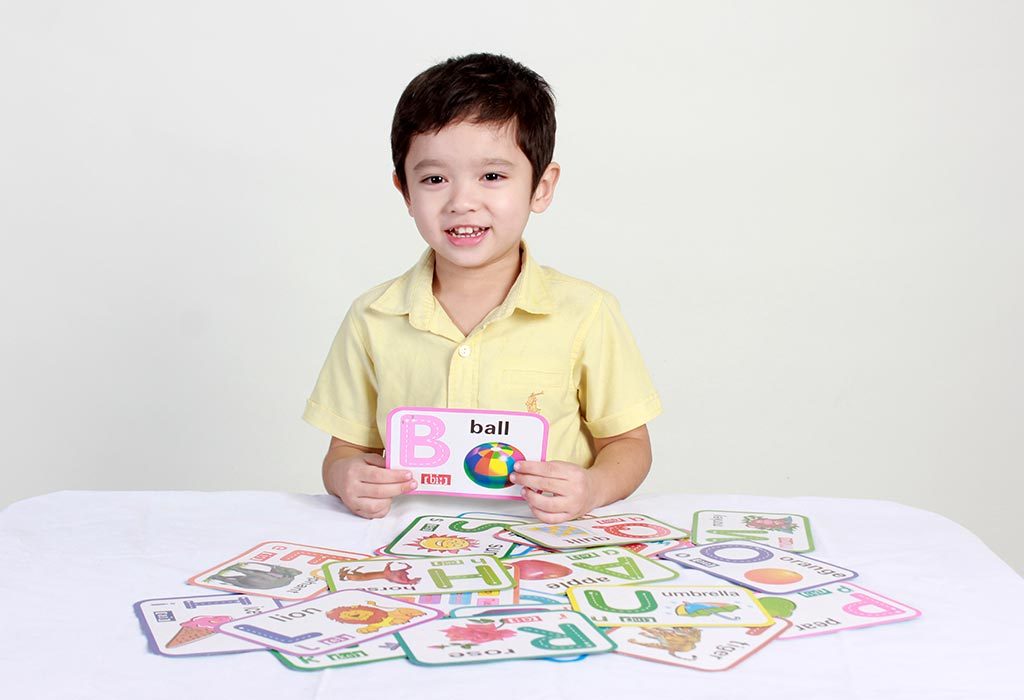 Tips to Select Travel Toys for Toddlers
Travel toys should meet specific criteria to make it to your final list of toys for your kids. Whether you are selecting travel toys for toddlers on airplanes or for a long road trip, the following tips will prove to be useful and practical:
While selecting toys specifically for air travel, be considerate of your fellow travellers too and select toys that do not create a racket.
Loud music and screeching sounds are a complete no-no here.
Battery-operated toys should be strictly avoided to make life easier for yourself and fellow passengers too.
Travel toys should be:
Made from top-grade materials
Sturdy and long-lasting
Easy to clean
Small enough to be packed into luggage
Lightweight
Capable of keeping the child engaged for long hours
The toys mentioned in the above list are a guide for hassled parents who are stuck for ideas. However, you need not carry all of them as that would overload your luggage, especially if you are travelling by air. Choose from them wisely and consider your little one's preferences if you are in a dilemma. Your mobile phone or the iPad are obvious choices to keep your child engaged but it is best to keep them away from these digital distractions.
Also Read:
Best Homemade Toys for Kids
Best Toys for Your 6-9 Month Old Baby