Baptism Decoration Ideas for Your Child's Precious Day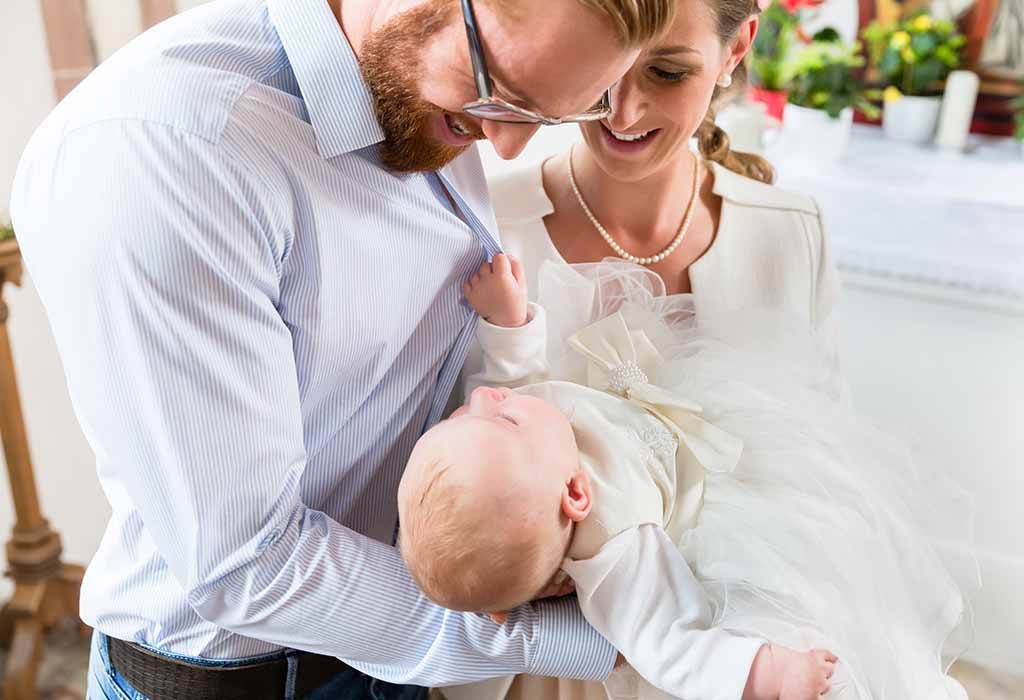 Your little one's baptism is a huge day for both your little one and for you! You are officially making him a child of God by bringing him into the church. However, planning a reception for your child's baptism can be a little overwhelming, since figuring out every detail of the party by yourself can be tough. Read on to check out a collection of wonderful baptism ideas to consider for your little one's celebration, from unique christening cake toppers to party favors!
What Symbols Can Be Used for Baptism Party Decoration?
The most popular symbols that are used as baptism decorations are usually associated with the little one's entrance into the family. Symbols are often related to special verses, words, or phrases such as "This child is blessed" or "blessings". The most common symbols used for baptism are:
1. Angels
Angles have great religious significance, and they provide a beautiful touch to the baptism decorations.
2. Crosses
Crosses are one of the most common themes in baptism, since it is central to the Christian religion. This symbol is frequently found in baptism celebrations.
3. Doves
Doves are the symbol of peace and the Holy Spirit, and have always been an elegant theme for any baptism.
4. Bibles
Bibles are another common decoration idea for baptism parties, because it is the religious book for Christians.
5. Praying Hands
The image of praying hands is perfect for baptism, since it represents both the child's future in the faith, and the prayers others will have for the child.
6. Baby Shoes
A pair of christening shoes or tiny baby shoes are a delicate décor idea that would be perfect for any baptism.
Best Baptism Decoration Ideas
No matter the size of the party, or where it is held, you could use these handmade decorations ideas to add a special touch to the celebration!
1. Baptism Table Decoration and Centerpiece Ideas
Table decoration and centerpiece ideas don't have to be complicated, especially when you want to keep the baptism simple and elegant. A few good baptism table centerpieces you could consider include:
Marshmallow Crosses
Take a marshmallow and dip both the ends in melted white chocolate. Cover it in sprinkles that match the colour scheme of the baptism. Then, take a bamboo stick, and thread in four marshmallows. Use toothpicks to attach one of each near the top, to form a cross. Insert the stick into a glass container or a small vase of flowers. If you choose to go with the glass container, then you could consider filling it with small colour-coordinated candy, like gumballs, jelly beans, or coated chocolate balls.
2. Tissue Paper Flowers
You could create your own full-blossomed tissue paper flowers in any colour, matching the party's theme. Gather several square sheets of tissue paper, then fold them accordion-style, and tie them together at the middle. Cut each end of the tissue paper squares into a round petal shape, and start unfolding them to form the flower. There are many DIY baptism decoration tutorials online for this idea, which can help you make the perfect tissue paper flower!
3. Fresh Flowers
Fresh flowers are a classic table decoration idea, and you could follow your colour scheme. Some classic options include white lilies, blue, pink, or white carnations, or baby's breath in pink or blue jars.
4. Rhinestone Cross Containers
Purchase a few inexpensive glass jars or vases, and paste rhinestones to embellish them with sparkling crosses. Include flowers, water, and some floating candles for an elegant yet easy centrepiece.
5. Hanging Ornament Centerpieces
If you are throwing a magical or forest-themed party to celebrate your little one's baptism, then the hanging ornament centrepiece is perfect. For this idea, colour large branches with gold spray paint. Gather some hanging ornaments that are transparent, fill them with coloured tissue paper, and hang them on the branches. Tall centerpieces look amazing and elegant!
6. Noah's Ark Centerpiece
Noah's Ark is an amazing theme idea for any baptism party. You could make a fun centrepiece featuring a small ark filled with animals. You can keep the centrepiece small enough so that it fits on the table and allows your guests to still see each other across the table.
2. Baptism Favor Ideas
Most people select party favors based on their theme, but there are still some common ideas that work for all themed parties. Baptism party favors can also serve as decorations when they are arranged gorgeously on trays, in bowls, baskets, on simply kept on a table, or they can even become baptism cake decorations! A few popular ideas include:
Flower Pot Favors
Celebrate a spring baptism with little terracotta flower pots filled with flowers. Before planting the flowers, you could spray-paint the flower pots with a white primer, and then paint it with metallic silver. Plant small, pretty flowering plants like pansies or African violets in each flower pot. To finish the favor, tie a satin ribbon around each pot. You could even attach a small paper tag on the pot saying, "A gift of appreciation" or "Thank you for attending".
2. Cake Pops
Attach or tie together a few cake balls, and arrange the set neatly on a cake platter. Dip these cake balls in white chocolate, and add some coloured sprinkles on top to match the theme of your party. You will be able to find a few beginner's guides online, which you could use to learn how to make cake pops!
3. Candle Favors
Gather a few small glass votives, and use glitter craft paint to embellish them with small gold or silver crosses. Use pink, white, or light blue candles, based on the theme colour, and place these inside each votive. Put each of the favors in a small gift box, along with a personalized gift tag or bow at the top.
4. Crown Cookies Favors
Give your guests delicious party favors they would definitely enjoy eating! Brown and white crown cookies make the ideal royal treat for such a wonderful occasion. You could also go for other cookie ideas, like angels, crosses, or praying hands, that are more related to the theme of baptism.
5. Footprint in the Sand Favor
If you are hosting a "Footprints in the Sand"-themed baptism, this party favor is simply perfect. To make these favors, head to your local craft store, and purchase a few glass jars with cork lids, satin, and ribbon. Also get some fine sand, and print out copies of the poem 'Footprints in the Sand' to tuck inside the glass jars. If you live near the coast, you could use the sand from your local beach. Fill the jars halfway with sand. Then, roll the copy of the poem, and tuck it into the sand. Close the jars with the cork lids, and tie a satin bow around the neck of the jars. Your Footprint in the Sand Favor is ready!
Other Decoration Ideas
Check out these easy-to-make decoration ideas!
Tissue Paper Pom-Poms
Large tissue paper pom-poms make perfect hangings for a baptism party. These tissue paper pom-poms are made just like the tissue paper flower, and the only difference is that these have to be larger. To make these, you could use full-sized tissue paper sheets, folded, and cut in half. Tie a long ribbon around the middle of the sheets, and then hang them from a light fixture or from the ceiling.
2. Pennant-Style Banners
Gather a few card stock papers, strings or ribbons, a hole punch, and craft paint, and create a banner to hang at the party over a buffet table or the fireplace mantel. Cut the card stock paper in little triangles or squares, and stencil a letter on every card. At the top corner of each card, punch a hole and string together a message from a Bible verse, or a small message like "God Bless" on one string, and the baby's name on the other. This is a wonderful baptism decoration idea.
3. Tulle Chair Sash
Embellish all the chairs at the party with a tulle sash. You could either pick a white tulle to match the table coverings, or you could pick the colours from your theme. Usually, a yard of tulle will cover three chair backs, and you can thus plan accordingly, creating beautiful baptism decorations!
A baptism is a very special event for a child as well as the family. Go ahead and add a festive touch with elegant and cute decorations to make your little one's day very special for everyone!
Also Read:
Baby's Baptism Ceremony Quotes & Sayings
Christening & Baptism Gift Ideas for Kids