Amazing Nautical Baby Shower Ideas to Make the Event Special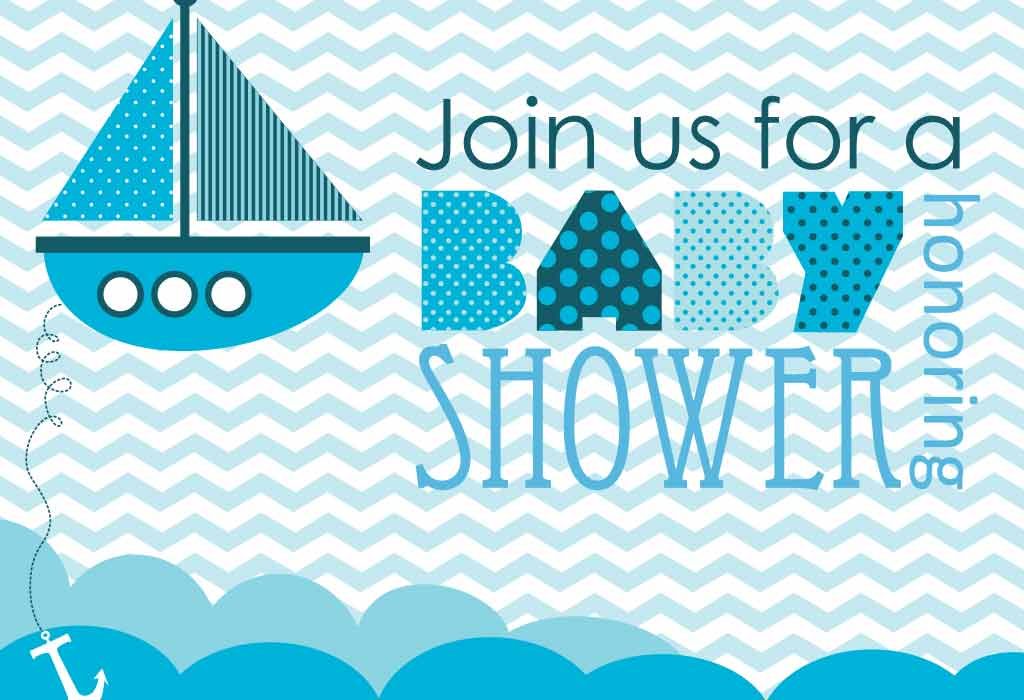 Hosting a baby shower for a loved one can be an exhilarating experience but a taxing one too, especially when it comes to deciding on the theme. But, if the would-be-mommy likes all the fun and excitement associated with sea, sand, and sun, then we have just the theme that may simply blow her mind away! Well, we are talking about throwing a nautical-themed baby shower that will notch up the celebrations and create some lifelong memories that may become hard to forget! If we have gotten your interest and excitement all piqued up, then reading this post will help you in knowing exactly what all you can plan and do for an amazing nautical baby shower!
Nautical Baby Shower Invitations
Once you narrow down the theme, the next big step involves making the invites that will get the guests excited about the event too. You can write the invites in nautical-shaped cutouts such as sailing boats, an anchor, ship's steering wheel, etc. Also, choose colours such as blue, green, red, etc. for writing the invite to keep up with the spirit of the theme. Here are some adorable nautical baby shower invitation write-up ideas for boys and girls:
1. For a Boy
Here are some exciting invitation write-up ideas for baby boys:
a. Our Little Baby Boy
Come aboard on our fun ship,
To celebrate our little bundle of joy,
After all, it's the much-awaited arrival,
Of our little BABY BOY!
b. Our Little Angel
Come, let us celebrate the arrival of our baby boy,
In an exciting nautical style,
Our little angel from above,
Who will make us all smile!
2. For a Girl
Here are some adorable invitation write-ups for baby girls:
a. Celebrating a Baby Girl
The ship is all set to sail,
And our little angel is due,
Let us all get together to celebrate our baby girl,
Dressed up in all the cool colours like white, red, and blue!
b. Our New Crewmate
The tiny fingers,
And toes so sweet,
Our adorable baby girl,
We simply cannot wait to meet and greet.
Come join us to welcome the arrival of our new crewmate!
Once the invitations are taken care of, you will need to get set go with the decorations.
Nautical Baby Shower Decorations
Decorations are an integral part of any theme-based party or shower! You have to pay heed in deciding that the décor is in sync with the theme. Here are some easy decoration and DIY nautical baby shower ideas that you can incorporate!
1. Balloons
Balloons are must-haves at parties and can instantly notch up the décor of any place. Here is what you can do:
Directions
Take white, light blue, and bright blue coloured balloons, inflate them and tie them in bunches. Then, place the balloons in various corners.
You can fill golden confetti inside white balloons for a more ethereal nautical charm.
You can also tie strings and ribbons of vibrant blue hues on the balloons for added glamour!
2. Banners
Decorative banners as per theme are an absolute must-have too for the shower! You can go versatile and make nautical baby shower banner in various ways. Here are some ways you can design them:
Directions
Cut out triangle shapes of the same size in white and blue coloured craft paper. Write one alphabet on each triangle, to form 'Ahoy, It's A Boy', and stick all the alphabets on a ribbon in the correct order. Hang the banner at the entrance or near the food table! Go creative with the banner; you can form funny statements, too.
Another great way of fashioning a banner is with a blackboard! Place the board on the entrance and write an adorable theme-based message such as 'Welcome our little baby girl' in blue colour. You can fill up the board with some fun doodle art, also!
3. Centrepieces
Create magic with theme-based centrepieces with these great nautical baby shower centrepiece ideas that will surely grab everyone's attention:
Directions
Place a small chest with some trinkets such as chocolate gold coins, pearl strings, tiny silver figurines, etc., to give the feel of a treasure chest.
Take an empty fishbowl, fill ¼ of it with sand. Place a candle in the centre, and throw some seashells around to create some nautical magic in a bowl.
Another great idea is placing DIY flower pots. Take mason jars and glue rope around the jars, covering them from top to bottom, and place a bunch of serene white flowers. Alternatively, you can place candles in these jars, too!
4. Table Decorations
Here are some table décor ideas that can jazz up the baby shower décor:
Directions
Take small round cardboard cutouts to fashion some quirky nautical coasters. You can stick store-bought stickers that gel with the theme such as anchors, fish, etc. for added quirkiness to the coasters.
Make small origami boats and place them at various corners of the food table. You can stick some boats on a string and hang them too.
Use a watermelon or antelope to make a fruit boat. Cut watermelon into half and scoop it out. Fill it with assorted chopped fruits. Take a few skewer sticks and place a few chopped fruits to fashion a sail. Place some berries around the boat to decorate it more.
No celebration is complete without a cake. Here are some cake ideas to choose from.
Nautical Baby Shower Cakes
A cake is a must for birthdays, anniversaries, and baby showers too! These nautical baby shower cake ideas are sure to come handy when you are pressed for time.
1. The Three-Tiered Sailor Cake
An absolute delight for everyone's taste buds and a treat for the eyes, this cake is super easy to make!
Method
Make three round cakes in three sizes, so that they can be placed on top of another to make a tiered cake. You can bake each cake in a different flavour, or you can choose one flavour for all the tiers.
Cover the bottom level cake with dark blue, the centre with light blue, and the top tier with white fondant.
Add some white icing details at each level. You can randomly place some fondant floral bunches on each tier.
Fashion an anchor, sail, or a boat with fondant and place it on top of the cake.
2. Ahoy! It's a Baby Girl Cake
This cake is something that will melt everyone's heart with its adorable quotient!
Method
Bake a round or square cake of any flavour.
Cover it with white colour fondant.
Make some nautical-themed cutouts such as seashells, anchors, etc. with dark blue fondant. Alternatively, you can brush the fondant cutouts with golden food colour too, for the added oomph!
Fashion a dark blue fondant banner with 'Ahoy! It's a Girl!' written on it with white fondant cutouts.
If you have a tiny baby figurine available, you can place it on the cake for added cuteness!
And, last but not least – The food! Read on for some delicious nautical-themed food ideas.
Nautical Baby Shower Food Ideas
Don't scratch your brains for food ideas as we have some lip-smacking options that will be equally appealing. Here are some food ideas you can try:
1. Sailboat Eggs
This is an appetizing snack, which is fairly easy to make too! It can become an ideal addition to your nautical menu when served on colourful plates!
What You Will Need:
Hard-Boiled Eggs
Mayonnaise or a dressing of your choice
Herbs and seasonings
An icing bag
Toothpicks
Blue coloured paper
Method
Take the hard-boiled eggs.
Cut them into halves (length-wise) and scoop out the yolk.
Whip the yolk with mayonnaise or any dressing of your choice.
Throw in some herbs and seasonings that are available and mix well.
Fill the yolk dressing in an icing bag. Swirl the mix in the cut boiled egg cavities.
Make tiny sails with toothpicks and blue-coloured craft paper and place one on each egg to make adorable sailboat eggs!
2. Cool-Blue Cupcakes
A slight variation to your usual cupcake frosting, this idea is simple and can be an ideal food option for nautical-themed baby shower for a girl or boy!
What You Will Need:
Cupcakes in different flavours
Frosting
Blue food colouring
Icing bags
Sprinkles
Method
Bake cupcakes in different flavours like vanilla, chocolate, blueberry, strawberry, etc.
Take blue food colour and prepare frosting in different hues of blue and fill them in separate icing bags.
Swirl the coloured icing on the cupcakes.
You can also use colourful sprinkles and some nautical-themed fondant cutouts for the added fun! You can use the same frosting to decorate cookies too!
So, the decor, the cake and the food are sorted. Now, it's time to have some baby shower fun!
Nautical Baby Shower Games
Playing games with friends and family on occasions such as a baby shower is a great way to bond and have oodles of fun too. Here are some fun-filled games for all crazy times!
1. Swim or Sink
This is an exciting game that everyone can enjoy, and it is very interactive too. The aim is to make efforts to increase the number of lifesavers!
How to Play
Hand over a mint with a hole in it and a ribbon to each guest at the entrance. The mint will be known as a lifesaver for the duration of the game.
Everyone needs to follow the rule of not saying the forbidden word or words. You can pick and choose any word such as 'baby', 'mommy', 'cute', etc.
The person who utters the forbidden word will have to hand over their lifesaver (which is the mint) to the other person in conversation.
The idea is to indulge people in a conversation that will make them say the forbidden word.
The guest with the maximum number of lifesavers (mints) woven into his/her ribbon necklace will be the winner.
2. Grab the Donut
This is another fun and exciting game idea that can make everyone go nuts!
How to Play
Take a long string and tie it horizontally at a height above the average height of the people present in the room.
Tie 10 to 12 doughnuts randomly along the string.
Make all the guests stand in a straight line, below the horizontal string.
Ask the guests to jump and eat the hanging doughnut without using their hands.
The one who finishes eating the doughnut first and reaches the host will be the winner!
These are some exciting games that you can try to notch up the fun quotient of your baby shower!
And now, it is time for the baby shower favours. The favours should be special and remind every guest of the fun time they had at the event.
Nautical Baby Shower Favors
If you are looking for some gift ideas or memorabilia that you can give your guests as baby shower favours, we have some great ideas that you may like to consider:
1. Colourful Nautical Cookies
Who does not like to relish some homemade cookies and what better than a few sweet pieces of delectable delights to give away as shower favours? You can grab some homemade cookies in nautical shapes such as starfish, seashell, sea horse, etc. or you can bake them at home, too. Decorate the cookies with blue and white-coloured frosting. Pack a single cookie or two cookies in a clear wrapping paper and secure it with a blue or white-coloured ribbon!
2. Groovy Handmade Paper Bags
Purchase some paper bags or make them at home with old newspapers or brown paper. Use blue coloured ribbons to fashion the strings of the bag. Paint nautical patterns like a boat, sail, ship, anchor, etc. on the bags. You can fill these adorable bags with homemade chocolates, and your guests will love to own these funky, handmade bags!
3. Nautical-Themed Potpourri
Potpourri in vibrant nautical hues and fragrance is something all your guests will simply love! Get some white, light blue, and dark blue-coloured potpourri, as it perfectly gels with the theme, and either mix all the three colours or go ahead with a single colour! Do not forget to wrap up a thank you note in a trendy nautical style card. Use blue or white craft paper to make the thank you notes!
4. Bath Salts
Bath salts top our list of nautical-themed baby shower favours! Choose bath salts in different shades of blue, and add a personal touch by tying a small tag with a beautiful handwritten thank you note! The personal note or message is something that makes this gift ultra-special.
5. A Themed-Gift Hamper
A gift hamper is another best baby-shower favour option, as the assortment of small gifts looks utterly appealing to the eyes. You can take small woven wooden baskets and place theme-based goodies in them. For a nautical theme, you can choose a few scented candles in nautical colours, a tiny oil diffuser, a small candle holder, a handmade soap, etc.
We hope these ideas cover everything you will need to host a nautical-themed baby shower for the beautiful mommy-to-be! Now all you have to do is gather your team, decide the venue, and get rolling! Make sure you plan the baby shower well in advance to avoid any last-minute hassles and to finish all the arrangements on time!
Also Read:
Ways to Host a Virtual Baby Shower
Stunning Baby Shower Theme Ideas
Ideas For Co-Ed Baby Shower Party