Aloo Tikki Recipe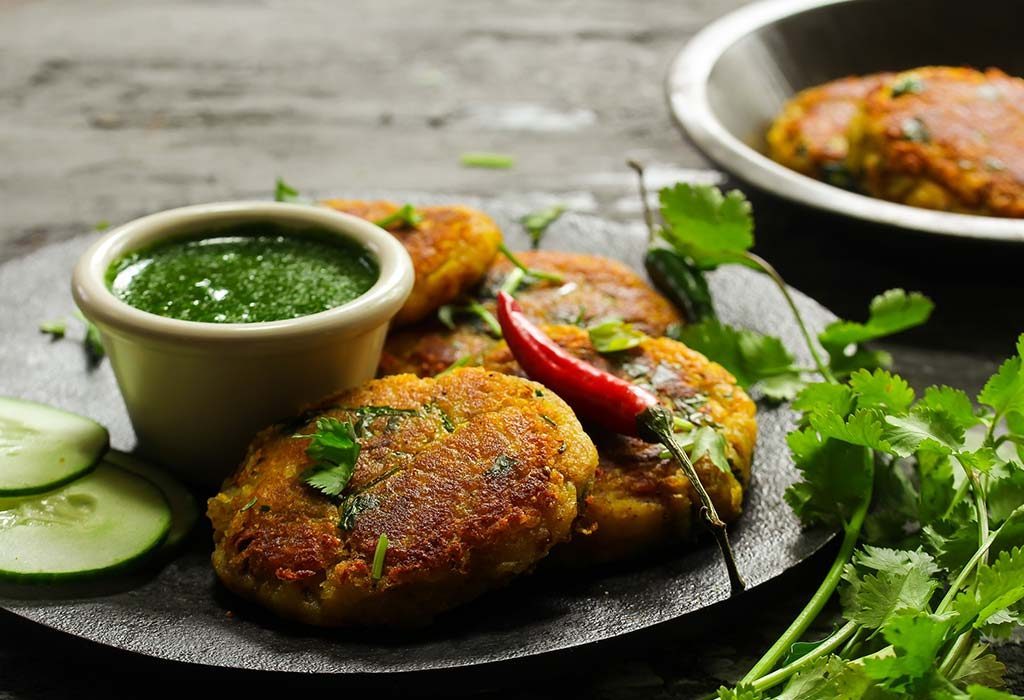 In this Article
Potatoes are versatile and can be used in many ways and forms. This super-nutritious root vegetable is a great fast food option for your little munchkin. In this post, we will be sharing an easy and highly nutritious recipe that uses this wonder vegetable as the main ingredient. Browse through this post and learn to make an appetizer for your growing baby that is not only loaded with nutrition but can be whipped in no time.
Cooking Time:
| | |
| --- | --- |
| Type | Time |
| Preparation Time | 00:15:00 |
| Cook Time | 00:15:00 |
| Total Time | 00:30:00 |
Cooking Method: Gas/Stovetop
Type of Meal: Vegetarian
Great/Suitable For (Optional): Weaning babies more than 12 months of age.
Meal Schedule: Mid-Morning Snack or Snack.
Recipe Type: Appetizers
Ingredients:
Here is the info on what goes into making the delectable Aloo Tikki for babies:
| | |
| --- | --- |
| Type | Quantity / Volume |
| Potatoes (boiled) | ½ cup |
| Peas (boiled) | ¼ cup |
| Cottage cheese or paneer | 1 tablespoon |
| Processed cheese (optional) | 1 tablespoon |
| Black pepper powder | ¼ teaspoon |
| Salt | As per taste |
| Butter | 1 tablespoon |
| Ghee (for greasing) | 1 to 2 tablespoons |
Instructions:
Here are simple step-by-step directions for making soft and yummy Aloo Tikkis for your little one:
Take boiled potatoes and mash them properly. Remove all the lumps.
Take the boiled peas and mash them to the consistency of a thick paste consistency.
Knead the mashed potatoes and peas together in a bowl.
Put grated cottage cheese, processed cheese, black pepper powder, salt, and butter. Blend in all the ingredients and make a smooth and soft dough.
Make small balls and flatten them to give the shape of tikkis.
Take a shallow pan and heat it on medium flame.
Grease it with some ghee.
Place the tikkis on the pan and cook them on medium heat until they turn golden brown on both sides.
Let the tikkis cool down a bit before you feed them to your munchkin.
Recipe Tips:
Here are some easy tips to make Aloo Tikki tastier and healthier:
You can add other vegetables like grated carrots, boiled broccoli, shredded cabbage, etc. to add more nutritional value and texture to the tikkis.
If your baby is comfortable chewing, you can add finely chopped onions and coriander to enhance the flavour.
You can use a slice of bread for binding and lend better shape to the tikkis.
Adding bread crumbs can lend a crispy texture to the tikkis.
You can grate the boiled potatoes to make smoother and fluffier Aloo Tikkis for your baby.
Nutrition Information (Serving Per 100 Grams):
Here's the information on the nutritional content of Aloo Tikki for toddlers:
| | |
| --- | --- |
| Type | Value |
| Calories | 90 |
| Total carbohydrates | 15 g |
| Sugar | 2 g |
| Dietary fibre | 3 g |
| Protein | 2 g |
| Calcium | 50 mg |
| Potassium | 320 mg |
| Iron | 3 g |
| Vitamin C | 26 mg |
| Vitamin A | 610 ICU |
The table mentioned above shows the approximate values present in the homemade Aloo Tikki baby food recipe and the actual nutritional content may vary slightly according to the ingredients that you may use.
Health Benefits:
Following are some health benefits that your munchkin can derive from eating this simple Aloo Tikki recipe:
Potatoes are loaded with carotenoids, flavonoids and phenolic acids. These components aid in reducing the effect of free radicals in the body.
Potatoes contain good amounts of starch, which may help in maintaining good digestive health.
Potatoes are sans gluten, which makes them an ideal addition to the diet of babies with gluten sensitivity.
Potatoes come loaded with carbohydrates and are great filling foods. This means potatoes can make the babies feel satiated or fuller for a longer period.
Potatoes are a powerhouse of nutrients with substantial amounts of protein, carbohydrates, calcium, potassium, vitamin C and other such nutrients in it.
Buying Guide:
Here are some things that you should keep in mind while buying ingredients for Aloo Tikki for your little one:
Make sure that potatoes are fresh and don't have any marks or bruises. Also, buying organic potatoes or other vegetables is highly recommended.
Do not buy potatoes that have greener patches or other such abnormalities.
Also, if you are using bread for binding, make sure you use the whole wheat option for an added nutritional punch.
Your baby will love Aloo Tikki for its taste. If you cook it properly, you will also have the satisfaction of feeding your baby a nutritious snack.