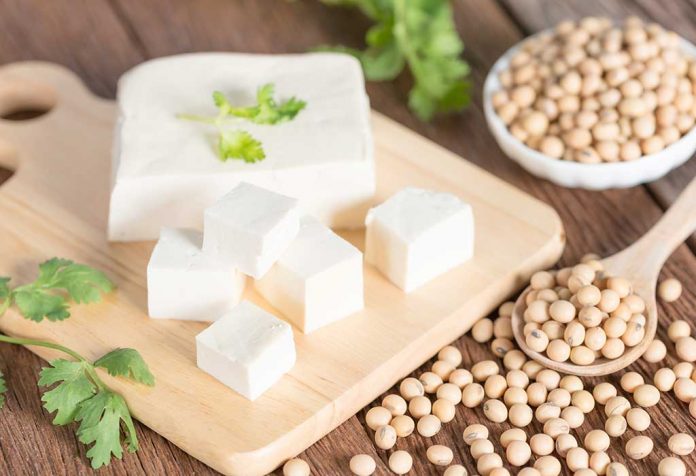 Last Updated on
Do you often wonder how to make the perfect diet plan for your children? A meal that incorporates enough plant protein can be a good substitute for meat protein which is essential for building, maintaining and repairing the body tissues. Among the various kid-friendly tofu recipes that are available, here are some recipes that can be made without much fanfare. Our list of tofu recipes for picky eaters with their distinct flavours is sure to become your child's favourite mealtime treats.
Video: 5 Delicious & Healthy Tofu Recipes for Kids
Delicious Tofu Recipes for Your Child
1. Tofu Smoothie With Berries
Among the best Tofu dishes for kids, tofu smoothie with berries can be a satiating drink after an evening playtime. Thick and creamy as yogurt, this smoothie offers a luscious sip every time hunger pangs strike. It can be a perfect meal replacement while you're on-the-go or need to sneak in tofu and fruits into your child's diet.
Ingredients
Berries (any berry of your kid's choice) – 2 Cups
Tofu – 1 Cup
Milk – 1.5 Cup
Banana – 1
Ice (Optional)
Servings
1
How to Make
Add all the ingredients into the blender.
Blend for a minute until the mixture gets a soft texture.
Add sugar for a sweeter taste and water for the desired consistency.
Serve.
2. Crispy Tofu Cubes
If you're looking for a Tofu stir fry recipe, crispy tofu cubes are the ideal choice to pique your child's interest in healthy food. Made of protein and fat, this recipe contains cheese that provides children with high-quality protein and calories that they need for proper growth.
Ingredients
Tofu – 250 grams
Cornstarch – 2 tbsp
Cornmeal – 2 tbsp
Parmesan Cheese – 2 tbsp, grated
Olive Oil – 1/2 cup
Salt – As per taste
Servings
2
How to Make
Cut the tofu in one-inch cubes.
Take the diced tofu and place them in a large bowl.
Add cornmeal, cheese, cornstarch, and salt.
Mix everything well until all the tofu cubes get coated with the mixture.
Heat 1/4th cup of oil in a pan.
Throw in the tofu pieces into the oil. Flip occasionally to ensure they are fried on each side.
Shallow fry them until they turn golden brown and crispy.
Sprinkle any herb seasoning of your choice and serve hot with ketchup or mint chutney.
3. Sweet and Sour Tofu
Get ready for compliments coming your way when you prepare this gluten-free dish that makes your little munchkin coming back for more. Offering the perfect level of sweet and tart flavour, this recipe can be enjoyed by your entire family.
Ingredients
For the Sauce:
Sugar – 3/4th cup
Apple Cider – 1/2 cup
Ketchup – 1/4th cup
Garlic Salt – 1/2 tsp
Soy Sauce – 1/2 tsp
For Tofu:
Extra-firm Tofu – 1 block
Scallion Diced – 1 bunch
Sesame Seeds – 1 tsp
Servings
2
How to Make
Put all the sauce ingredients in a saucepan and heat them on medium flame.
Whisk them well until they blend well, and you get a warm, smooth sauce. Set it aside.
Now, keep the block of tofu on a plate lined with paper towels. Add another layer of paper towels on the tofu and add a weight on it (a chopping board, a heavy vessel, etc.). This is called pressing the tofu. Press the tofu for 15-20 minutes.
After the tofu as been pressed, cut it into long thin planks.
Marinate the planks in half the sauce mixture for an hour.
In a non-stick pan, drizzle some oil and shallow fry the tofu till they turn golden brown.
Add the rest of the sauce into the same pan after the tofu turn golden brown.
As the tofu cooks, the sauce becomes thick after 5 minutes.
Garnish with sesame seeds and diced green onions.
Serve hot.
4. Scrambled Tofu With Mushroom and Green Pepper
This yummy tofu recipe can be given to babies over 12 months of age. Vegetables used in this dish can be substituted by carrots, potatoes or green peas that would add vibrant colour to this dish.
Ingredients
Sweet Green Pepper- 250 ml
Turmeric Powder-1/4

th

Spoon
Parsley Leaves-1 Tbsp chopped
Servings
2
How to Make
Heat oil over medium flame and sauté onion for 3 minutes.

Add green pepper, tomatoes, and mushrooms and cook till the mushroom has lost most of the water.

Crumble the tofu with your fork.

Add turmeric powder, pepper powder and mix everything together.

Cover with medium heat, stir for 4-5 minutes.

Sprinkle with parsley leaves and serve hot.
5. Sesame Tofu
Ingredients
Firm Tofu – 250 Grams
Garlic – 1 to 2 clove, chopped
Sesame Oil – 1 tsp
Cayenne Pepper – 2 pinches
Sunflower Oil – 1 tbsp
Sesame Seeds – 2 tbsp
Servings
2
How to Make
Drain the tofu and pat it with a paper towel. Let it stand for 20 minutes.
Peel and crush the garlic cloves.
Make a sauce by mixing sesame oil, cayenne pepper, and garlic in a bowl.
Cut the tofu into cubes.
Heat some sunflower oil in a pan.
Add tofu cubes and fry on medium heat for 3 minutes (until you get a golden brown colour).
Add the sauce and the sesame seed. Mix the tofu well in the sauce.
Serve this tofu recipe with sautéed vegetables like broccoli and french beans.
6. Tofu Kebabs
These grilled tofu kebabs are a breeze to make and can be served as a delectable appetizer or an after-school snack. Can be served as a delectable appetizer or an after-school snack. This recipe is super-simple to make. You child is sure to enjoy its crispy texture on the outside and soft texture on the inside. Complete with vegetables, protein and carbohydrates, this dish is super-healthy and tempting.
Ingredients
Extra-firm diced tofu – 450 gram
Soy Sauce – 1/4th cup
Maple Syrup – 60 ml
Toasted Sesame Oil – 1 tbsp
Garlic Cloves – 2
Vegetable Oil – 2 tbsp
Bell Pepper – 1
Tomatoes – 1
Servings
2
How to Make
Combine maple syrup, soy sauce, toasted sesame oil and chopped garlic cloves in a bowl.
Add the tofu and let it marinate in the fridge for 60 minutes.
Drain out the marinated sauce into a saucepan. Heat it on medium flame till it thickens.
Cut vegetables into cubes.
Thread them into a skewer along with the diced tofu.
Preheat a grill. Oil the grate and set the burners to high.
Brush the vegetables and tofu on the skewers with some oil.
Grill the skewers for 3 minutes and turn it once halfway to cook them through.
Serve after garnishing with green onions and sauce.
The joy of seeing your child grow up healthy and smart is a blessing that no one can deny. Eating the right food contributes to a healthy lifestyle and develops good eating habits for a child. These tofu recipes for toddlers are sure to help you add variety and nutrition to your child's diet. Homemade food made with care by mothers is always a better substitute for store-bought food that is packed with harmful preservatives. Also bear in mind to check if your little one is allergic to tofu. You must consult your paediatrician and only then feed tofu to your toddler.
Also Read:
Baking Recipe Ideas for Kids
Pizza Recipes for Children
Pasta Recipes for Kids